PERFORMING FOR AUDIENCES SINCE 1968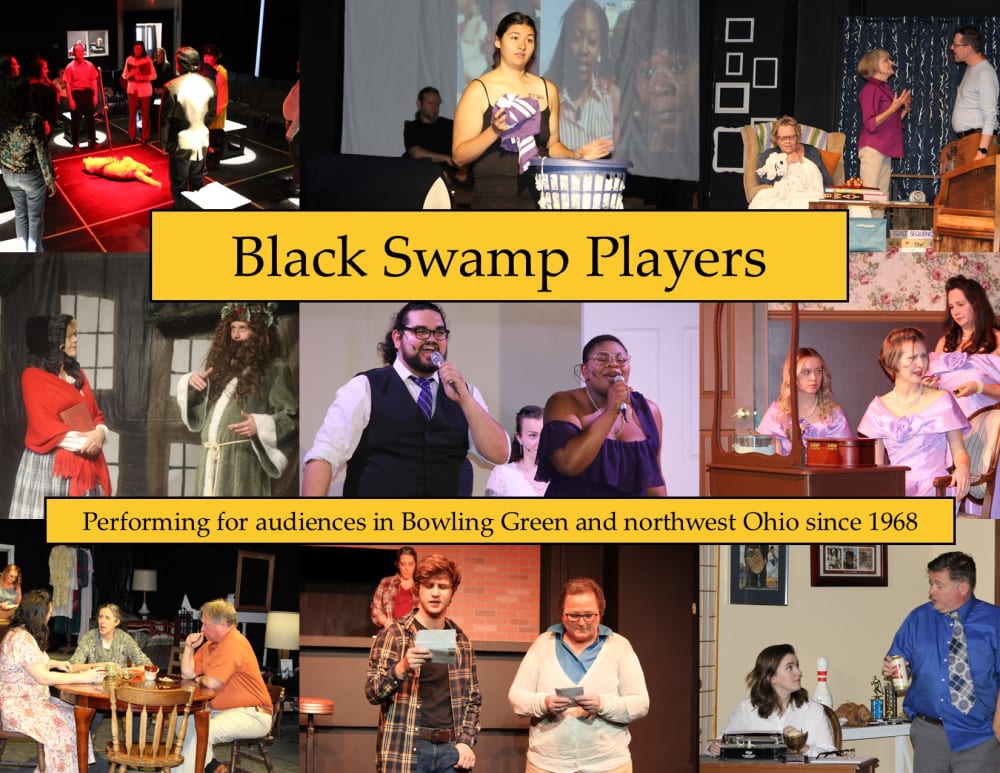 OUR MISSION
Black Swamp Players is dedicated to the advancement of amateur theatrics, including production of live theatre as well as various educational opportunities involving the arts. The organization provides high-quality, amateur, live theatre as well as creative opportunities to the cast, crews and the viewing public. Black Swamp Players is a non-profit organization whose volunteer membership is open to any person, regardless of age, religion, sexual orientation, or race.

OUR ORIGIN STORY
In 1965, a nucleus of local theatre supporters (later called the "Society of the Arts") began performing melodramas for the downtown Bowling Green merchants. These one-act shows would kick-off the "Old Fashioned Bargain Days"(later: sidewalk sales) Money raised went to purchase Christmas decorations for the downtown area. After the success and community support for the May, 1968 performance of "Lily, the Felon's daughter", a small group of avid thespians decided to form a permanent theatrical group. The Black Swamp Players was officially born in the home of Gene and Mary Dapogny on July 21, 1968. Gene Dapogny was voted in as chairman, with Lee Forse as secretary and Ethel Berlin as treasurer by those in attendance, including founders: Jim Forse, Richard and Marie Mutschler, and Carl Berlin.
BSP's name comes from the great black swamp which covered much of Northwest Ohio until drained by German and Scottish farmers in the mid-nineteenth century. The name, suggested by founders Lowell Randall and Agnes Hooley, was chosen at the first meeting to emphasize a commitment to provide a theatrical outlet to the entire community, and to avoid any confusion with the theatre program at the university ( BGSU).

OUR BOARD OF TRUSTEES
President …………………………………………. Heath A. Diehl
Vice President ………………………………………. Sara Lipinski Chambers
Treasurer ………………………………………….. Emily Keegan
Secretary …………………………………………… Leah Creek
Trustees ………………………. Teresa Batterson, Steve Bishop,
Cyndy Brookover, Annelise Clifton, Nikki Fetters, Lane Hakel,
Samantha Heater, Inge Klopping, Karen Noble, Emily Standinger, Deb Weiser
Interested in joining our Board of Trustees? Complete an application
Elections are held each May at our Annual Meeting
and Trustees are elected to a term of three years.

OUR CODE OF REGULATIONS
Learn more about our organization by perusing our Code of Regulations.