Twelfth Night Cast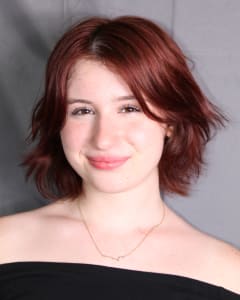 Ella Craig
(Viola)
Ella (they/them/she) has been acting since they were 8 years old and they are currently 16. This is her first time ever doing anything with Shakespeare and she couldn't be more excited to play Viola. They've been doing theater since they were 8, and have been in 10 productions and 12+ films. They love witchcraft, music, theater, film, writing, and nature!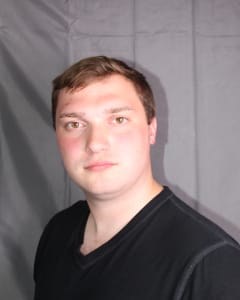 Koby Polaski
(Orsino)
Koby first started getting into Shakespeare around the same time he started his acting journey. As he was being a tree and a sailor on stage for the first time, so to was he reading Julius Caesar and the Merchant of Venice for English Class. This is his first time in a Shakespeare show outside of school and he's super excited to share with all of you "The Christmas Special" of Shakespeare! Special thanks to his friends who have supported him on his wacky acting journey, his wonderful acting curriculum and professors at Emerson College, and his family who never gave up on him from day one. If this play is the food of love, play on!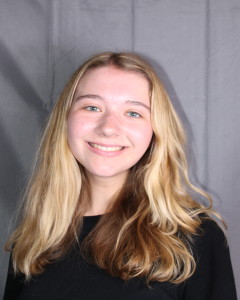 Madeline Sclichter
(Olivia, Valentine)
Recent film credits include: Where'd You Go Bernadette, Unsinkable, One Dollar, Parallels, Beginnings, and several Point Park University short films. She has appeared in the Pittsburgh's CLO main stage productions of Grease, Mary Poppins, and Broadway Musical Celebration, as well as numerous Pittsburgh CLO Academy productions. This past year, she was an Upper Division Finalist in the Pittsburgh Shakespeare Monologue and Scene Contest. Enjoy the show!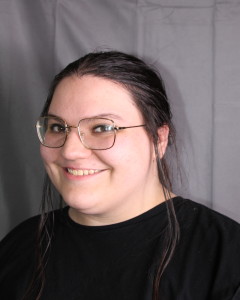 Kinsley Beachler
(Feste)
Kinsley (she/they) has had a hand in all of YSSP's productions thus far, here she played characters including Helena in A Midsummer Night's Dream, Gertrude in Hamlet, and Duncan in Macbeth. She has also done shows outside of YSSP, playing roles such as Jack's Mom in Into The Woods and Helen in Exit the Body, as well as assistant stage managing shows such as Almost Maine, and 25th Annual Putnam County Spelling Bee. In the future she is planning on attending Seton Hill University for musical theater.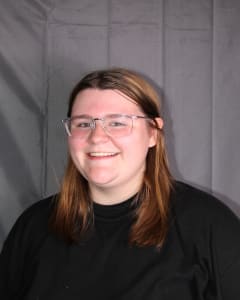 Rachel Scierka
(Sir Toby)
Rachel has been a part of all aspects of theater since elementary school in shows such as Seussical, Schoolhouse Rock Live Jr, Twinderella, Grease, The Enchanted Bookshop, Shrek, The Wedding Singer, Newsies, and A Midsummer Night's Dream. This is her first out of school production and also the first Shakespeare production that she has acted in. Rachel is so excited to bring the role of Toby to life, and is so grateful for all the memories this production has provided.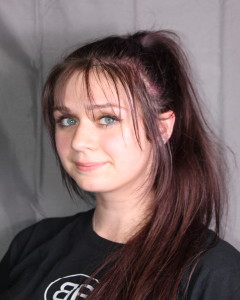 Sarah Galosi
(Sir Andrew)
Sarah Galosi is excited to be playing Andrew in the production Twelfth Night . Sarah is a sophomore media arts student involved with the theater program at RMU. Her previous productions include The Nutcracker, Elf, Mamma Mia, Frozen, Little Shop of Horrors, Clue, Bright Star, Xanadu, and Young Frankenstein. She would like to thank her new friends in the cast and crew who have made the show so much fun.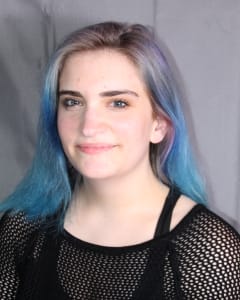 Johnna Lou Lefebvre
(Maria, Antonio)
Johnna Lou Lefebvre (she/her) is thrilled to have the opportunity to work with YSSP once again! Previously with YSSP, she has fight choreographed Hamlet along with playing Laertes/Marcellus, and played Lady Macbeth in our radio production. Outside of YSSP she has also worked with Stage 62 in their production of Disney's Descendants and is currently in Little Lake's run of Newsies as Specs/Spot. She is currently studying Cinema and Photography along with Theatre at Robert Morris University.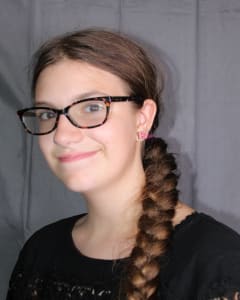 Adelyn Maynard
(Malvolio)
This is Adelyn's first time in a full play & she couldn't be more excited for the challenge. In the past she has participated in a few Steel City Shakespeare spring/summer programs. She's looking forward to doing more productions with both Steel City Shakes & the YSSP!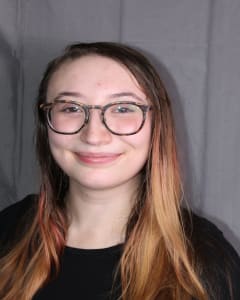 Ella Mizera
(Sebastian, Officer)
Ella Mizera (she/her) is a junior at the University of Pittsburgh, where she studies theater and nonprofit management. She is a co-founder of YSSP, and previously performed in/managed their productions of Macbeth (Banquo/Malcolm), Hamlet (Claudius/Ghost), and A Midsummer Night's Dream (Titania/Hippolyta). Outside of YSSP, she has worked with the Steel City Shakespeare Center (Macbeth, Merry Wives of Windsor), Pittsburgh Shakespeare in the Parks (Hamlet), Pitt Stages (Emilia), and most recently as an assistant fight choreographer on Pittsburgh Public Theater's Robin Hood. When she's not performing or managing, you'll find her teaching, directing, stage fighting, or cuddling her dog. Usually not all at the same time.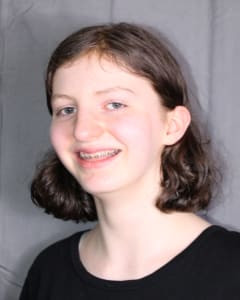 Sydney Forschein
(Fabian, Captain)
Sydney did musical theater with Musical Theatre Workshops in Augusta, GA, in which she played in Willy Wonka and The Ugly Duckling. With Steel City Shakespeare she did a monologue from Measure for Measure. She performed a piece of As You Like It and the prologue of Henry V. And then she competed in the Pittsburgh Public Theater's Shakespeare Monologue & Scene Contest with a monologue from Much Ado About Nothing. She's excited to be on stage with the Youth Shakespeare Society of Pittsburgh and to show how weird and wonderful Shakespeare can be.