Hindsight Cast
Jess Bernardi
(Susan)
A junior Theater Major. Xe has been a part of all of the mainstage productions over the last two years and hopes to continue over the next two years. Xe enjoys sewing and costume design. Jess hopes to graduate and join a theater company in their costuming department post college.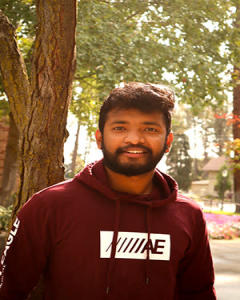 Ayush Bharati
(Aakash)
Originally from Nepal, Ayush transferred to Whitworth University from Seattle Community College to study Bioinformatics and Theater. He is very excited to perform "Hindsight", as his first theater performance. Besides studying a lot, he likes to play soccer and guitar. Ayush never would have thought of being a part of Theater if he had not come to Whitworth and now he is liking it more than Bioinformatics.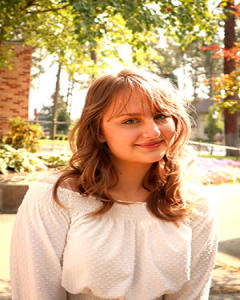 Annagrace Day
(Beatrice)
A Psychology major with a minor in Theology and Film. Though she is a first year, she is at Junior standing thanks to the Running Start program at her high school. She hopes to pursue a PhD. in Developmental Psychology with a focus in research. However, she is content with wherever God places her in life, even if it isn't according to her own plan. She would like to thank all her family and friends for consistently pushing her toward working diligently in her studies and extracurriculars.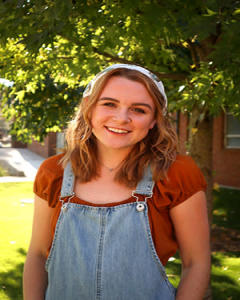 Brooke Disney
(Margot)
A first year at Whitworth University, she is majoring in Elementary Education and double minoring in Theatre and Criminal Justice. Favorite past roles include Lilly St. Regis in "Annie", "Alice in Alice in Wonderland", and Jenny in "The Bully." Brookes's big dream after graduation is to teach at an elementary level for a while, later to move onto the higher grades and troubled youth institutions. She then hopes to create a non-profit bringing the arts of theatre to places that otherwise wouldn't be exposed, such as juvenile halls and group homes. Thank you to Andy and the whole cast and crew for pulling together such a one of a kind piece of art!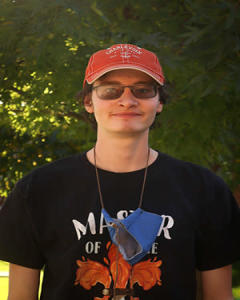 Rab Greenup
(Jamie)
A first year Computer Science major at Whitworth this year, Rab has been involved in lots of theater productions before, the two most recent being "Puffs" and "Gulliver's Travels." He hopes that you all kick back, relax, and enjoy the show.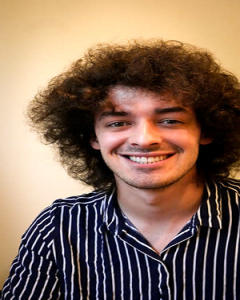 Trent Goodwin
(Charlie)
A senior Theatre Major with a minor in Journalism & Mass Comm, Trent has been involved in a few productions at Whitworth. His favorite is "Almost, Maine" from Spring 2019. Trent hopes to pursue acting and writing in the future.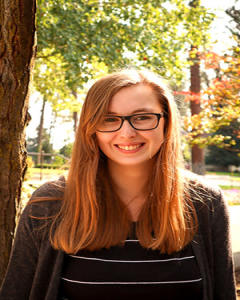 Olivia Housden
(Lauren)
A first year at Whitworth majoring in secondary education and english with a minor in theatre, Olivia was very involved in her high school theatre program, even through running start at Spokane Falls Community College and receiving her A.A. degree over her junior and senior years. In fact, after graduating she hopes to be a high school theatre and English teacher herself. She is very excited to be involved in "Hindsight" and can't wait for more theatre adventures and opportunities here at Whitworth!
Sarah Hull
(Hollis)
A junior Theatre and Communications double major with a minor in political science, she has been doing theatre her whole life, and some of her favorite past production credits include "The Little Mermaid" (META), "Beauty and the Beast" (TAG & SVC), "A Gentlemen's Guide to Love and Murder" (Spokane Civic Theatre), "The Importance of Being Earnest", "Bye Bye", and "Cinderella" (SWHS). Her dance training was completed at SVAD. Here she has performed as Titania in "A Midsummer Night's Dream." She also works as a Character Performer with Dreams are Forever Events and Wish Upon a Star Events. She is so grateful to her family and wonderful friends for their endless support and love (and for listening to her endless supply of stories).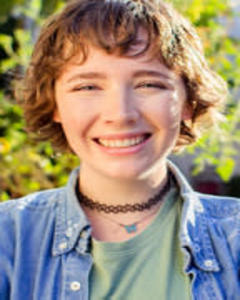 Megan Marie "Megs" Gergen Levi
(Wendy)
A 5th year Senior at Whitworth University, Megs is the old lady of the ensemble. Thanks to Whitworth Distance Learning "FLEX Program" she is finishing her degree from her hometown in San Diego, CA. In her time at Whitworth she has been studying theatre, theology, and art. In the little spare time she has she volunteers at North Coast Church, works to maintain her vegetable garden, runs her own small art business and studies to be a worship pastor post grad. Megs is beyond grateful to have the opportunity to share peoples stories in Hindsight. Finally, she wants to thank her family and friends (both near and far) for their support in her own crazy 2020 journey. Psalm 73.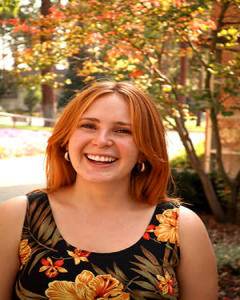 Kathryn Ludlum
(Rory)
A senior at Whitworth University studying speech communications and theater, Katie was involved in last year's mainstage production of "A Midsummer Night's Dream" as Hermia and a student production of "5 Degrees of Separation." She would like to thank those that have shared their stories with us, Andy for the support and direction, and to the people in her life, no matter where they may be in this world, for making this year one that will never be forgotten.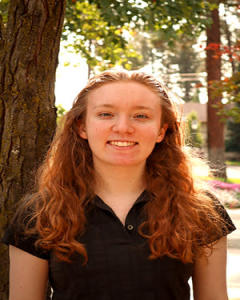 Kenna McIlraith
(Vanessa)
Kenna is thrilled to be a part of "Hindsight!" Favorite roles include Peaseblossom and Puck understudy in "A Midsummer Night's Dream", Portia in "Cinderella", and "Rapunzel in When the Magic Ends." Soli Deo Gloria!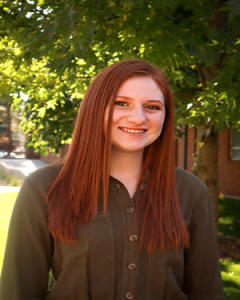 Paige Meyer
(Joanna)
A sophomore at Whitworth University, Paige is a Music Major, with minors in Business and Theatre. After Graduation, Paige plans to further her love for music by writing and producing. She has been in many previous shows and has played many different roles. She is ecstatic to now bring to life the character of Joanna, facilitator, in Hindsight. She would like to thank her Friends and Family for supporting her through this endeavor.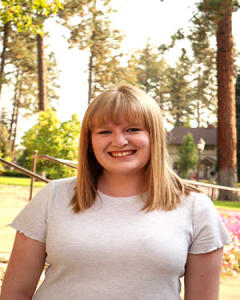 Katie Morris
(Cynthia)
A sophomore at Whitworth University, Katie is studying business marketing and theatre. She is from Blaine, Washington and is delighted to be in another amazing theatre production at Whitworth. Katie would like to thank her parents for their endless love and support in everything she does. She would also like to thank the cast for their hard work in creating this beautiful piece of original theatre.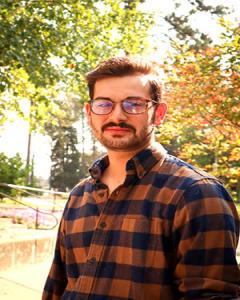 Cole Peterson
(Anthony)
Cole is a junior majoring in Secondary Education and Theatre with a minor in History. His past productions at Whitworth University include "A Midsummer Night's Dream", "5° of Separation", and "Almost, Maine." He hopes this piece can bring about some collective healing for all of us after the extraordinarily challenging season we have endured.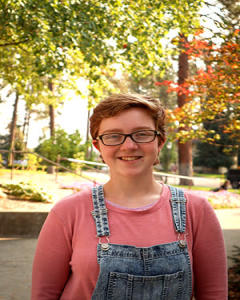 Katie Price
(Shawna)
A junior from Kuna, Idaho, is double majoring in music composition and theatre. She was involved in last year's productions of "A Midsummer Night's Dream" and "La Algajira", as well as a couple of student-run productions. After graduation, Kate hopes to work in recording or audio engineering, with a goal of working in film. She thanks Shahna Jacks for being willing to give an interview that contributed to this show, and would also like to thank her boyfriend, Paul, for his constant support.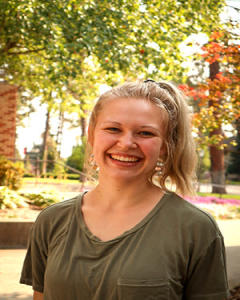 Anna Rajala
(Amanda)
A senior at Whitworth is majoring in Theatre and minoring in both Dance and Mathematics. She loves how many opportunities Whitworth provides to get involved with theatre and develop her personal artistry. Her favorite theatre experiences at Whitworth include "Almost Maine", 'Argonautika", "The Spitfire Grill", and "5 Degrees of Separation." She thanks Andy for being a great facilitator, the ensemble for their bravery and vulnerability, and everyone interviewed for courageously sharing their stories with the ensemble. Story is the greatest gift an artist can receive, and she hopes you all will be blessed by the ones shared tonight.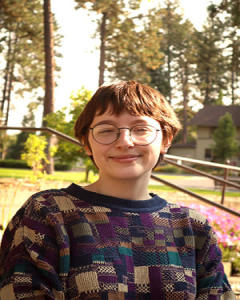 Izzy Spangler
(Emily)
A sophomore at Whitworth University, Izzy is studying Political Science and Theatre. She is originally from Sacramento, California and wants to thank her family and her pets for the emotional support they've provided over these trying times.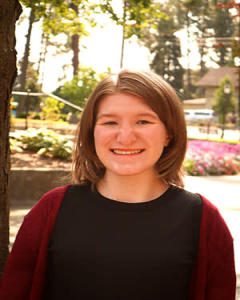 Emily VanVleet
(Allison)
A sophomore from Auburn, WA, Emily is a theatre major who performed in "A Midsummer Night's Dream" last year with Whitworth Theatre. Emily thanks her family, dogs, roommates, and friends who supported her through 2020.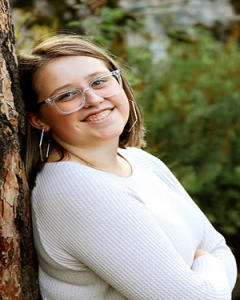 Kiffen Wendle
(Alex)
KIffen is a first year student at Whitworth University.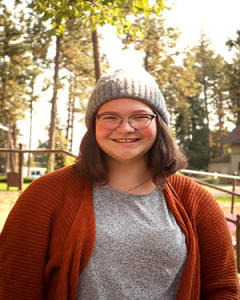 Sav Weston
(Skylar)
A third-year theology major at Whitworth University, Sav would like to thank her family for the unrelenting love and support. Even through distance their love inspires her to keep working hard.
Mira Wibel
(Talia)
A first-year student from Colbert, Washington, Mira is studying theater and secondary education. When not in the coffee shop or library studying, she enjoys hammocking, making mug cakes, and listening to good music of all genres. She would like to thank everyone in the theater department for being so welcoming as she begins her journey with Whitworth theater!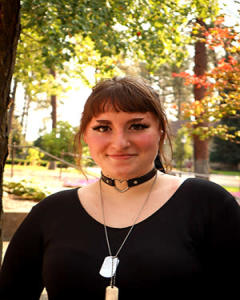 Rachel Wilson
(Jane)
Rachel is a third-year English Lit & Theatre double major. She is a loud, opinionated woman who writes for the Opinions section of the Whitworthian and fights for justice in all things. She would like to thank her grandparents for their love, support, and unwavering attendance, and her boyfriend Michael for always lifting her head to the sunrise. She hopes you find some solace in "Hindsight."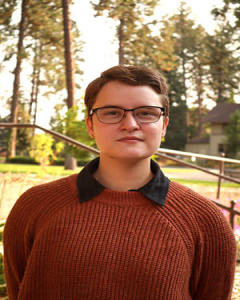 Dani Wolf
(Erin)
Dani is a first year student at Whitworth studying English, French, and Theatre. This is her first show at Whitworth; some of her previous shows include "Les Misèrables", "Mamma Mia!", and "Catch Me If You Can." As for most people, this is her first show over Zoom. She is so excited to be joining the theatre family at Whitworth and to be working with such an amazing cast and crew! This show is dedicated to her friends, for sticking with her even through pandemic times.