Antigone Cast
Anna Rajala
(Antigone)
Anna is a Senior at Whitworth and is majoring in Theatre and minoring in both Dance and Mathematics. She loves how many opportunities Whitworth provides to get involved with theatre and develop her personal artistry. Her favorite theatre experiences at Whitworth include "Almost Maine", "Argonautika", "The Spitfire Grill", and "5 Degrees of Separation". She thanks Naphtali for being a creative and compassionate director, the cast for their beautiful performances, and everyone involved for being a wonderful community in times when it's hard to feel connected to other people. She is happy you are here and hopes you feel invited into the world of the play and inspired by the questions it's asking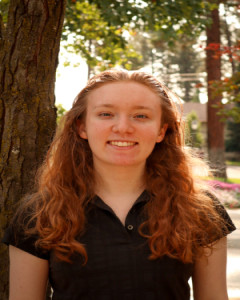 Kenna McIlraith
(Ismene)
Kenna is a sophomore theatre major and is thrilled to be part of "Antigone!" Her favorite roles include Peaseblossom/Puck US in "A Midsummer Night's Dream", Boy/Benjamin Charles Norris III/Leo in "The Fickle", and Portia in "Cinderella". She would like to thank Naphtali for her wonderful direction of this show and the rest of the cast and crew for their continuous support and hard work. Soli Deo Gloria!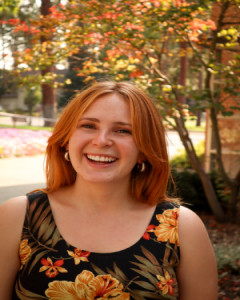 Kathryn Ludlam
(Creon)
Kathryn is a senior at Whitworth University studying Speech Communications and Theater. She was involved in last year's mainstage production of "A Midsummer Night's Dream" as Hermia and a student production of "5 Degrees of Separation". She would like to thank the cast of strong women for telling this story with her, Naphtali for her support and guidance, and her family and friends for their constant love.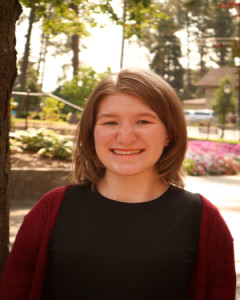 Emily Van Vleet
(Bea & Eurydice)
Emily is a sophomore at Whitworth University studying Theatre. Previous productions with Whitworth include "A Midsummer Night's Dream" and "Hindsight". She is grateful for this opportunity and thanks her friends and family and the cast and crew.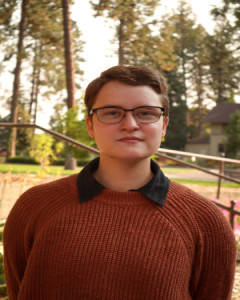 Dani Wolf
(Celie & Messenger)
Dani is a first year student at Whitworth studying English, French, and Theatre. This is her third show at Whitworth; she was also a part of "Hindsight" and "Imaginary You". She is excited to have found a place in the theatre family at Whitworth and to be working with such an awesome cast and crew! She dedicates this show to her friends and family, as well as to her fellow cast members.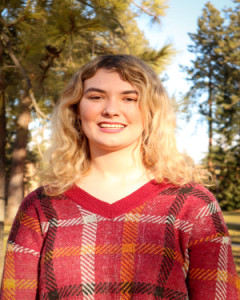 Britney Botez
(Delphi)
Britney is a first-year student majoring in political science, with a theatre-dance minor. This is the first play she has participated in and has really enjoyed learning how to perform in a production, despite all the challenges acting during a pandemic has come with. Britney also enjoys figure skating and dance, especially ballet and hip hop. She would like to thank her friends and family for supporting her venture into theatre.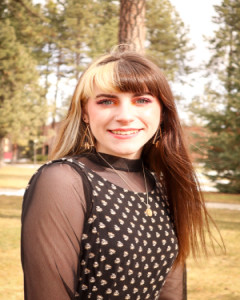 Kendall Cavin
(Guard)
Kendall is a sophomore Theatre major with a minor in Women and Gender Studies. "Antigone" is her first mainstage production at Whitworth, but she is thankful to come from a hometown that fostered a strong theater community, allowing her to become involved in productions such as "The Last Five Years" (Cathy), "Seven Brides for Seven Brothers" (Millie), "Legally Blonde" (Paulette), "The Little Mermaid" (Ursula), "Annie" (Grace), "The Sound of Music" (Maria), "Mamma Mia!" (Ali), and "Shrek the Musical" (Fiona). She is so thrilled to be working with such a talented cast and crew! She would also like to send love to her ever-supportive and encouraging family – she could not do it without you!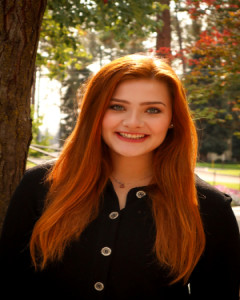 Sarah Hull
(Haemon)
Sarah is a junior Theatre and Communications double major with a minor in Political Science. She has been performing her whole life, and some of her favorite past production credits include "Almost, Maine" (MTPA), "The Little Mermaid" (META), "Beauty and the Beast" (TAG & SVC), "A Gentlemen's Guide to Love and Murder" (Spokane Civic Theatre), "The Importance of Being Earnes"t, "Bye Bye Birdie", and "Cinderella" (SWHS). She completed her dance training at SVAD. At Whitworth she has performed as Titania in "A Midsummer Night's Dream", and as Hollis in "Hindsight", as well as participated in multiple student-led productions. She also works as a Character Performer with Dreams are Forever Events and Wish Upon a Star Events. She is so grateful to her family and wonderful friends for their endless support and love (and for listening to her endless supply of stories).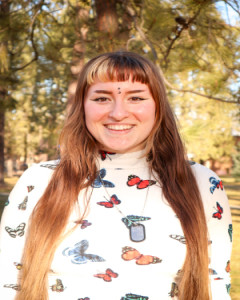 Rachel Wilson
(Tiresias)
Rachel is a third-year English Lit & Theatre double major. You may recognize her from "La Algajira", or "Hindsigh"t. She is radical and loud, and is passionate about fighting for justice. She writes for the Whitworthian Opinions section where she criticizes media, talks politics, and shouts about the mountains hidden in molehills. She would like to thank her grandparents for getting her this far, and her boyfriend Michael for always believing in her. She hopes you find some power in "Antigone".