About
JOYFUL NOISE
JOYFUL NOISE - by Tim Slover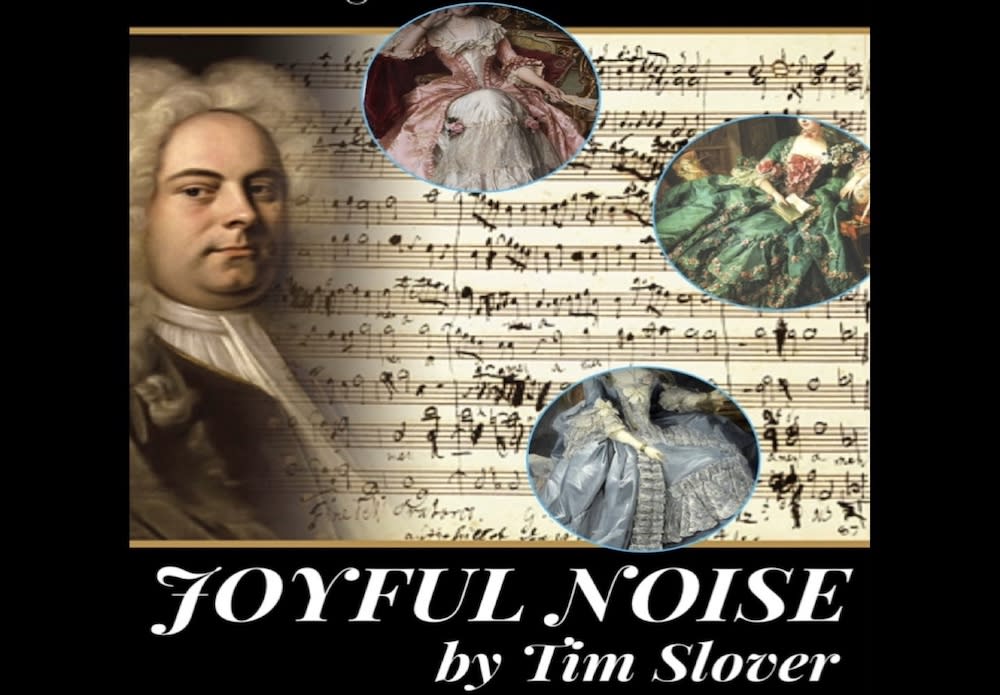 BASED ON THE TRUE STORY: A joyful play that "hits all the right notes"! Clever and funny as well as inspiring. If you love Handel's Messiah, this play is a MUST SEE! This play has the feel of a juicy soap opera, with dueling diva sopranos, a plot combining religious protest, political alienation, social humiliation, and a sex scandal. Based on actual historical facts, George Frederick Handel is in trouble: his last opera flopped, he is no longer in favor with King George II and preachers are raging that his latest work is blasphemous. In this climate, he struggles to present "The Messiah." Handel's travails are linked with those of his leading soprano. Forced into retirement because of a scandal, she is slated to make her comeback in his new masterpiece and fears a nasty reception. A malicious, back stabbing alternate is waiting in the wings to replace her. A devious bishop and Handel's bulky librettist add to the conflict in this true story of the politics and passion that nearly prevented "The Messiah" from ever being performed.
ABOUT - Town Players of New Canaan
_______________________________________________________________
TOWN PLAYERS OF NEW CANAAN - HISTORY OF THE POWERHOUSE THEATRE
In 1979, the original Power House to the Waveny Estate, located in what is now Waveny Park, stood empty and purposeless, falling prey to vandalism and deterioration. At the same time, the Town Players of New Canaan were looking for a home, a place to store costumes, build sets and perform. It was a perfect match that the abandoned building and the homeless Town Players should come together. The task of restoring the powerhouse and converting it to a theater, however, was a monumental undertaking and required serious fundraising and the efforts of hundreds of volunteers over a three-year period. The result is a intimate 115-seat theater for the community to enjoy.
Since opening in 1983, the Town Players of New Canaan at the Powerhouse Theatre has performed hundreds of productions, staged readings, special events, theater educational classes and workshops, run children's programs, etc., and is still going strong. During Covid, we had a few months to step back and re-evaluate, and we decided it was time to come back even better! In working again with the Town of New Canaan, we will be doubling the size of our lobby, updating to current ADA compliant restrooms, and hopefully establishing the additional Shed Theatre on the property to expand our theater education program, and well as providing a black-box theater for unique and intriguing productions.
The Town Players of New Canaan is an all-volunteer, 501(c)(3) non-profit community theater now in our 76th Year. Established in 1946, we moved from place to place until finding our forever home. We hope you will join us in your support of the new Powerhouse Performing Arts Center.