EN EL OJO DE LA AGUJA Creative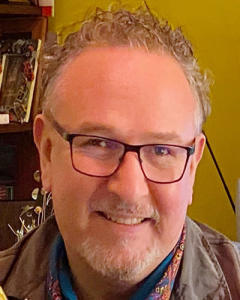 Writer, Director
Ramiro Antonio Sandoval
Director, Artivista y educador en Artes Teatrales. Estudió en la Escuela Nacional de Arte Dramático de Bogotá, con entrenamiento en Europa y EEUU. Ha trabajado en la creación de un espacio que permita mantener la experimentación constante en el teatro donde ha podido desarrollar su visión particular del teatro y la relación actor-espacio (acting/design); su trabajo ha sido visto en los Estados Unidos, en Asia y Suramérica. Galardonado en Europa y EEUU como actor y director. ___________ Director, Artivist and educator in Dramatic Arts. Studied at the National School of Dramatic Arts in Bogotá with further training in Europe and the United States. He has dedicated time and focus to create a space that allows experimentation for the advancement of theater where he has been developing his particular vision of theater and the actor-space relationship (acting / design); his work has been seen in the United States, Asia and South America. Awarded in Europe and the US as an actor and director.
Original Creative Team
En El Ojo De La Aguja
Creación Colectiva de
Tabula RaSa NYC Theater and Performance Lab
Con / With:
Klara Lopera Sánchez : Sr. Tak
Jorge Luis Berríos Cuevas: Sr. Toe
Juan Esteban Vélez: Srta. Tik
Actuación Especial de: 
Jei Fabiane

Escrita por: Ramiro Antonio Sandoval
con la participación de: 
Johanna Bock

Música Original: Samuel Torres
Diseño de Vestuario: Alejandra Laverde

Diseño Escénico y de arte: Alexis Mendoza
Producción Escénica: Eduard Canal
Asistente de Tramoya: Sophia Mendoza
Diseño de Máscaras: Carolina Muñoz
Dirección de Cámaras: James Williams
Iluminación: Sean Claffey
Vestuario y Maquillaje: Ana María Cano
Videografía: Corporate Story Inc.
Edición: Christian Peña
Asistente de Producción: Susej Mendoza
Asistente de Sonido: Ari Orihuela
Comunicaciones: Ana Guerrero
Producción General: Gladys Eugenia Cano Benjumea
Dirección General: Ramiro Antonio Sandoval Marín