The Importance of Being Earnest Cast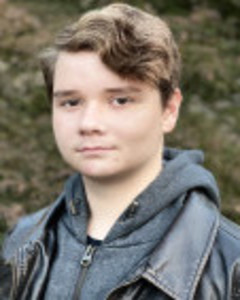 Asher Bird
(John Worthing)
Asher is a junior at Bryant high school who has been in two pervious plays. He is a part of hornet media (the high school news team) and is in charge of the podcast. He is also on the swim team for Bryant high school.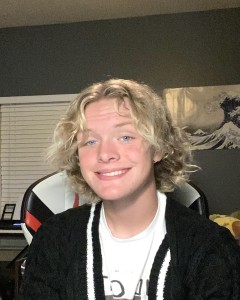 Jase Gladden
(Algernon Moncrieff)
Jase Gladden, Junior, is ecstatic to come back to the Love Auditorium stage to play the role of Algernon in 'The Inportance of Being Earnest'. Other roles you may recognize Jase from are Lord Farquaad in 'Shrek the Musical' and Jake from 'Our Place'. Jase is an inducted member of the Bryant High School Thespian Troupe 8855, plays mellophone in The Legacy of Bryant Marching Band, and swims for the Hornet Swim team. Jase would like to thank his family, friends, and Mr. Jeremy Clay for being supportive of all his endeavors!
Cameron Hastings
(Rev. Canon Chasuble)
Cameron Hastings is a Junior at Bryant High school. He is excited to play Dr. Chasuble. His other/favorite theatre experiences include Max in Henry's Law, Quince in Midsummer Nights Dream, and Al & Jonathan in Our Place. He thanks Mr. Clay for this wonderful opportunity and hopes you enjoy the show. Mr. Clay, Ria Colvert and Austyn Wood helped him stay focused and important people he has learned from over his time acting are Mia Parker and Shelby Loftis.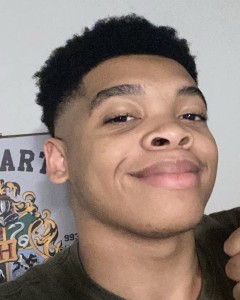 Tay Gardner
(Lane/Merriman)
Altayveon Gardener plays both Lane and Merriman and is excited to do one last show before he leaves Bryant High. After playing Cory from "Our Place" he was excited to be casted in the next show and can't wait for everyone to witness the hard work that everyone has put in to bring this show to life. And is thankful to all that come and support The Importance of being Earnest. Tay would like to thank Mr.Clay and the entire cast and crew have been a big help and motivation going into this show.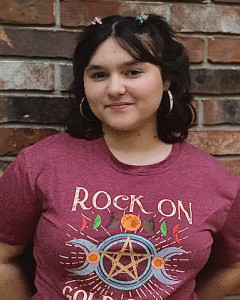 Bee Golleher
(Lady Bracknell)
Bee Golleher is thrilled to be in their very first production at Bryant High-School. Bee was last seen at Wildwood Park for the Arts as the Artful Dodger. Favorite credits include Duffy, Annie (Murrys); Small Alison, Fun Home (TST); Anna, Frozen Jr (YP Royal); Winkie General, Wizard of Oz (ACT). Theatre has always been a huge part of Bee's life, and they're excited for this passion to carry into the program. They would like to thank Jeremy Clay for trusting them with this timeless role and all the members for the Bryant Theatre Company for their welcoming presence and kindness during the production process.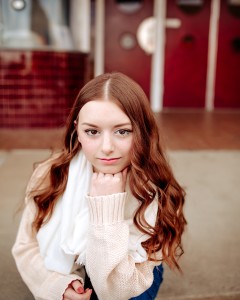 Jordyn Purtle
(Gwendolyn Fairfax)
Jordyn, a Sophomore at Bryant High School, is ecstatic to play Gwendolen in The Importance of Being Earnest. Her third show with the Bryant Theatre Company, you may have seen her earlier in the year as Anne in Our Place. Other past roles include Chief Ancestor Captain in Moana Jr. (Argenta Community Theater) and Duloc Dancer/Pig #3/Rat Tapper in Shrek the Musical (Bryant Theatre Company). She would like to thank the cast, crew, and her family for always being so supportive of her and allowing her to reach her full potential!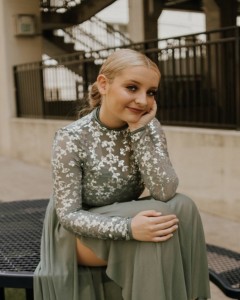 Laiken Clarke
(Cecily Cardew)
Laiken Clarke is thrilled to be back onstage as Cecily Cardew in The Importance of Being Earnest. Laiken, a dancer of 14 years and choreographer of 3 years, is also an active member of Bryant High School's Thespian Troupe #8855. Other roles Laiken has played include many productions at Bryant High School, such as Holly in 'Our Place', as well as Dance Captain, Little Pig, Duloc Dancer, and Rat Dancer in 'Shrek the Musical.' Laiken can also be seen starring in Forever Bull Entertainment's 'Dogecoin Billionare' as Angela Anderson. Laiken would like to thank Ria Colvert, Austyn Wood, Bee Golleher, Lyndsey Abbott, and Jordyn Purtle for their ongoing kindness and friendship throughout the year, as well as her family for always supporting her dream of acting, (and the many car trips). Finally, Laiken would also like to thank Mr. Jeremy Clay and all members of the Bryant Theatre Company for their hard work and dedication to stage such an important and iconic play. She hopes you'll love The Importance of Being Earnest as much as she does.
Amelia Johnson
(Miss Prism)
10th grader Amelia Johnson is performing as Miss Prism in "The Importance of Being Earnest." This will be her third show and first play with the Bryant Theater Company. Her previous roles include Pinocchio in "Shrek the Musical Jr." and Beth in "Our Place." Amelia can't believe the way that her love for the performing arts has taken off and grown while with Bryant, and her dedication to theater has never been as fueled or implemented as it has with Bryant High School's theater program. Amelia appreciates her family, friends, and teachers for their support during her acting endeavors. She also thanks the talented cast and crew that have worked tirelessly to help "The Importance of Being Earnest" live up to its potential.