About & how to get involved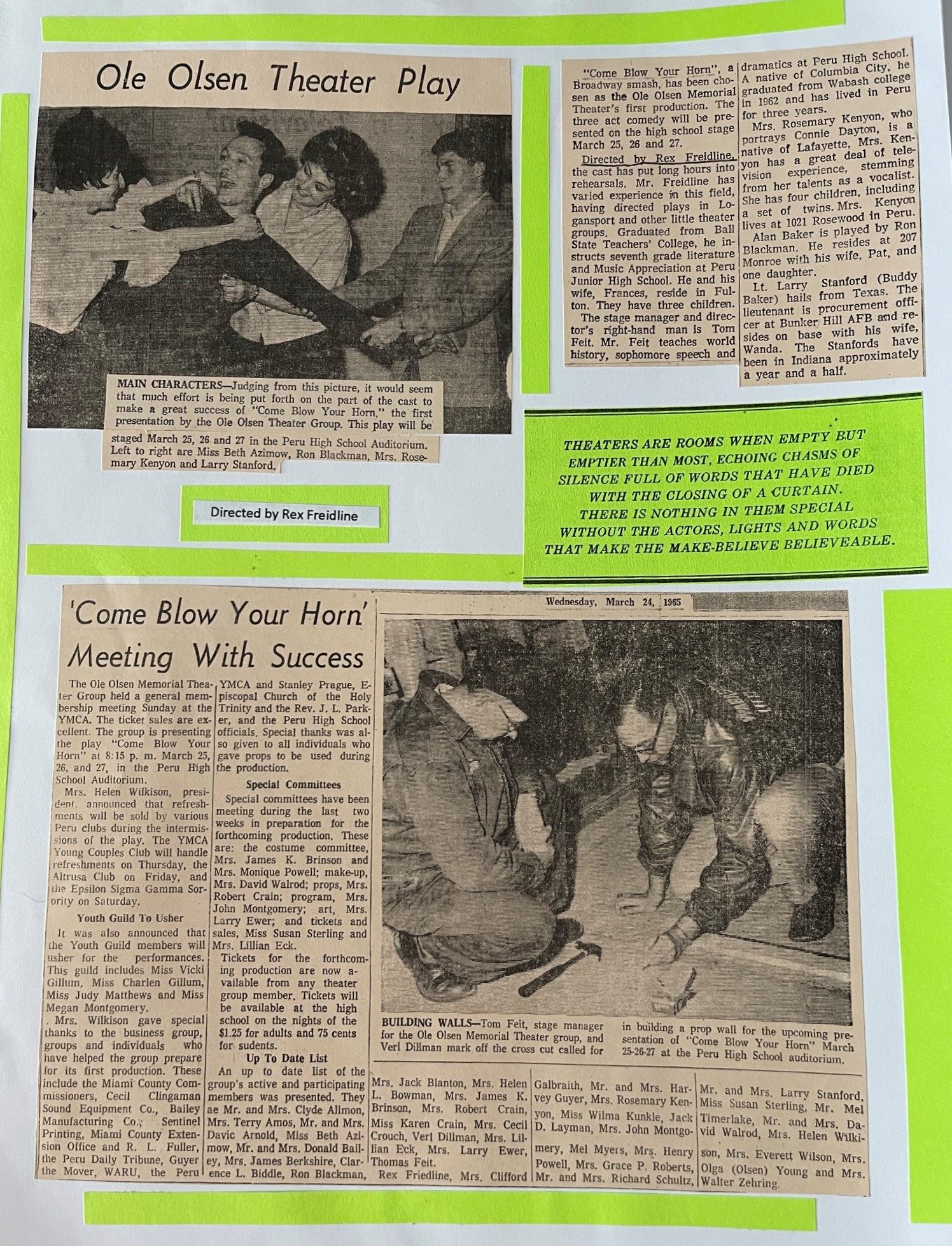 1st Season 1964/65 Come Blow Your Horn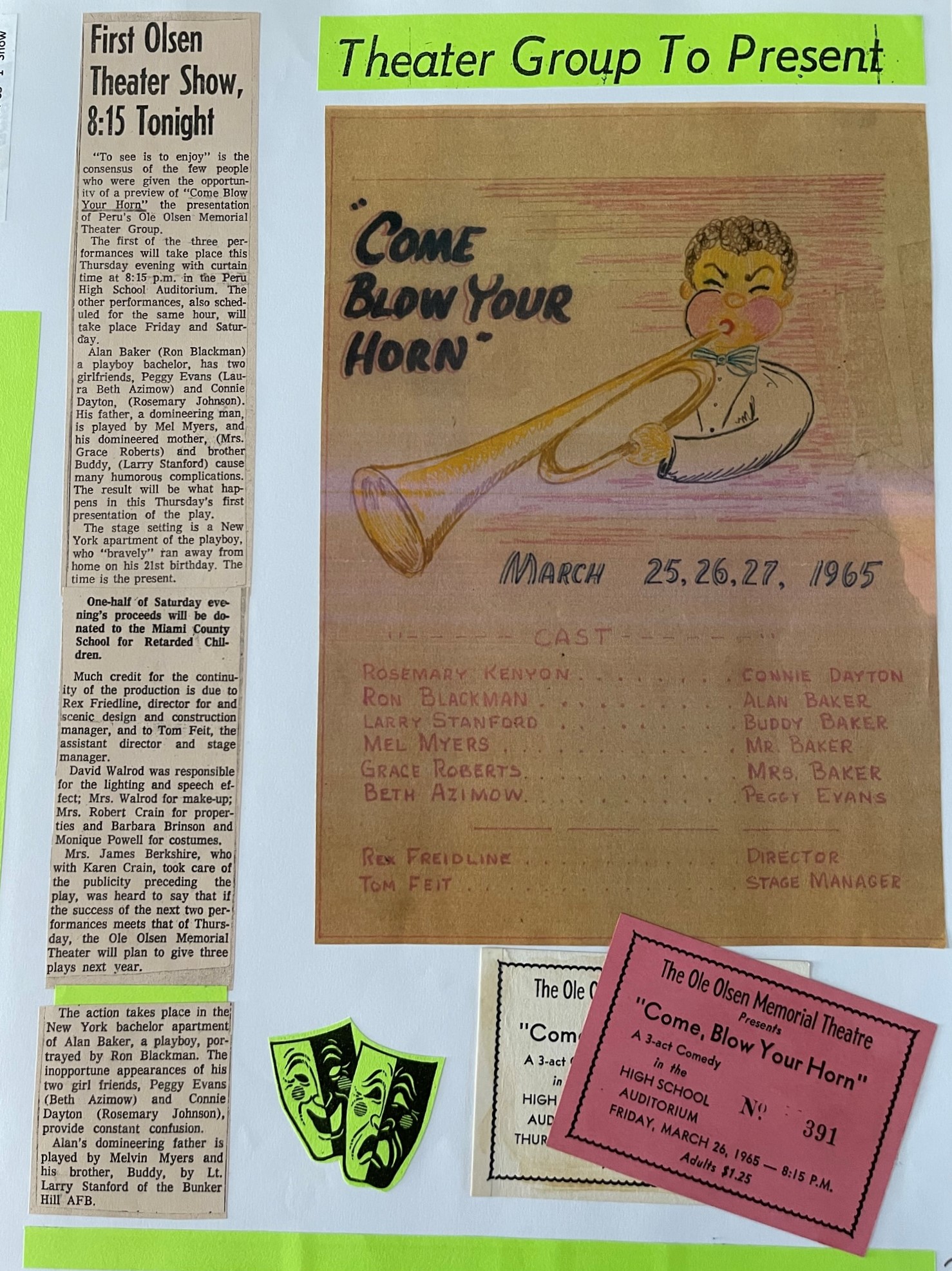 1st Season1964/65 Come Blow Your horn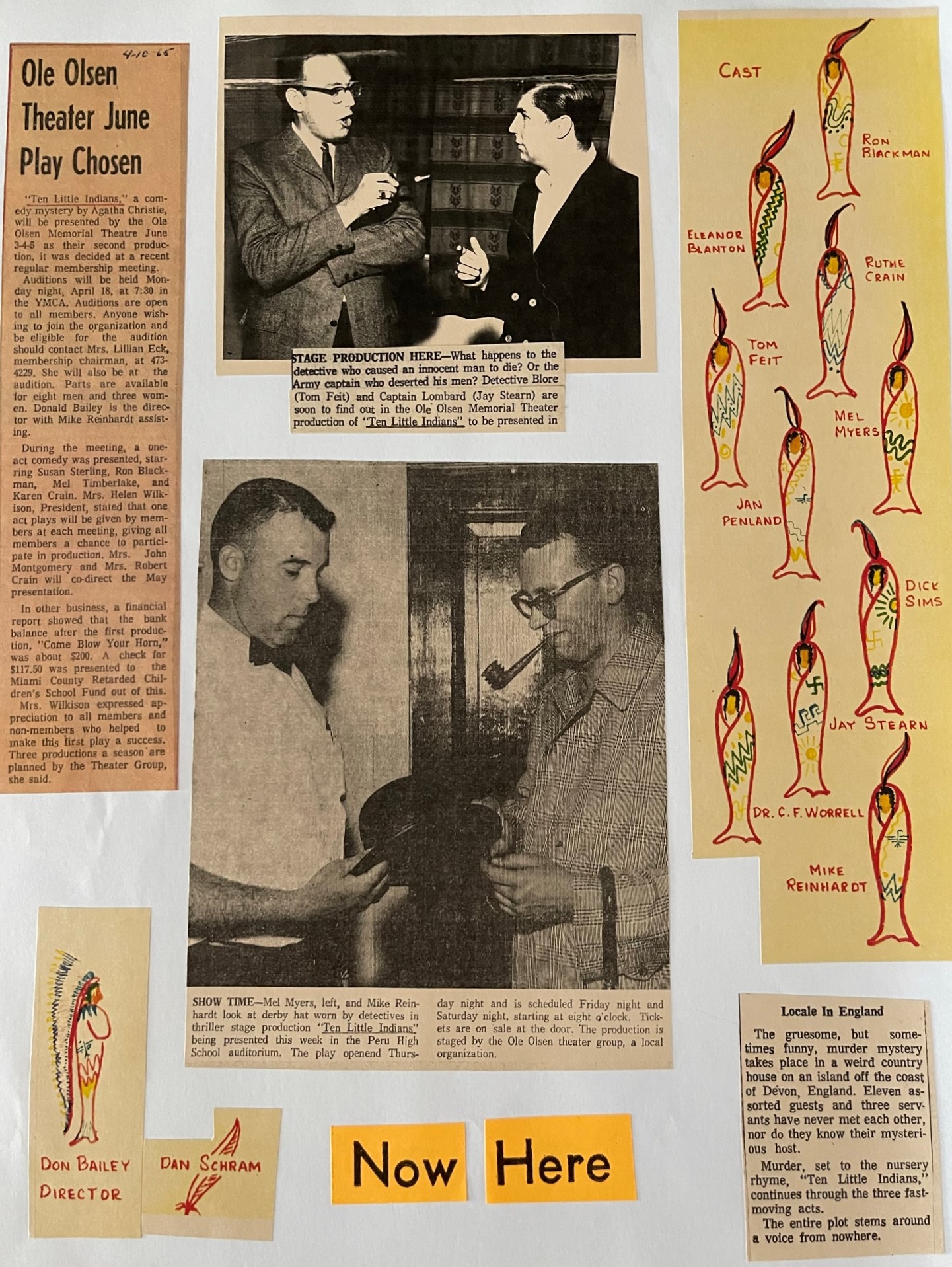 1st Season 1964/65 Now Here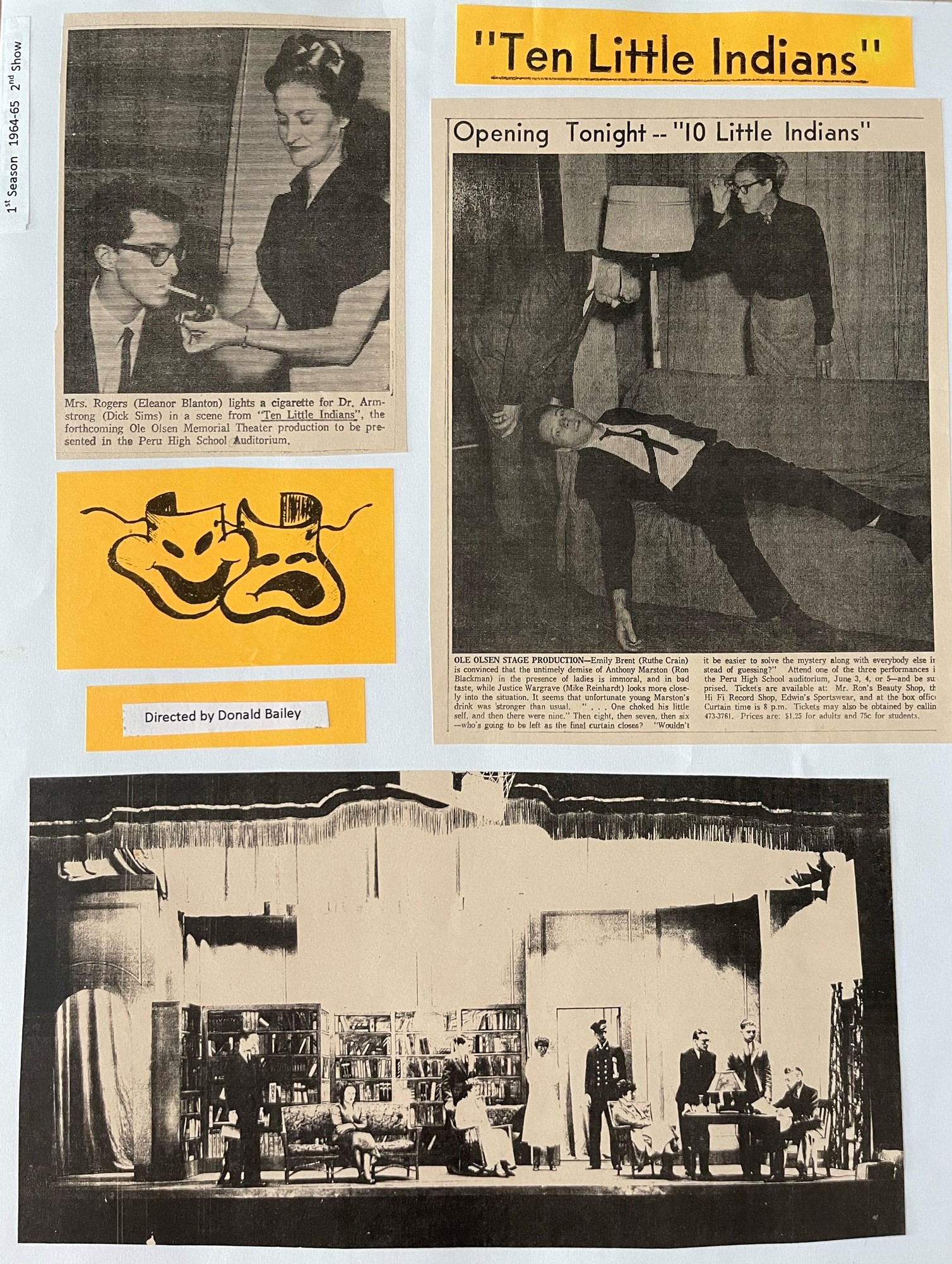 1st Season 1964/5 Ten Little Indians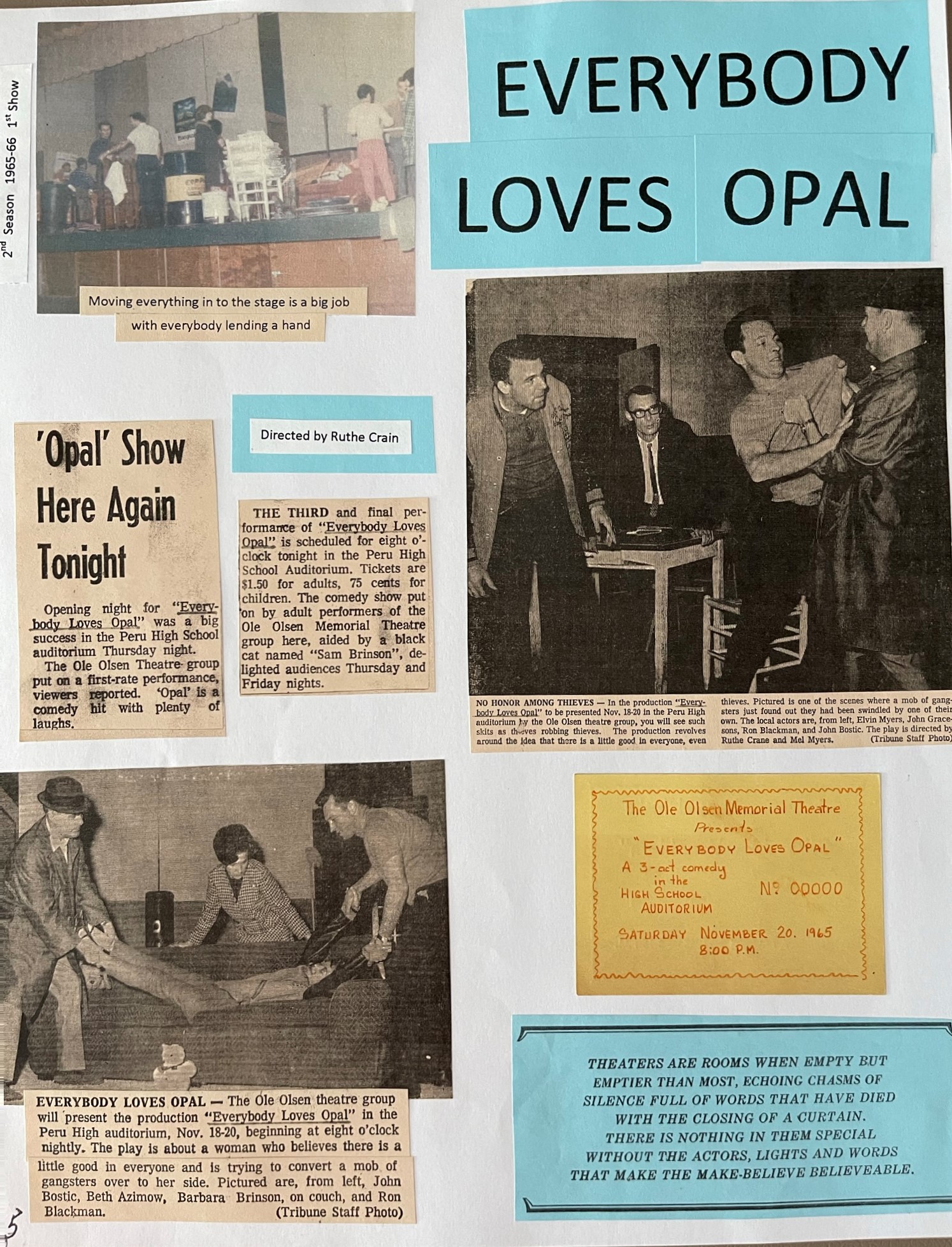 2nd Season 1965/6 Everybody Loves Opal
2nd Season 1965/6 State of Union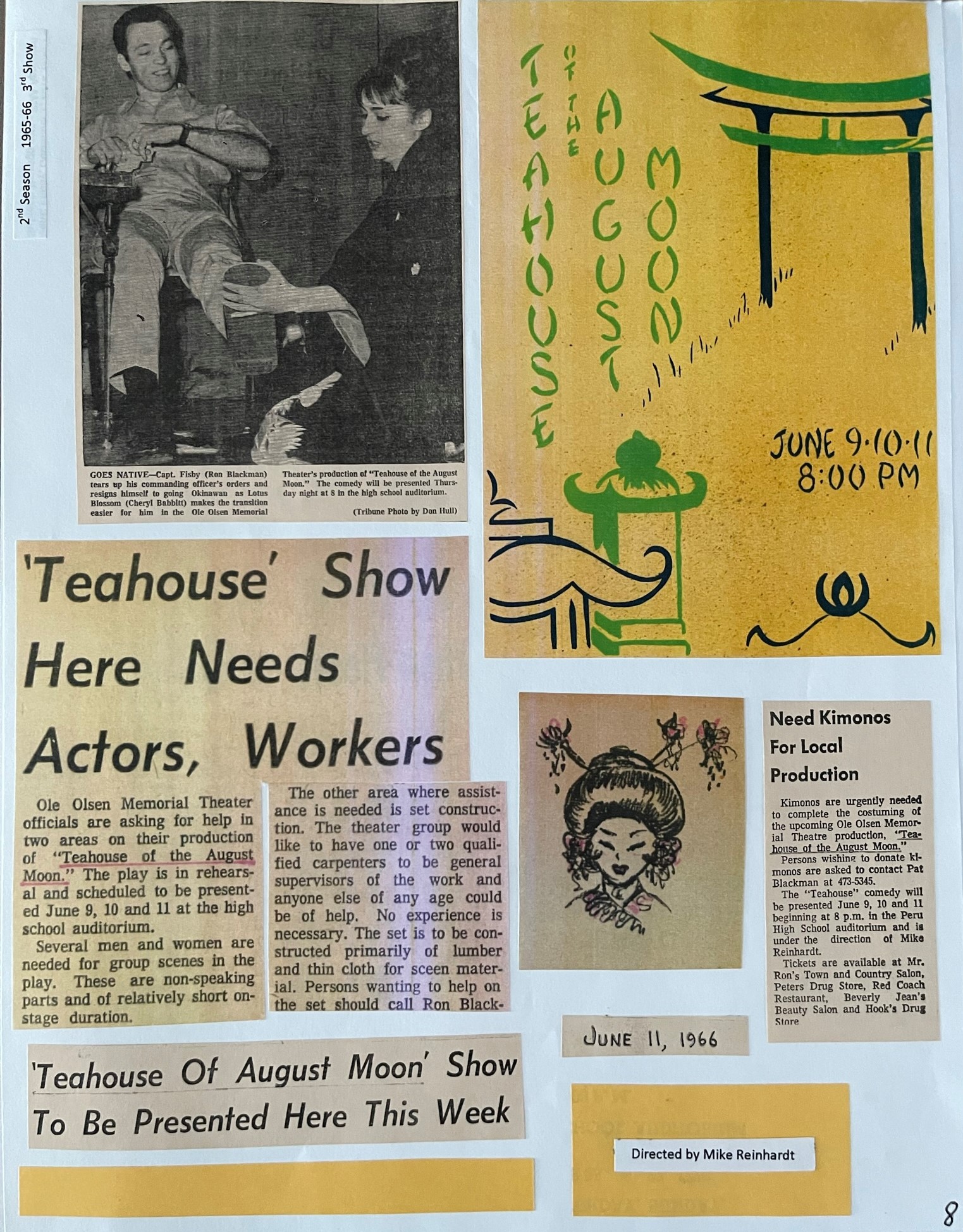 2nd Season 1965/6 Teahouse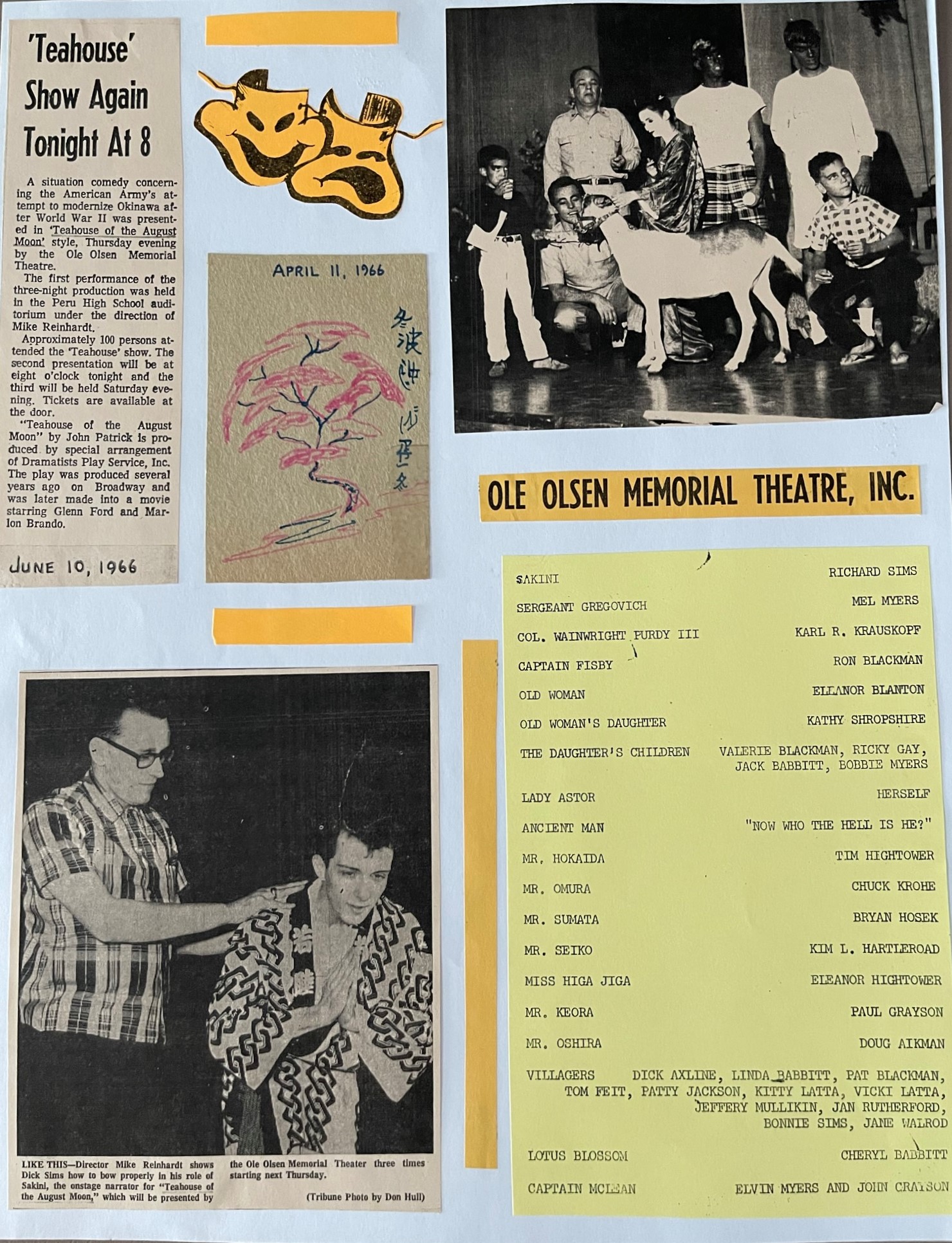 2nd Season 1965/6 Teahouse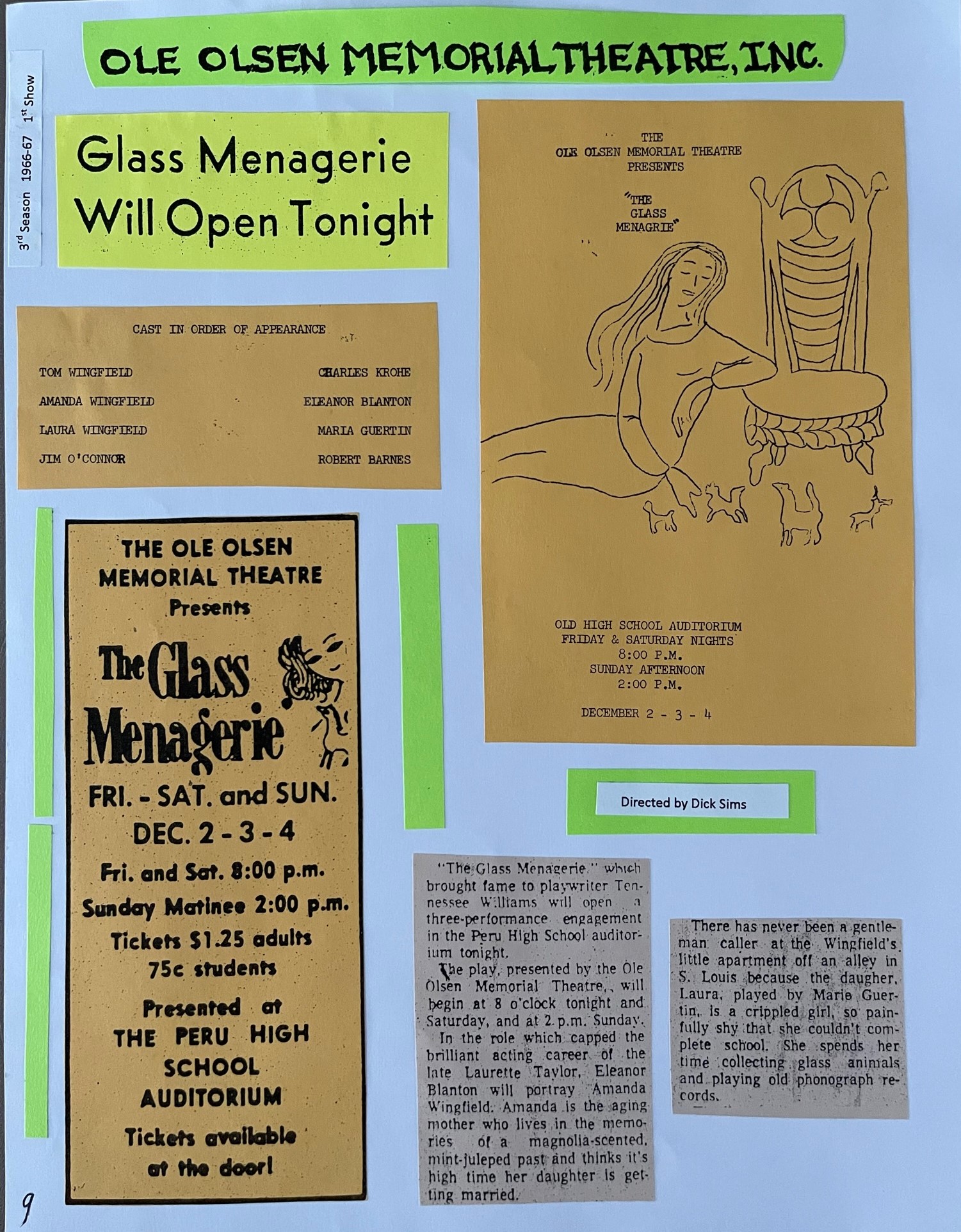 3rd Season 1966/7 The Glass Menagerie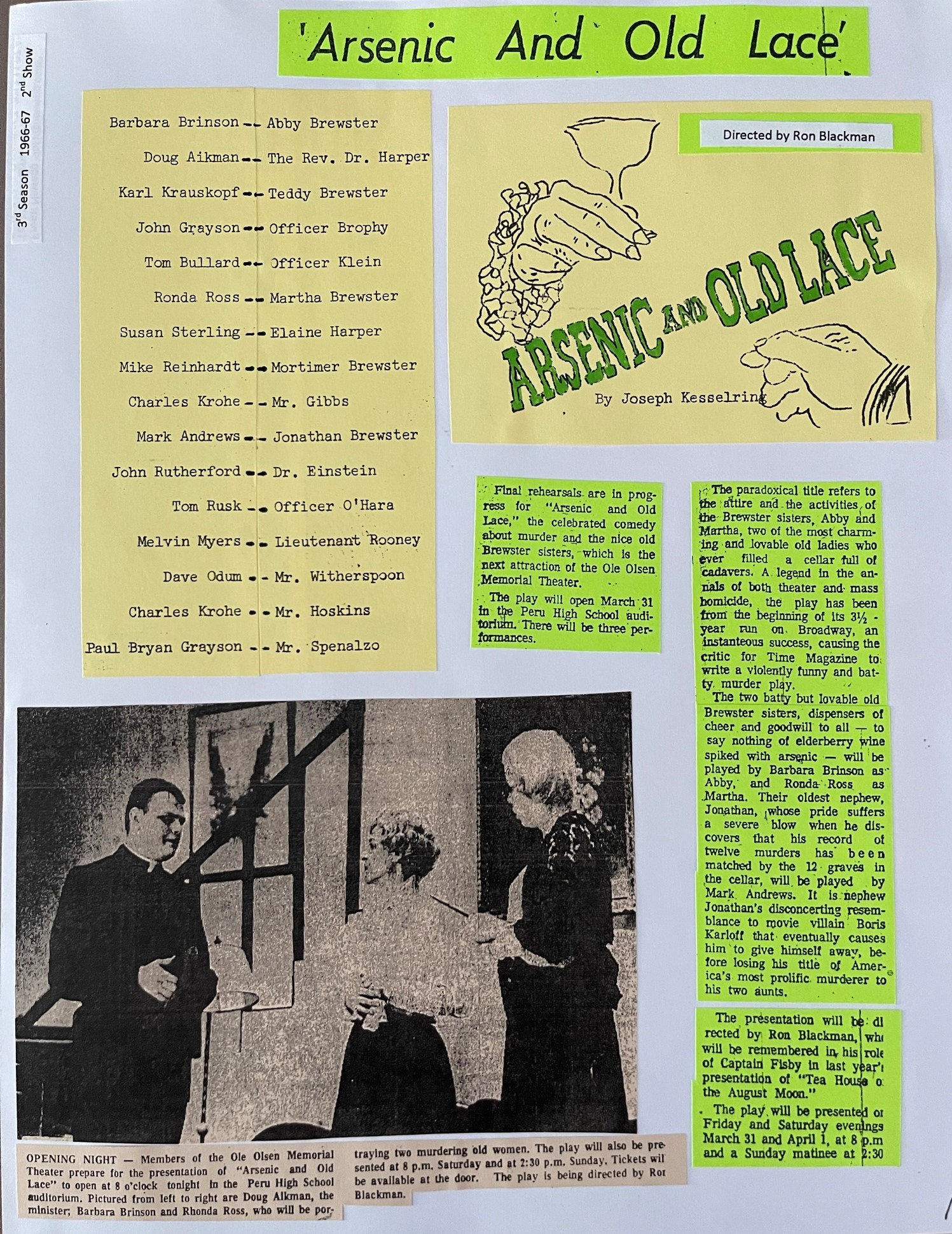 3rd Season 1966/7 Arsenic and Old Lace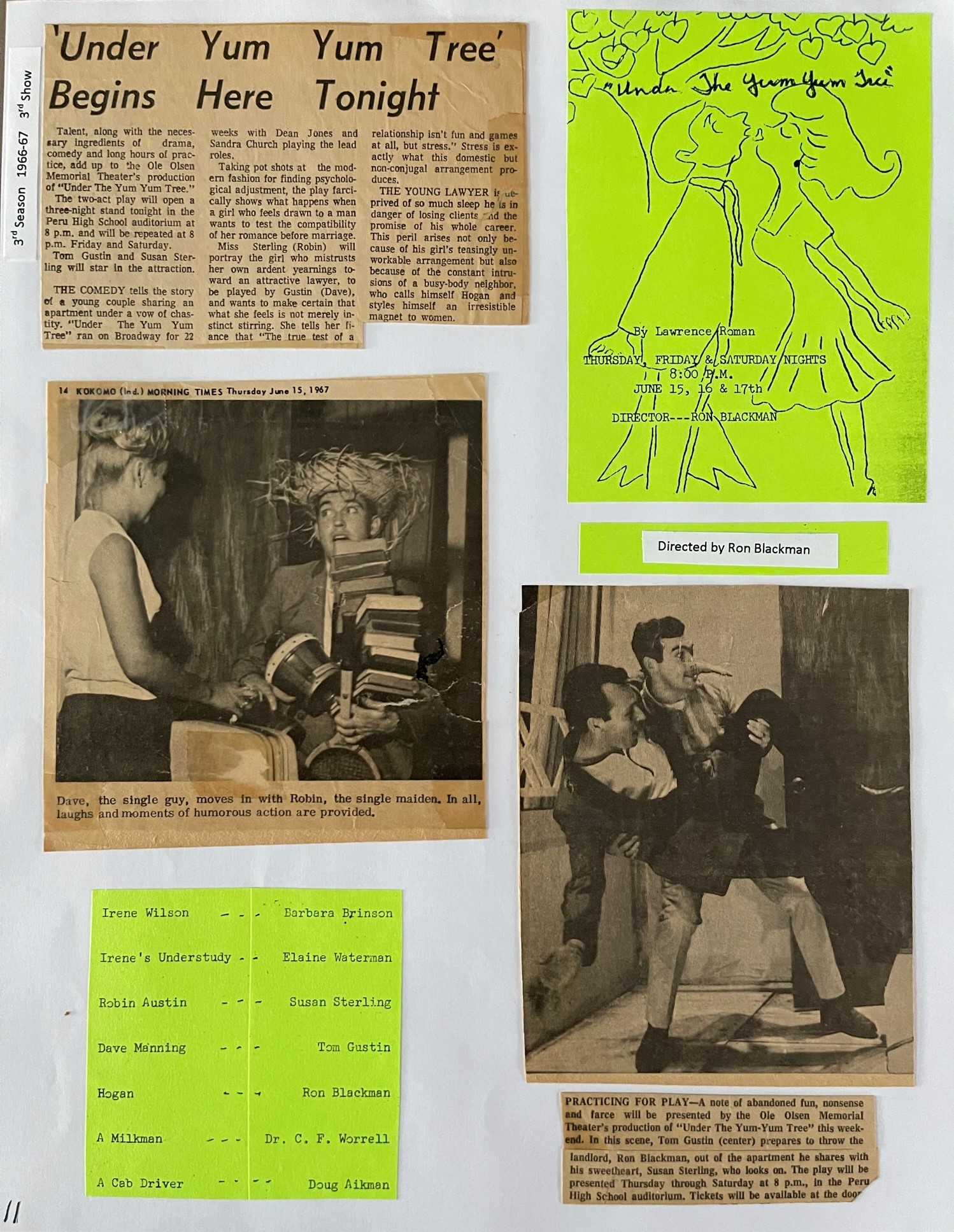 3rd Season 1966/7 Under the Yum Yum Tree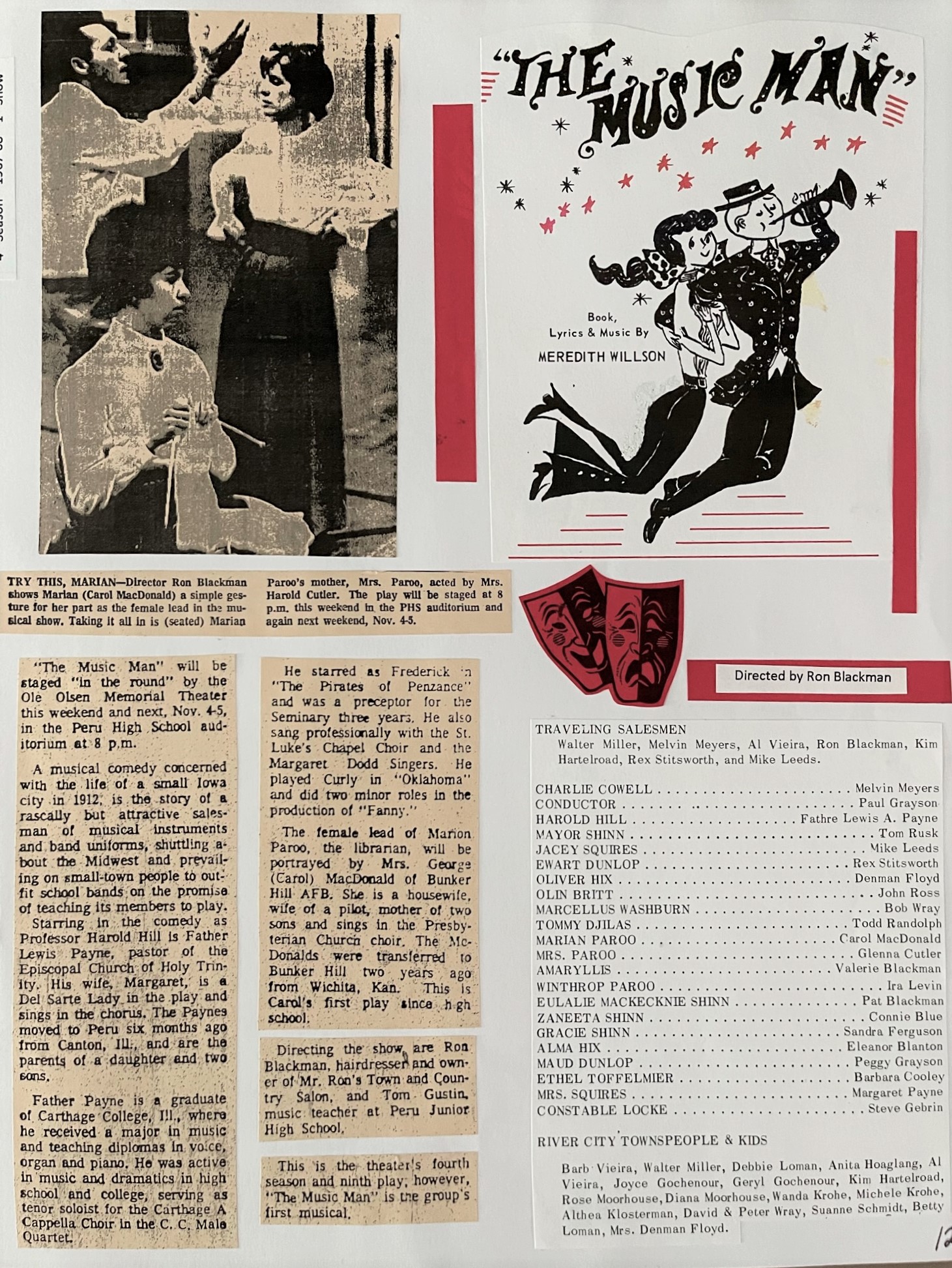 4th Season 1967/8 The Music Man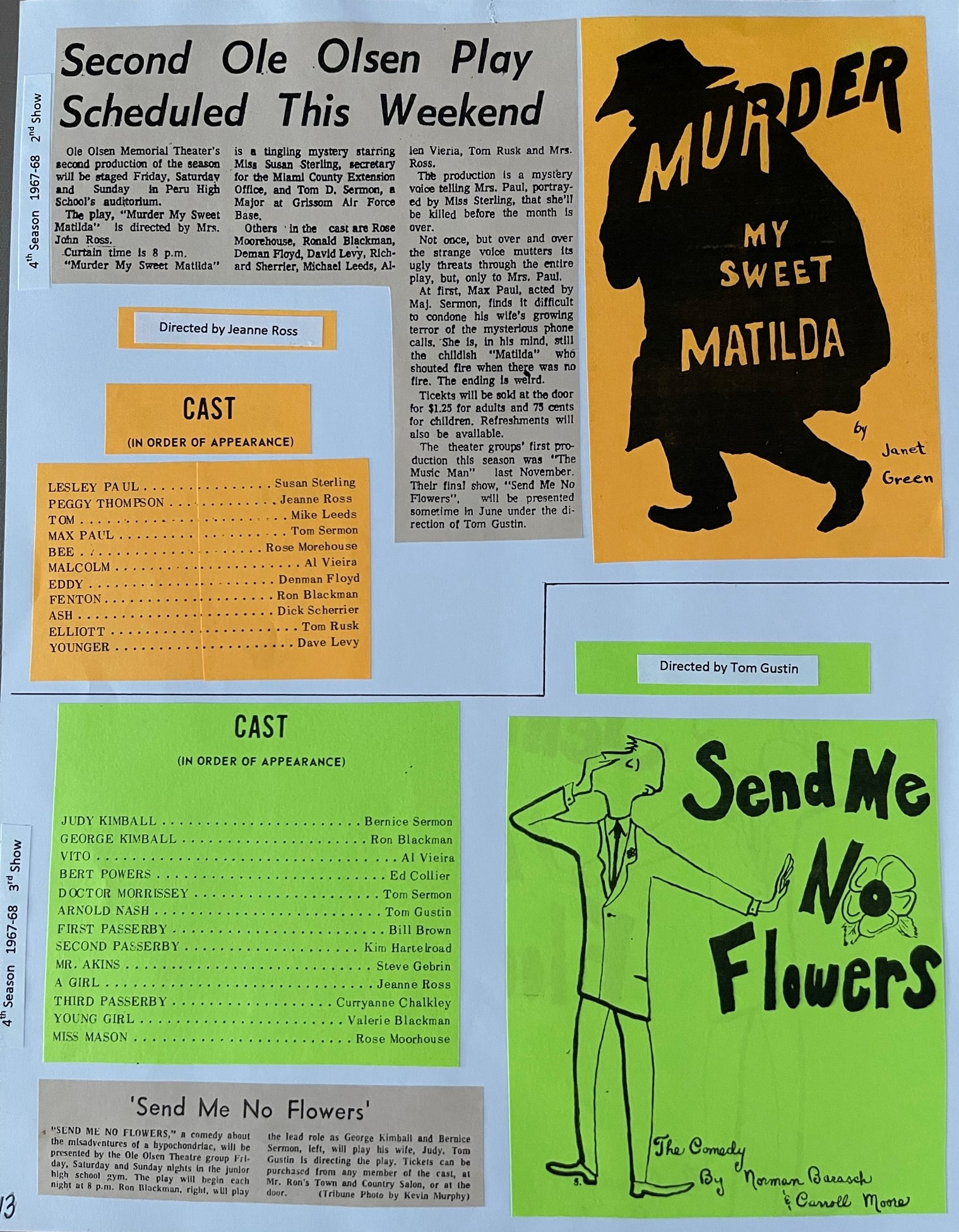 4th Season 1967/8 Murder My Sweet Matilda & Send Me No Flowers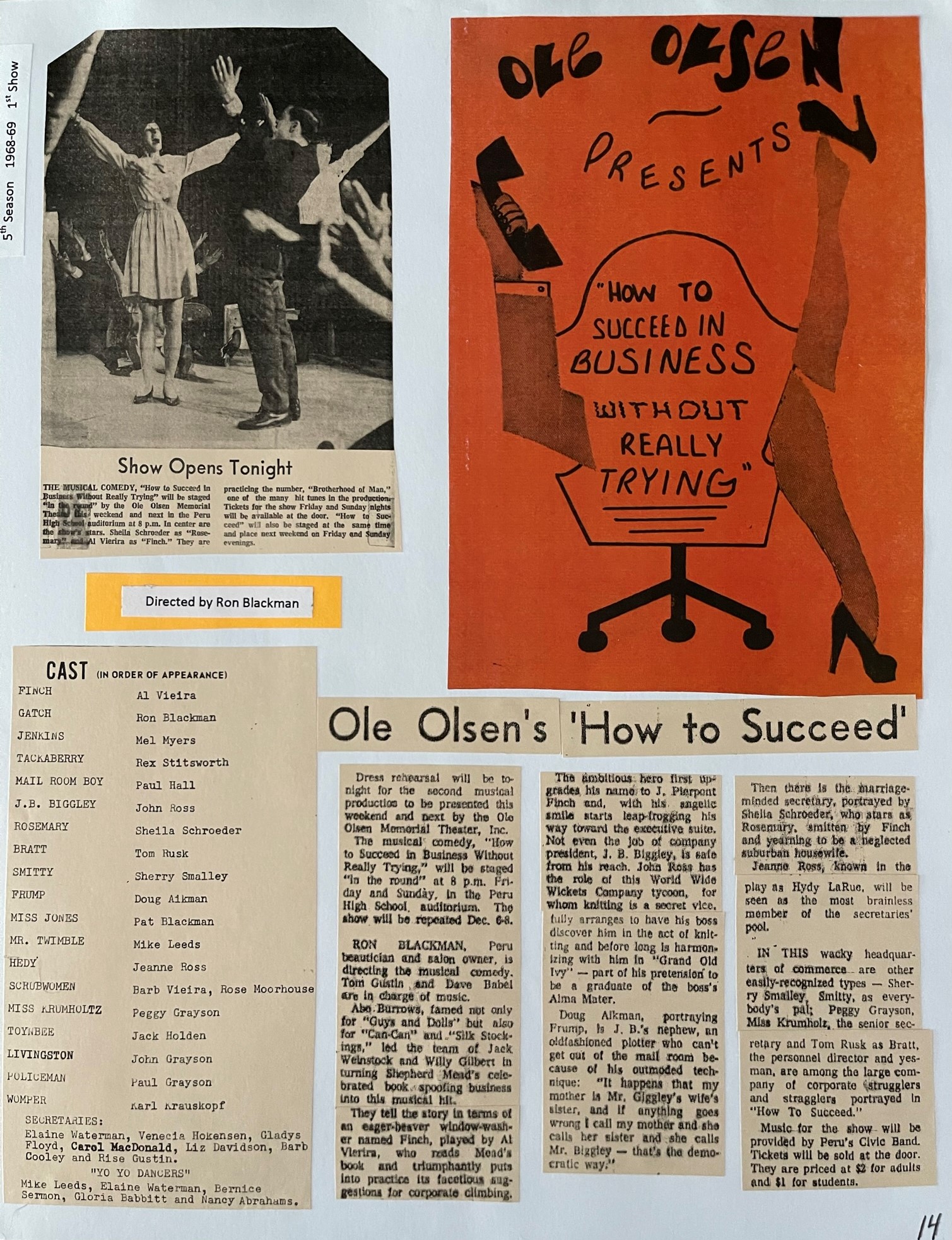 5th Season 1968/9 How to Succeed in Business Without Really Trying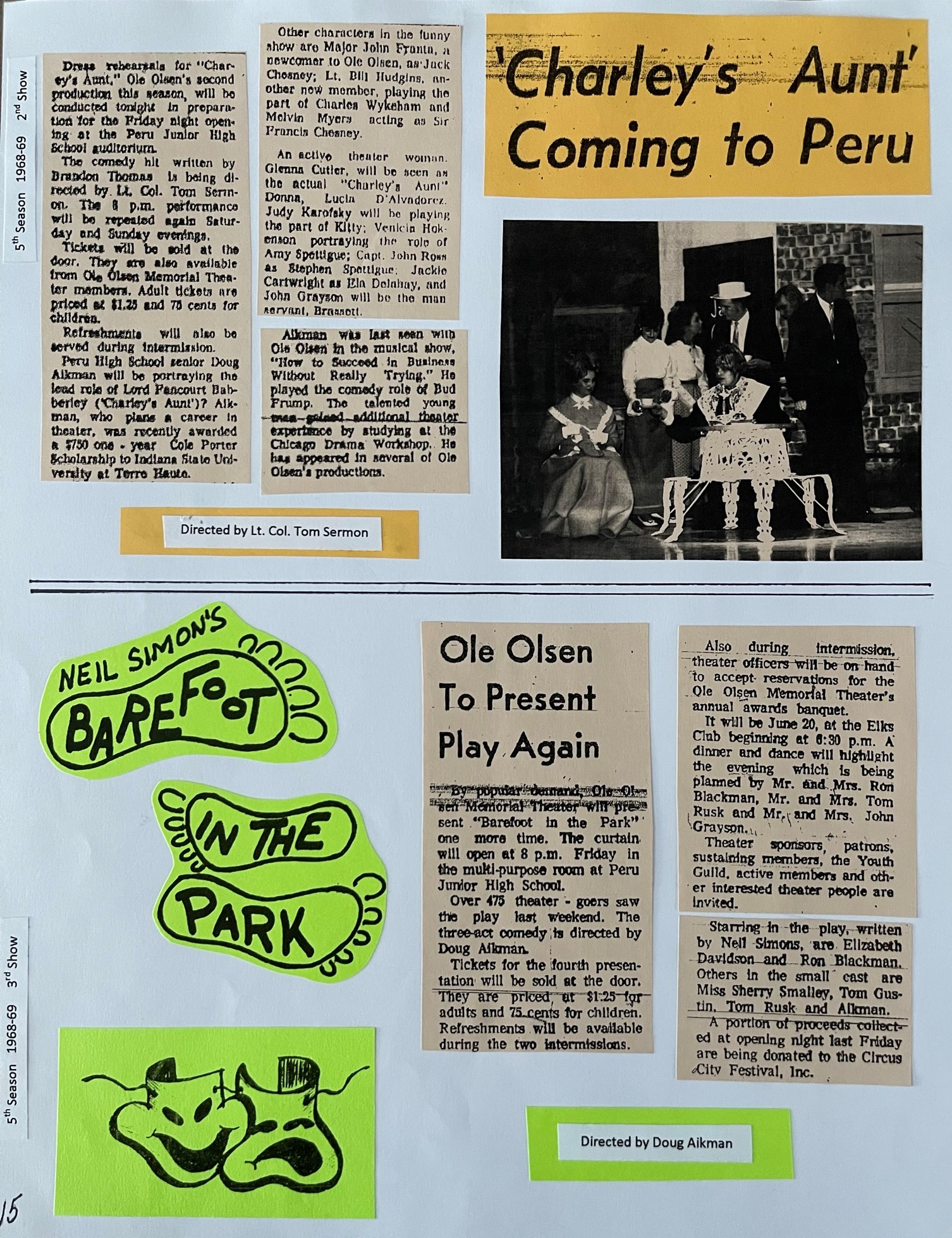 5th Season 1968/9 Charley's Aunt & Barefoot in the Park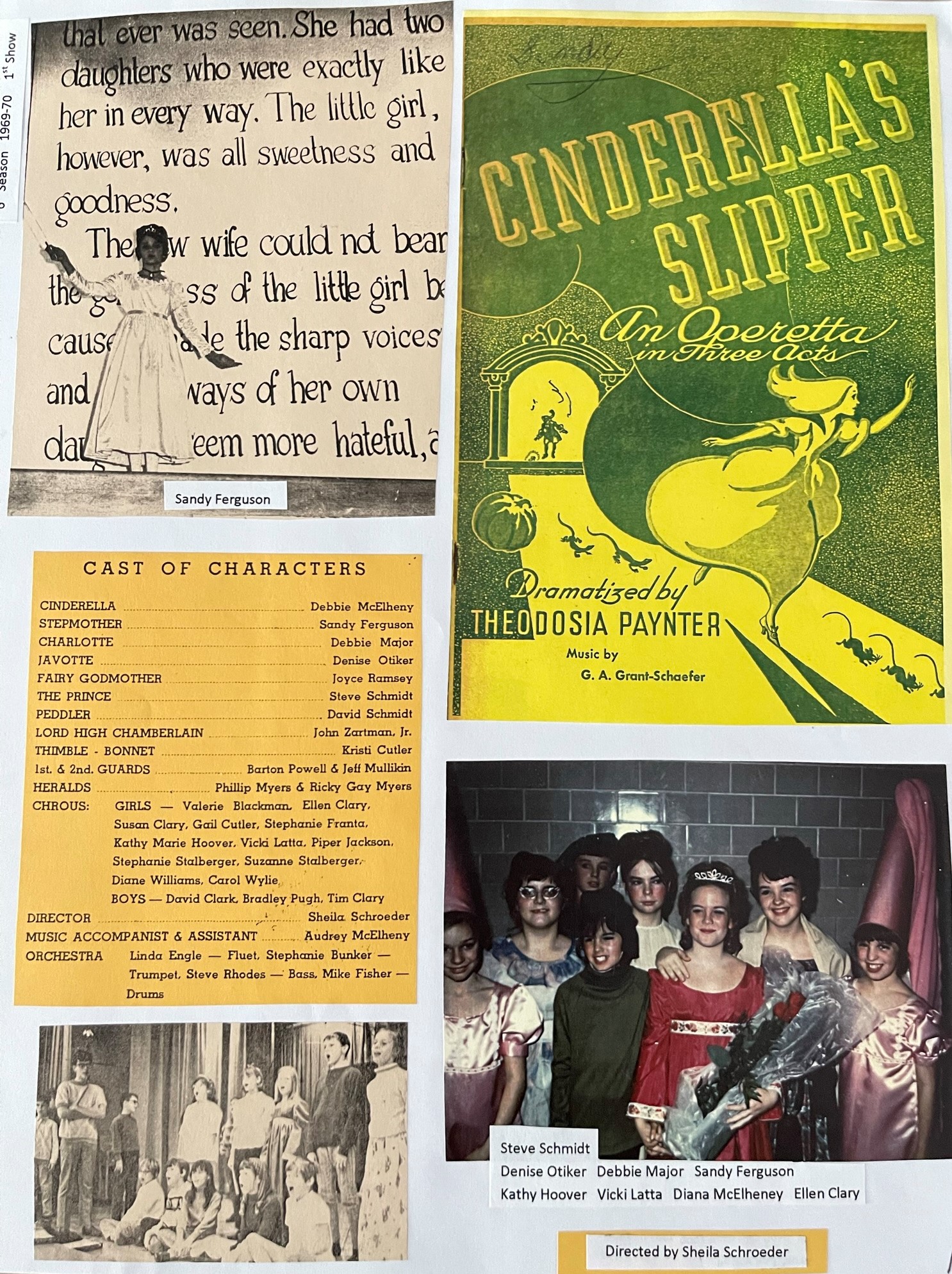 6th Season 1969/70 Cinderella's Slipper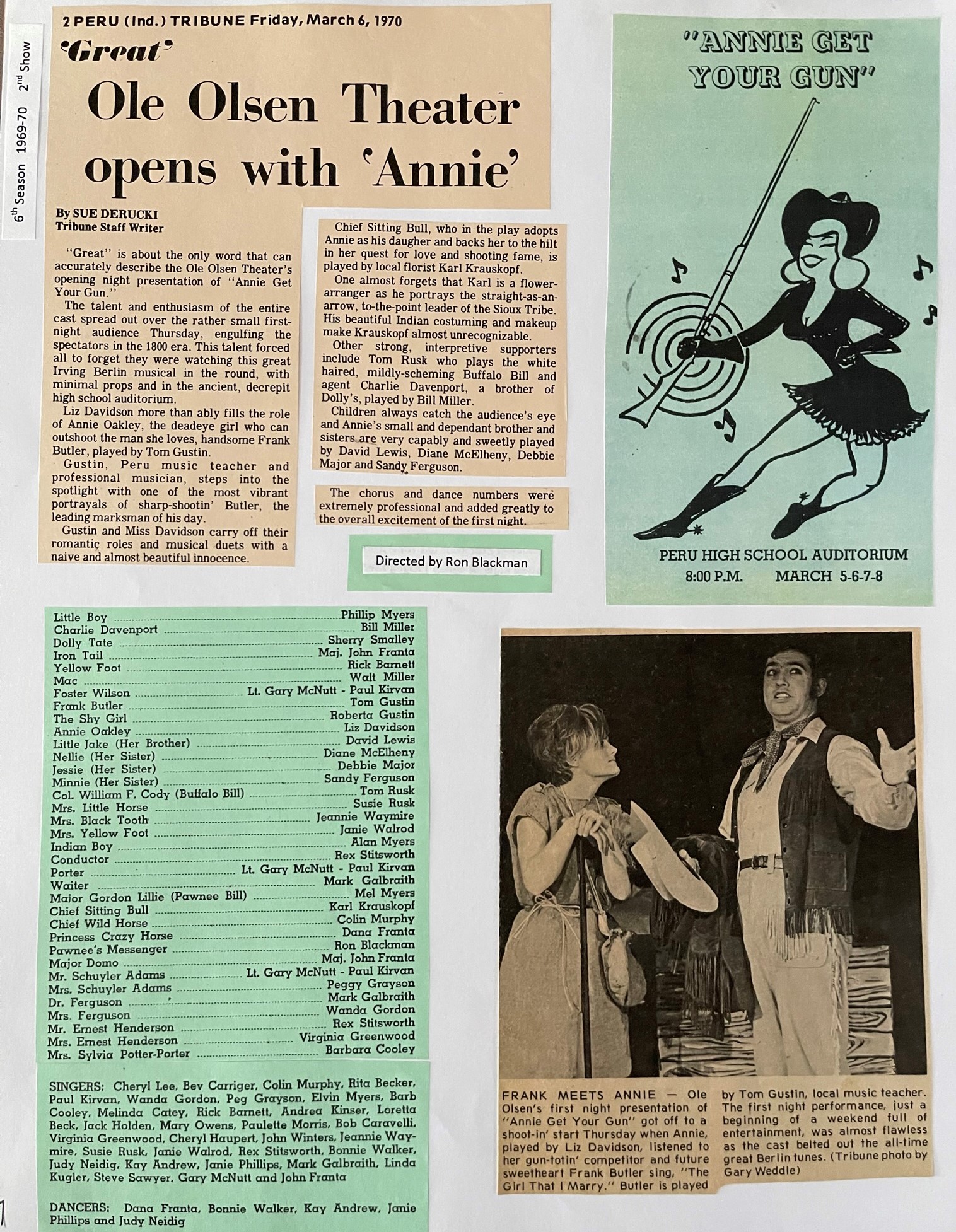 6th Season 1969/70 Annie Get Your Gun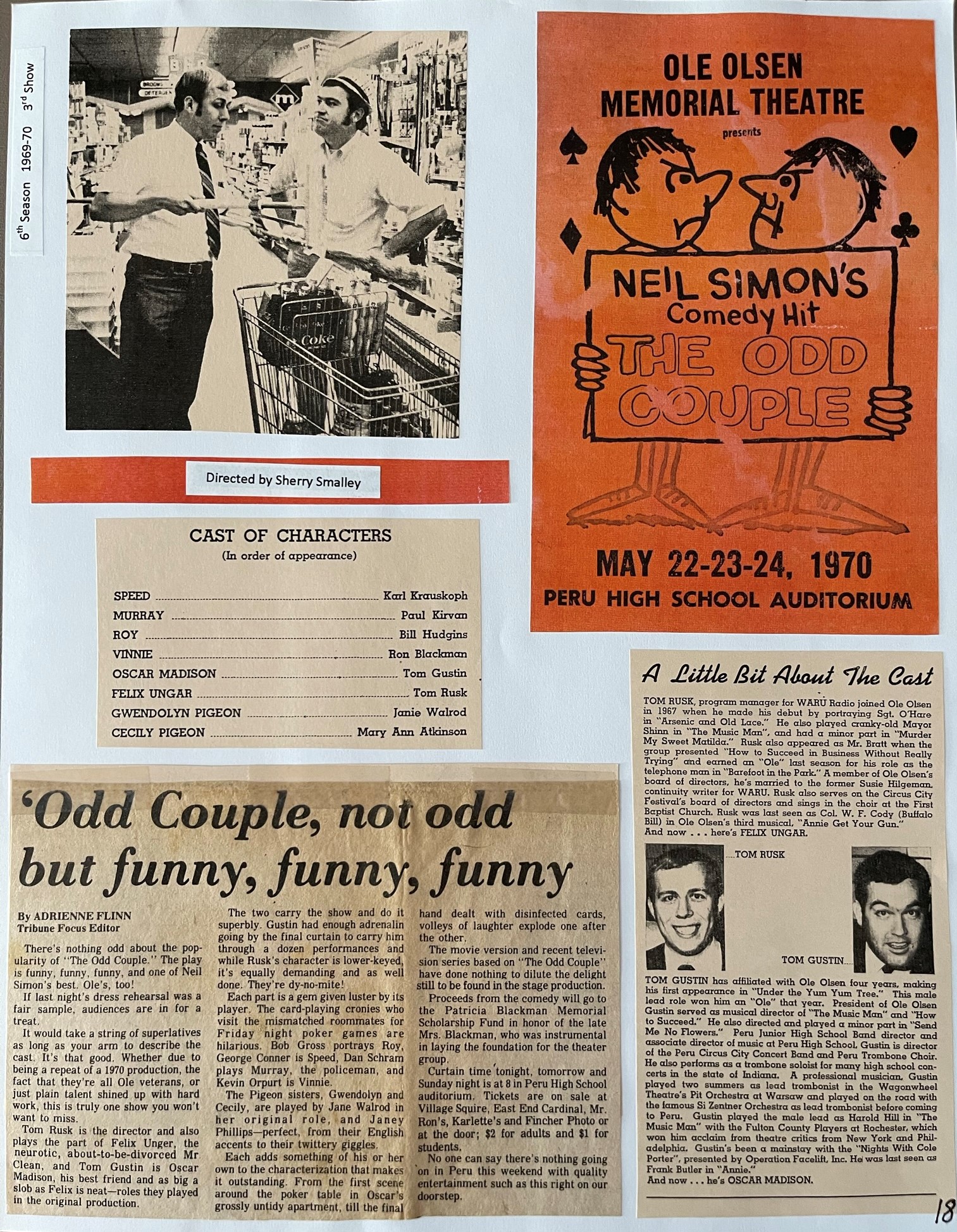 6th Season 1969/70 The Odd Couple
7th Season 1970/1 Blithe Spirit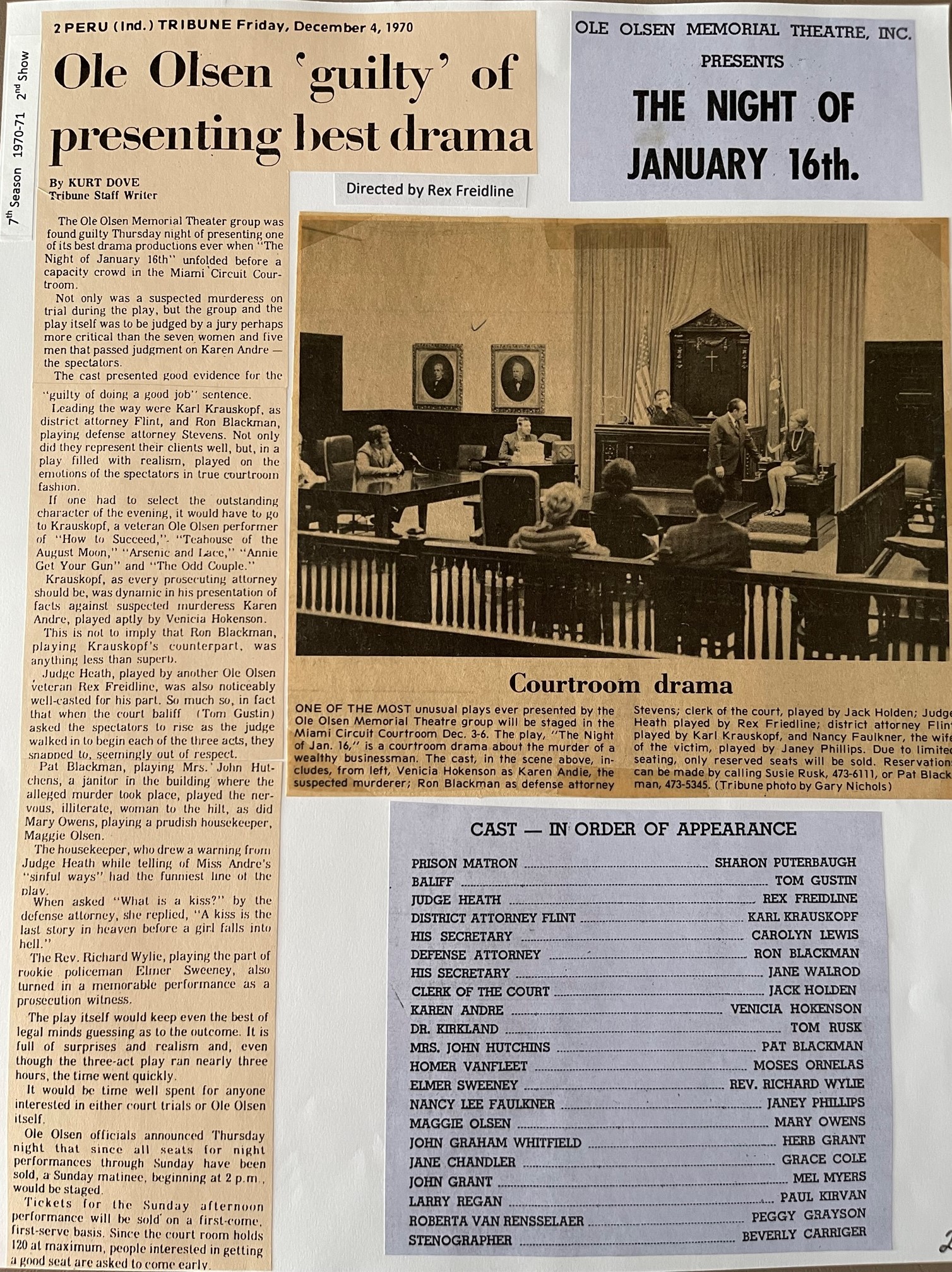 7th Season 1970/1 The Night of January 16th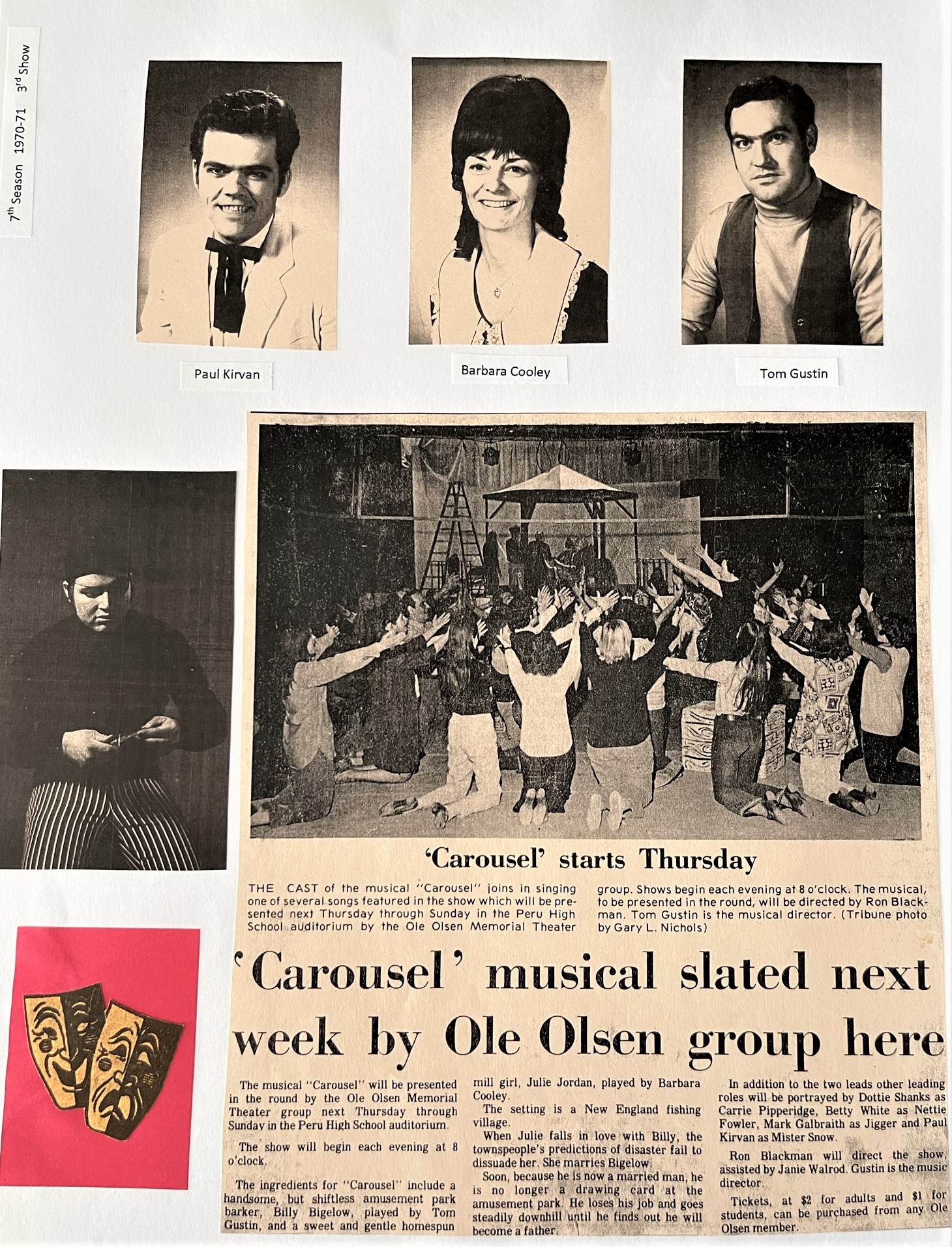 7th Season 1970/1 Carousel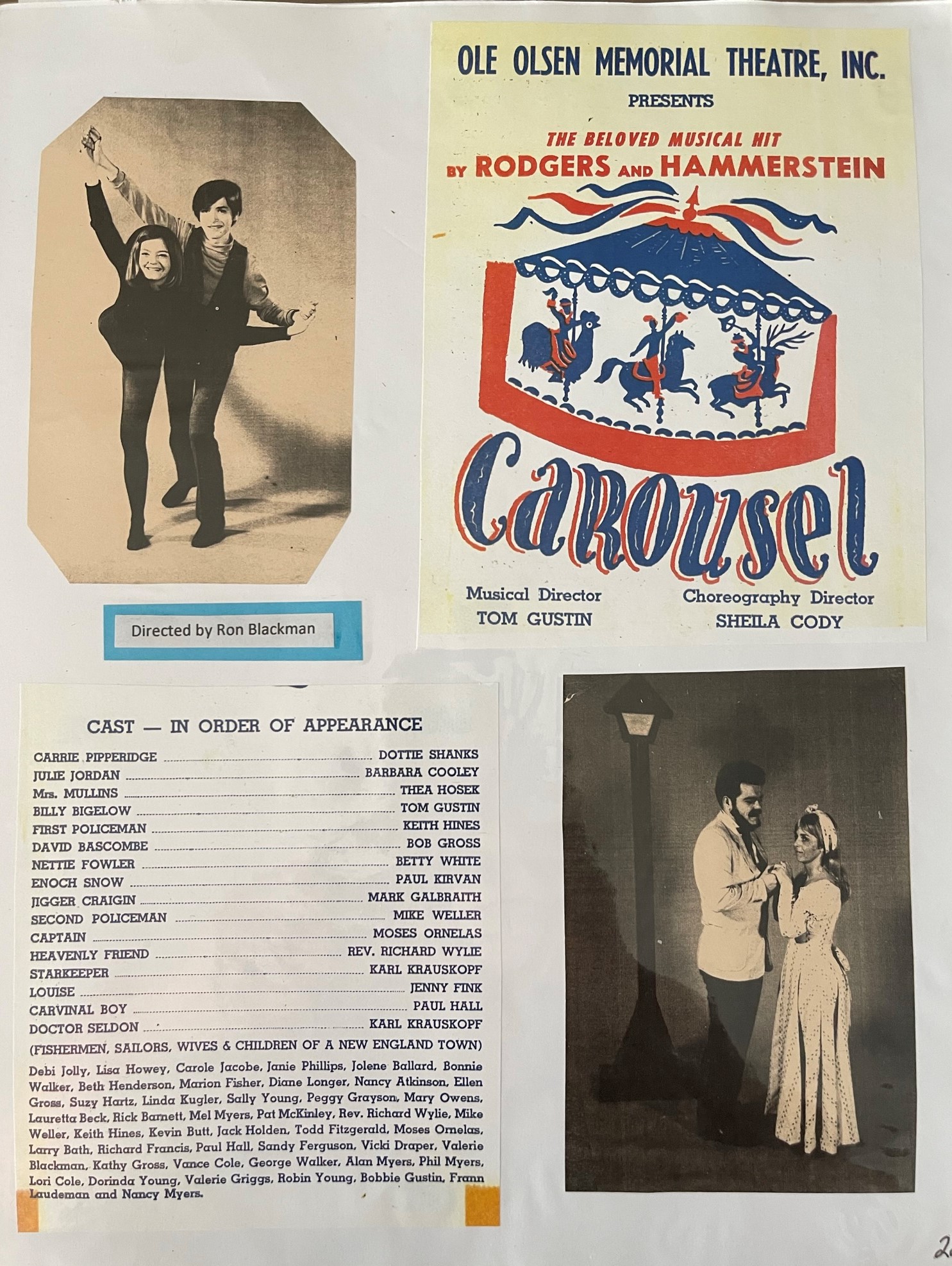 7th Season 1970/1 Carosel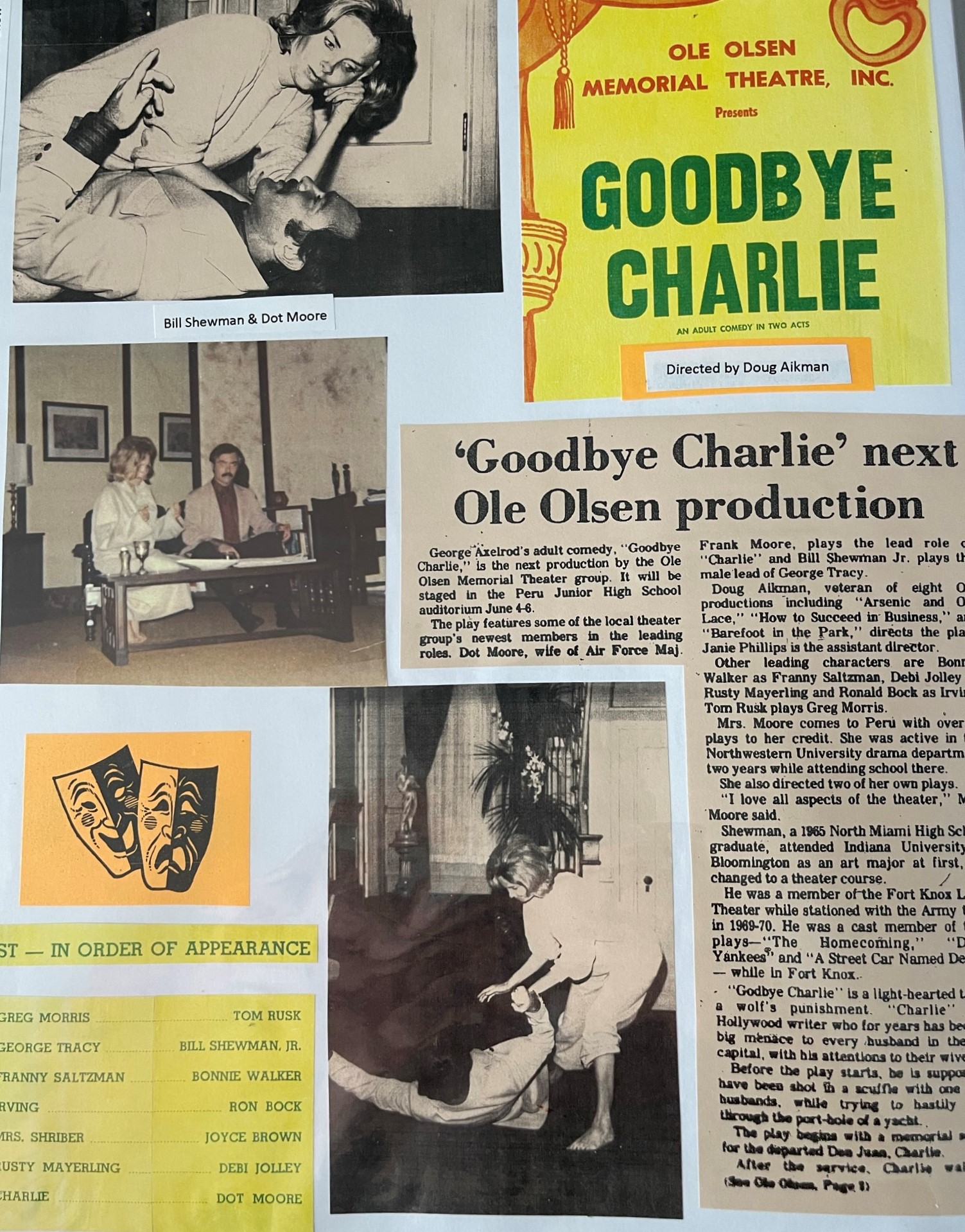 7th Season 1970/1 Goodbye Charlie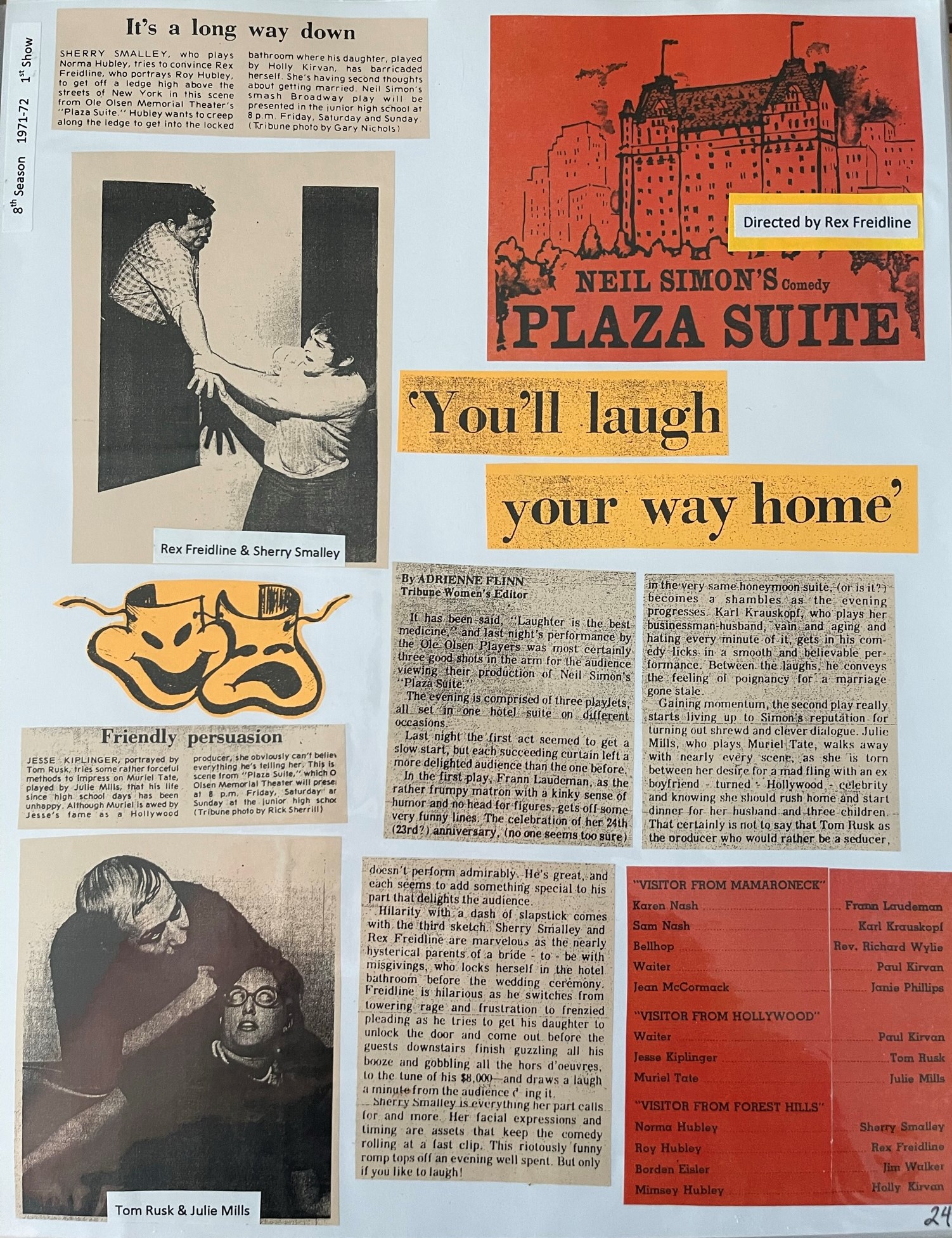 8th Season 1971/2 Plaza Suite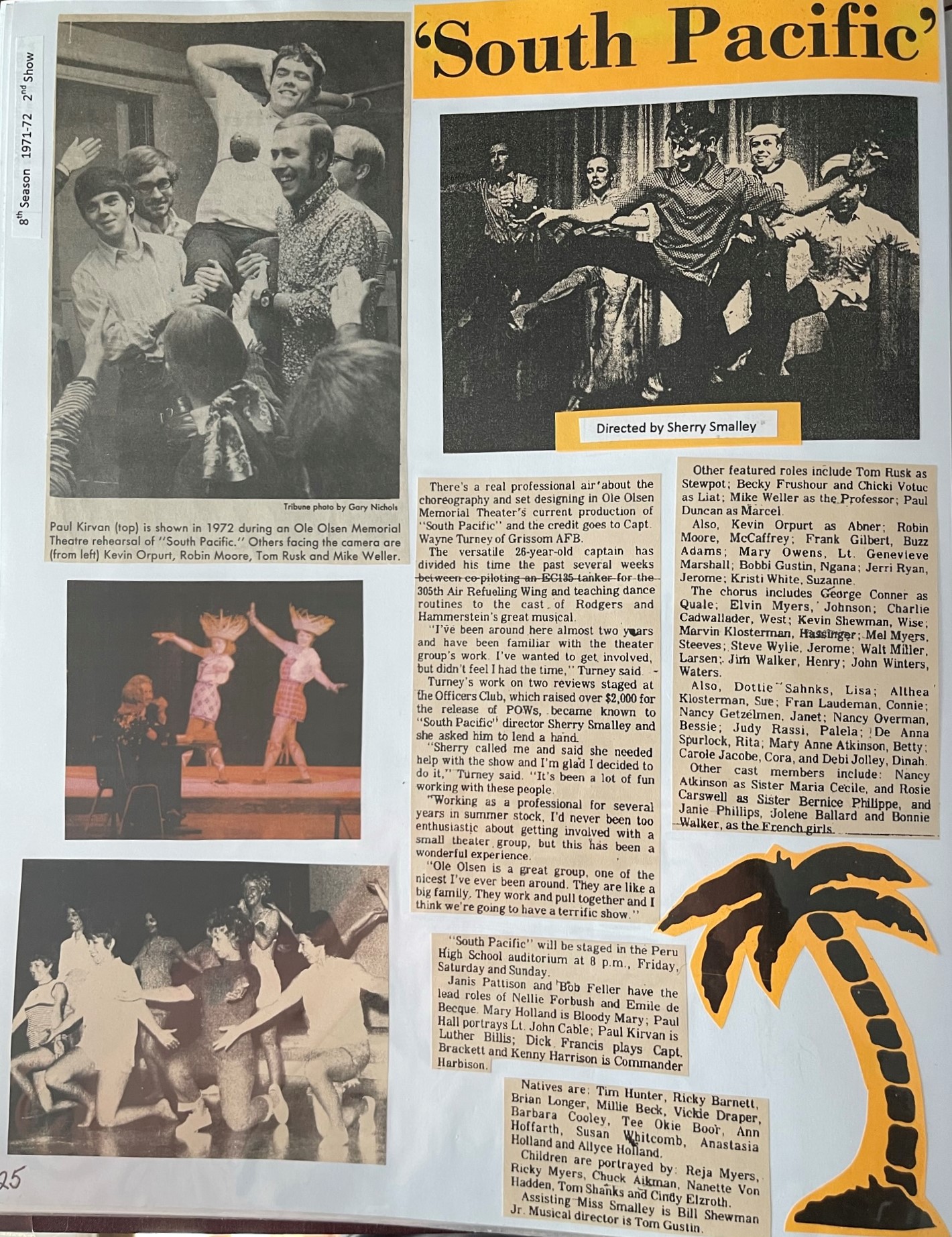 8th Season 1971/2 South Pacific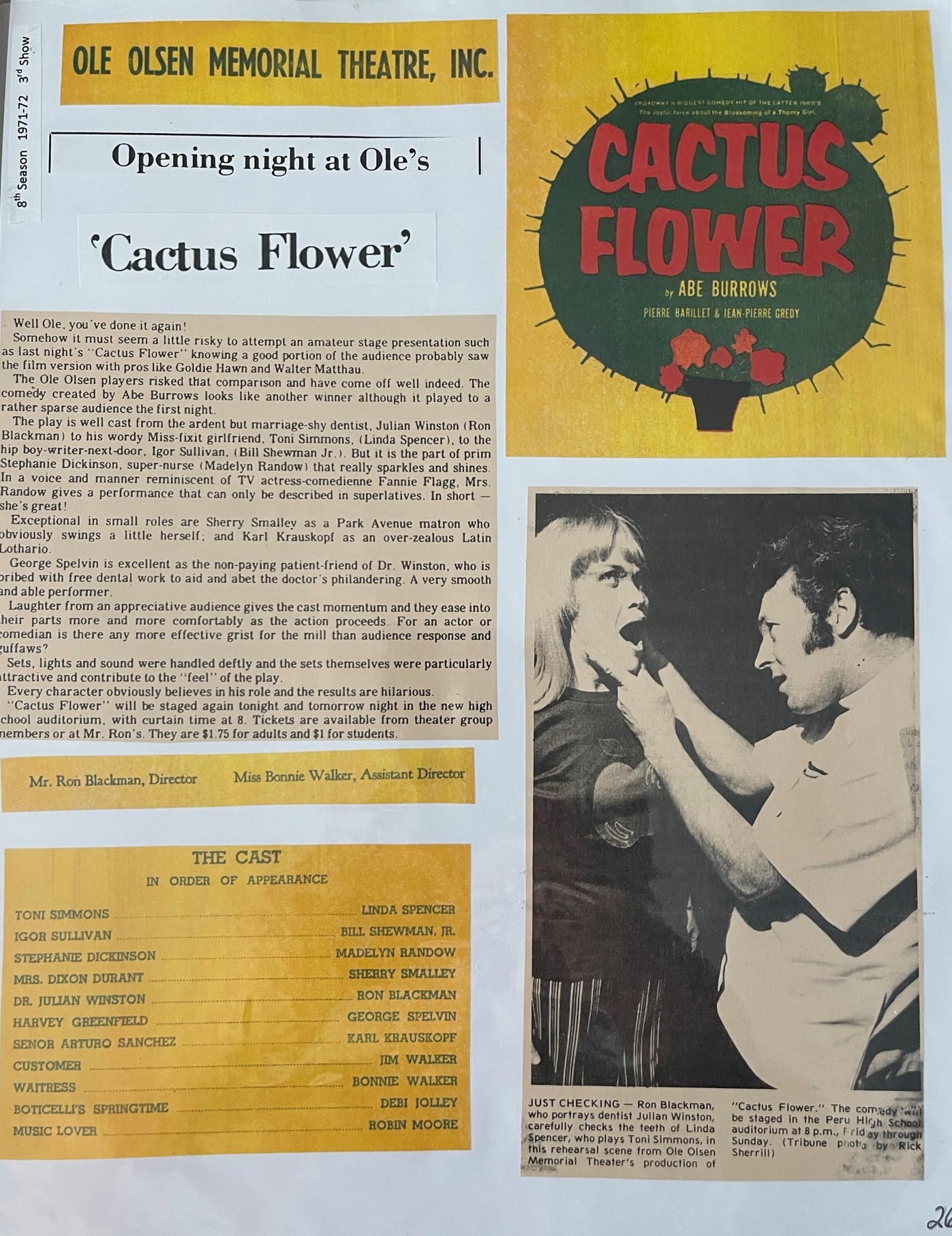 8th Season 1971/2 Cactus Flower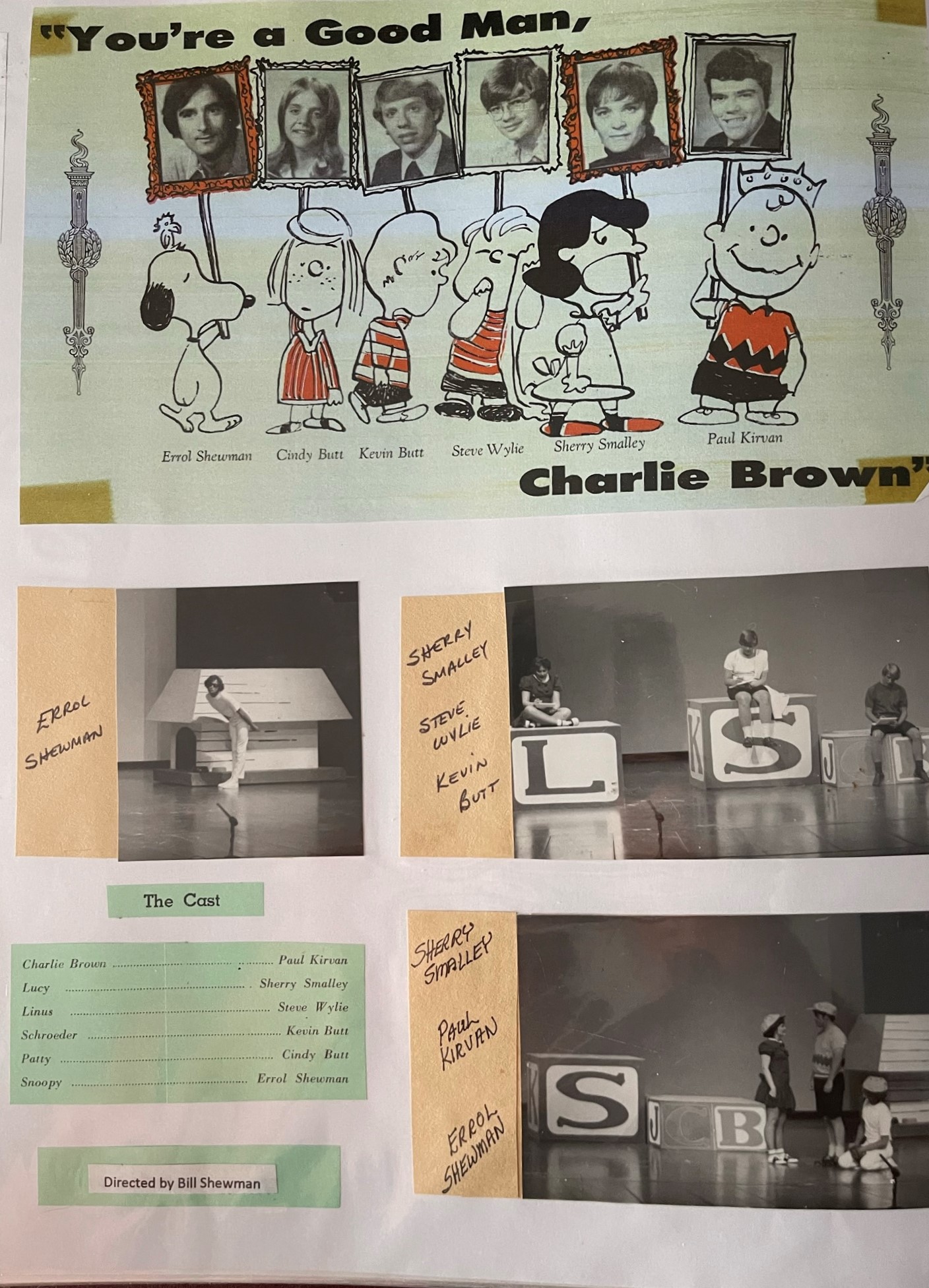 8th Season 1971/2 You're a Good Man Charlie Brown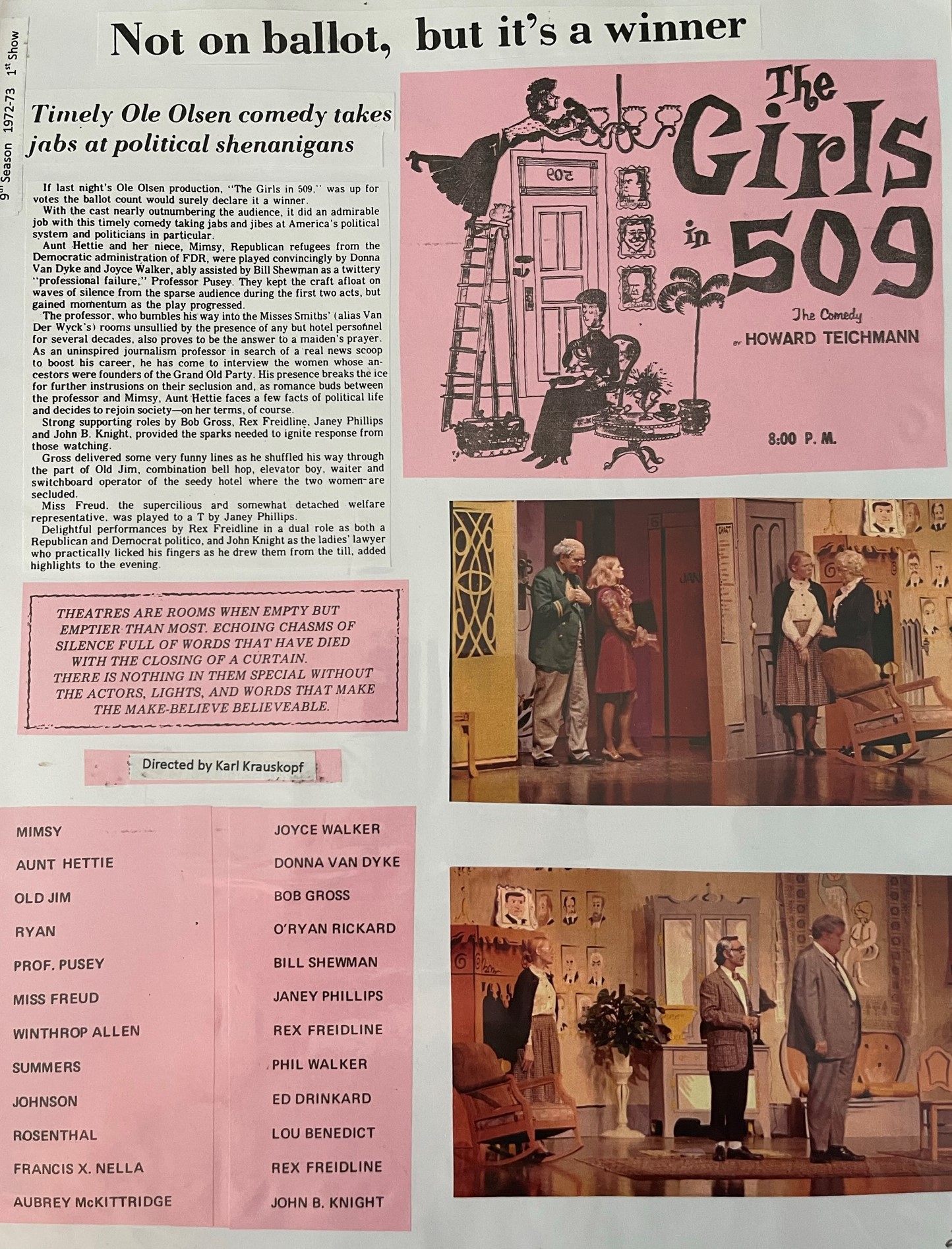 9th Season 1972/3 The Girls in 509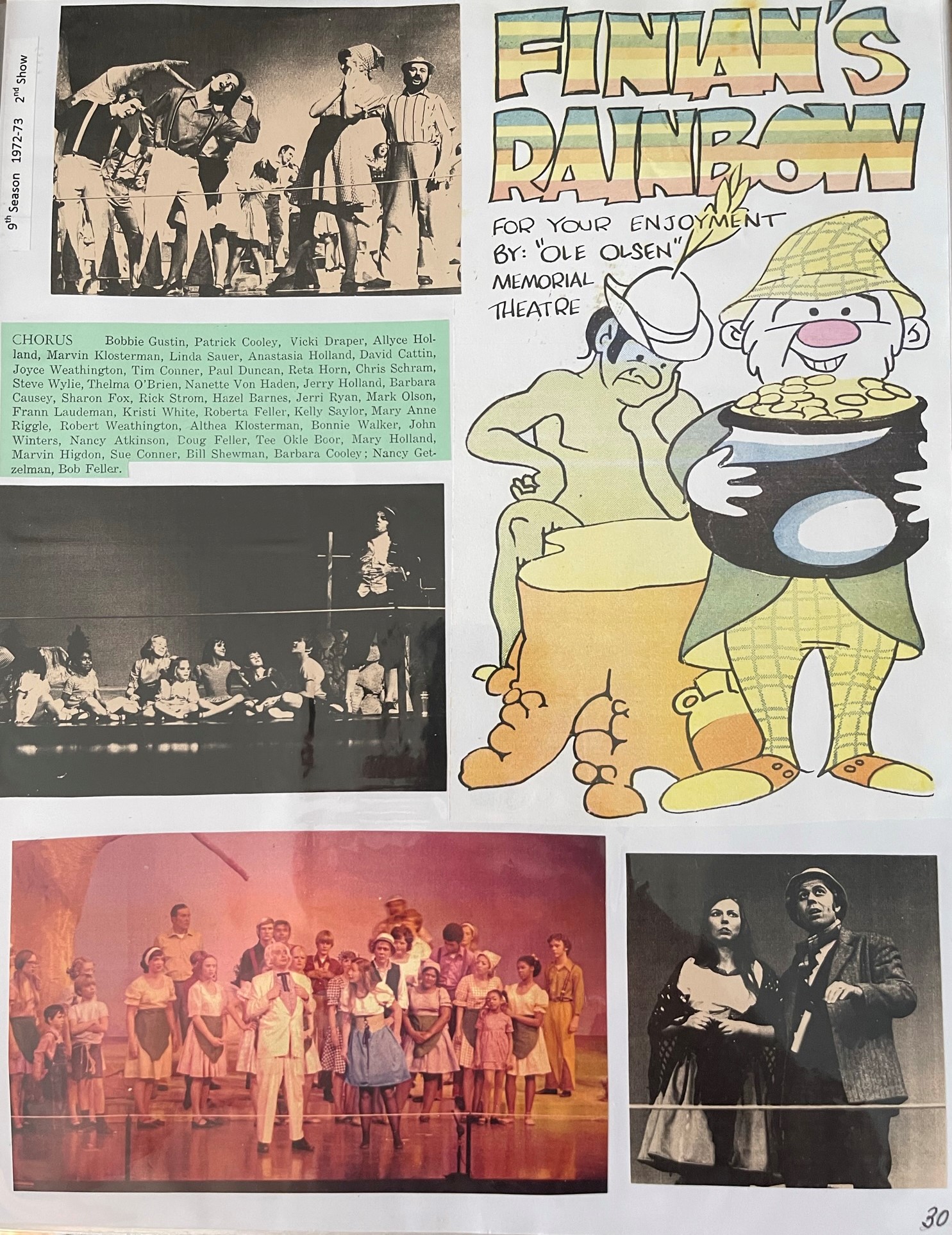 9th Season 1972/3 Finian's Rainbow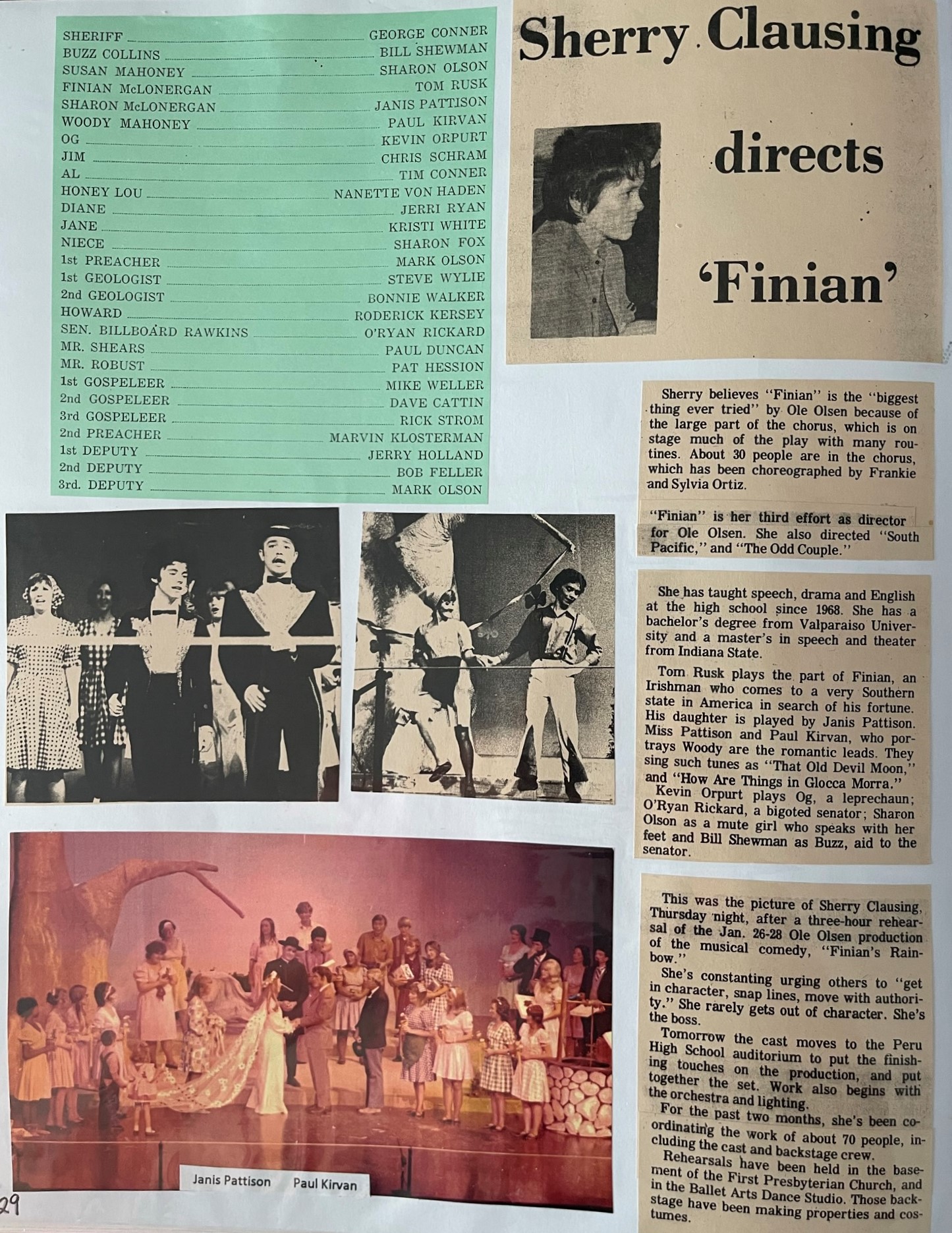 9th Season 1972/3 Finian's Rainbow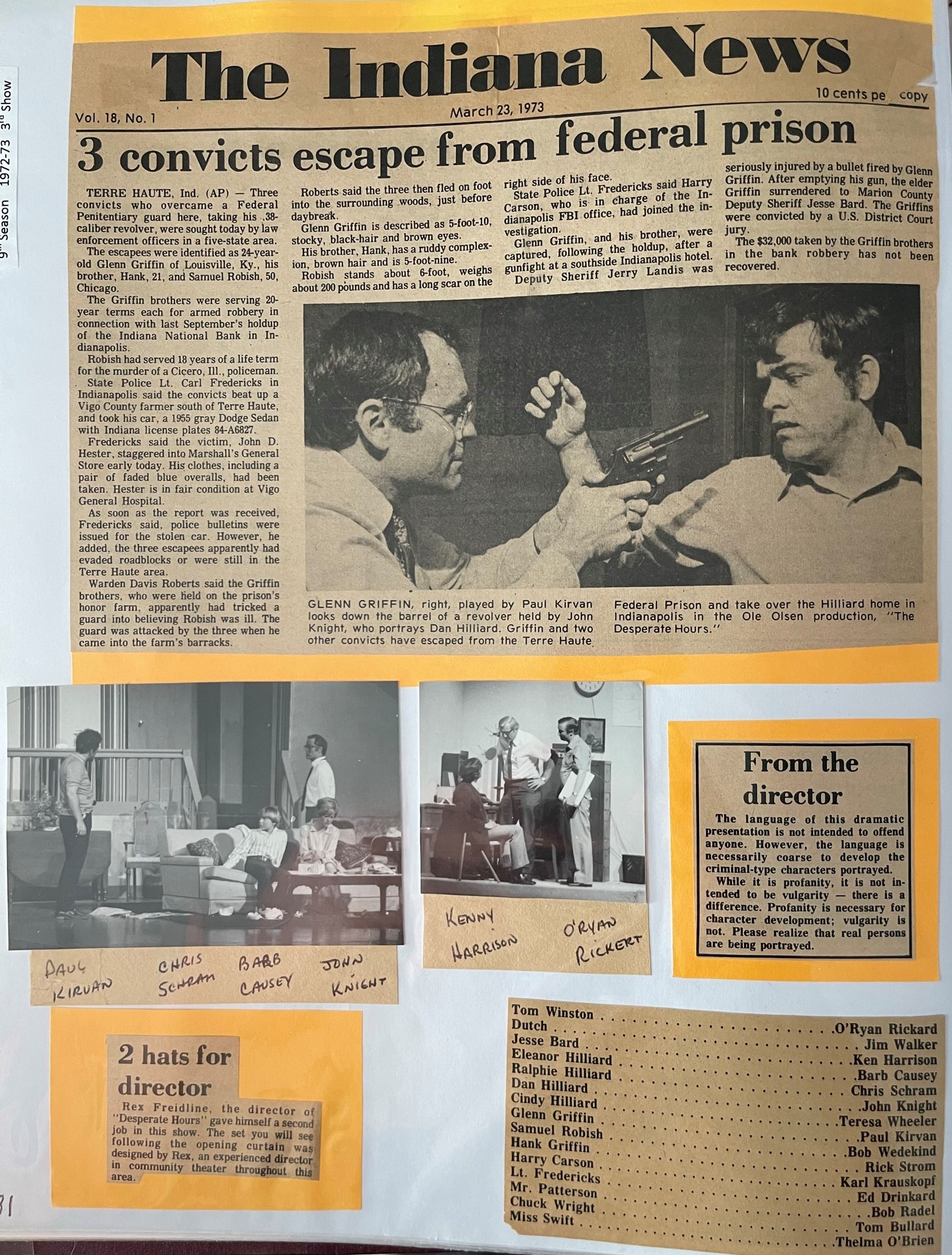 9th Season 1972/3 Desperate Hours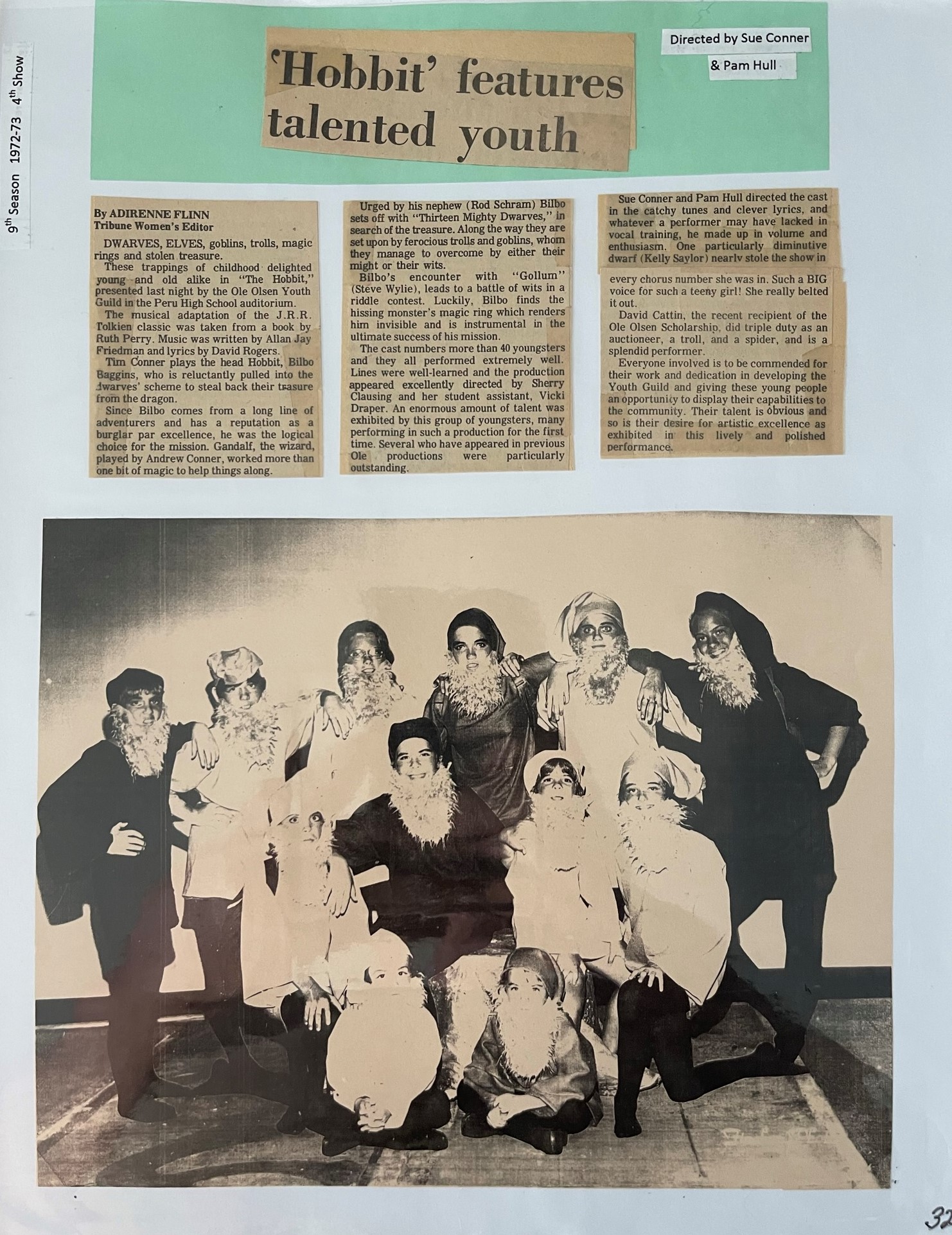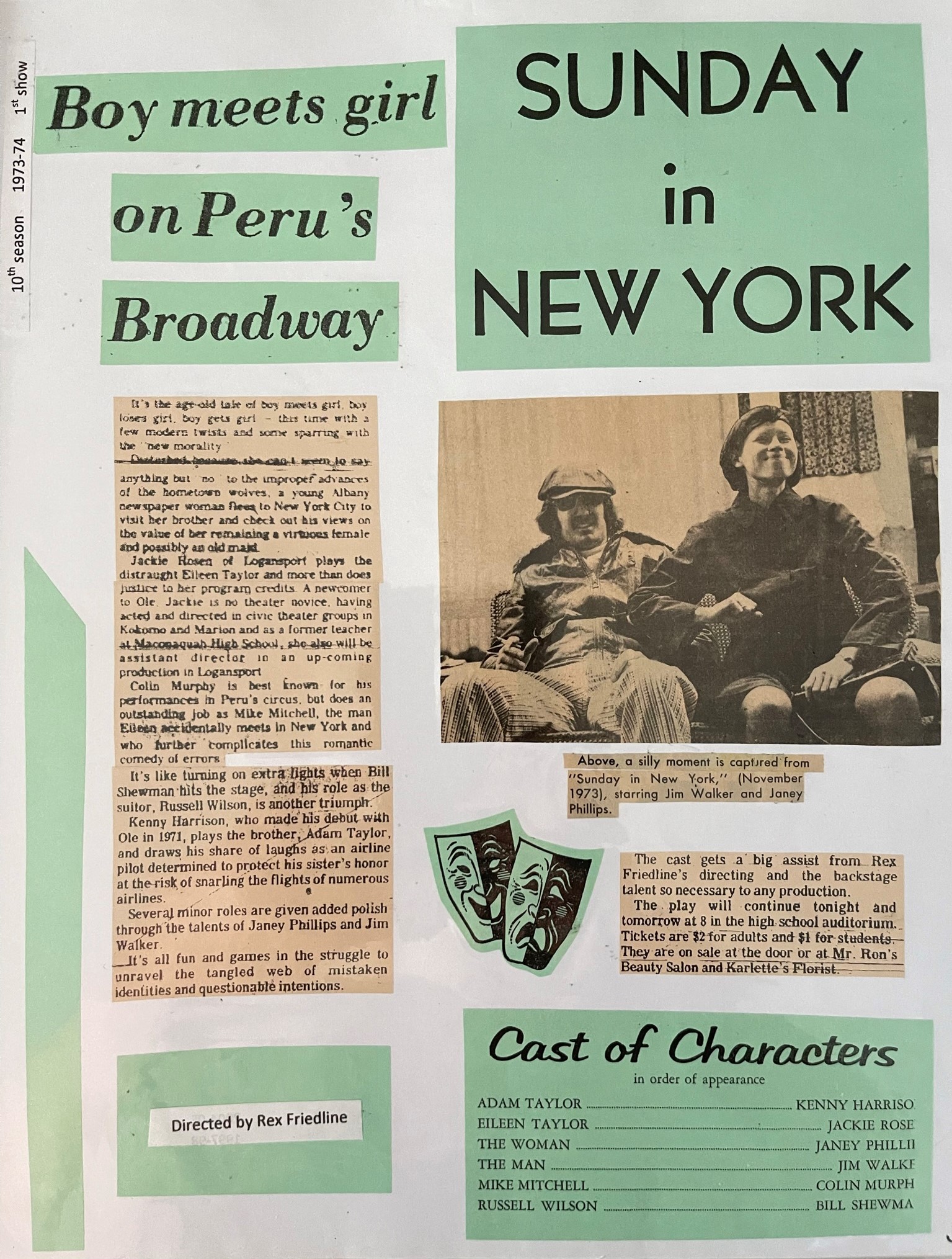 10th Season 1913/4 Sunday in New York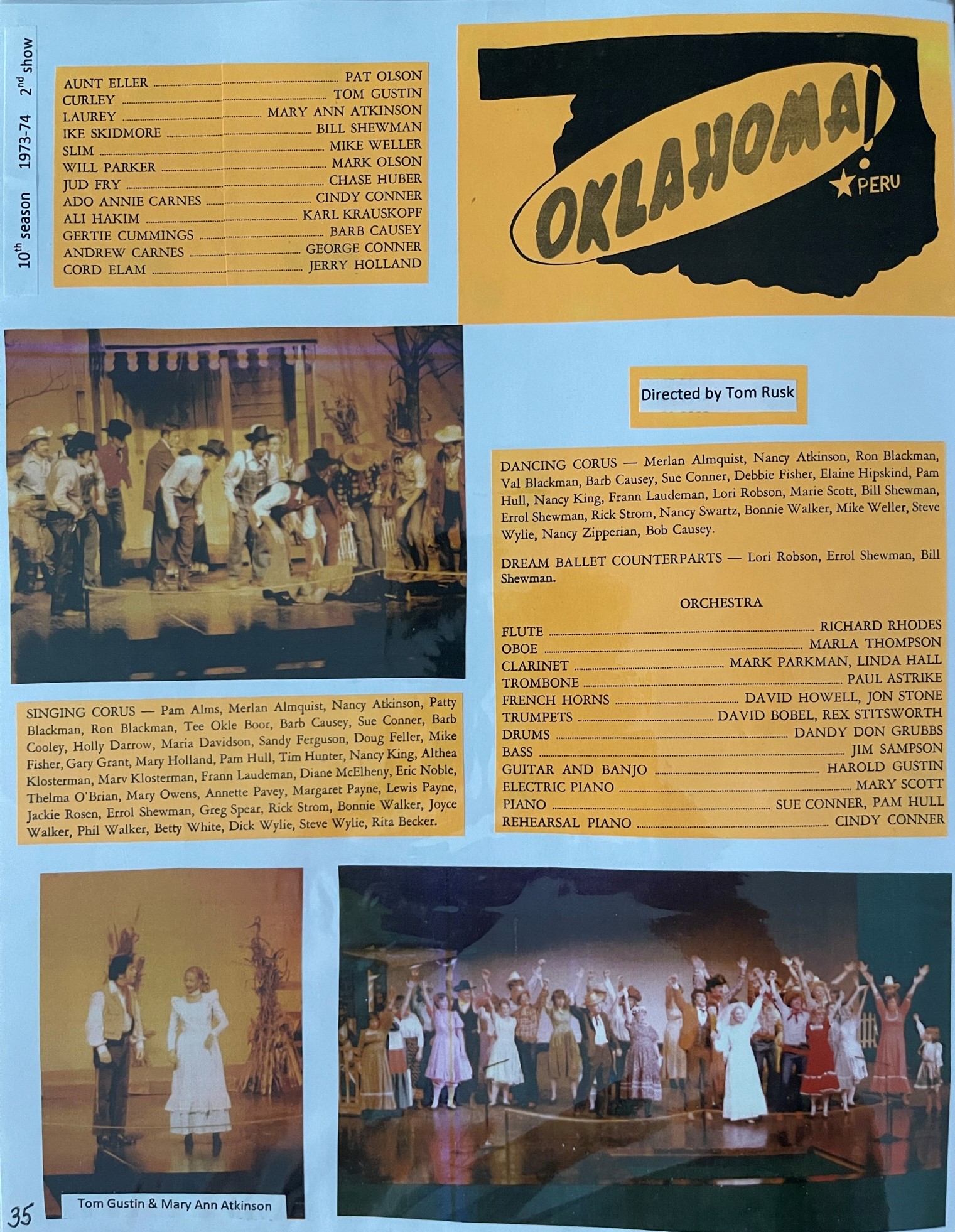 10th Season 1973/4 Oklahoma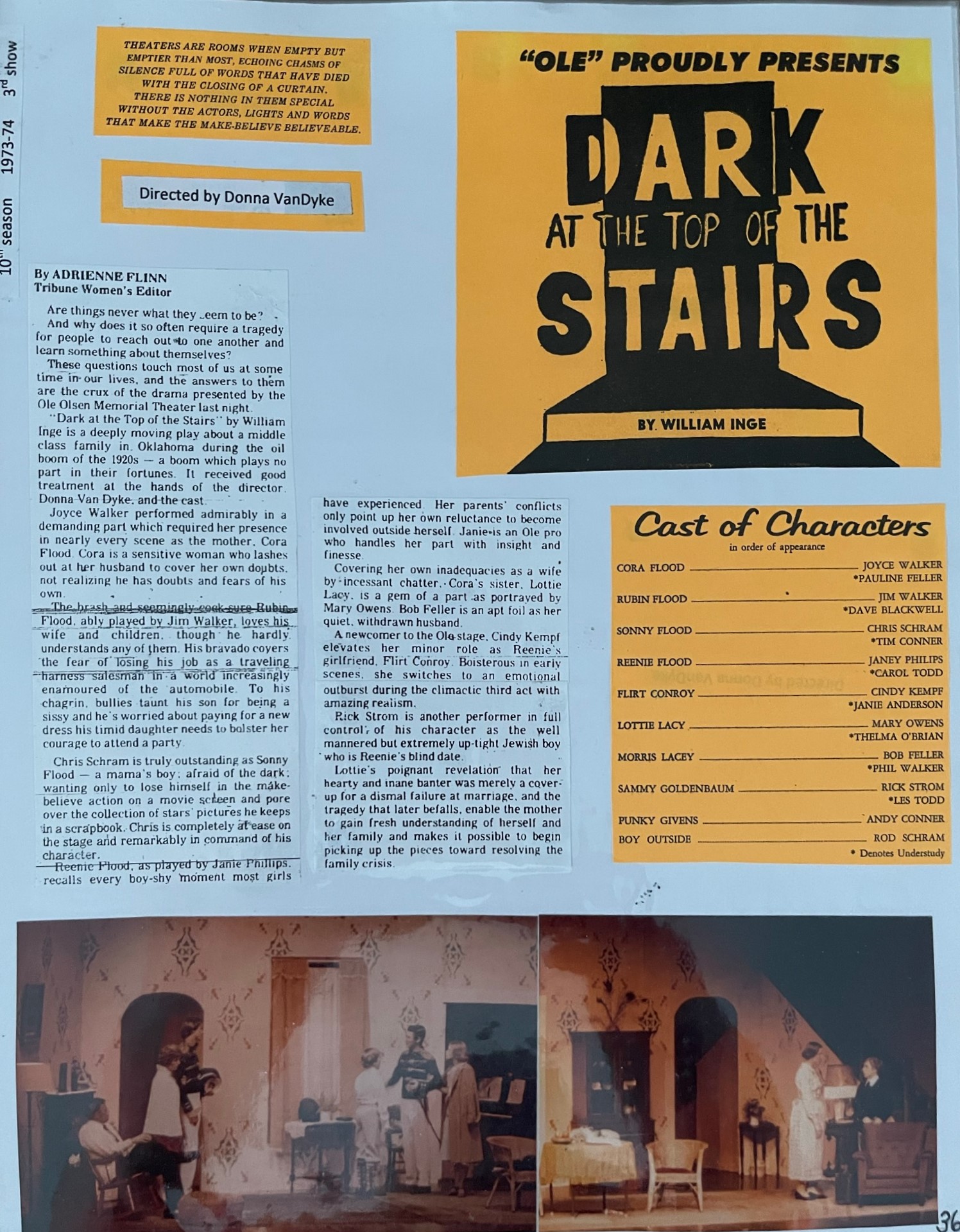 10th Season 1973/4 Dark at the Top of the Stairs
10th Season 1973/4 The Fantasticks
11th Season 1974/5 Catch Me if You Can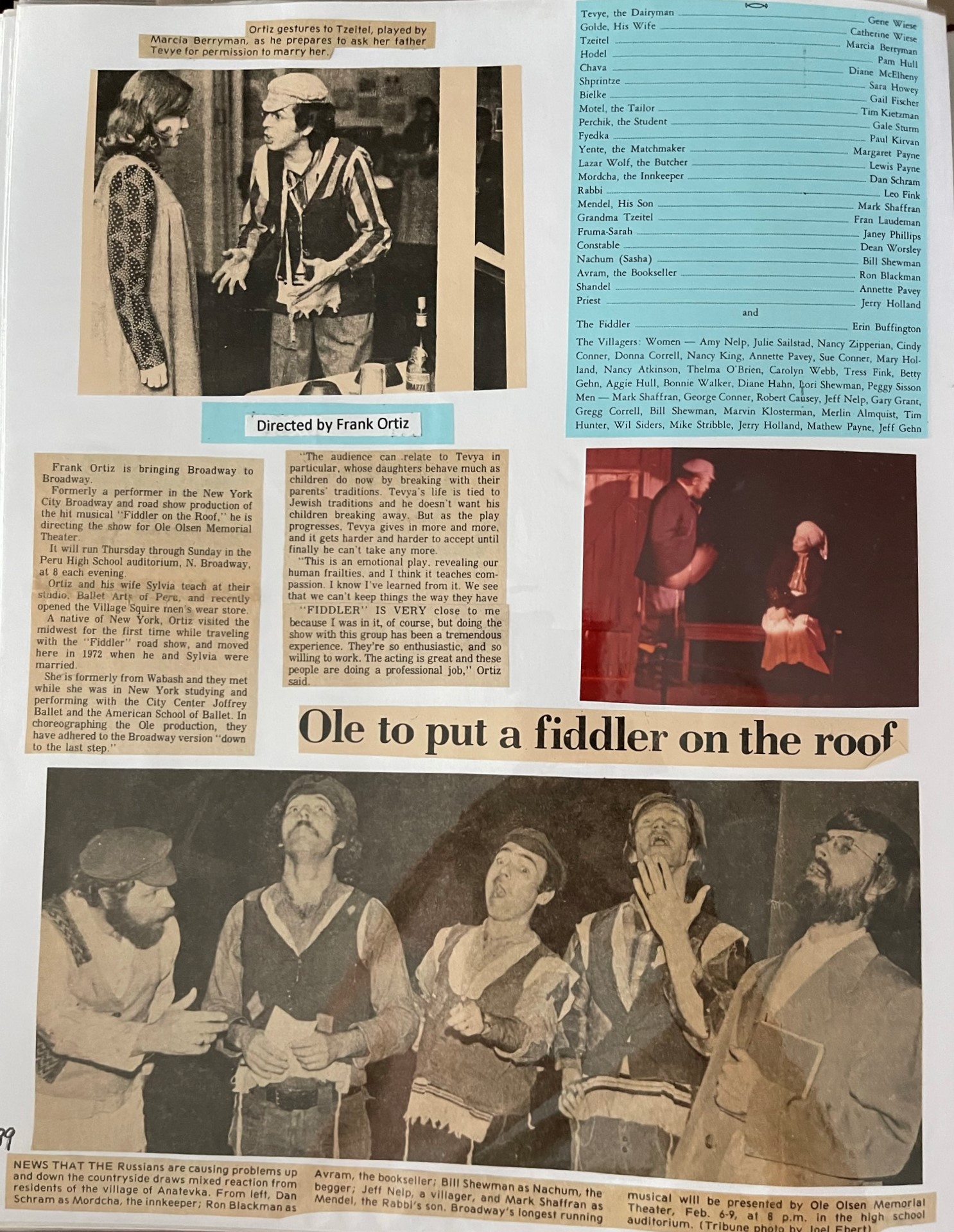 11th Season 1974/5 Fiddler on the Roof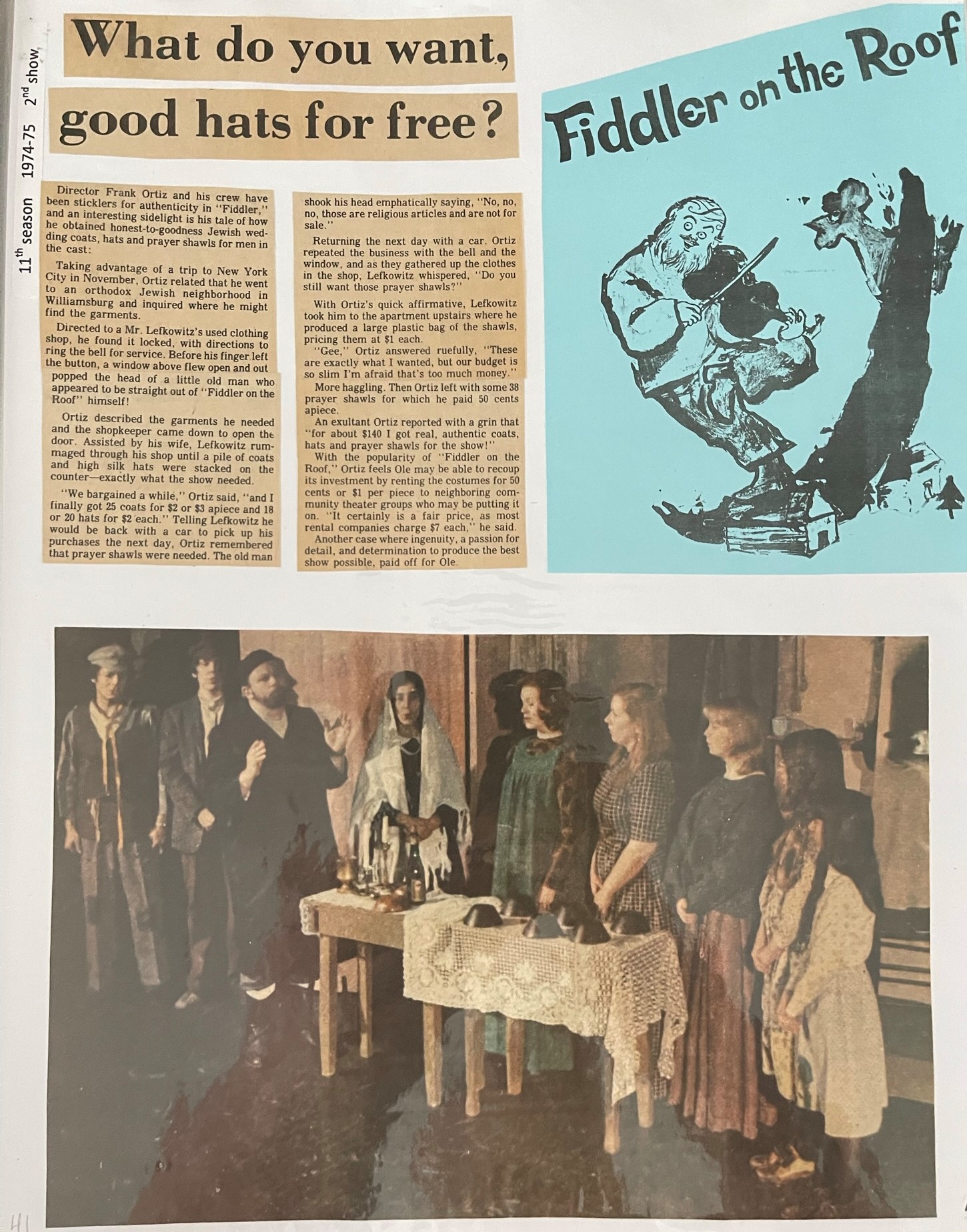 11th Season 1974/5 Fiddler on the Roof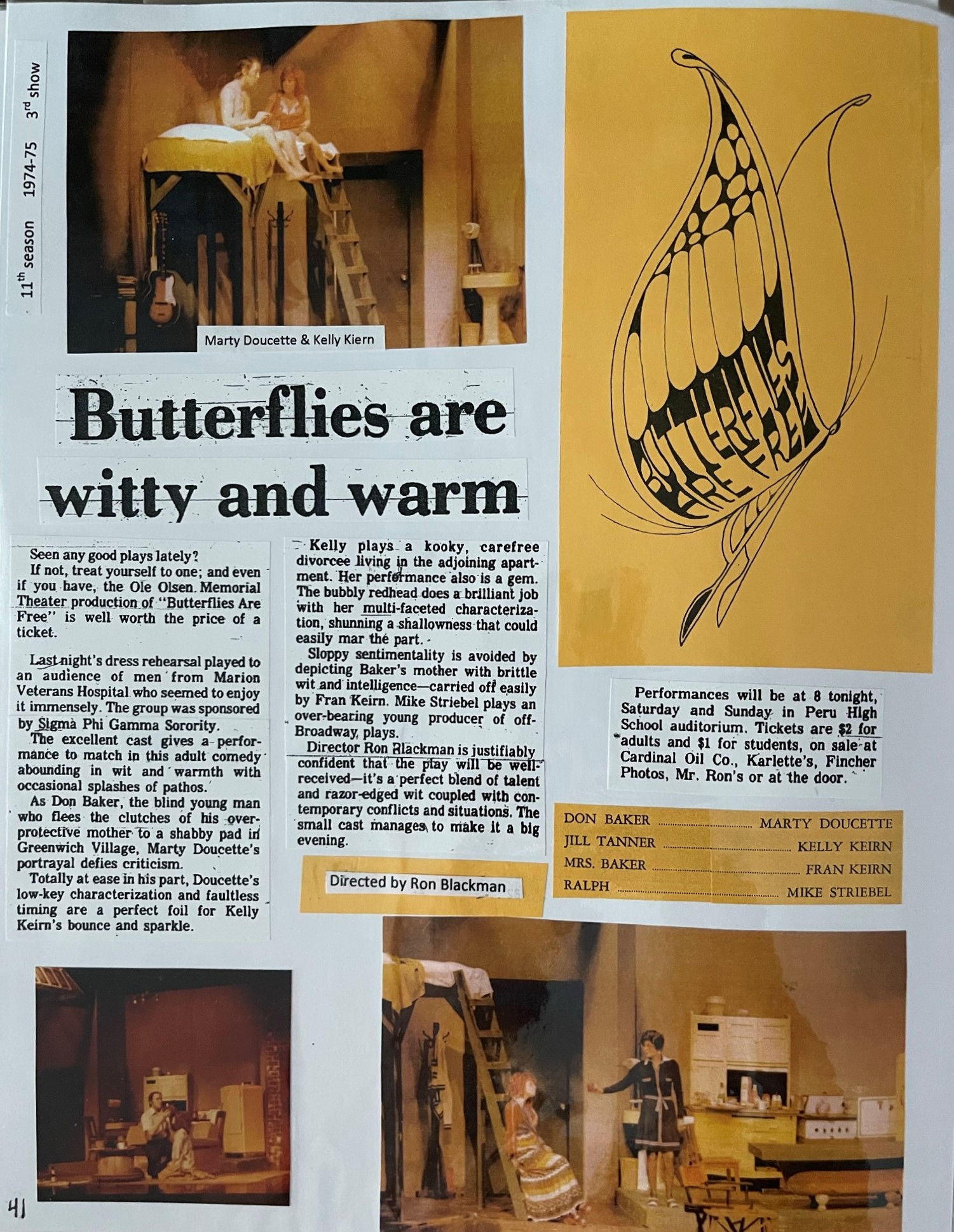 11th Season 1974/5 Butterflies are Free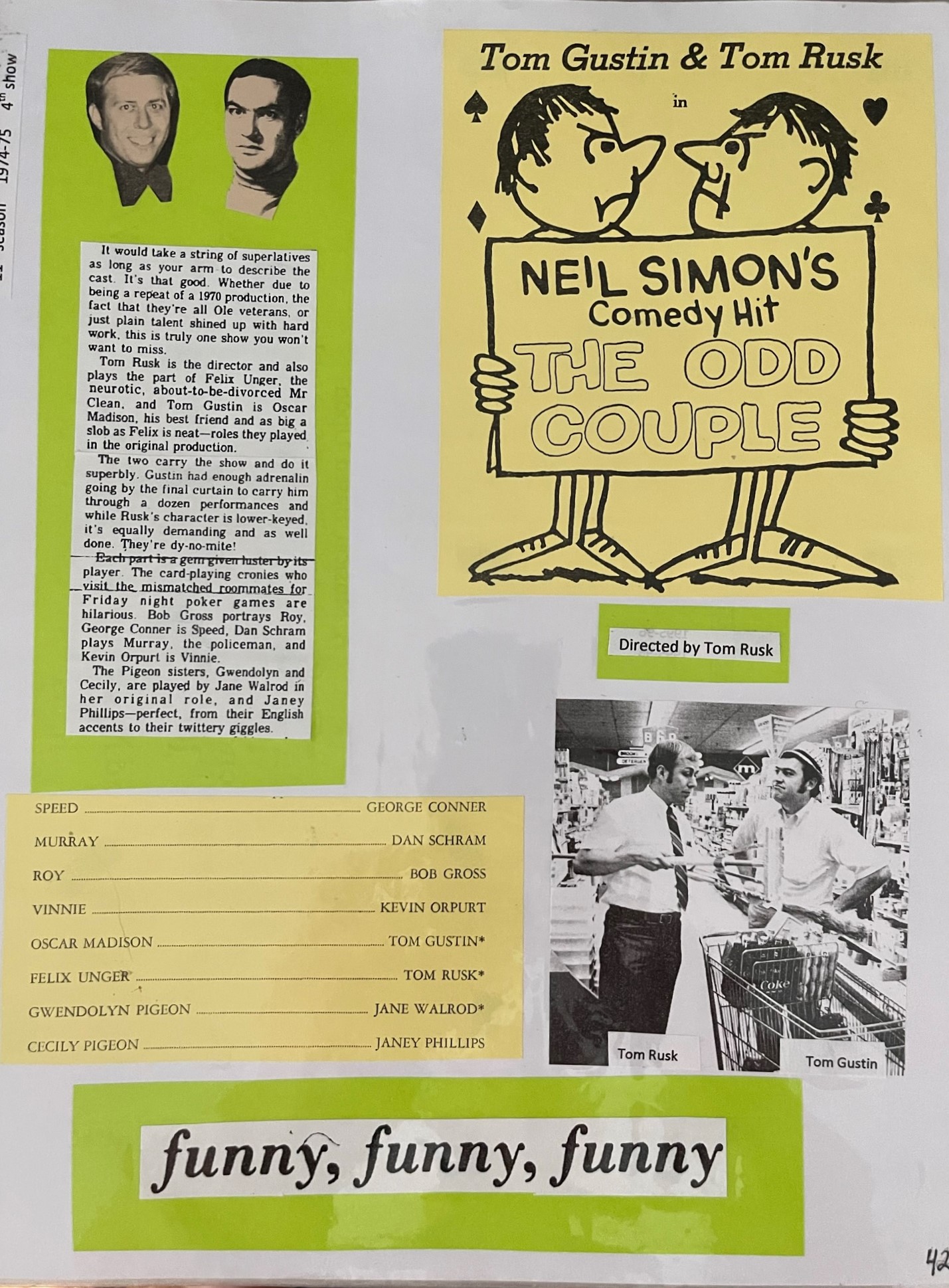 11th Season 1974/5 The Odd Couple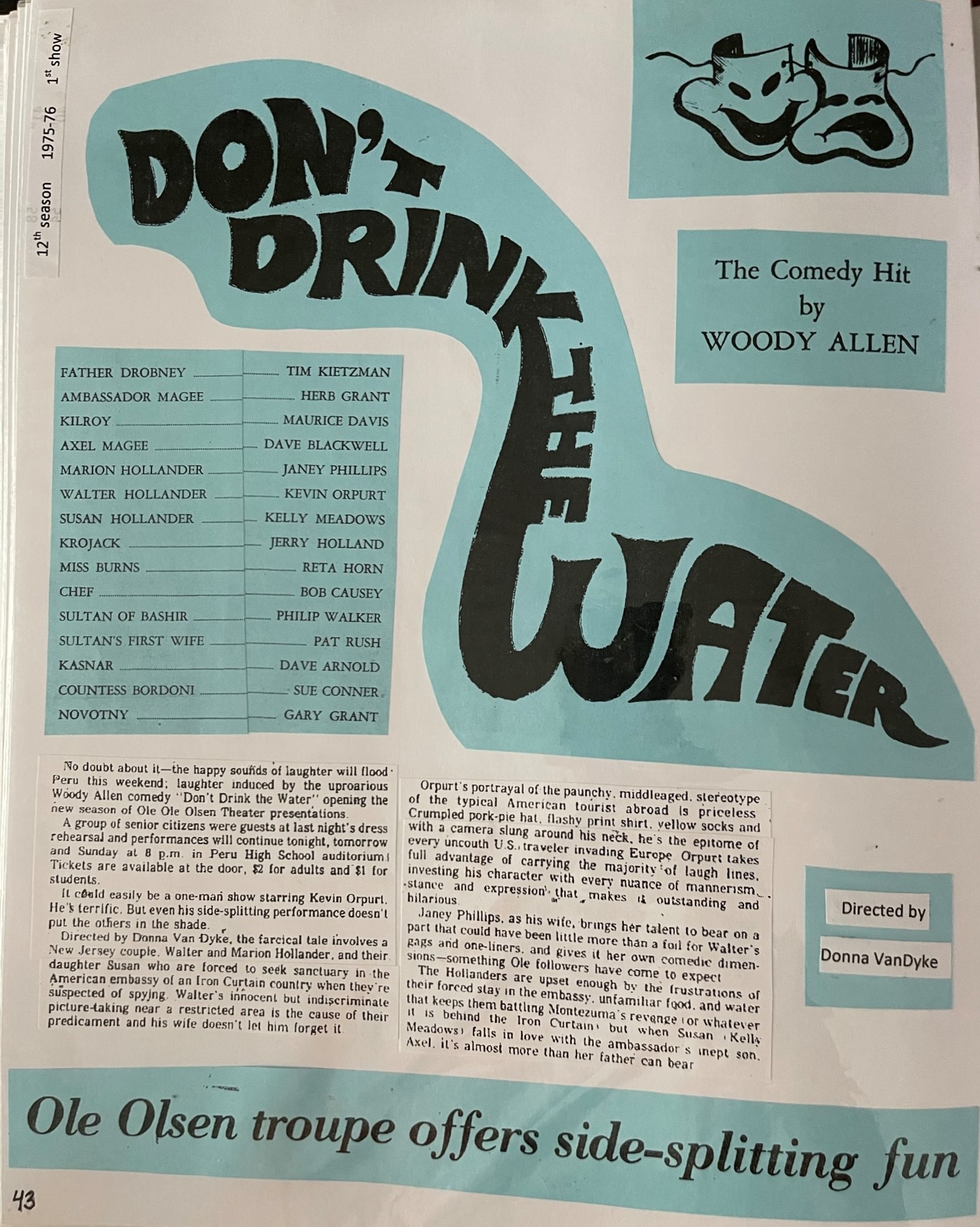 12th Season 1975/6 Don't Drink the Water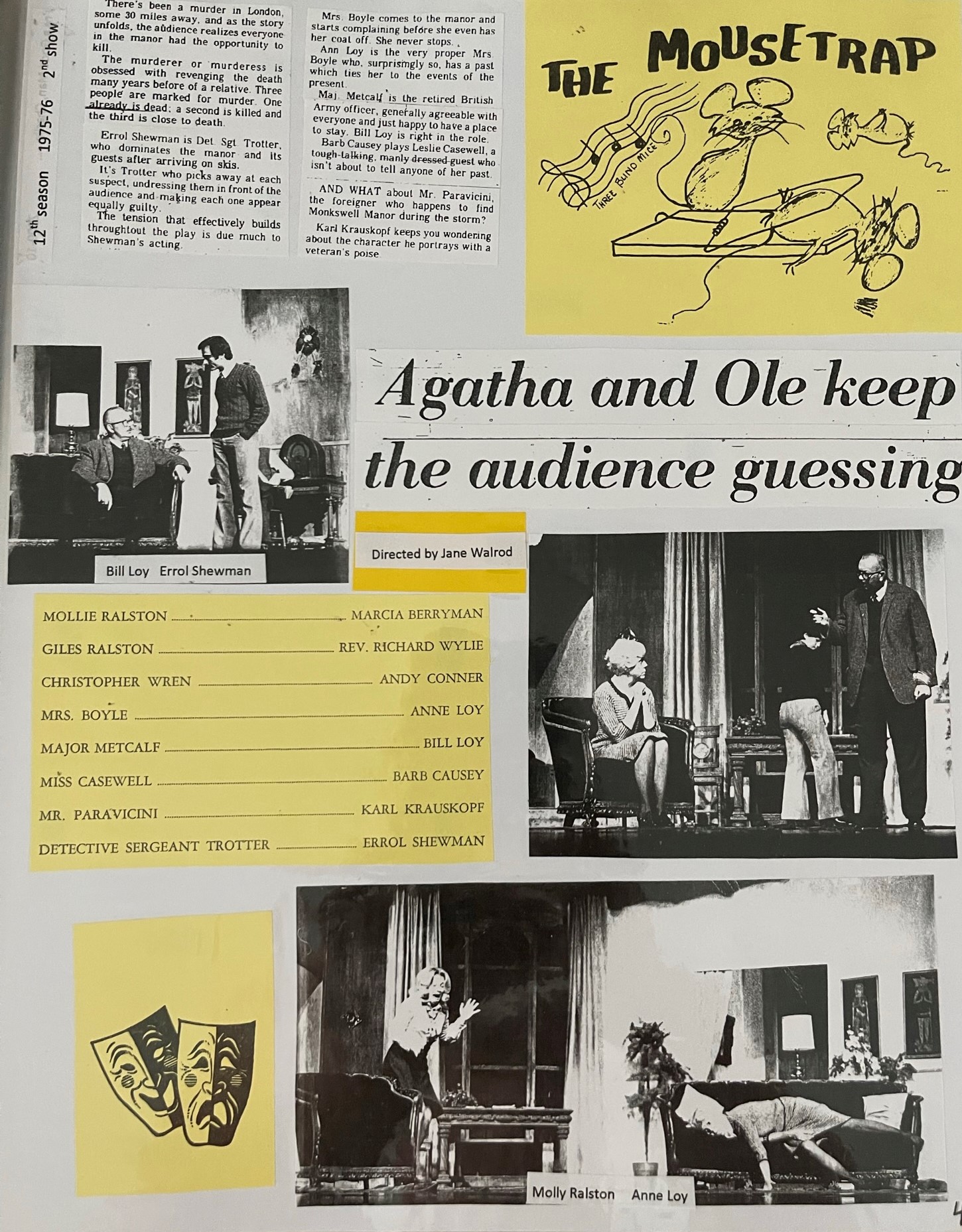 12th Season 1975/6 The Mousetrap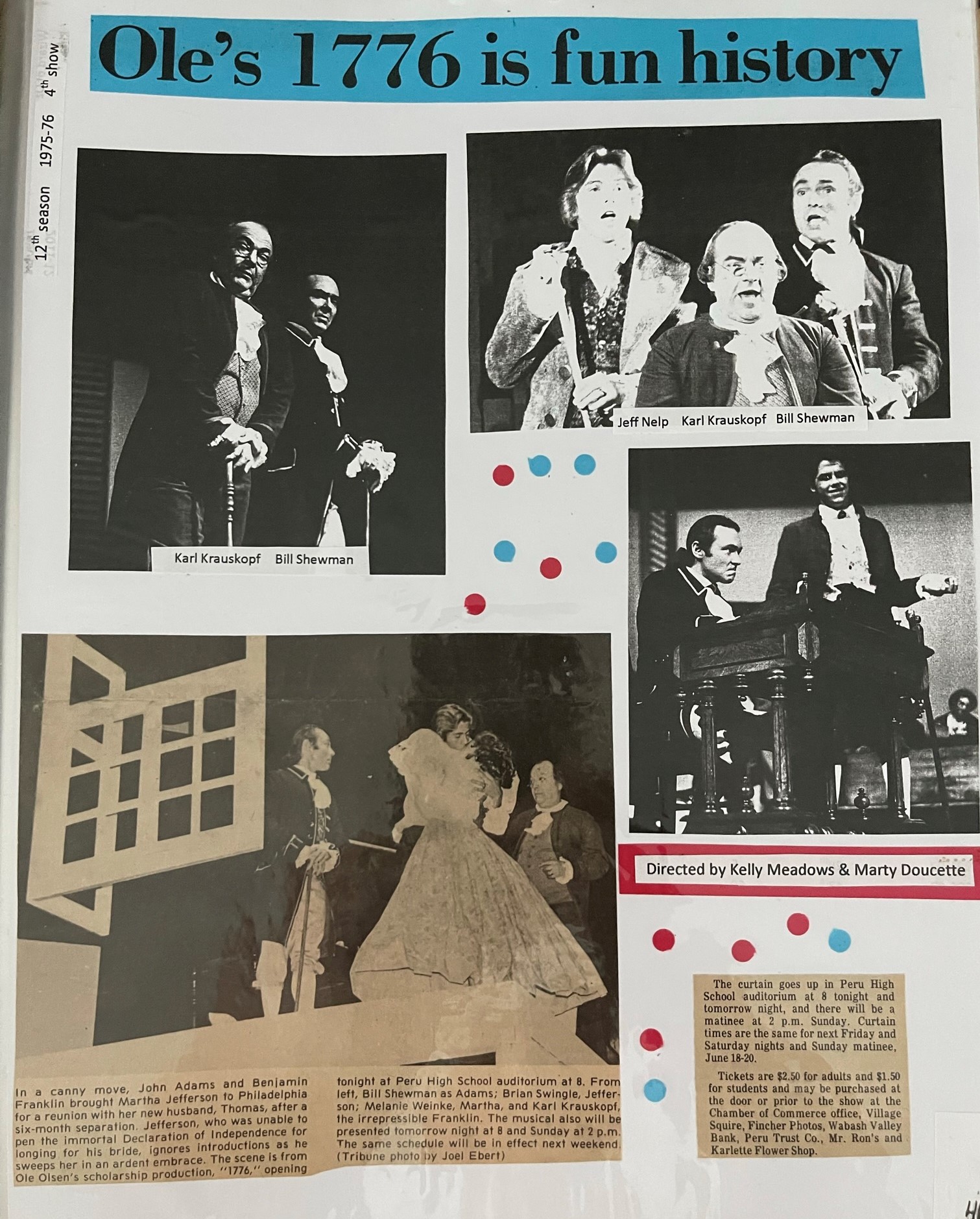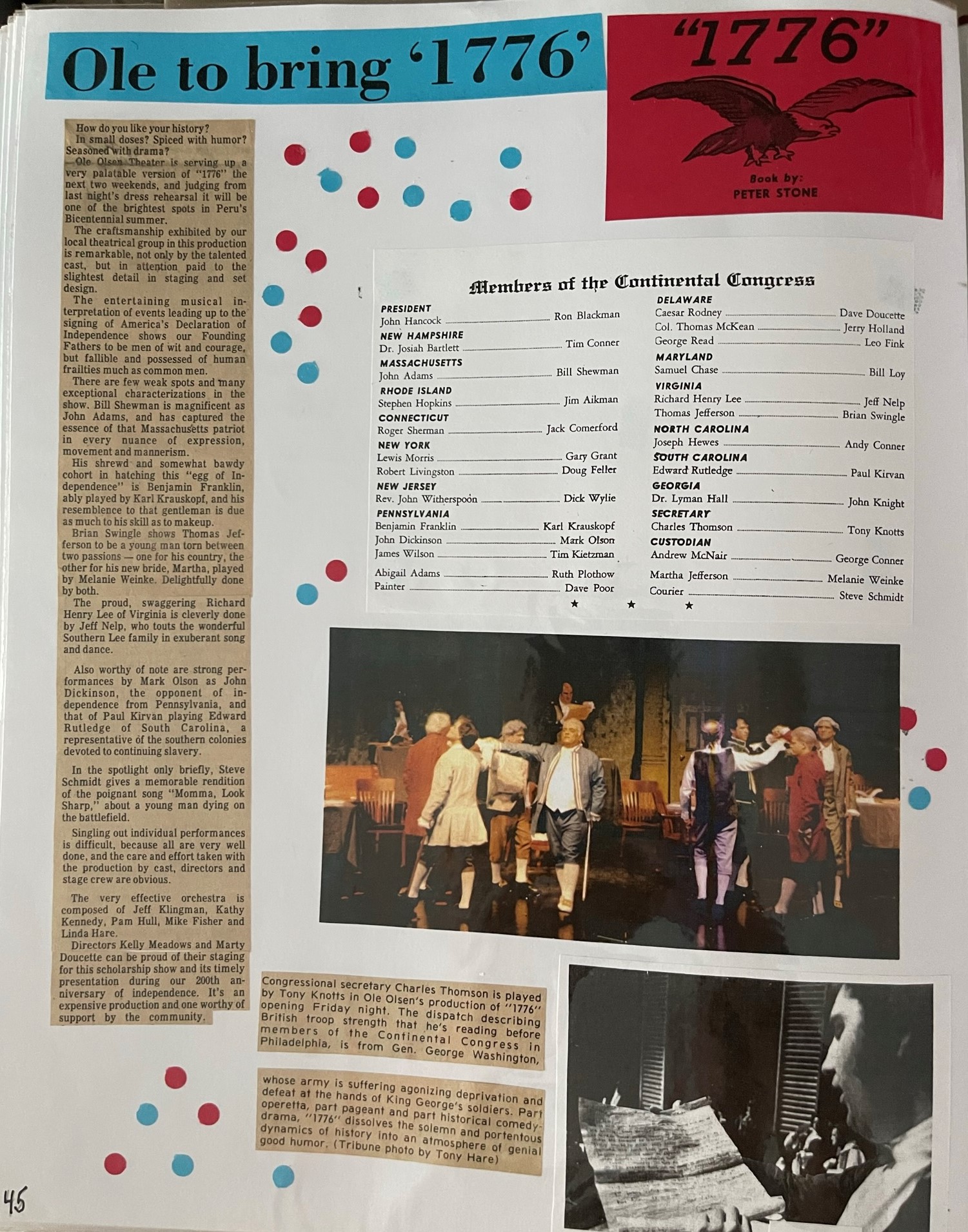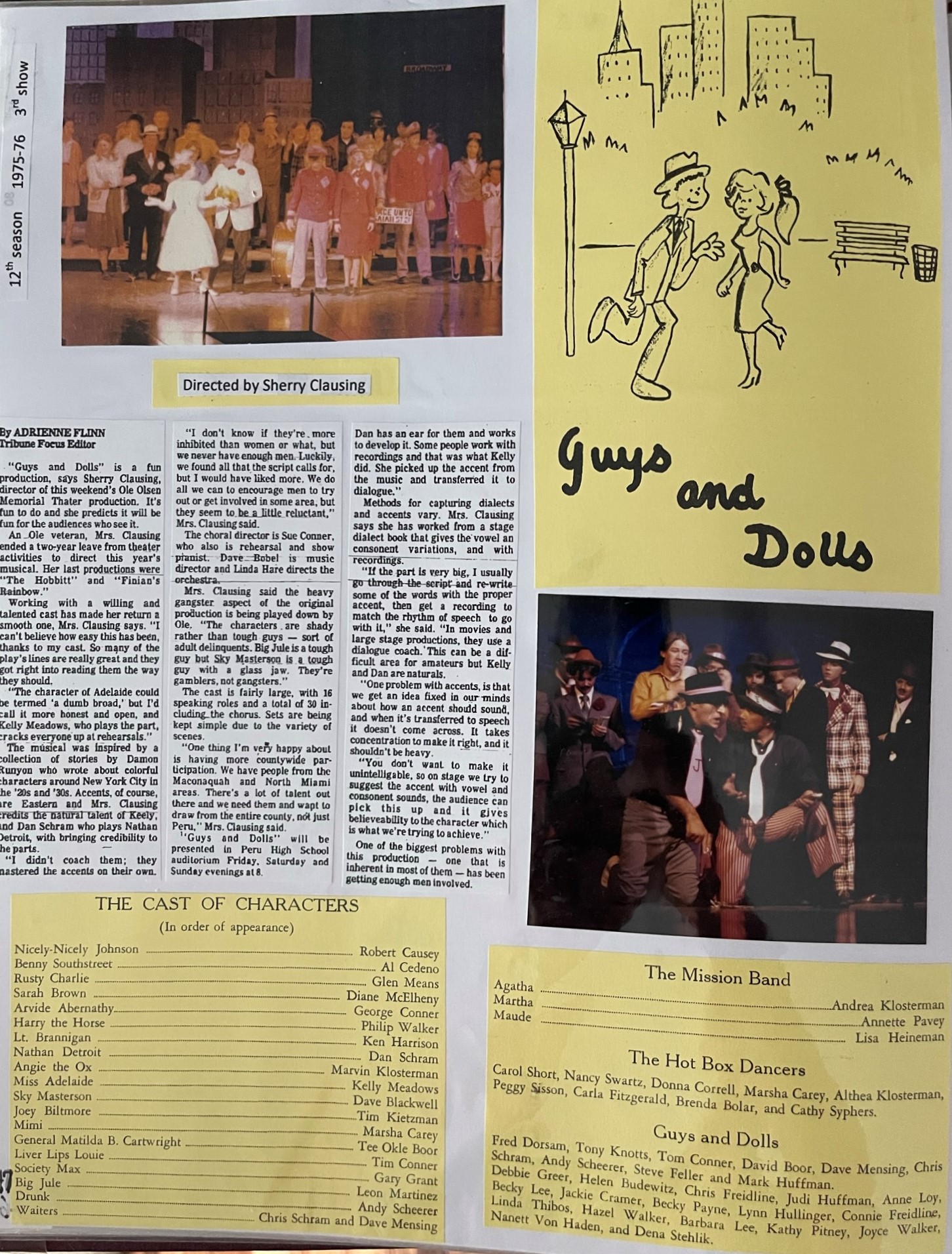 12th Season 1975/6 Guys & Dolls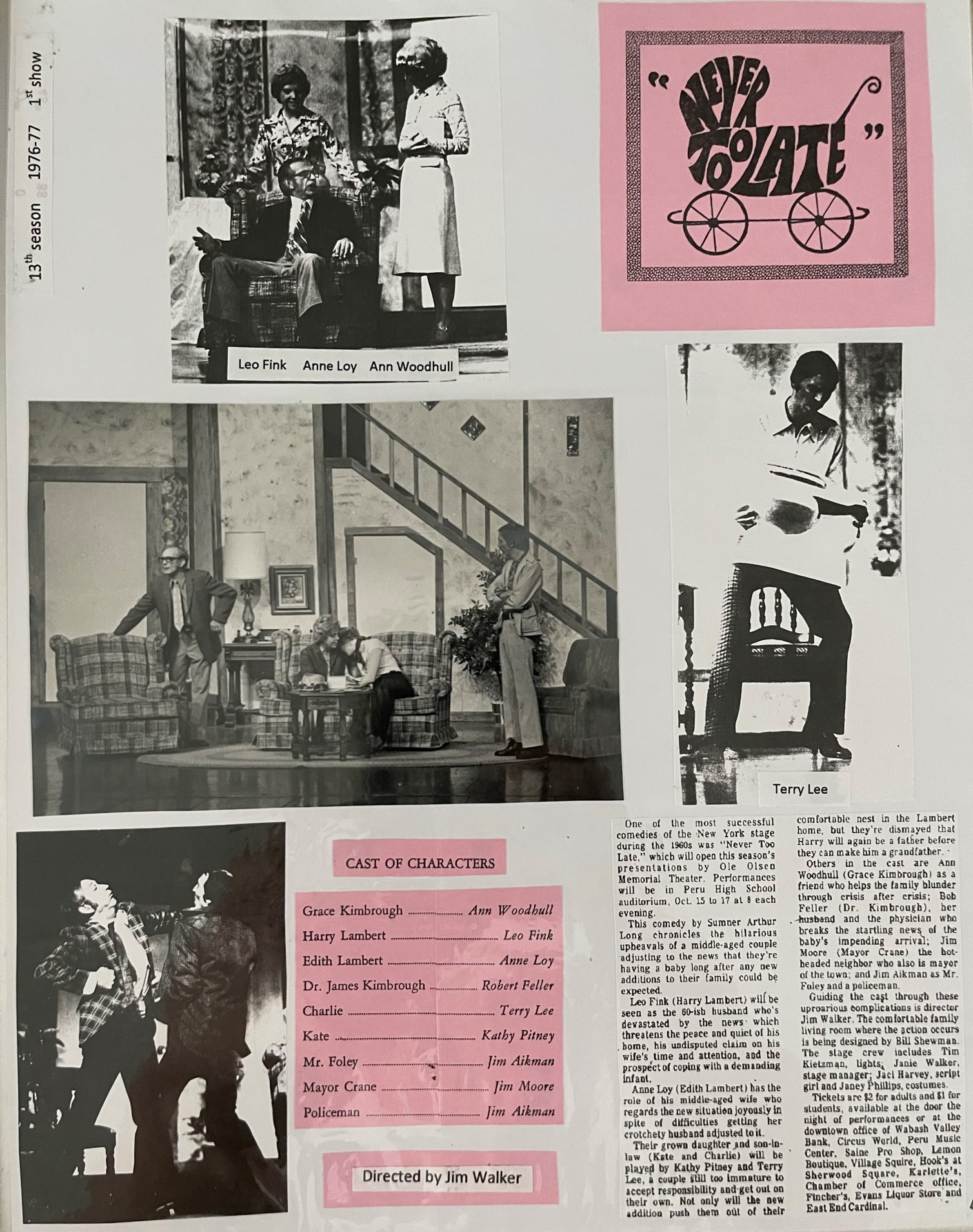 13th Season 1976/7 Never Too Late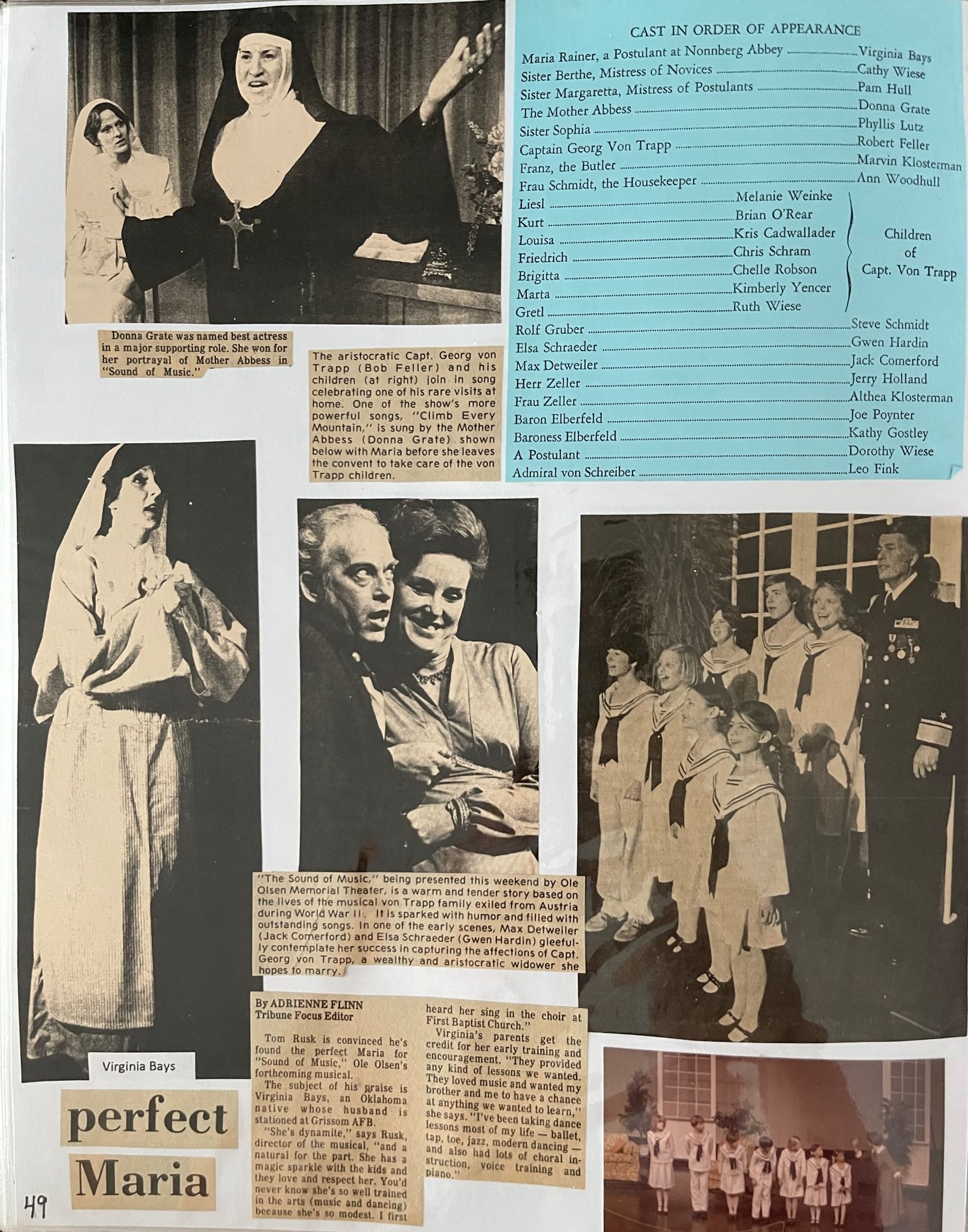 13th Season 1976/7 The Sound of Music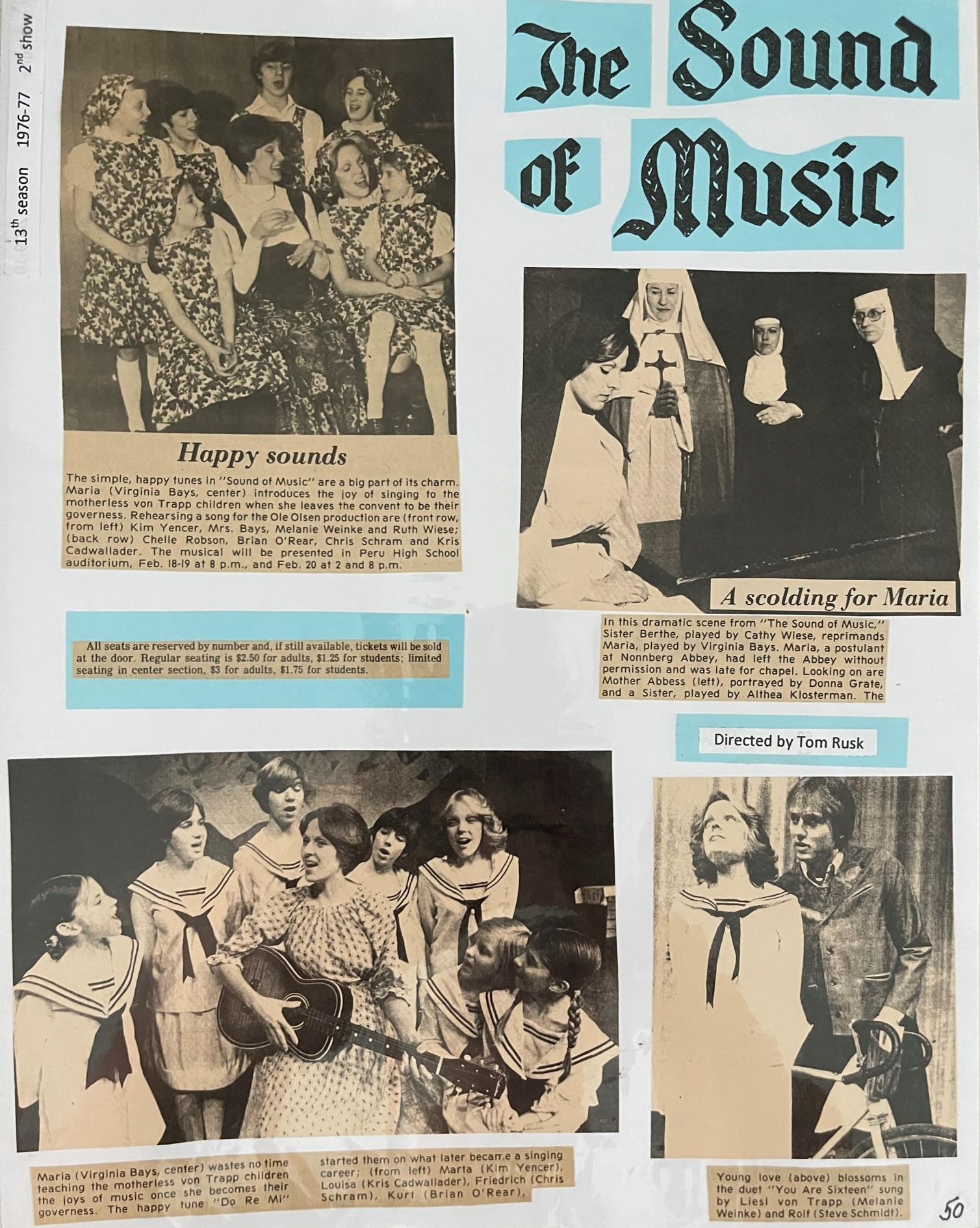 13th Season 1976/7 The Sound of Music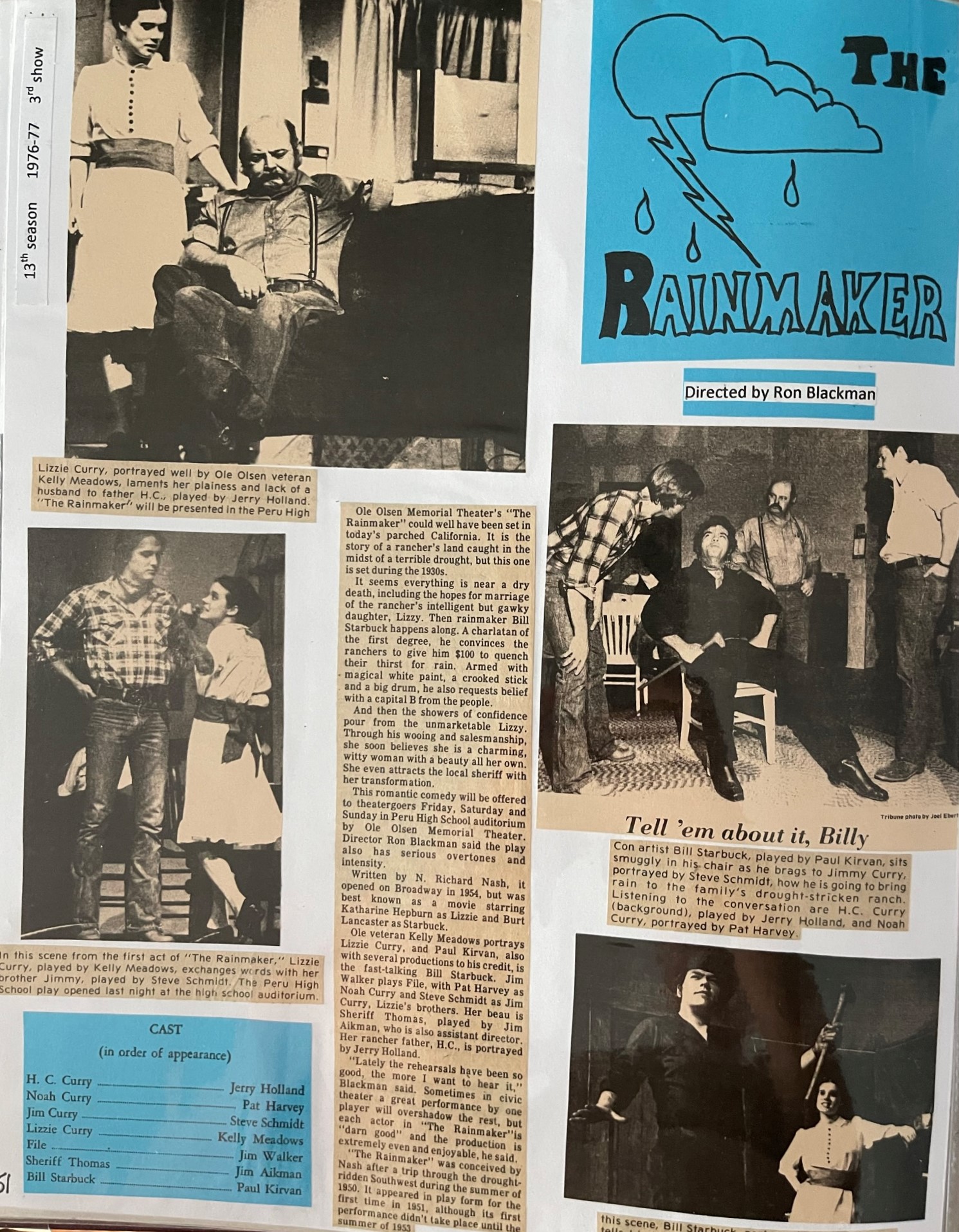 13th Season 1976/7 The Rainmaker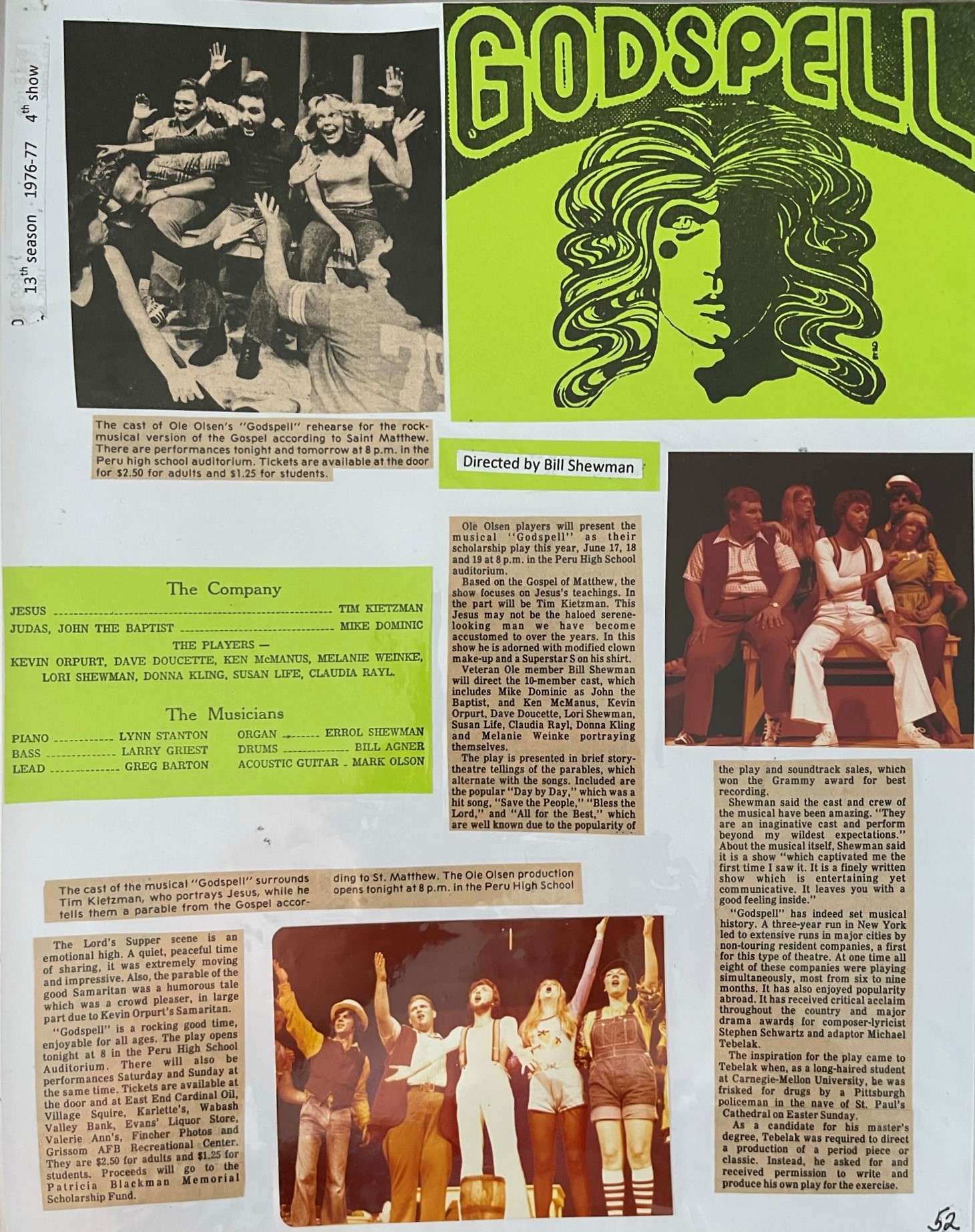 13th Season 1976/7 Godspell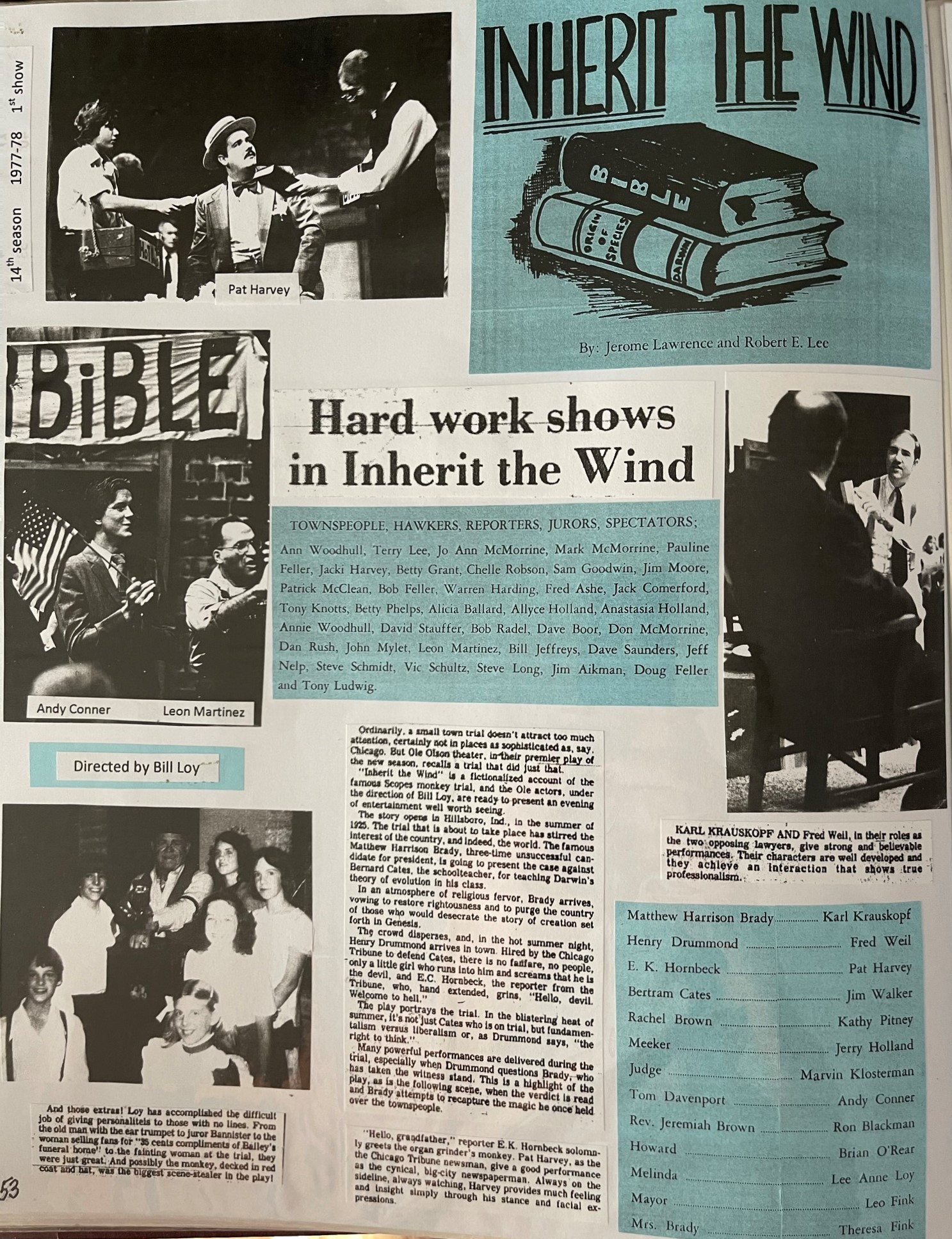 14th Season 1977/8 Inherit The Wind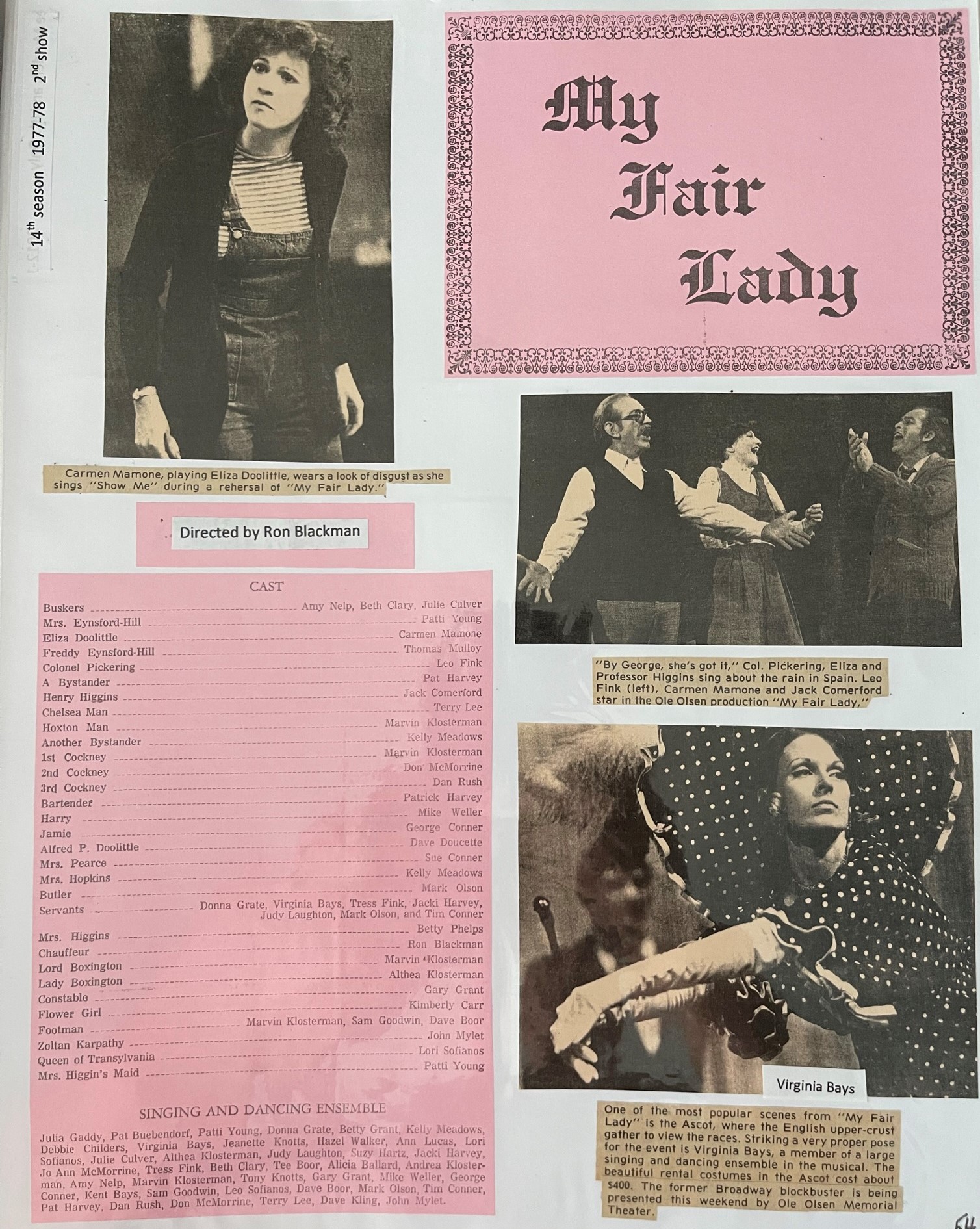 14th Season 1977/8 My Fair Lady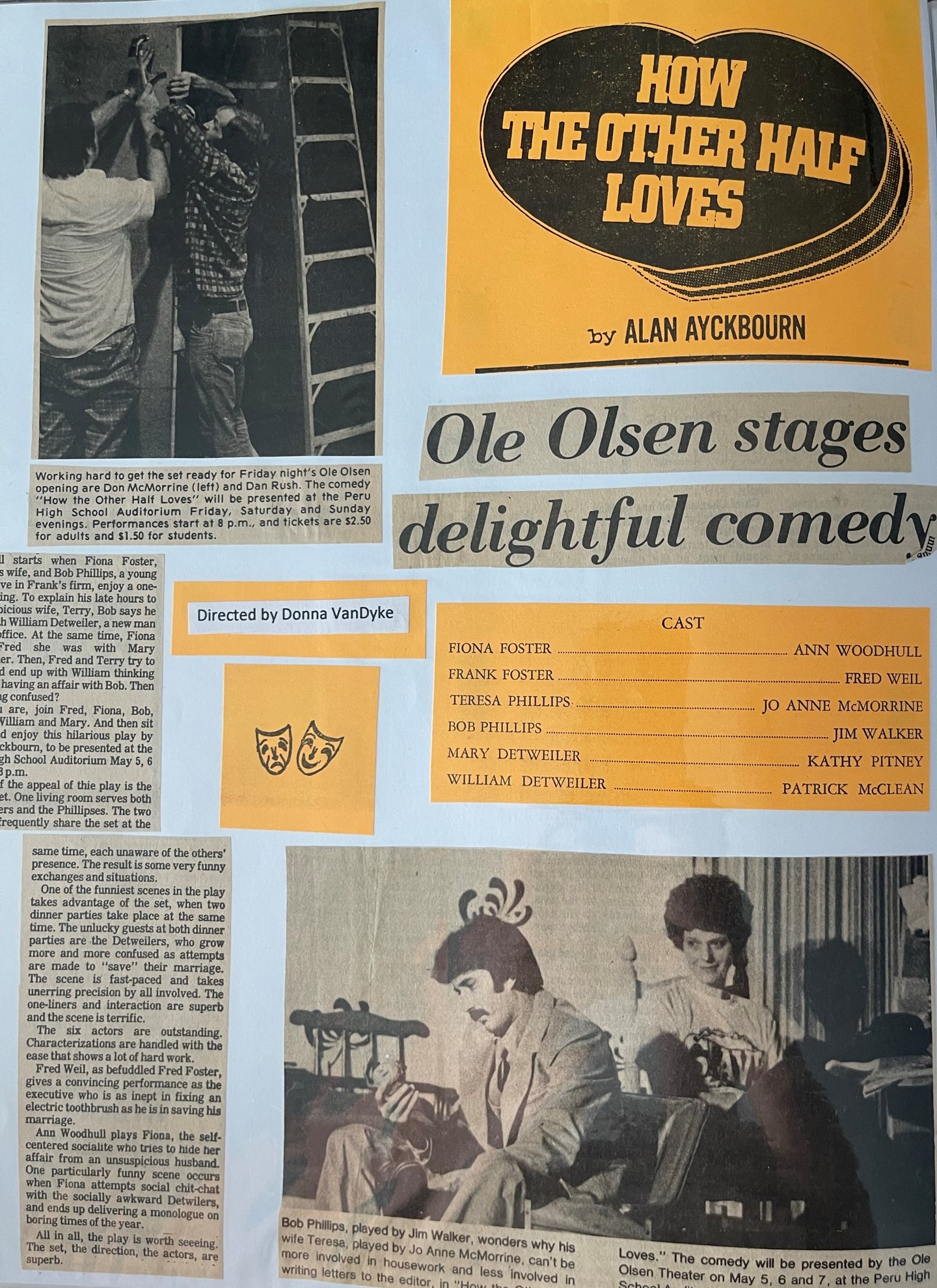 14th Season 1977/8 How the Other Half Lives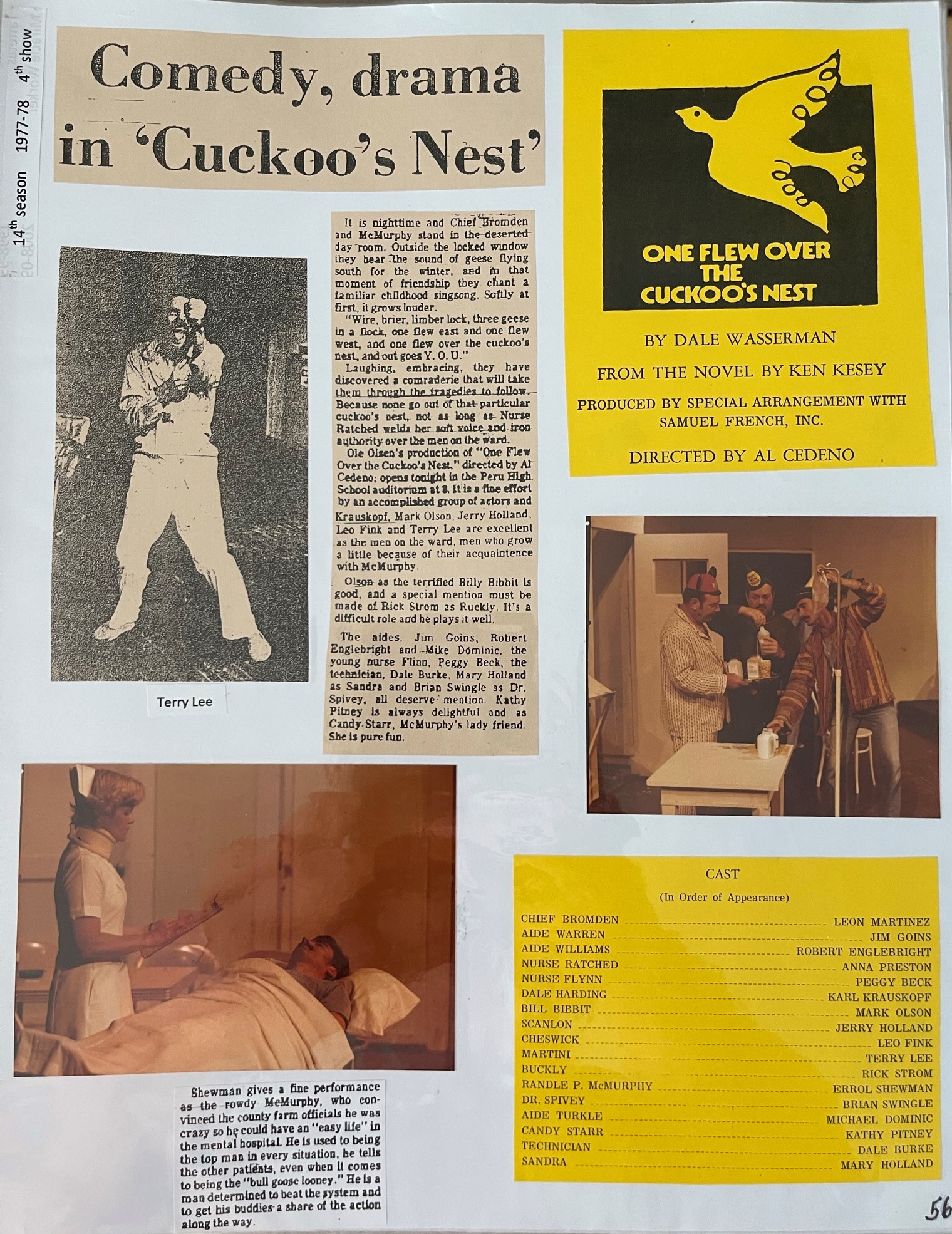 14th Season 1977/8 One Flew Over the Cuckoo's Nest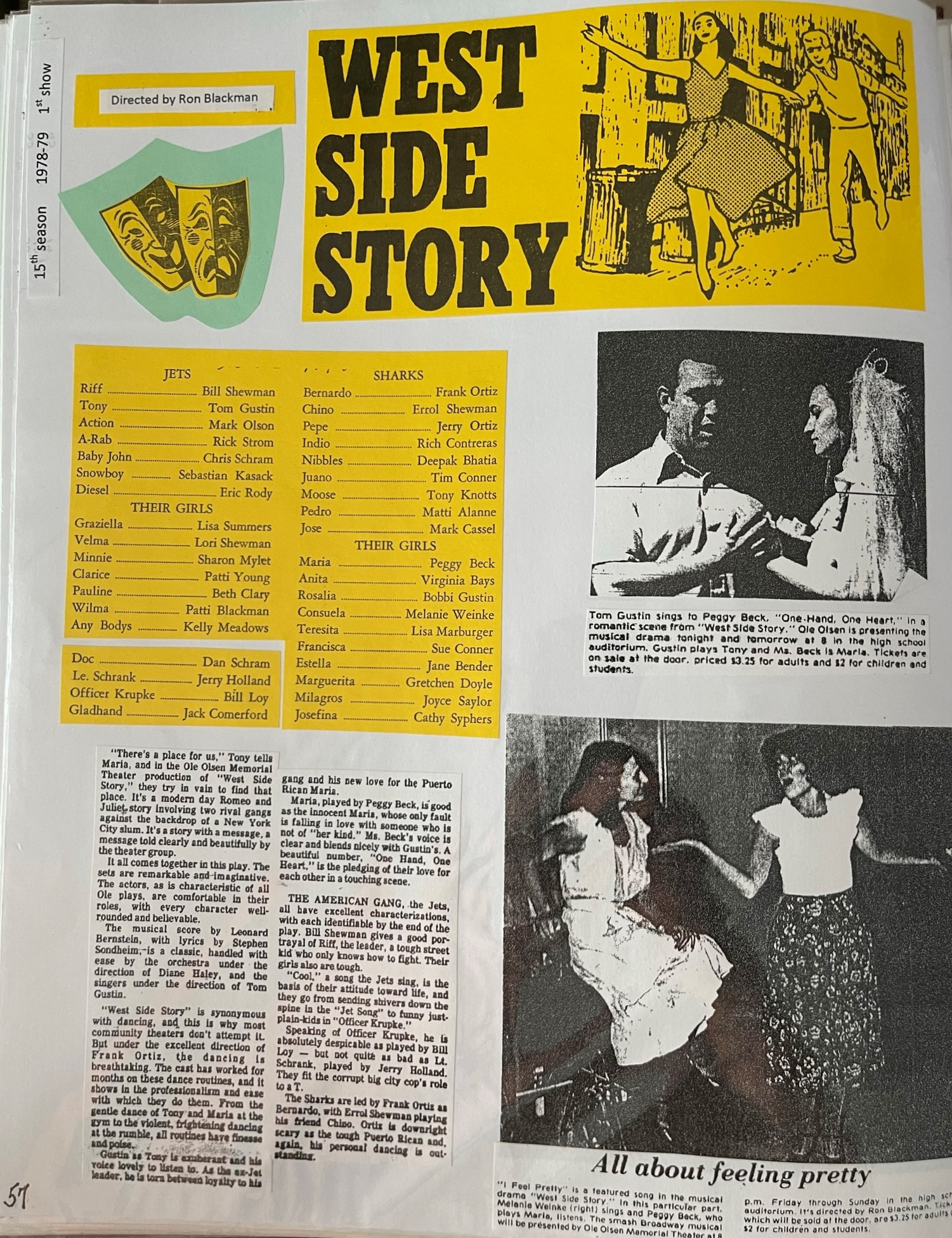 15th Season 1978/9 West Side Story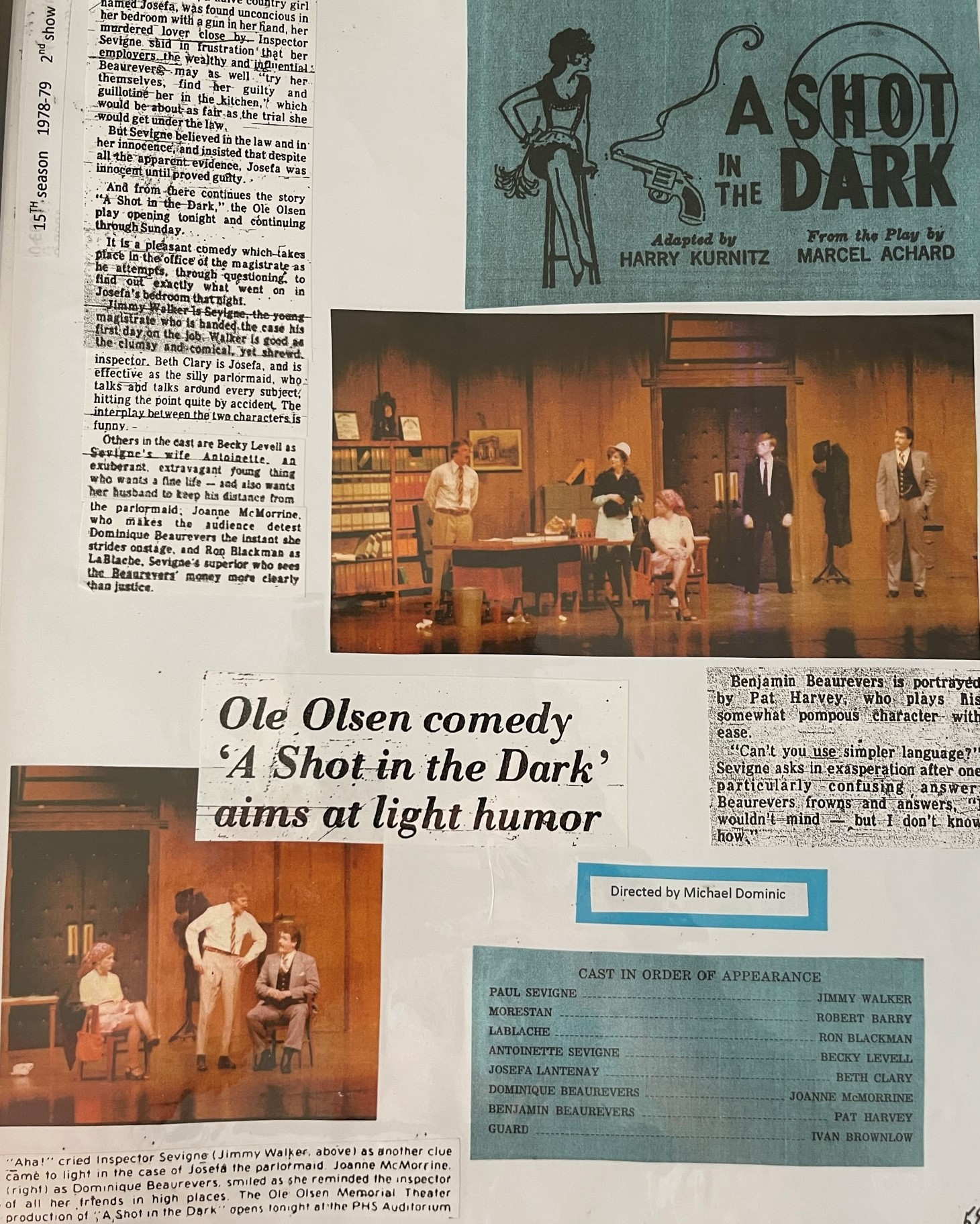 15th Season 1978/9 A Shot in the Dark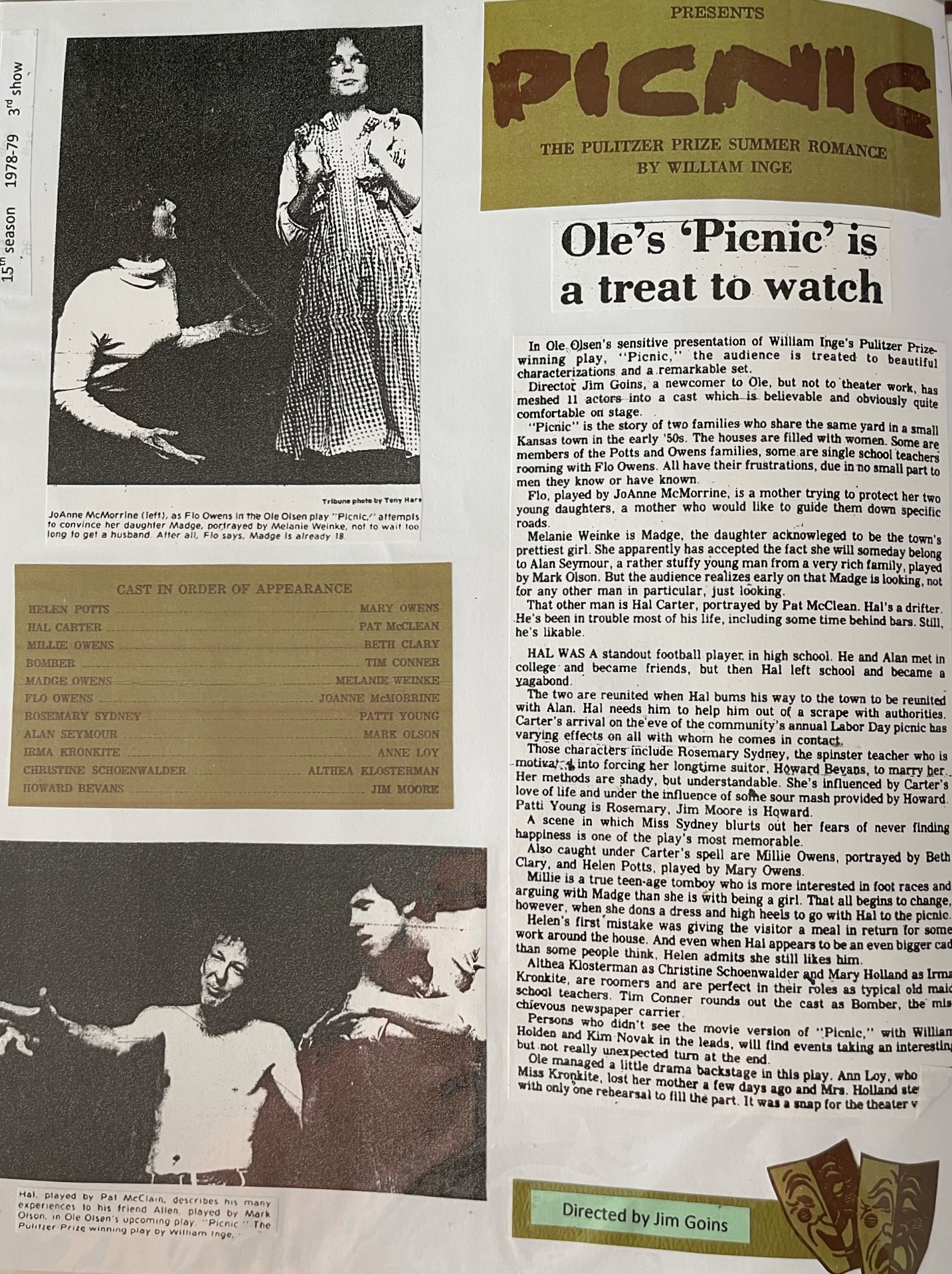 15th Season 1978/9 Picnic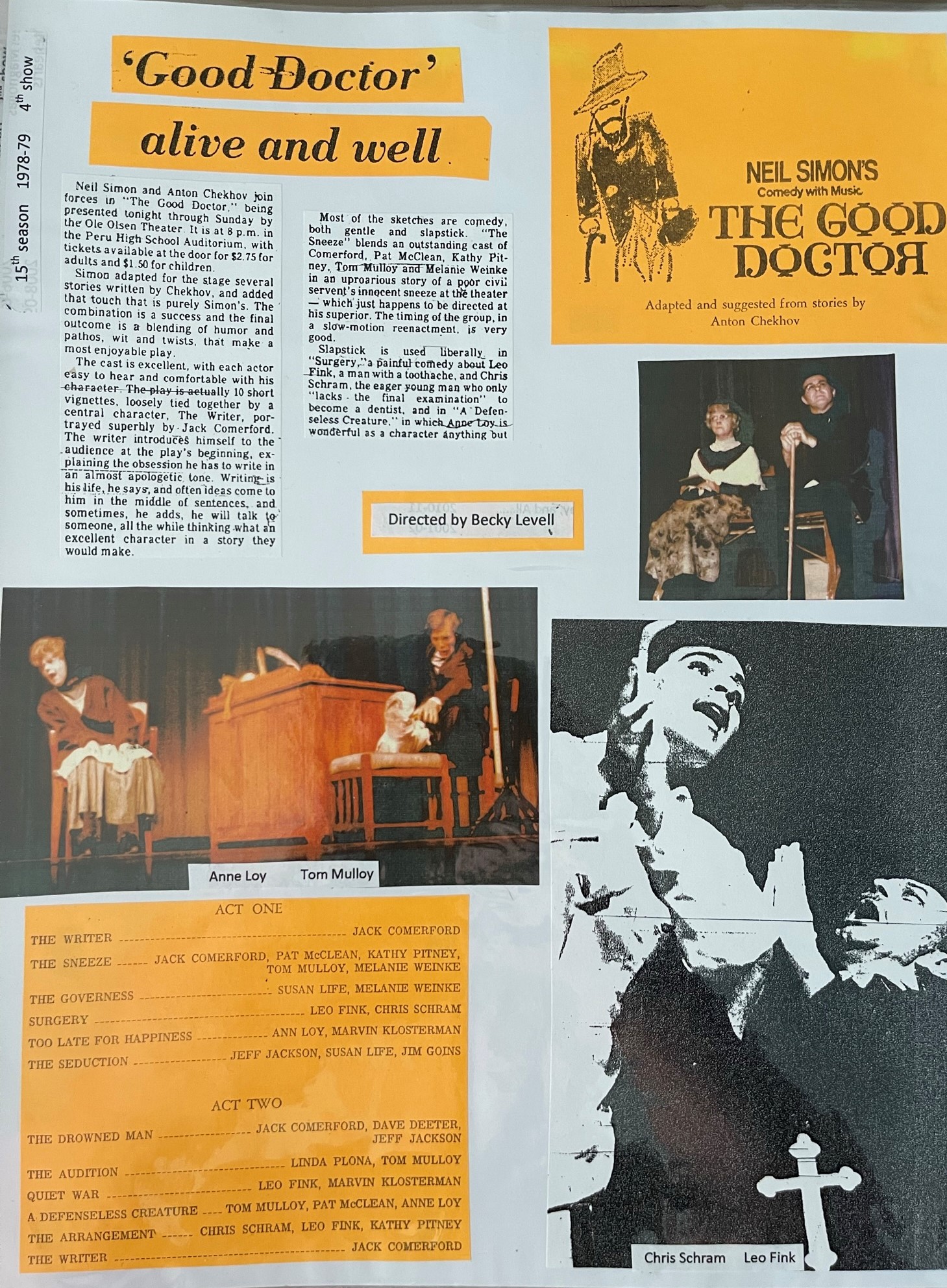 15th Season 1978/9 The Good Doctor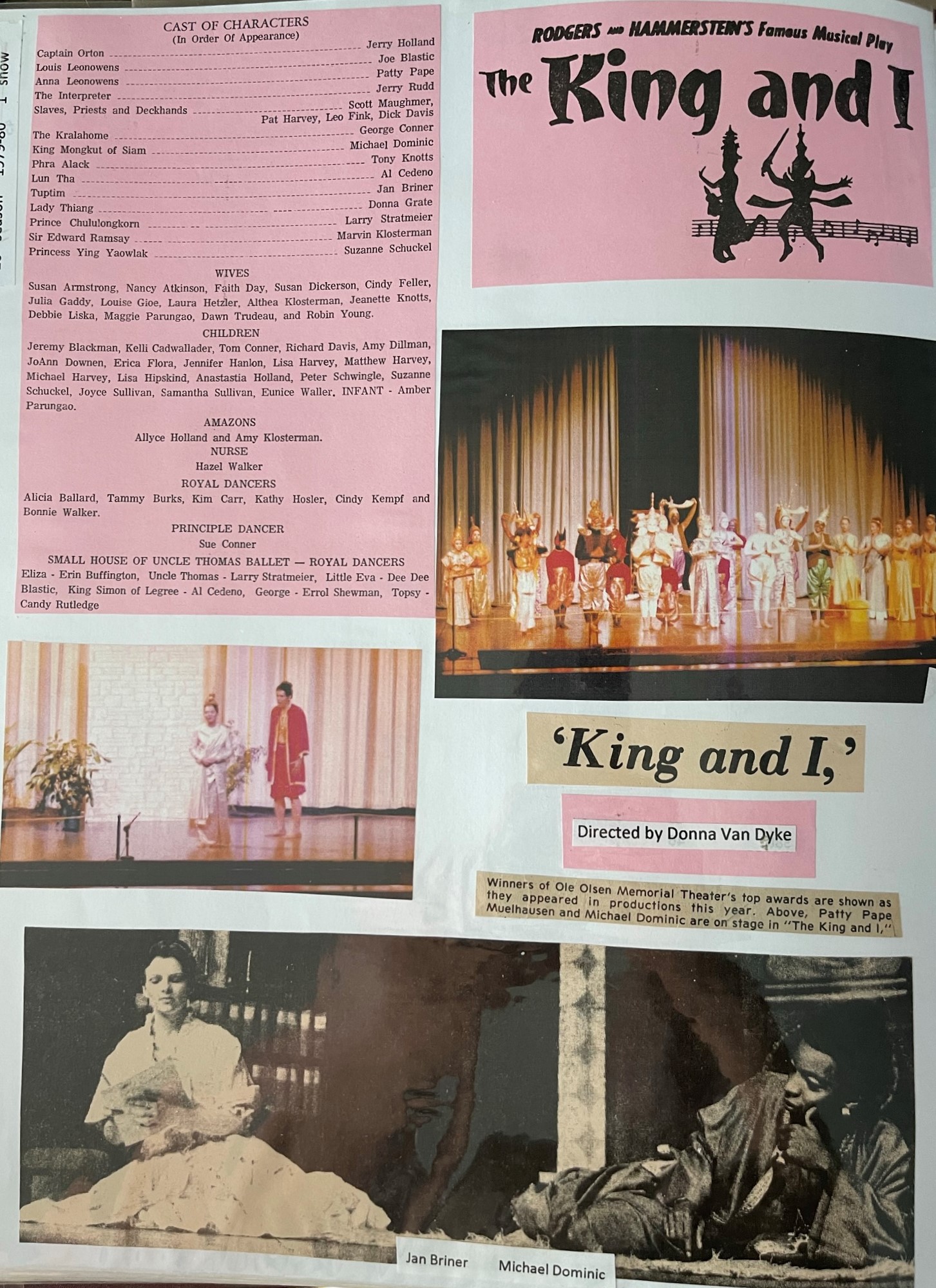 16th Season 1979/80 The King and I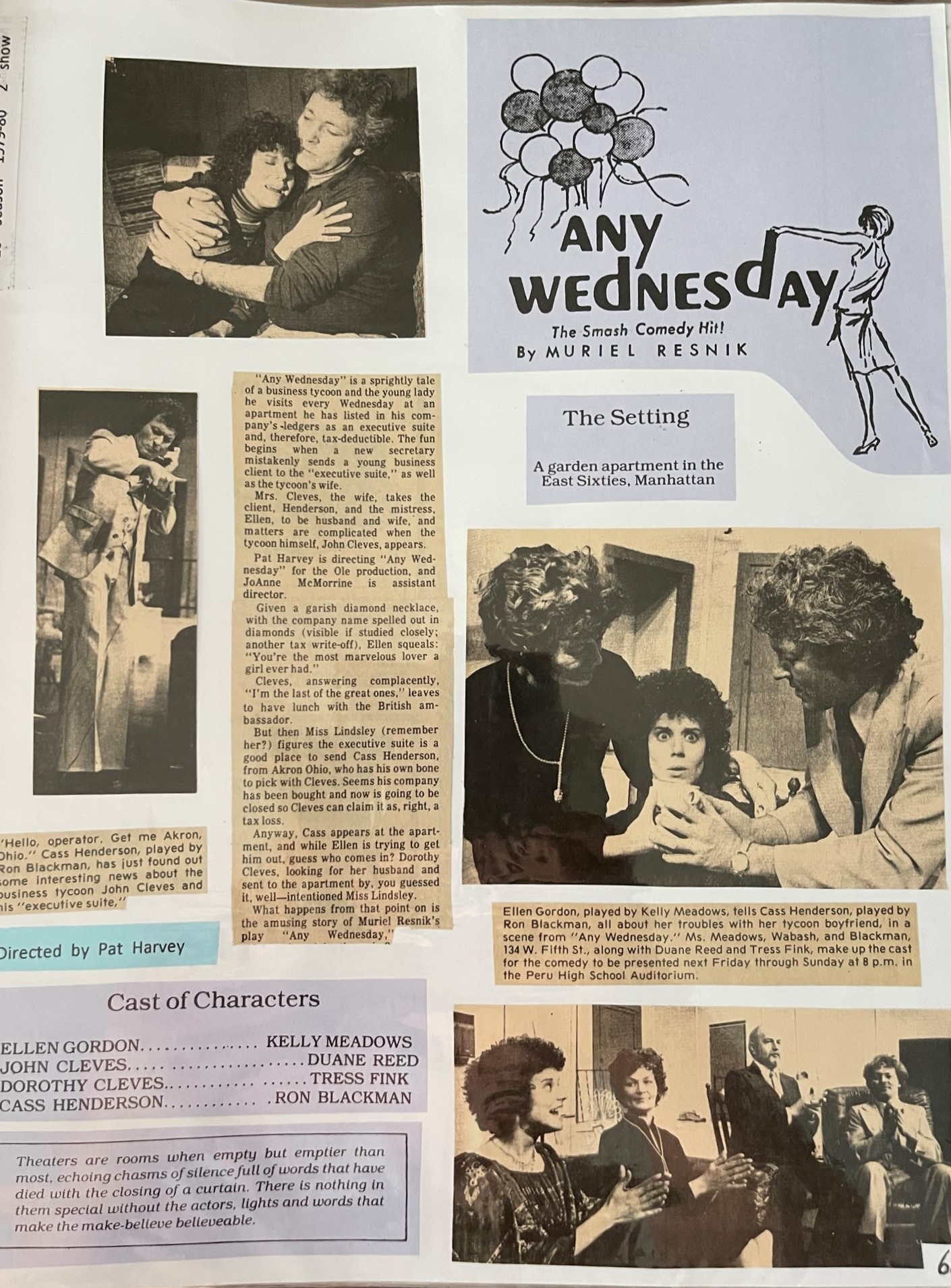 16th Season 1979/80 Any Wednesday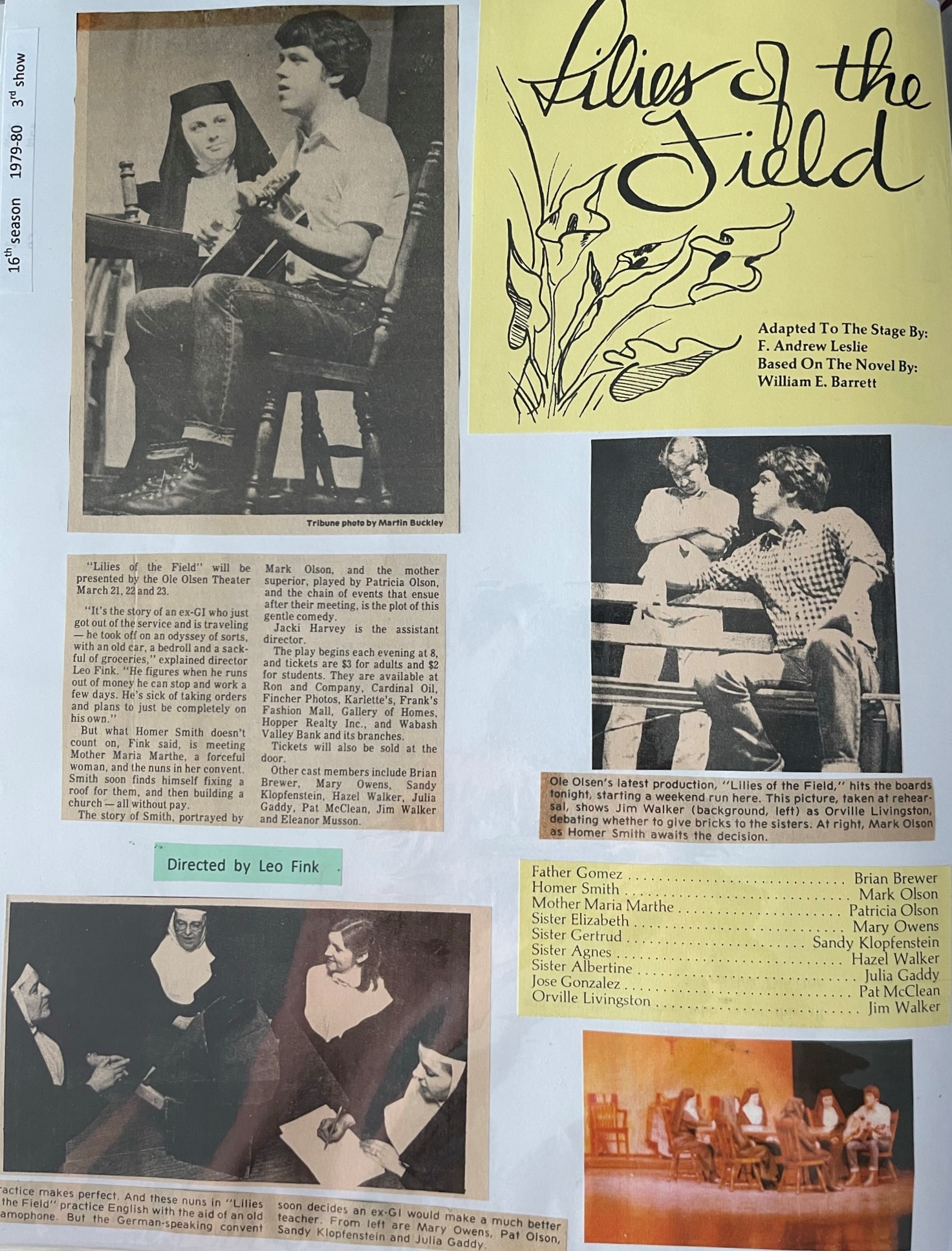 16th Season 1979/80 Lilies of the Field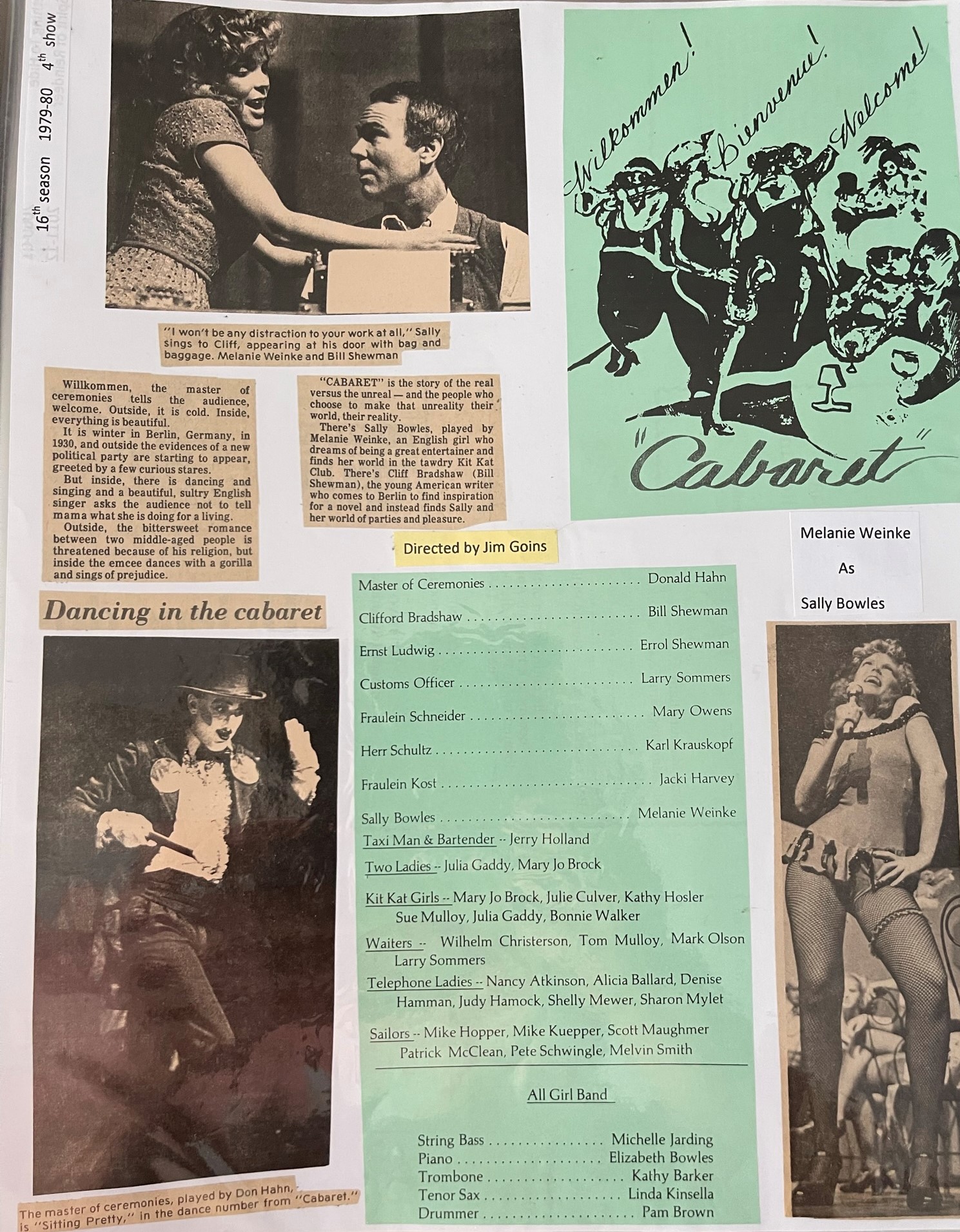 16th Season 1979/20 Cabaret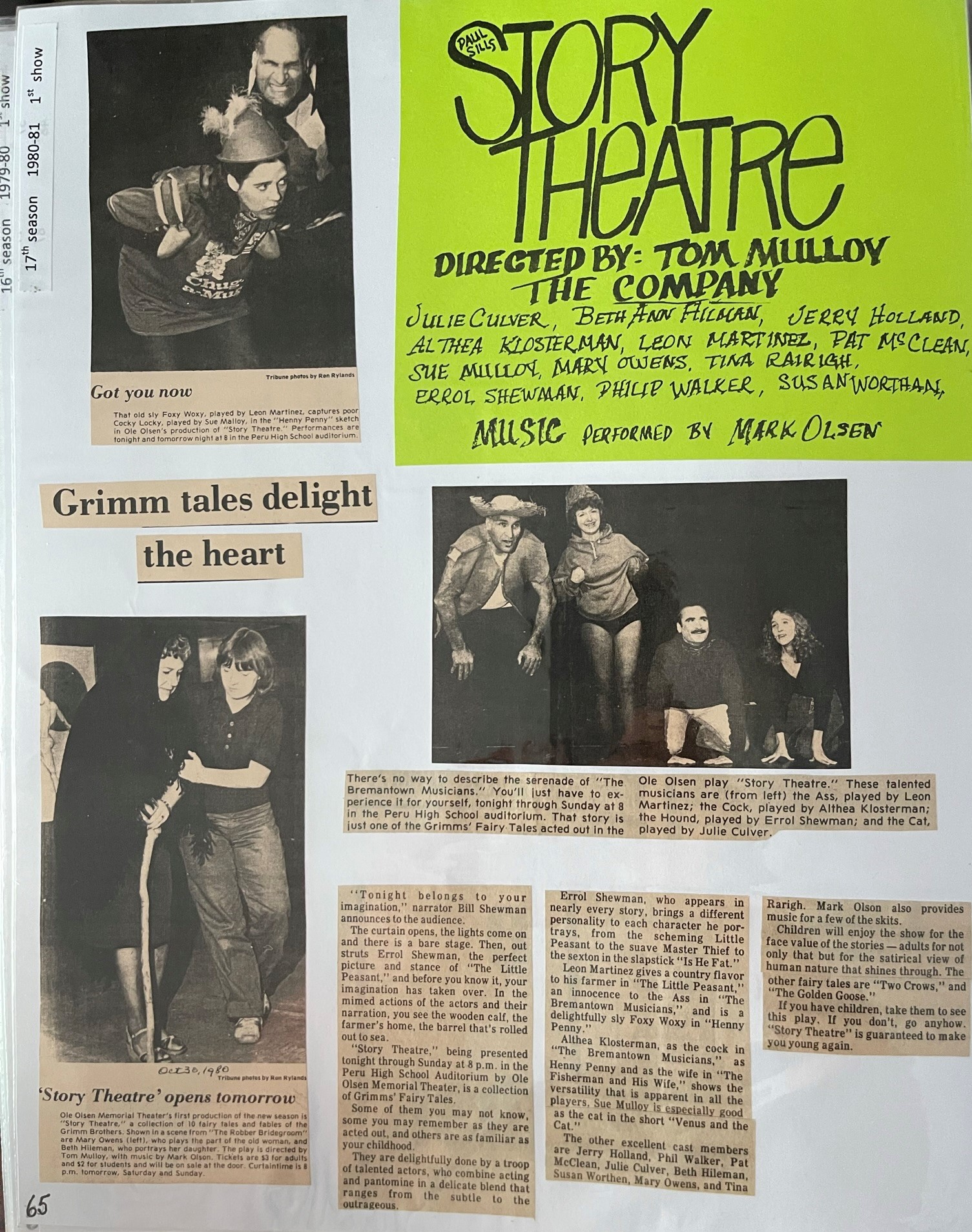 17th Season 1980/1 Story Theatre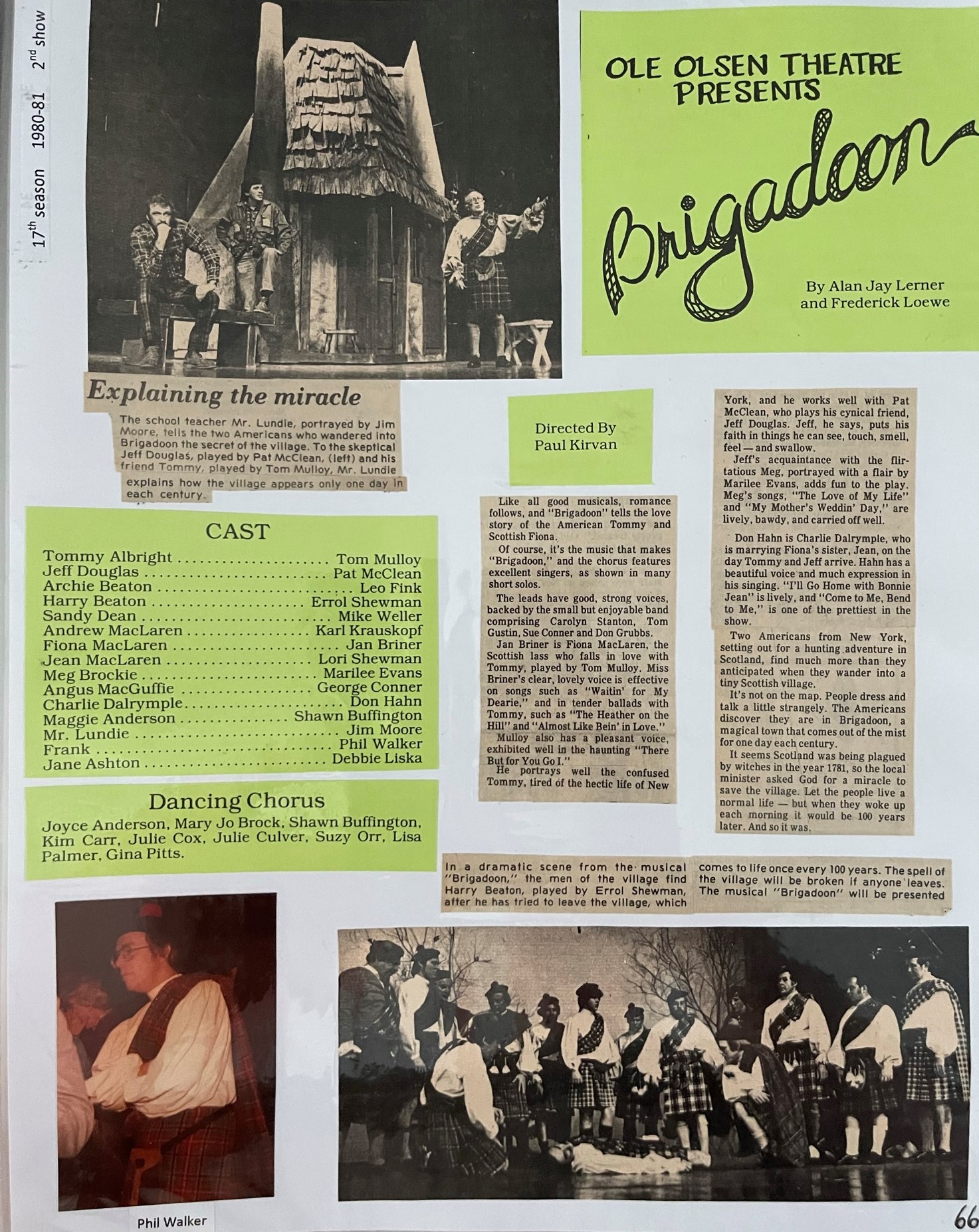 17th Season 1980/81 Brigadoon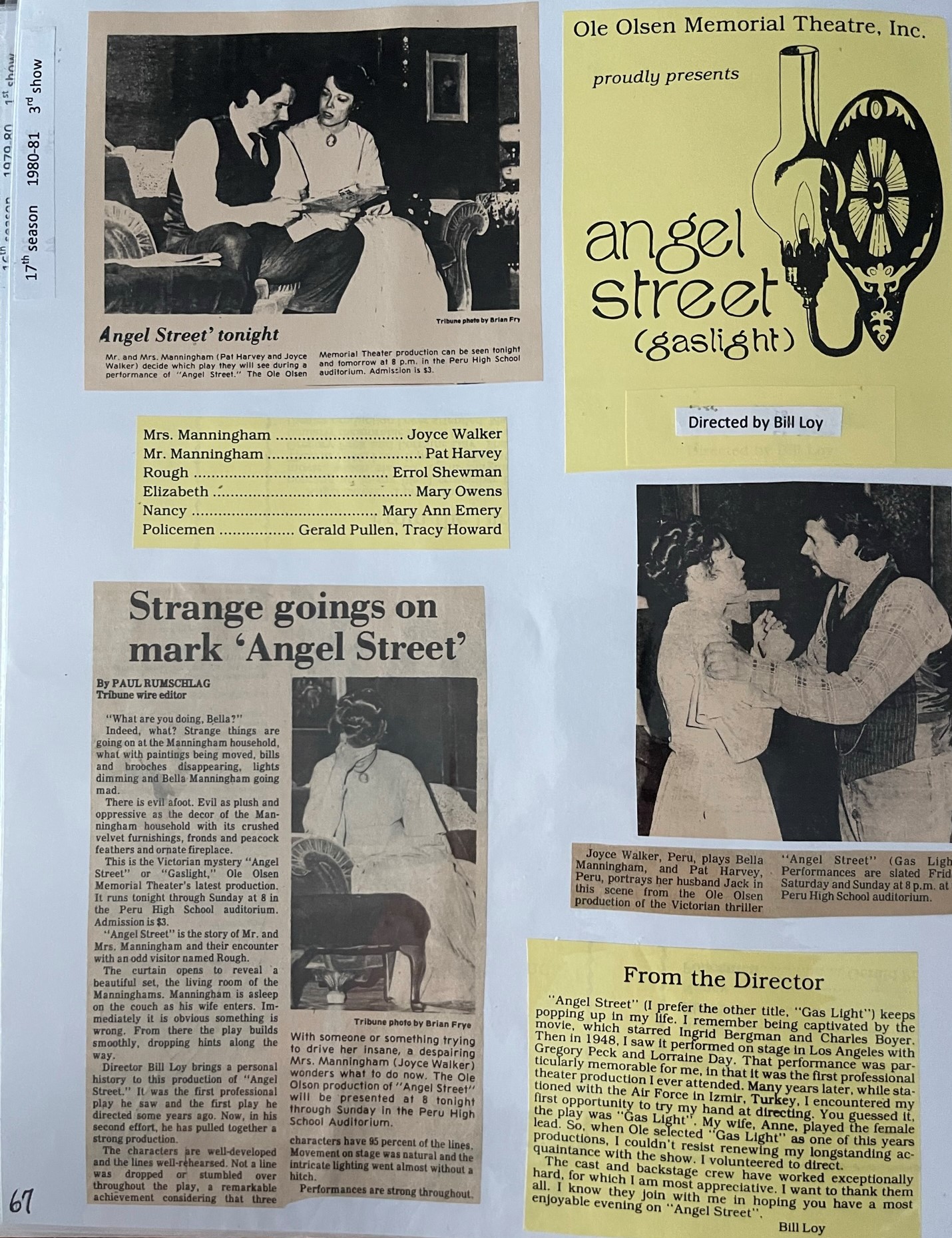 17th Season 1980/81 Angel Street (gaslight)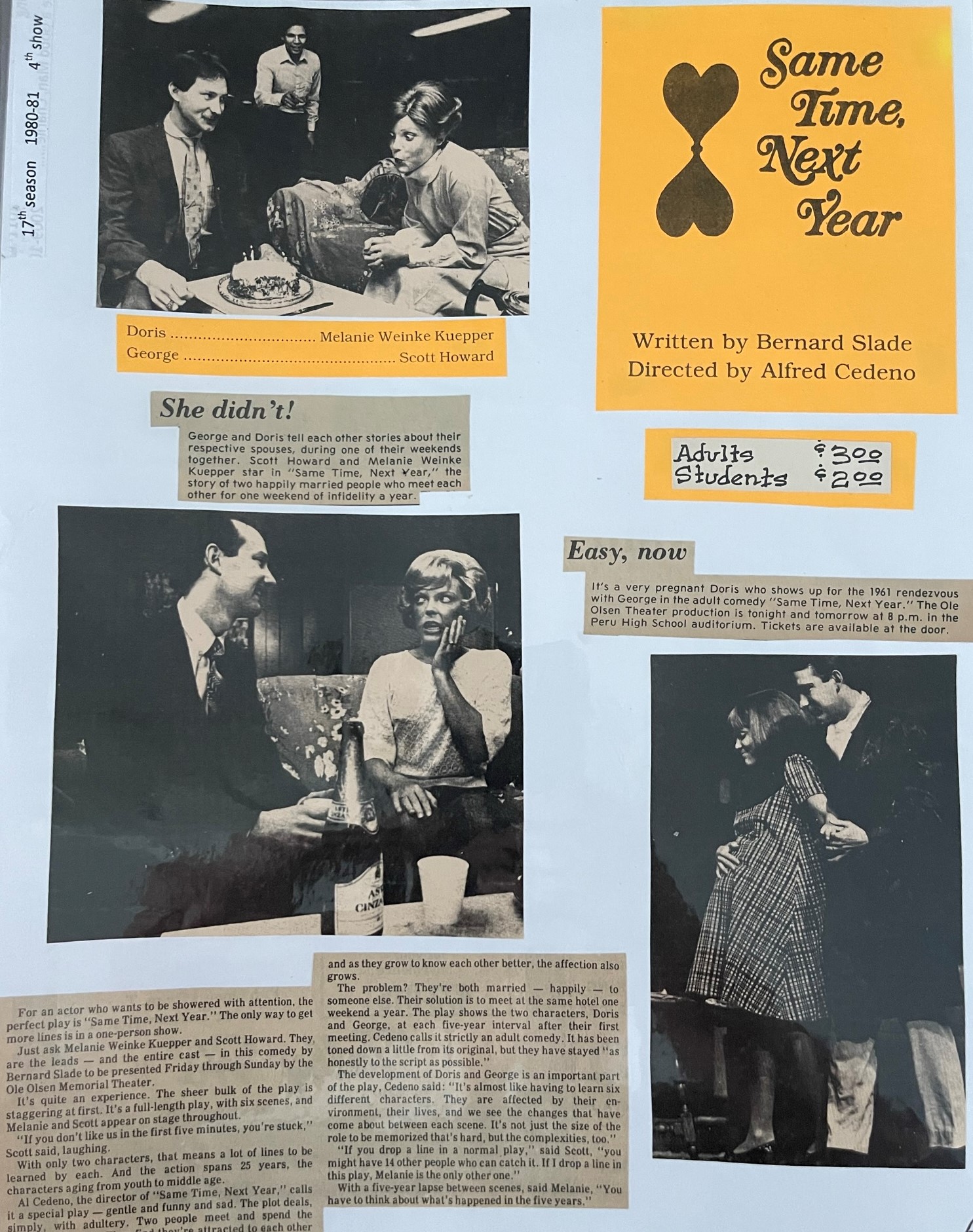 17th Season 1980/81 Same Time, Next Year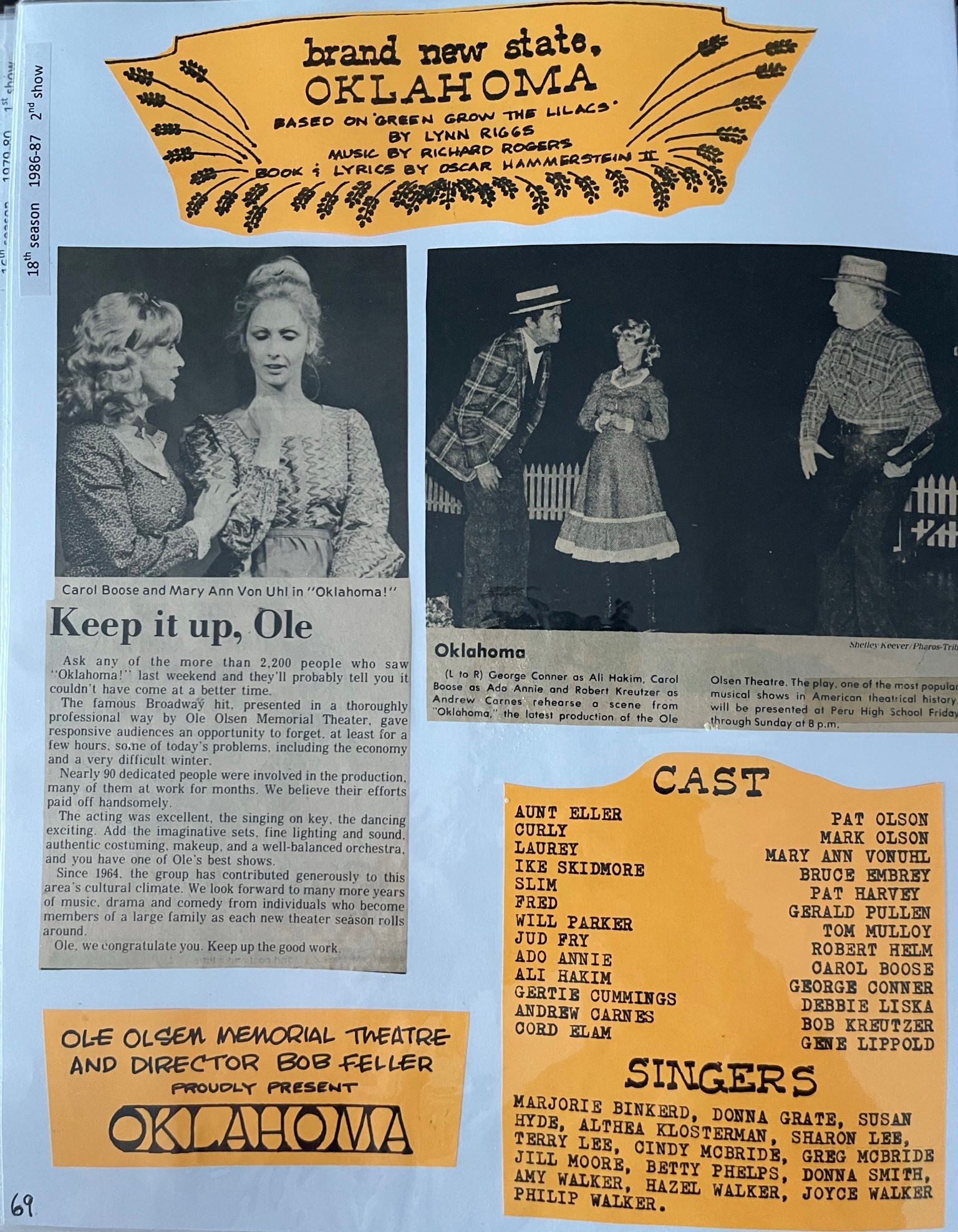 18th Season 1981/2 Oklahoma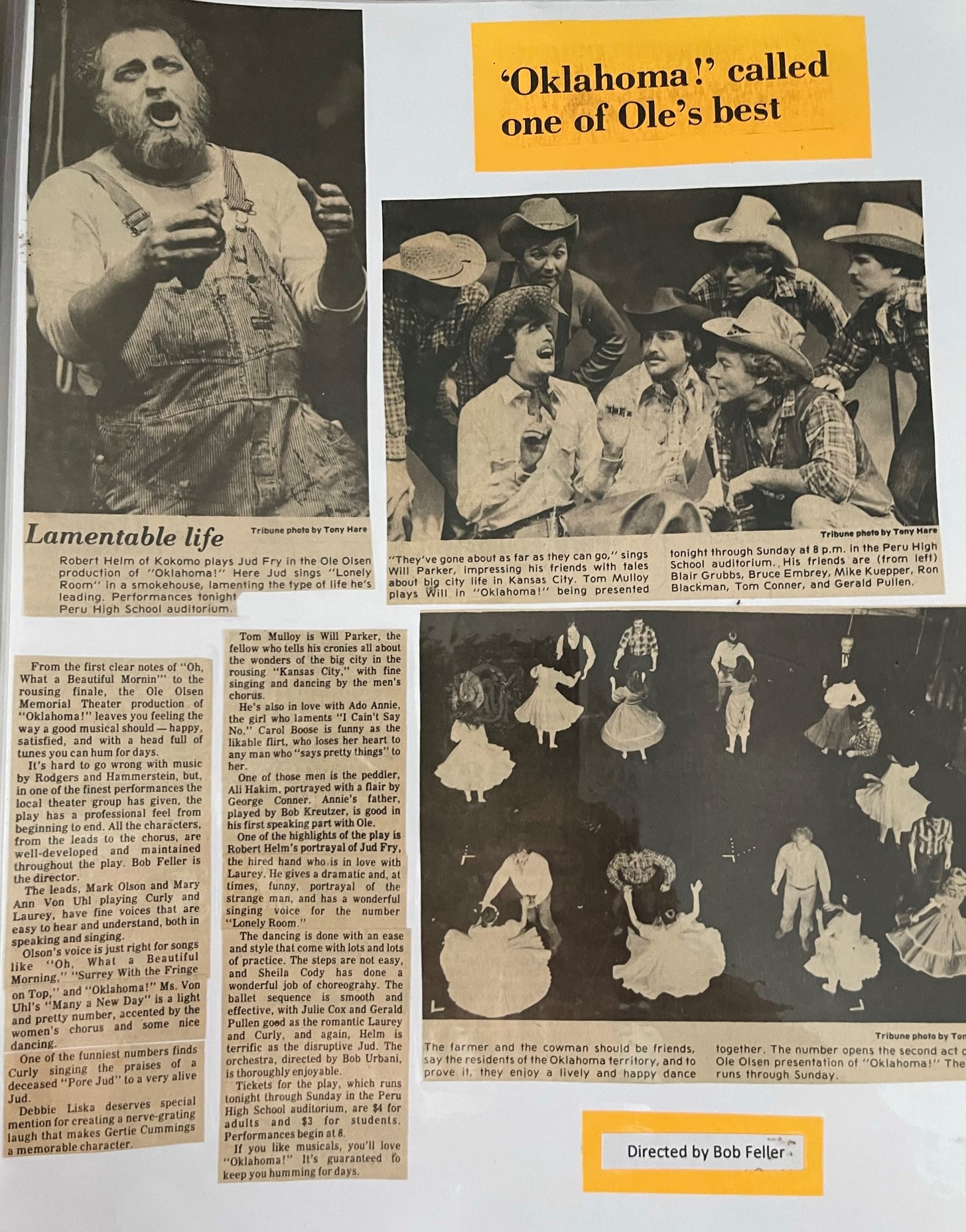 18th Season 1981/2 Oklahoma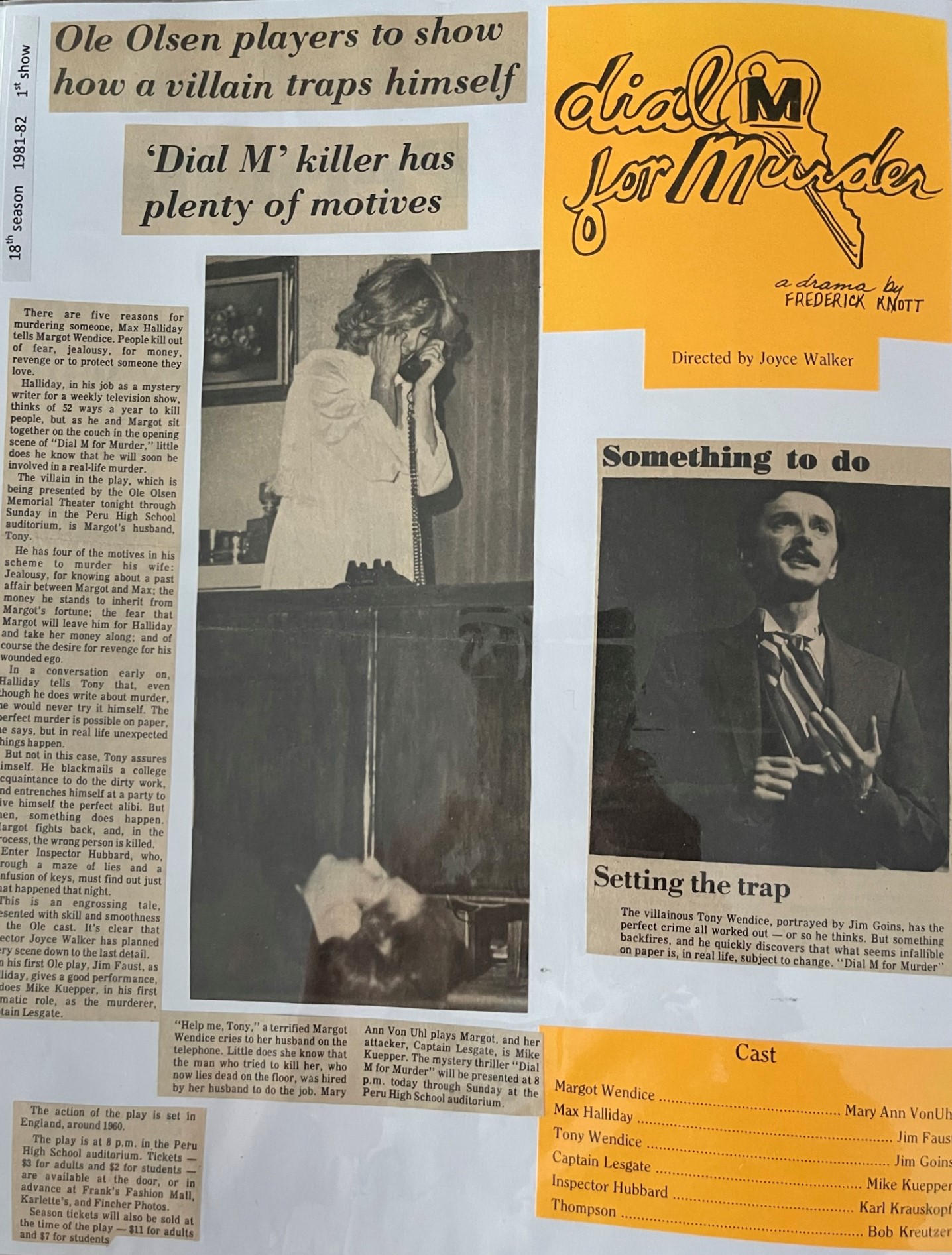 18th Season 1981/2 Dial M for Murder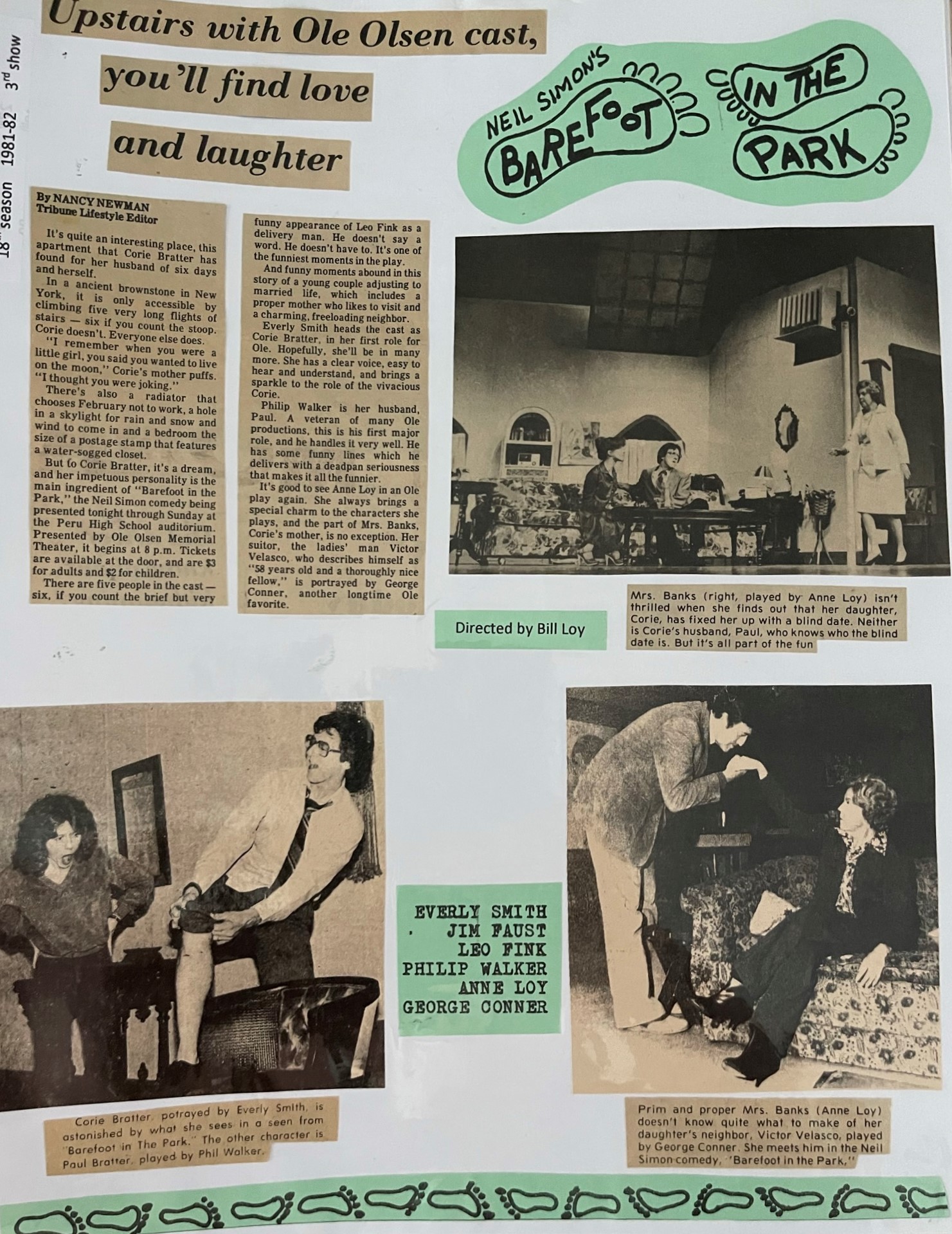 18th Season 1981/2 Barefoot in the Park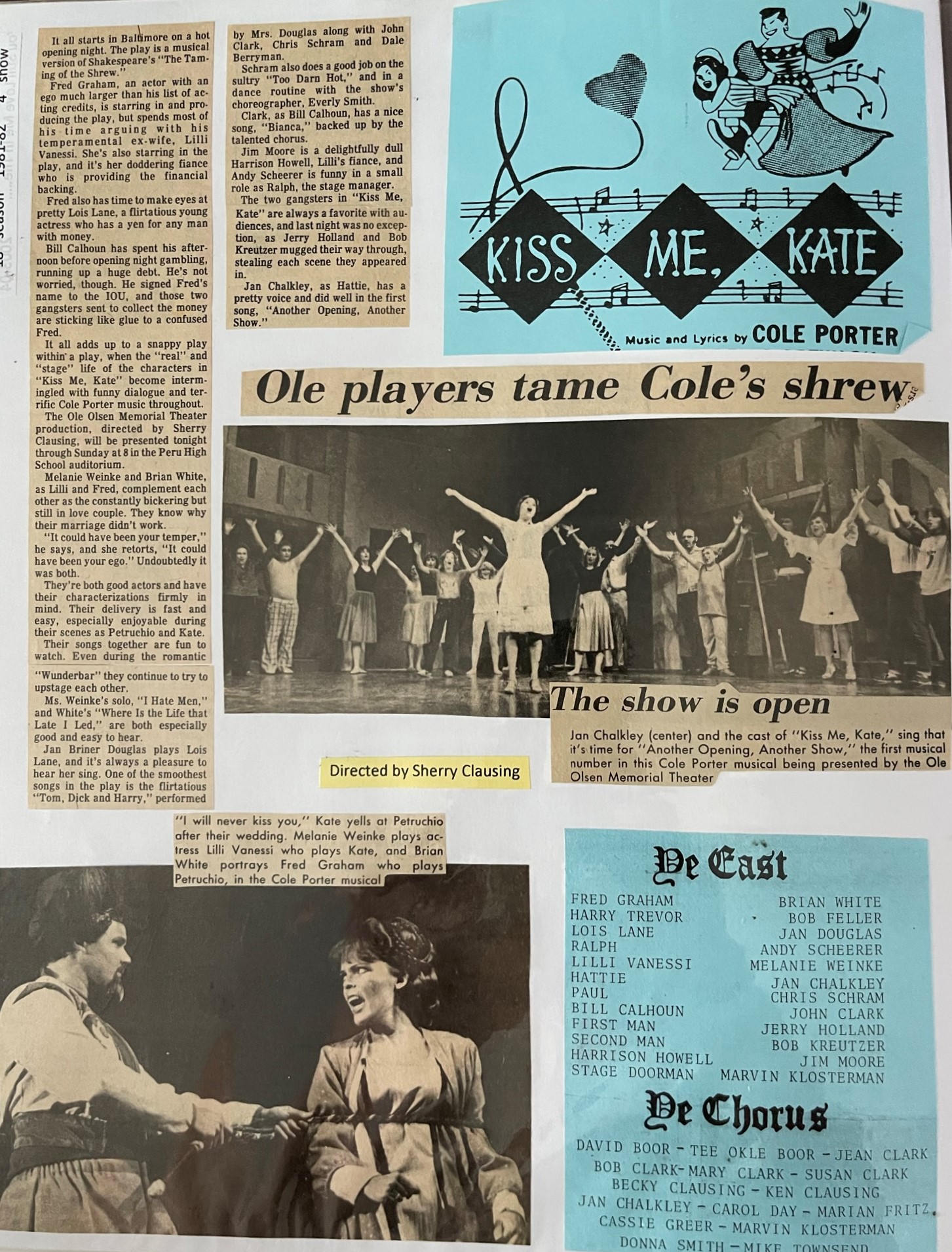 18th Season 1981/2 Kiss Me Kate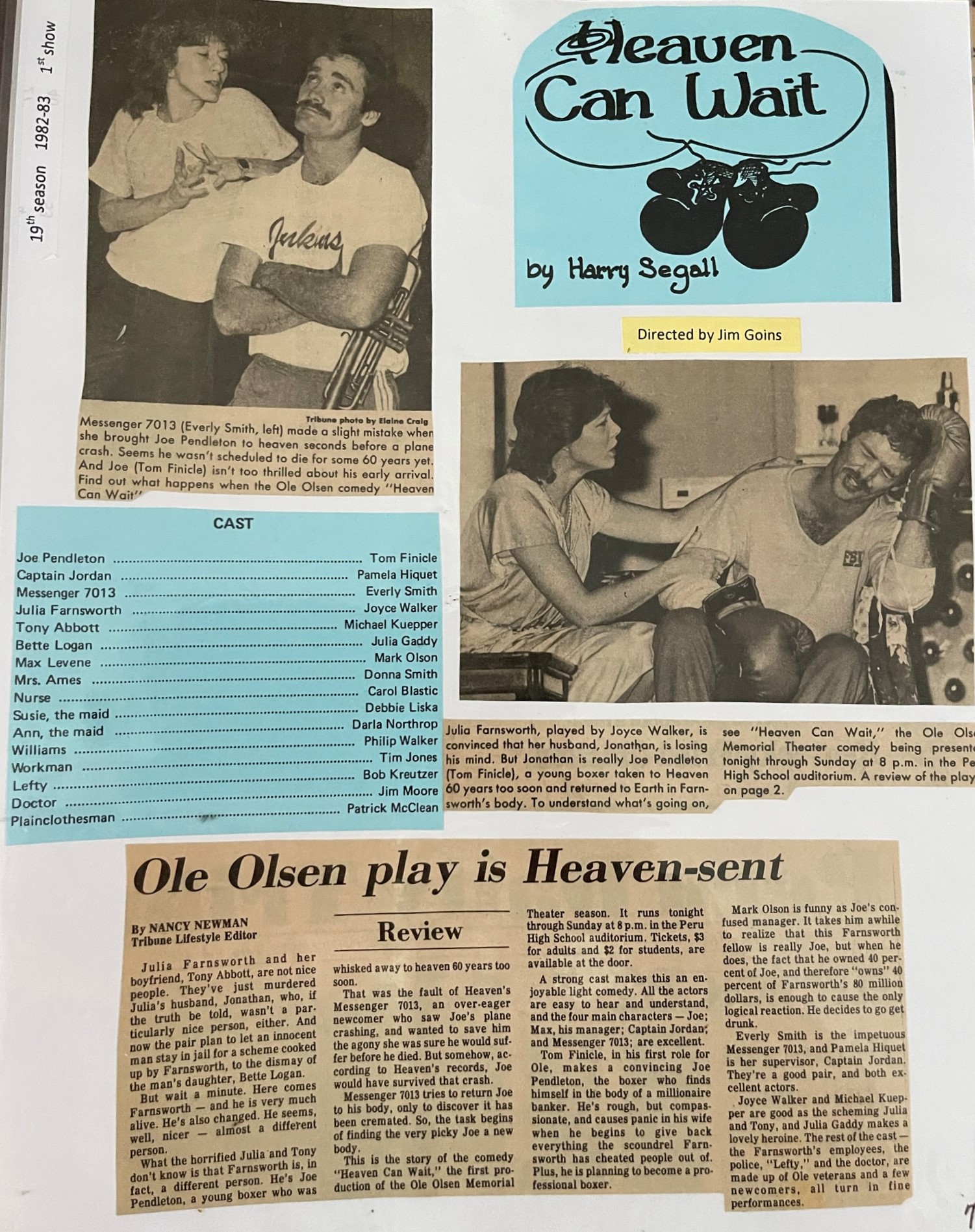 19th Season 1982/3 Heaven Can Wait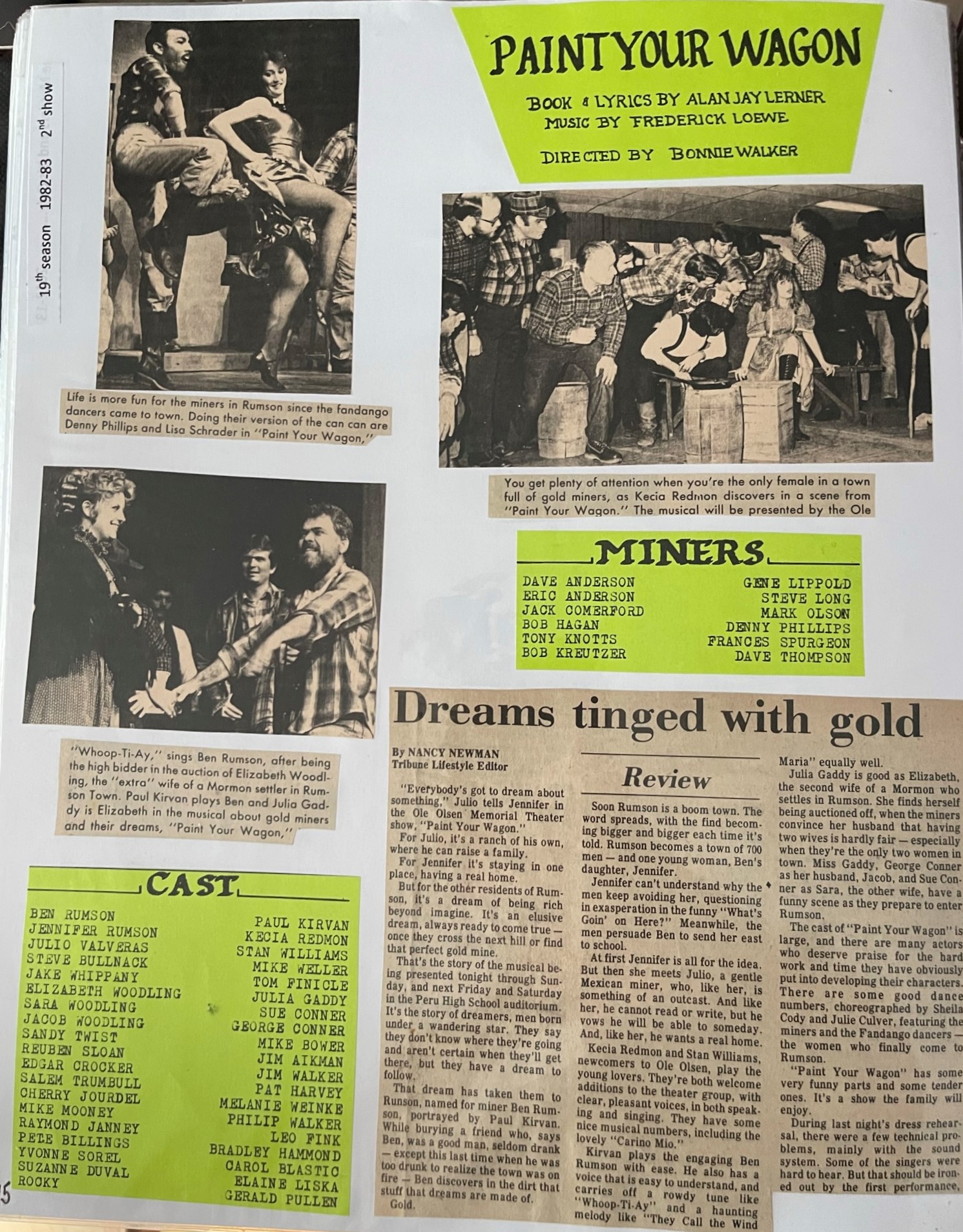 19th Season 1982/3 Paint Your Wagon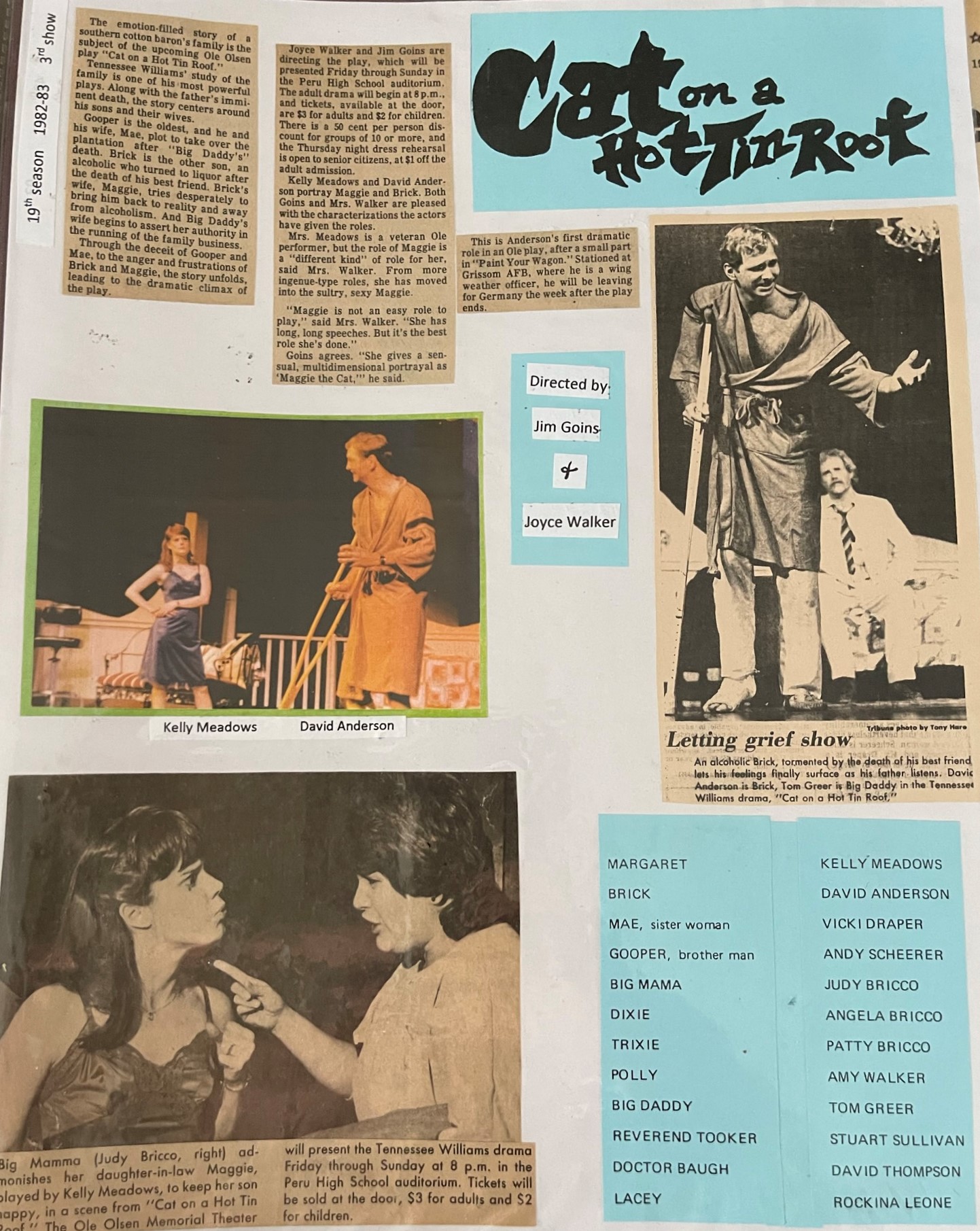 19th Season 1982/3 Cat on a Hot Tin Roof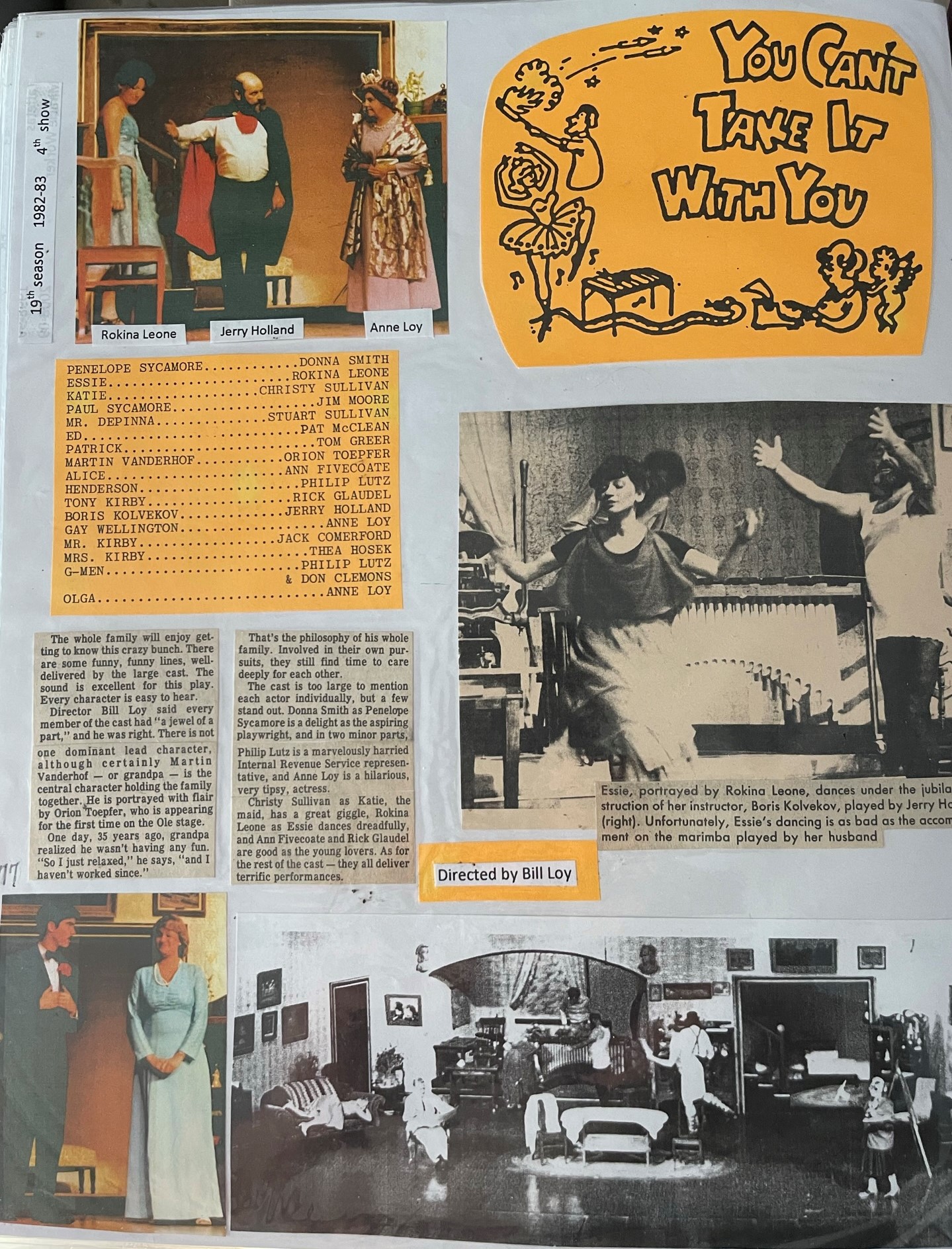 19th Season 1982/3 You Can't Take it With You
Ole Olsen Memorial Theatre is a non-profit community theater group in Peru, Indiana founded in 1964.
We were named after John Sigvard "Ole" Olsen who was born in Peru, Indiana on November 6, 1892.
The son of a Norwegian immigrant who was a boiler-maker for the railroad, "Ole" graduated from Northwestern University in 1912 with a degree in music and hit the Vaudeville circuit.
His ambition was to make people laugh, and is remembered for the quote, "May you live as long as you laugh, and laugh as long as you live."

==============================
How to Get Involved
The easiest way to get involved is to attend an audition. Auditions are announced on our Facebook Page and Facebook Group. You may also send us a message on Facebook, leave a message on our voicemail at 765-472-3680, or use our contact form.

==============================
How Ole Olsen Memorial Theater Operates

Our theater operates on ticket and merchandise sales, memberships, sponsorships, and your donations. We also have fundraisers such as memorial brick sales and the rental of our depot, gazebo, and garden.
If you would like to rent the depot, gazebo, and/or garden for your event, please contact Brandi: [email protected]
If you would like to purchase a memorial brick, please contact Deb: [email protected]

==============================
Ole Olsen Board Members for the 2023 - 2024 Season

President: Brandi Murphy
Vice President: Bryan Bertoline
Secretary: Deb Edgerley
Tickets: Cindy Ridenour
Publicity: Debby Myers
Hospitality: Open
Treasurer: Kati Roberts
Member at Large: Shanna Stoll
Production: Open
Children's Theater: Accepting Applications!
==============================
Become an Ole Olsen Member!

We are all volunteers striving to continue a 58 year tradition of offering a variety of entertainment to our community.
You can get involved too! You can run lights and/or sound, help build sets, help with make up and costumes, direct a show, or act in a show,
We offer a two tier membership plan: "voting" or "participating."
"Voting" Membership:
The cost of the Voting Membership is $13.50, which entitles you to the following:
Vote in the selection for slate of plays
Vote in the election for Ole Board of Directors
Be eligible to run for an Ole Board Position.
Participate in Ole Productions
Receive an Ole Olsen Newsletter
Receive a FREE ticket to a show in the present season
Deadline for this membership is October 15th, 2023.
"Participation" Membership:
After the deadline of October 15th, 2023 anyone who wants to be involved in Ole may purchase a $10 "Participation" Membership, which entitles you to the following:
Participate in productions
Receive an Ole Olsen Newsletter
"Participating" members will not have voting rights in the elections and will not receive a free show ticket.

You can either:
Drop your payment in the mail slot at the depot
Mail it to 154 S Broadway Peru, IN 46970
Make a donation on the website by clicking the Donation button. In the checkout screen in the comments please type Membership.