About
Who I Am; Celebrating Me 17th Annual Production
Who I Am Celebrating Me is a community of youth and adult artists exploring history through the arts. From soul-encompassing singing and dancing to heartfelt poetry and prose, the production, written and directed by Shalanda Sims, highlights a montage of African-American figures and movements of past and present. This educational production is perfect for school and classroom field trips, groups, families, and anyone interested in learning American history.
Tickets are available for purchase now. Saturday night tickets are now available for the discounted price of $10.00
For Educators:
Student-only matinee June 1-2 at 10 am. The student-only matinee shows fill up fast and is on a first come first served basis so register today. If you are not an educator but would like to bring a large group to see Who I Am; Celebrating Me (groups of 10 or more) and would like to inquire about receiving a discounted group rate contact us to make sure everyone is able to see this captivating story.
For all questions regarding large group ticket sales on the Friday and Sunday show, please email [email protected]
5th Annual Black History Festival NW
Join us in celebration of Black History Month where more than one hundred participating African American businesses, professionals, artists and organizations come together in support of Black History Festival NW 2023. Submerged in 28 days of culture and history through advocacy, education and the arts, the festival offers something for everyone.
The family friendly festival kicks off Wednesday, February 1, 2023, with the Black Village Welcome Reception & Art Installation. In addition, in partnership with Multnomah County Library, students from around the city will curate displays to dwell in their local libraries within the Portland metropolitan area for the entire month of February. An exhaustive list of calendar sanctioned events for all to attend will be listed on the festival website www.blackhistoryfestival.org.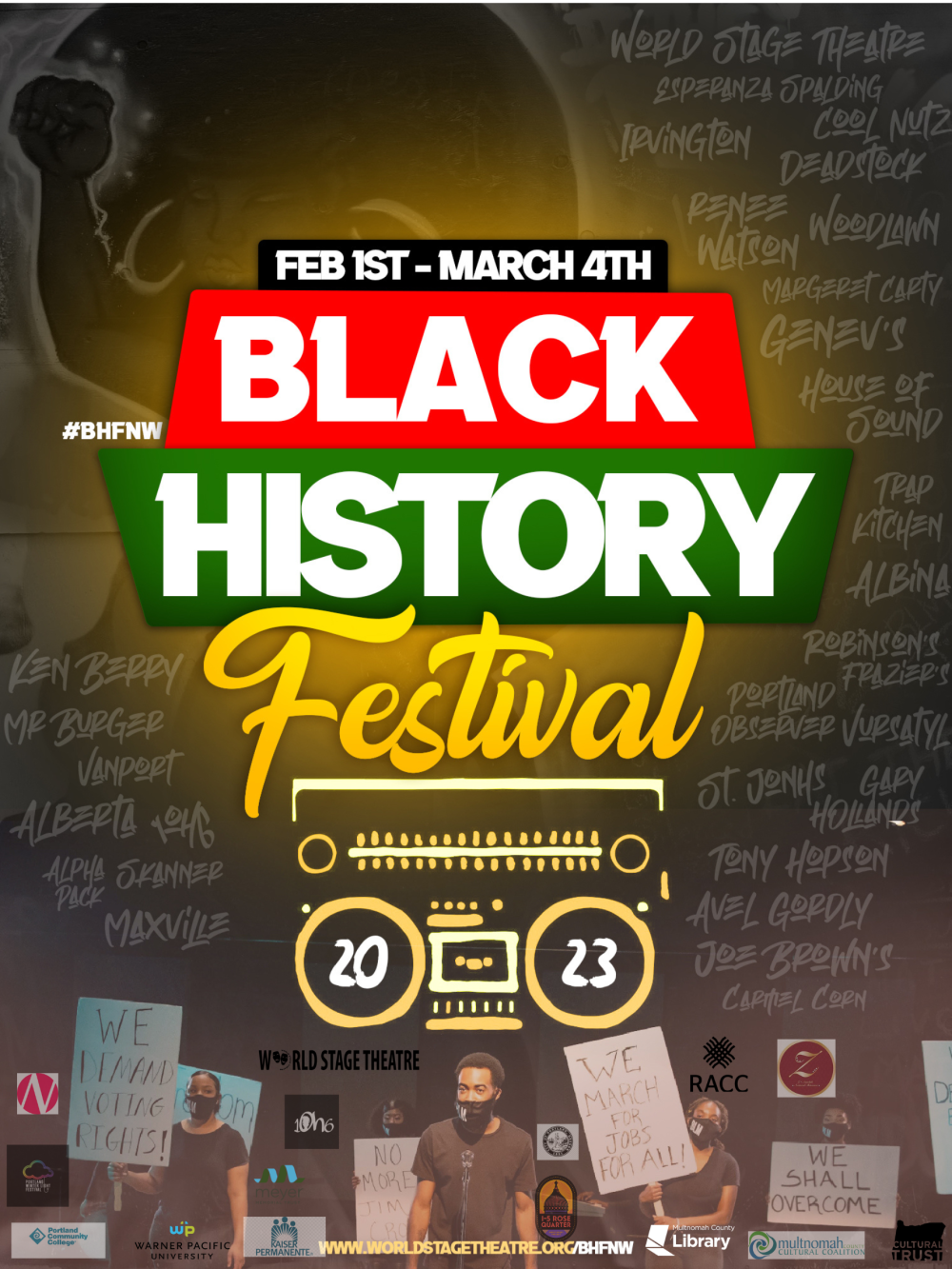 In four years, the festival has reached over thirty-thousand people spanning east to
Troutdale, west to Beaverton, south to Eugene and north to Vancouver, Washington. And, has served approximately twenty-five hundred youth. So join us in celebrating the 5th Annual Black History Festival NW.