The Relationship Show Featured
Sponsors, Featured Performers, etc.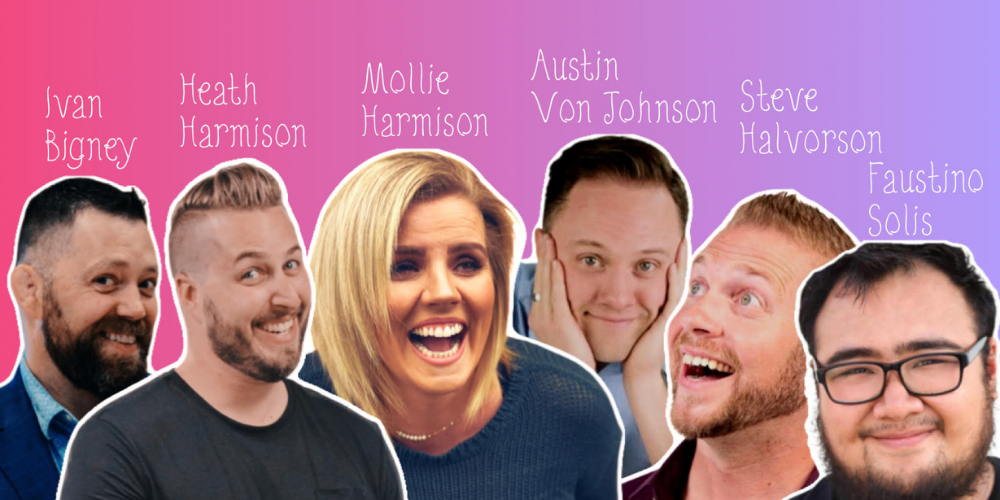 Ivan: Ivan Bigney is a comedian, actor, singer, and songwriter. He has over 20 years of improv experience performing with various long form and short form groups. His multi-faceted abilities on the comedic stage crush in venues across the country.
Heath: Being a superhero was always an ultimate dream of Heath's...but due to his lack of athleticism, money, and tragic back story, he decided that bringing laughter to the world would be the next best thing. His PG-13 style of comedy kills in clubs, colleges, cruise ships, and festivals including the Fringe Festival in Edinburgh, Scotland. He has been seen on the tv show "Laughs" on FOX and has over 53 million views on his first Drybar Comedy Special. He just released his second special on Drybar+. He's on Amazon's BEST SELLER list for his book "Father's Easy Answers to Life's Difficult Questions." He's also a TikTok sensation with 400,000 followers! You can also find him performing regularly on the Las Vegas Strip at Planet Hollywood, the Rio, Tropicana, Bally's, and the MGM Grand! He has worked with some of the best comics in the business including Brad Garrett, Louie Anderson, Dennis Miller, Eddie Griffin, and Roseanne Barr. His physicality onstage and outlook on life will have you rolling with laughter. Heath's comedy will paint a picture in your mind that will be burned in for weeks or longer. Being an Improv comedian also gives him that extra edge on the standup comedy stage. His quick wit allows him to adapt to any situation. If you have a chance to see Heath Harmison live, TAKE IT!
Mollie: Mollie is thrilled to be back at the Orpheum performing the annual "The Relationship Show", an Improvised Love Story. Mollie has performed many times at the Orpheum and more recently with Magic Valley Repertory Theatre in such productions as Into the Woods and Elf. She also recently landed the role as Mrs. Wormwood in Matilda the musical playing March 4-20, of this year. Mollie has been performing comedy since 2003 consisting of Improv, Musical Improv, Musical Theatre and Standup. She is mom, a wife, and actor, and author and a cosmetologist by trade. We hope you enjoy the show!
Austin: Austin Von Johnson is a creative energy ball that travels around the country performing, producing, acting, and whatever else keeps his goofy brain entertained. You might've seen his work during the Idaho Potato Drop, the Wasatch Improv Festival, or right here at the annual Relationship Show!
Steve: Steve Halvorson has been making audiences laugh for nearly a decade, with both Stand Up and improv comedy under his belt. He has featured his standup in major Las Vegas venues like Planet Hollywood, the D Casino, Comedy and Dolls, Jokesters, and also at the Comedy Bar in Chicago, and Harvey's in Portland. His positive energy, funny voices, and physical storytelling always leaves people feeling upbeat and ready to keep laughing. As a main stage player for 3 major improv groups such as Impulse Comedy, Recycled Minds Comedy, and Insert Foot Theater, there's no doubt you'll laugh until your face hurts with his comedy style!
Faustino: Faustino Solis is the Musical Director of Vegas Theatre Hub and ComedySportz Las Vegas, interim Musical Director for Las Vegas Improvisation Players, and Musical Director for troupes Bleach and One Take.
Faustino was introduced to improv in 2014 through the Improv Kingdom in Las Vegas.