George Orwell's 1984 Cast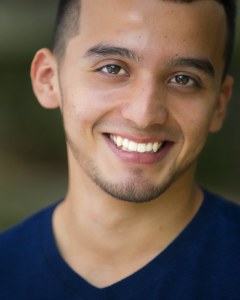 David Toledo
(Winston Smith (10/9,15,21, 22 matinee))
David's acting journey began on stage and after bringing characters to life in film and TV, he was thrilled at the opportunity to return to theater. This is David's first production with interACT. He is grateful to the production team for entrusting him with this incredible project, for his family and friends' unconditional support, and to you, the audience! He hopes you enjoy the show and continue to support theatre productions in your community.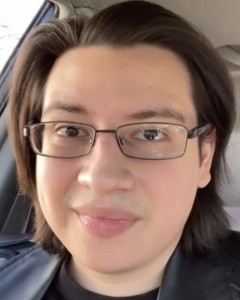 Miguel Vega
(Winston Smith (10/8,14,16,22))
Miguel is beyond ecstatic to be a part of the amazing production! His first show with interACT was their fall 2018 production of Dracula in which he starred in the title role. Since then he has appeared in various productions with the company including War of The Worlds, Yes Virginia There Is A Santa Claus, Ghostlights and Pippin! He would like to thank his friends and family for their support as well as the whole cast and crew for a wonderful experience and fantastic show. And a special thanks to Nick Clarey for this amazing opportunity!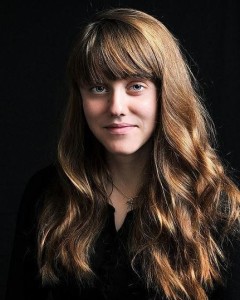 Hannah Gaston
(Jules (10/9,15,21,22 matinee))
Hannah is honored to be a part of 1984. This return to the stage is Hannah's second performance with interACT, notwithstanding two cancelled productions due to COVID. Previous credits include Pagliacci (Ensemble, Phoenicia International Festival of the Voice) and A Midsummer Night's Dream and The Crucible (Helena and Mary Warren, GlimmerGLOBE Theater). Hannah would like to thank the cast and crew for putting their faith in her to bring Jules to life onstage, and offstage, to Roger for believing in her and showing her that we are not the dead, for as long as we have feelings we are the living.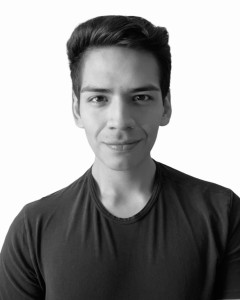 Christopher Reyes
(Jules (10/8,14,16,22), Guard (10/7,9,15,21))
Christopher Reyes is thrilled to be making his debut as Jules in InterACT Theatre Productions' 1984. He went to Michigan State University (GO GREEN!) and after a six year hiatus, he returned to the stage in Summer 2022 as Lord Farquaad in Shrek the Musical. Past credits: Ebenezer Scrooge in A Christmas Carol, Lt. Frank Cioffi in Curtains, Ned Quinn in Hogan's Goat. Christopher sends a huge thank you to his family and friends for all their support. Justice Sotamayor once said, "There is hope that you can someday not just live in a better world, but that you will play a part in making the world a better place." IG: @jerseybones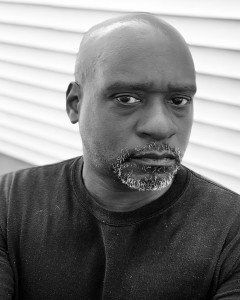 Ronnie D. Carney
(O'Brien)
Ronnie D Carney (Newark, NJ) is a dance educator who studied theatre at Arts High School. In 1995, he graduated from the University of the Arts with a BFA in Dance Performance. During a short performance career, cut short by injury, he performed with Ballet South Project and Douglas Dunn and Dancers. Ronnie turned his focus to Dance Education with a teaching position at Arts High School. Thereafter, he has taught for The Joffery Ballet School, ABT', The Mill Ballet School, NJPAC , as well as master classes across the US. He serves as Co-Director of AlieyCamp Newark. This is his fourth project with interACT.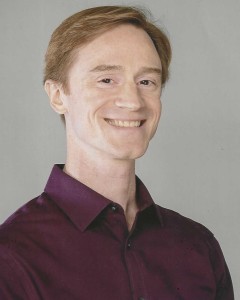 Jason Benjamin
(Loudspeaker (10/9,15,21,22 matinee) Guard (10/8,14,16,22)))
Jason is excited to be cast in 1984, his first with interACT Theatre Productions. He has previously acted in Suburban Legend's EN GARDE! as Dr. Jacques Sorreau. The company has "honored" him by casting him as the dame in their pantomime ROCK THE BOAT this coming winter. He thanks interACT for this opportunity and his wife and kids for their support.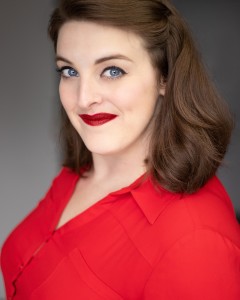 Alexa Teebo
(Loudspeaker (10/8,14,16,22))
Alexa is a musical theatre performer and teaching artist. As an educator, she is currently working with NJPAC, and has previously worked with organizations such as JSDD's WAE Center and Art House Productions as Lead Teaching Artist in playwriting and performance. As a performer, she aids in developing new work with adults and youth in both professional and educational environments. When she is not teaching she is involved in various performing projects and is currently an Equity Membership Candidate and a member of the NJ Play Lab (NJPL) Acting Company. www.alexateebo.com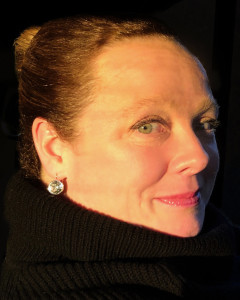 Jennifer Howald
(Parsons)
Jennifer is thrilled to be back on stage after decades away from the boards. This is her first performance with interACT and she could not be more grateful for the talent and support of this wonderful cast and crew. She would not be here without the love and endless support of her wonderful family, Rachel, Callum and Will, and her friends.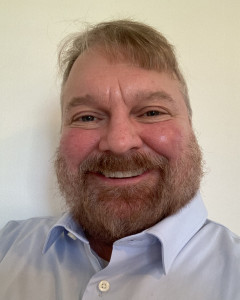 Robert MacLachlan
(Syme)
Robert MacLachlan is a veteran of a number of interACT productions including Deathtrap, The Actor's Nightmare, Dracula, and Romeo and Juliet. He has also appeared locally in a number of readings and productions with the Instant Shakespeare Company, ATC Studios, and Drew University.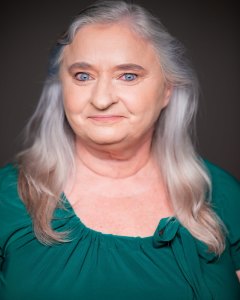 Ruth Rooney
(Landlady (10/14,15,16,21,22))
Ruth Rooney (Landlady) is thrilled to be performing live with such a fantastic group in her first production at interACT Theatre. After performing regional theatre in Pittsburgh, Pa., she moved with her husband Gregg to New York in 1987. She became a member of the Oasis Theatre Company, where she could be seen in many classical productions. In 2002, she took a 17 year break from acting to raise her daughter Violet. She returned to acting in 2019 when she began studying Meisner technique at The Acting Studio-New York. She has since performed as Emily in "Therapy" and as Mama in "Sal and his Mama" at the Chain Theatre. Thank you Gregg, Violet and Matt for supporting and encouraging me.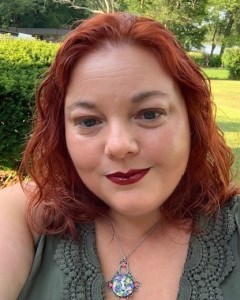 Johanna Erickson
(Messenger, (Coffee Vendor/Waitress 10/8,9))
Johanna is excited to be joining interACT for her fourth production with the company. Past interACT credits include Amityville '74, Romeo & Juliet, and Yes Virginia, There Is A Santa Claus. As a lover of literature Johanna is very excited to help bring this poignant piece of literature to the stage in a time where we need its lessons more than ever. Johanna would like to thank her fiancé, Craig for his support and unending patience.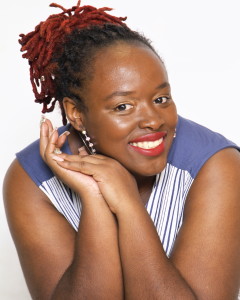 Melyssa Searcy
(Coffee Vendor/Waitress, (Landlady 10/8,9))
Melyssa Searcy Is elated to be working with interACT for the second time as the coffee vendor/waitress in 1984. She is a NJ native who fell in love with theatre at the Age of 14 when she discovered musical theatre and has been in love ever since performing not only in NJ but also in PA. She also has directed a musical and a few short original plays as well. Some of her most notable roles are Sally brown (You're a Good man Charlie Brown), John the Baptist and Judas (Godspell) The scarecrow (The Wiz) sister Mary Hubert (NUNSENSE) Penelope Pennywise (Urinetown) Leading Player (Pippin) Annie Sheps (IT SHOULDA BEEN YOU). She is enjoying the journey and has no plans to stop any time soon!!!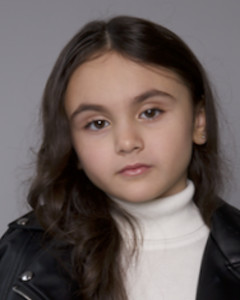 Alesiandra Nikezi
(Gladys)
Alesiandra is humbled to have been chosen to play the role of Gladys. She fell in love with the performing arts early on: discovered Ballet at age 2 1/2 ; Piano at age 4 1/2 ; Acting at age 5 ; and Voice at age 10. She's been cast in plays, film, music videos, and advertisements. Having had supporting as well as lead roles in film, Alesiandra will have her 3rd credit in film by the end of this year.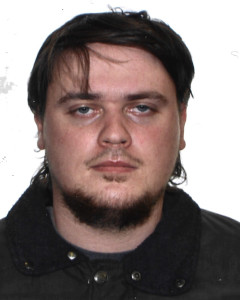 Gregory Walsh
(Martin)
Gregory is currently attending Montclair State University and is aiming to graduate in May of 2023 with a BFA in Filmmaking. This is his theatre debut and first production with interACT. Gregory is thrilled to have this opportunity to work with such amazing people.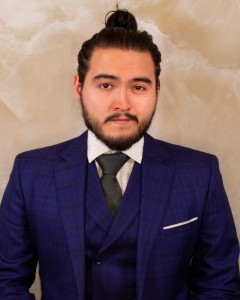 Pierce V. Lo
(Big Brother)
1984 marks Pierce V. Lo's fifth production with interACT and he could not be more delighted to be back. His previous interACT credits include Pride & Prejudice (Mr. Darcy), Murderous Innocent (Jacob), This Is Our Story, and Amityville '74 (Butch). Other theatre credits include Three Sisters, Importance of Being Earnest, Bell, Book and Candle, The Weir, Thoroughly Modern Millie, Underpants Godot and The Last Hour. Film and television credits include Scout's Honor, The Heirs Apparent, Run For Your Life, Come Find Me, Glass Figurines, and Gotham. Pierce would like to praise the cast and crew on their wonderful work and wishes everyone a Happy Spooky Season!