About
The Sedition Edition
MAILING ADDRESS
Hexagon, Inc.
5614 Connecticut Avenue NW
PMB 294
Washington, DC 20015-2604
TELEPHONE
202-333-SHOW [7469]
This page is for general queries only. Please do not submit personal information such as credit card numbers or other similar private information. If you are looking to purchase tickets to a performance, please use our secure ticket ordering system by clicking on the BUY TICKETS button above.
Hexagon, Inc., is a 501(c)(3) non-profit, tax-exempt organization established in 1955 for the purpose of presenting an annual, original, musical, comedy revue with proceeds to charity.
TERMS OF USE: Please note all music, lyrics, book, and artwork are copyright the authors and are reproduced, with permission, by Hexagon, Inc./Hexagon.org. You the viewer agree that no image, audio or video on Hexagon.org or linked third-party sites may be copied, mined, reproduced, or recreated in any form.
Hexagon, Inc.
WHAT IS HEXAGON?
Hexagon is an all-volunteer membership nonprofit organization which is committed to create and stage an original, political, satirical, musical comedy revue each year, both to have fun entertaining and to raise money for local charities.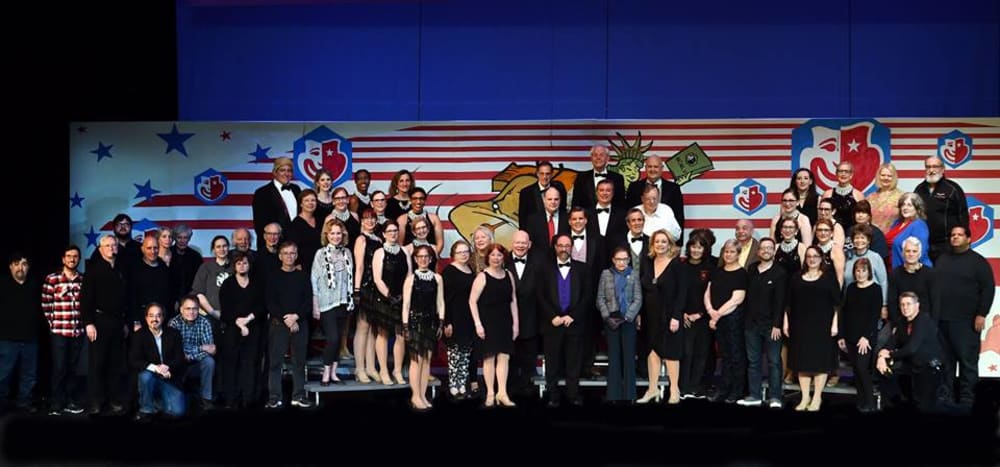 HOW DID HEXAGON GET STARTED?
In November 1955, a group of young Washingtonians and a former member of the famed all-male Princeton Triangle Club decided to put on a show devoted to "pure fun and nonsense." They called the new group Hexagon—double the Triangle symbol—to represent the inclusion of women.
Led by Charles Ilsley, the group—including iconic satirist Tom Lehrer—wrote songs and parodies for the show, "Meet the Beep." Its format was based on the popular NBC Sunday night radio show at the time, Monitor. The show ran for five performances at the Holton-Arms School in the spring of 1956.
After the show, the organizers found themselves with $3,500 in profits, which they donated to the American Cancer Society. Ilsley wrote, "It may surprise you to know that I DEFINITELY did not start Hexagon for charitable purposes. The basic reason was for FUN and for an outlet for creativity—which is most FUN—and for the kind of camaraderie which I discovered in Triangle…a charity contribution was something of an afterthought—worthy as it may be." That afterthought lives on. Since 1956, Hexagon has raised more than $3.5 million donated to 40-plus organizations.
WHO JOINS HEXAGON AND WHY?
Hexagon members are DC area theater lovers from all walks of life and political persuasions…From age 18 to—well, let's just say, older.
Members comprise the cast; orchestra; crew; writers and composers; front of house; set designer and building; light, sound, and costume designers; and all other aspects of the production team.
WHO SUPPORTS HEXAGON?
Throughout its long history, Hexagon has been broadly supported and recognized by the Washington, DC metropolitan community. Local businesses and organizations sponsor the show and provide in-kind donations of materials and services.
Members of the media make guest appearances as Newsbreak anchors. Area politicians and celebrities have graced the Hexagon stage, including DC Representative Eleanor Holmes Norton, Senator Chris Van Hollen, former congresswoman Connie Morella, now NBC 4 Tony Perkins, and USA Today sports columnist and ABC News commentator Christine Brennan, and WTOP luminaries.
Hexagon has received formal recognition for its contributions to the Washington community. Washingtonian magazine selected Hexagon as "Washingtonian of the Year" in 1993, the first time the publication honored an organization as the award's recipient. In 1987, President Ronald Reagan presented Hexagon with the President's Volunteer Action Award for service.