About
Joe Conklin Comedy Show
Joe Conklin has been a constant in Philadelphia radio for more than 30 years. He's known for his spot-on impressions of Donald Trump, Mitch McConnell, Barack Obama, Elizabeth Warren, Allen Iverson, and Charles Barkley, among others.
Conklin is also one of the most sought after corporate banquet speakers in the area. His stand-up routine is legendary, as he's skewered some of the country's top politicians, pro athletes, sports executives, and film stars, sometimes to their faces. And each time he is fearless, uncanny, and hilarious.
Joe is a twelve-time AIR award winner for Excellence in Broadcasting and his work has been recognized by the Mid-Atlantic Emmy Awards. He's worked with some of the nation's most recognized performers including Kevin Hart, Tim Allen, and Ray Romano.
His TV credits include: NFL Films Presents, NBC Sports, Entertainment Tonight, NBA on TNT, ESPN: Baseball Tonight, Good Day Philadelphia, The Q Show, Comcast Sportsnet, Finder's Keepers, America's Funniest People.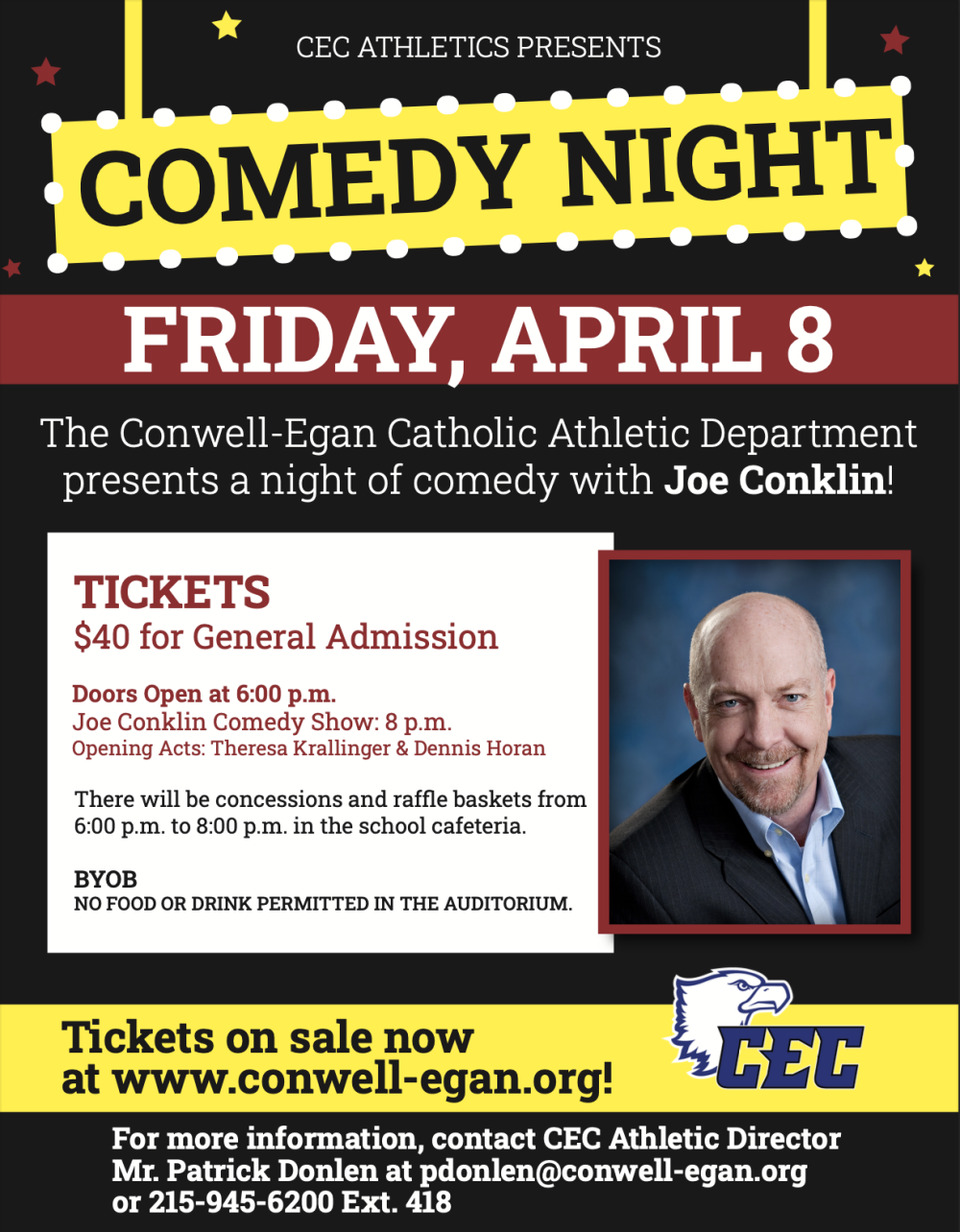 Conwell-Egan Catholic High School
Conwell-Egan Catholic High School, a co-ed, college-preparatory school within the Archdiocese of Philadelphia, serves 510 students in Lower Bucks County in grades 9-12. CEC's mission, within the tradition of our Catholic faith, collaborates to build character through service, achieve academic excellence, and demonstrate a commitment to lifelong learning. CEC is accredited by the Middle States Association Commissions on Elementary and Secondary Schools. To learn more visit www.conwell-egan.org or call 215-945-6200.