About
THE QUE FUNNY! Comedy Tour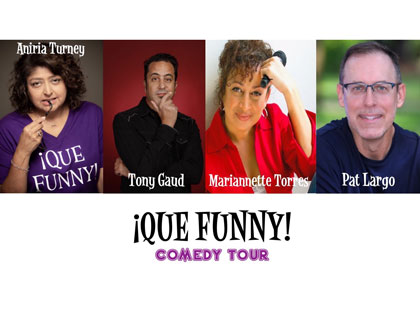 ​
The ¡QUE FUNNY! Comedy Tour is a show featuring Latinx comedians alongside other diverse comics for night of storytelling and laughter. Some of these talented performers have appeared in comedy festivals such as the Burbank Comedy Festival, the Oddball Comedy Festival, and Comedy Central's Open Mic Fight to name a few. They have also opened for the likes of Paul Rodriguez, Craig Shoemaker, and Dom Irrera.
Every ¡QUE FUNNY! performance is designed for audiences over 18 years of age.
Carrollwood Cultural Center

At the Carrollwood Cultural Center, magic is around every corner. Music fills the air, colors dress the walls, dancers float on stage and drama evokes emotion. The Center has been honored to host an array of local talents from visual artists, instrumentalists, singers, dancers and theatre groups. We look forward to introducing more area talent through future performances and concerts. Who knows? Perhaps our next headliner will be you!