About
The A*B*C of SUCCESS! Art*Brand*Company - Registration
COMPLETE REGISTRATION - https://docs.google.com/forms/d/e/1FAIpQLSe_8jTlZ2SUaDTNkgbsxkHeyHUoiBp4YrqHoxF8L26F65U5jw/viewform?usp=sharing
A one day exclusive, up close and personal conversation with Broadway Award-Winning Director and Choreographer Patdro Harris. This meet and greet is for working professional artists, as well as those looking to expand their career! Artists should come prepared to learn industry exclusive tips and resources to "Increase their income", "Better Their Brand" and learn "How to be a full-time artist". The workshop will include a catered brunch and on the spot head-shot opportunity.
Session #1: 10:00 - 11:45am
Brunch Mixer: 12:00pm - 1:30pm
Session #2: 2:00pm - 5:00pm
Patdro Harris (Director/Broadway Choreographer/Writer) is nationally and internationally recognized and respected by colleagues, critics, and fans. The Washington Post hails him as a "superb choreographer". The New York Times applauds his artistry as "praiseworthy". The Atlanta Journal-Constitution enthusiastically commends his work as "dynamic … brilliant…solid season after season". And the Houston Chronicle says "…excellent and energizing direction and stunning choreography makes the show an absolute joy to experience". He has directed at distinguished theaters such as The Alliance Theater, Sacramento Theatre Company, Round House Theater, Liberty Theater Cultural Center, San Diego Repertory Theater Company, Penumbra Theater, Tuskegee Repertory Theater, Ensemble Theater, Kenny Leon's True Colors Theater Company, Indiana Repertory Theatre, Syracuse Stage, Theatrical Outfit, Connecticut Repertory Theater, The Tribeca Performing Arts Center, Howard University, Syracuse University, Florida A&M University & the University of Northern Colorado. He also served as choreographer, artistic consultant, and movement director with the Oregon Shakespeare Festival, The Kennedy Center, Studio Theatre D.C, City Theatre of Pittsburgh, Minneapolis Mixed Blood Theatre, Jomandi Productions, The National Black Theatre Festival, Guthrie Theater, The National Black Arts Festival, Portland Center Stage, and Broadway's Royal Theatre. Patdro has traveled the world as choreographer and lead dancer for the incomparable Stevie Wonder. He has worked with such artists as The SOS Band, TC Carson, Daryl Coley, Yolanda Adams, and India Arie. His talents were also showcased as Choreographer and Movement Specialist in Toni Morrison's world premiere opera, Margaret Garner. He choreographed the Tony Award-winning Broadway hit A Raisin in the Sun starring Sean Combs and Phylicia Rashad. Mr. Harris attended Alabama State University. In his current home of Atlanta, Georgia he has served on many arts committees including the Georgia Council for the Arts, and the Advisory Dance Panel for the Bureau of Cultural Affairs. He holds to his credit the 1996 Helen Hayes Award for Outstanding Choreography and has been honored with a nomination for the same award for Best Supporting Actor. He also received a 2002 Drammy Award for Best Choreography and the 2007 Dance Ministry Magazine's Trailblazer Award for Dance Choreographer of the year. He has received a 2009, 2010, 2011, & 2016 Giorgee Award for Best Director and Best Show of the Year. In 2009 he received Atlanta's top theatre award, The Suzi Bass Award for Outstanding Choreography, and in 2013 he won the Suzi for Outstanding Director of a Play.
To learn more about Patdro Harris, please visit https://www.patdroharris.com/.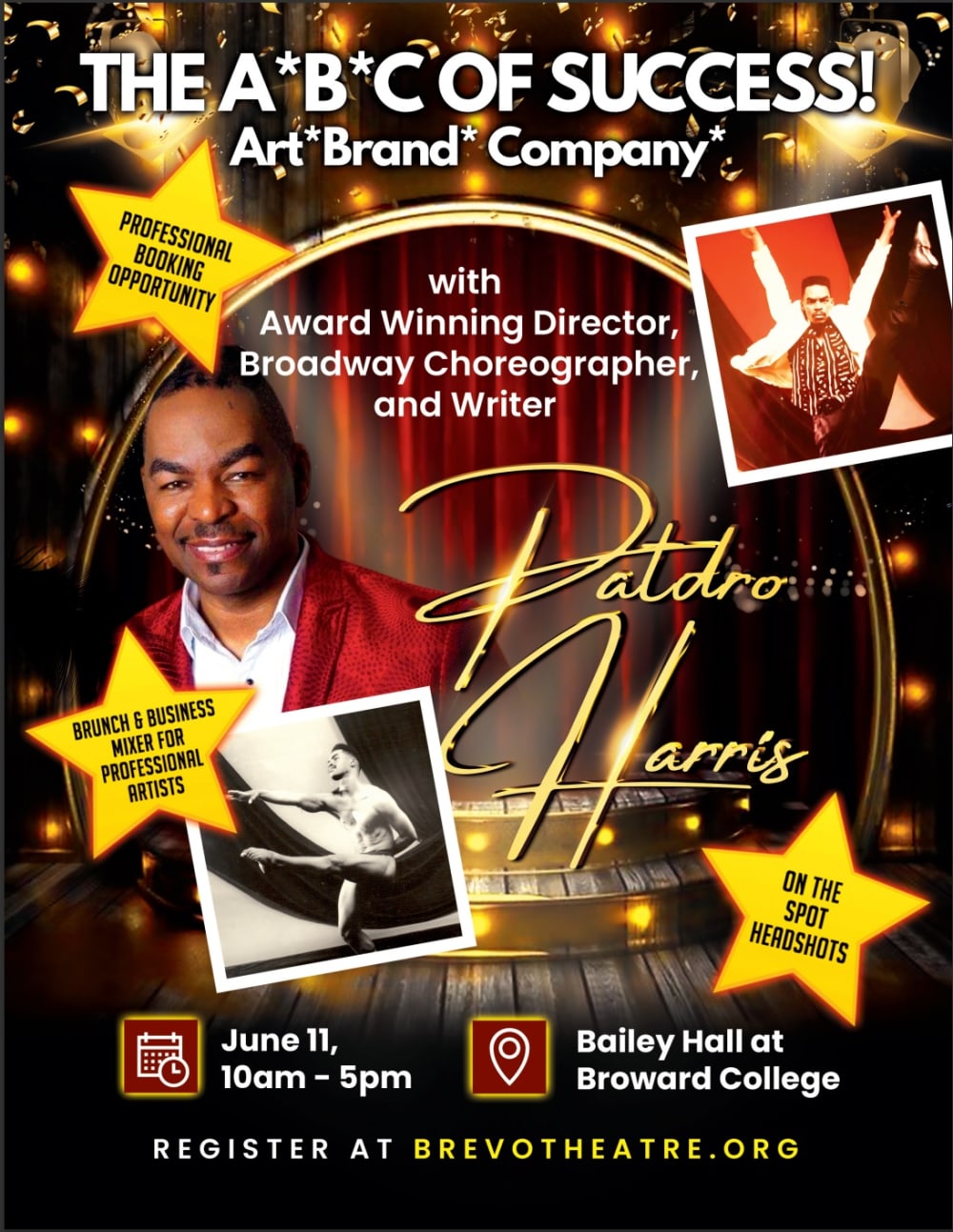 Brévo Theatre
Brévo Theatre is an incorporated 501(c)(3), created by Zaylin Yates and his business partner, Terrence Pride during their time as students at Florida A&M University. One of the productions they are most proud of incorporated a highly successful and student-funded dinner theater performance of "Kissing the Blarney Stone," which paved the way for the duo to continue to produce shows that challenge modern-day theater while showcasing and developing local talent in unconventional performances. Amidst the COVID-19 pandemic, Brévo Theatre produced a series of virtual dance videos that interpreted acts of racial injustice, entitled "Protest Art," commissioned by the Adrienne Arsht Center for the Performing Arts. Most recently, Brévo Theatre produced "American Son," the Broadway play by Christopher Demos-Brown. The Brévo-produced rendition was sponsored by Miami Dade County Department of Cultural Affairs, and included a live and in-person conversation with well-known playwright and Miami native, Mr. Demos-Brown entitled "2 Shades of Black: An Exploration of Biracial Identity." Brévo Theatre's mission is to provide a platform to the unheard by highlighting up-and-coming playwrights, actors, dancers and directors, by offering a diverse entertainment experience through color-blind casting.