About
All Together Now!
All Together Now! - A Global Event Celebrating Local Theatre is an opportunity for schools and theatres around the world to locally produce and perform an exclusive musical revue featuring songs from Broadway's most beloved shows. This revue features 15 musical performances which will show the talent of both Bellmont High School choirs along with the 8th Grade Choir at Bellmont Middle School. Some musical numbers will be performed all together which will bring 65 students to the stage, while others will feature small groups and soloists.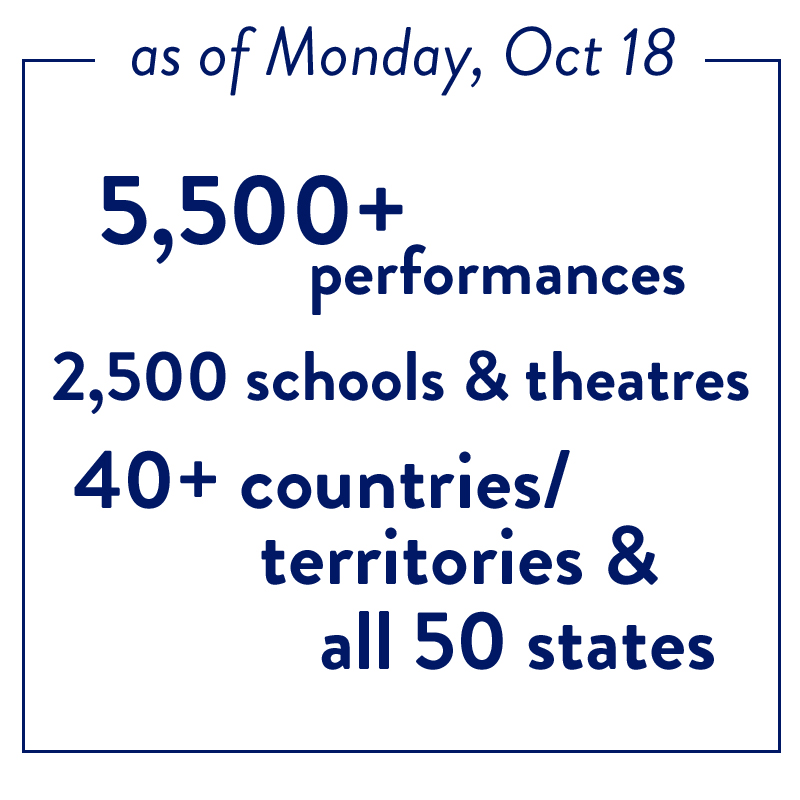 Bellmont High School
Bellmont Theatre has been presenting plays and musicals for over 50 years, and the program continues to grow. Our goal is not only to educate the students, but to instill the love of live theatre in the students as well as the audience. Below is a list of all past productions done here at Bellmont, hopefully it brings back good memories to you!
PRODUCTIONS AT BELLMONT HIGH SCHOOL
1967-1968 - Submerged/Opening Night & Of Mice and Men
1968-1969 - Miracle Worker
1969-1970 - JB
1970-1971 - The Rainmaker
1971-1972 - Summer Tree
1972-1973 - Everybody Loves Opal
1973-1974 - Opal is a Diamond
1974-1975 - Diary of Anne Frank
1975-1976 - Dark of the Moon
1976-1977 - Picnic
1977-1978 - The Mouse Trap
1978-1979 - You're a Good Man, Charlie Brown
1979-1980 - The Fantasticks & Once Upon a Mattress
1980-1981 - JB & West Side Story
1981-1982 - The Robber Bridegroom & Hello Dolly
1982-1983 - Oklahoma & South Pacific
1983-1984 - The World of Carl Sandburg & Peter Pan
1984-1985 - My Three Angels & You're a Good Man, Charlie Brown
1985-1986 - The Diary of Anne Frank & 7 Brides for Seven Brothers
1986-1987 - Arsenic & Old Lace & My Fair Lady
1987-1988 - The Unsinkable Molly Brown & Once Upon a Mattress
1988-1989 - Count Dracula & West Side Story
1989-1990 - Camelot & Singing in the Rain
1990-1991 - Steel Magnolias & South Pacific
1991-1992 - Our Town & Cinderella
1992-1993 - You Can't Take It With You & You're A Good Man, Charlie Brown
1993-1994 - Rehearsal for Murder & Bye Bye Birdie
1994-1995 - The Miracle Worker & Fame
1995-1996 - Twelve Angry Jurors & Nunsense
1996-1997 - Up the Down Staircase & Flowers for Algernon
1997-1998 - The Diary of Anne Frank & Grease
1998-1999 - Three One Act Plays & Oklahoma
1999-2000 - Miracle on 34th Street & Fiddler on the Roof
2000-2001 - Rehearsal for Murder & 7 Brides for Seven Brothers
2001-2002 - You Can't Take It With You & Joseph and the Amazing Technicolor Dreamcoat
2002-2003 - A Man Called Peter & The Music Man
2003-2004 - Up the Down Staircase & The Wizard of Oz
2004-2005 - The Outsiders & Cinderella
2005-2006 - Flowers for Algernon & Oliver
2006-2007 - Playing for Time & Lil Abner
2007-2008 - Rehearsal for Murder & Beauty and the Beast
2008-2009 - All I Really Need to Know I Learned in Kindergarten & Pirates of Penzance
2009-2010 - Noises Off & The Sound of Music
2010-2011 - Don't Mention My Name &The Phantom of the Opera
2011-2012 - Anne of Green Gables & Children of Eden
2012-2013 - Midsummer Jersey & Aida
2013-2014 - Our Town & Grease
2014-2015 - While the Lights Were Out & Shrek the Musical
2015-2016 - Makin' It & Legally Blonde the Musical
2016-2017 - Twelve Angry Jurors & Mary Poppins
2017-2018 - Just Another High School Play & Annie
2018-2019 - Happy Birthday, Dear Grandpa! & The Music Man
2019-2020 - PopStar & The Little Mermaid (Postponed)
2020-2021 - The Halloween Trilogy & The Little Mermaid
2021-2022 - Crazytown, All Together Now!, &