"Playing Pretend & Making Friends."
Tickets for Santa Rosa Community Theatre's final production of our 2023 season
"It's A Wonderful Life. A Live Radio Play" are available now! Get them before they sell out!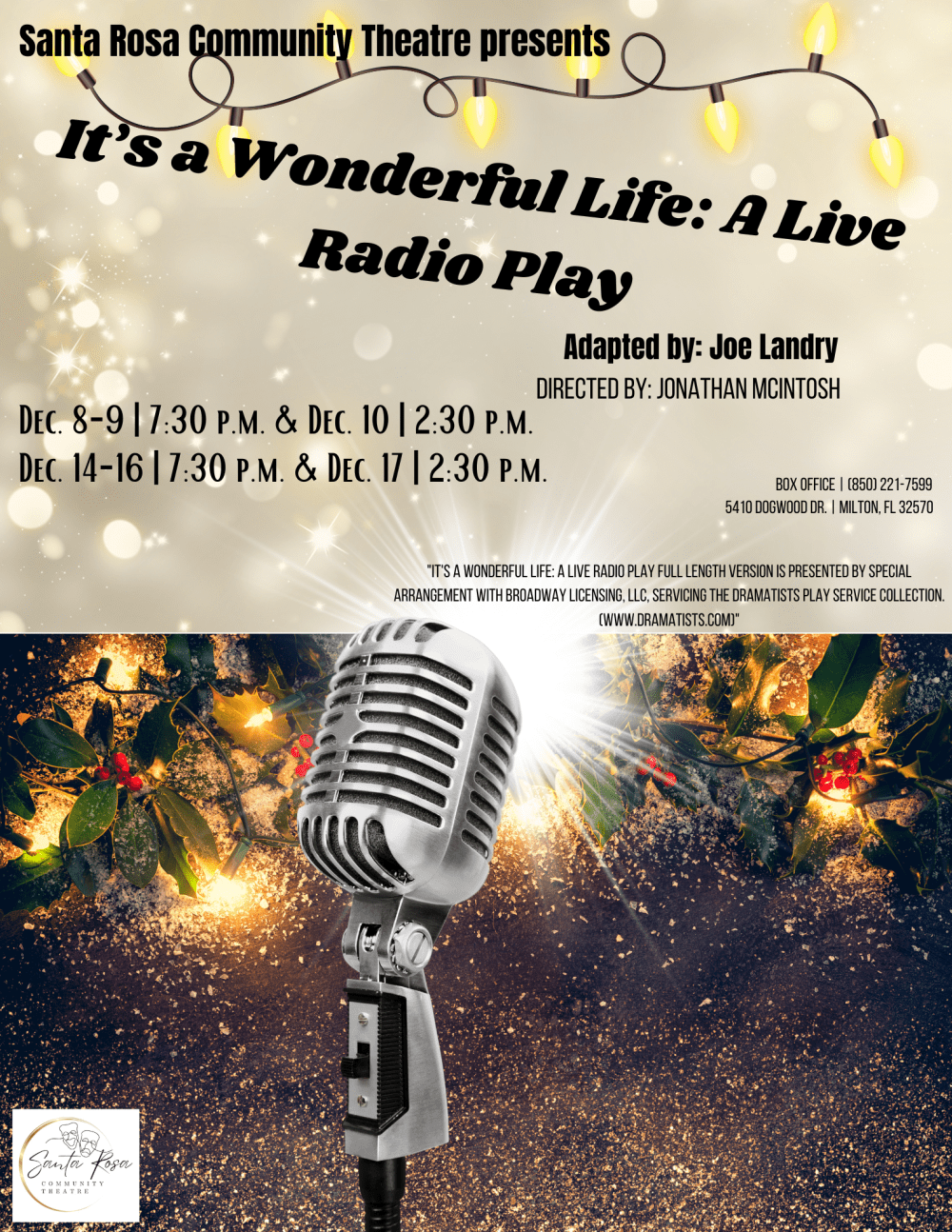 Tickets for Santa Rosa Community Theatre's first production of our 2024 season
"The Importance of Being Earnest" are available now! Get them before they sell out!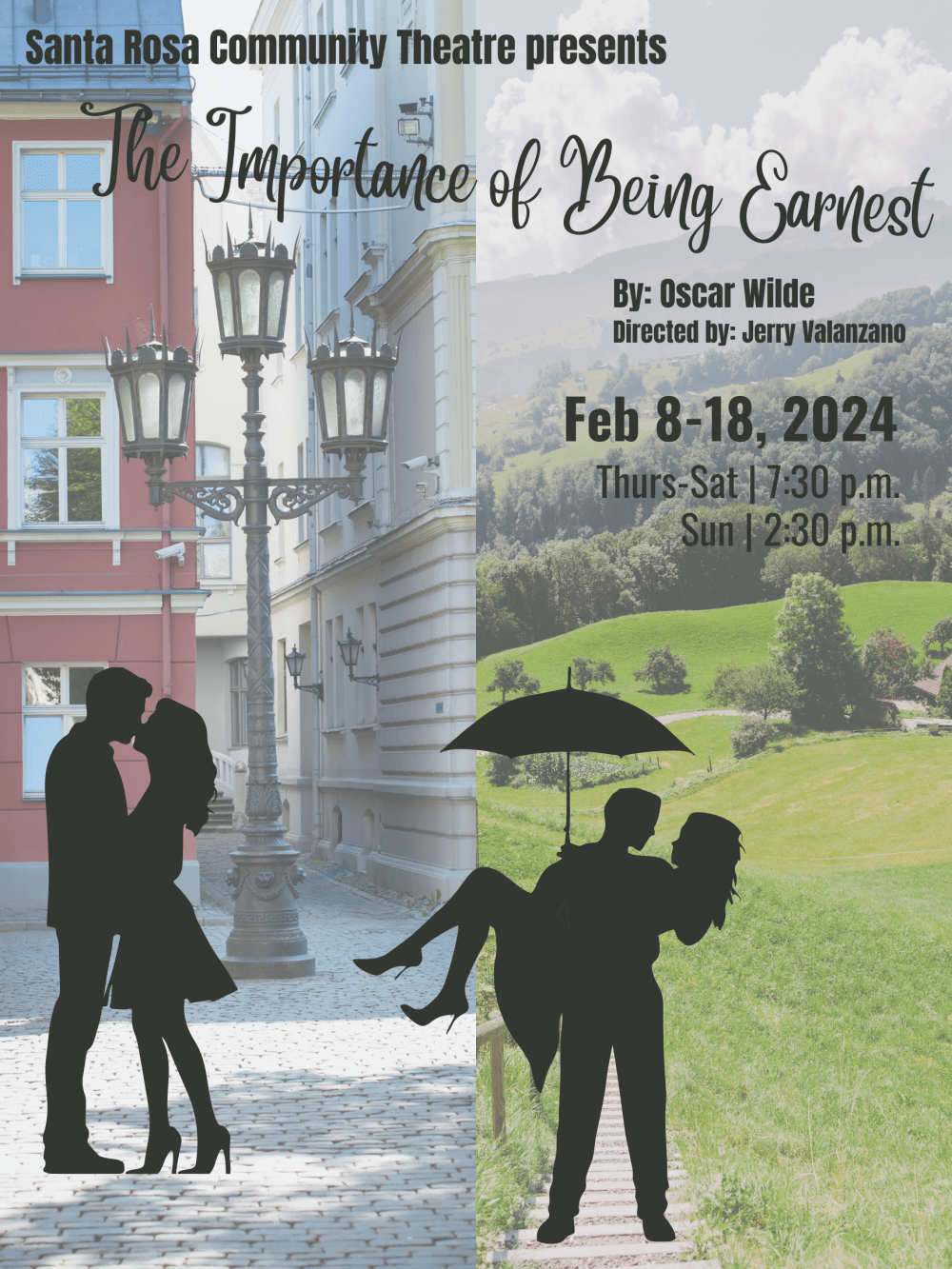 🎭 Excitement is in the air as Santa Rosa Community Theatre unveils a spectacular 2024 season of 7 spellbinding plays! 🌟 From timeless classics to cutting-edge performances, there's something for everyone in this theatrical journey. But that's not all—brace yourselves for an extra dose of joy with 2 weeks of Kids Camps, where young stars can explore their creativity on the stage!
🌈 Experience the Magic: Immerse yourself in a diverse tapestry of theatrical wonders—captivating dramas, side-splitting comedies, and toe-tapping musicals await. Get ready to be moved, laugh until it hurts, and tap your toes to the rhythm of unforgettable stories.
👧🧒 Kids Camp Extravaganza: Calling all budding actors! Our Kids Camps offer two weeks of theatrical exploration for the young stars of tomorrow. From acting fundamentals to stagecraft, children will embark on a journey of self-discovery and creativity, culminating in a special showcase for friends and family.
🎟️ Get Your Season Tickets: Unlock the door to a year of entertainment with our Season Tickets. Enjoy significant savings, flexibility, and so much more. See more information below!
📆 Save the Dates: Mark your calendars for a year of theatrical brilliance, starting with the release of our full season lineup. Be the first to secure your tickets and make 2024 a year filled with the magic of live performance.
🌟 Join Us on this Theatrical Adventure: Santa Rosa Community Theatre invites you to be a part of this extraordinary season. Whether you're a seasoned theatre enthusiast or introducing your family to the joy of live performance, there's something for everyone under our spotlight.
🎭 Stay Connected: Follow us on social media, subscribe to our newsletter, and be the first to know as we unveil the curtain on a year of theatrical wonder. Let's make memories together at Santa Rosa Community Theatre in 2024!
#SRCT2024 #TheatreMagic #KidsCamps #SeasonUnveiling 🌟🎭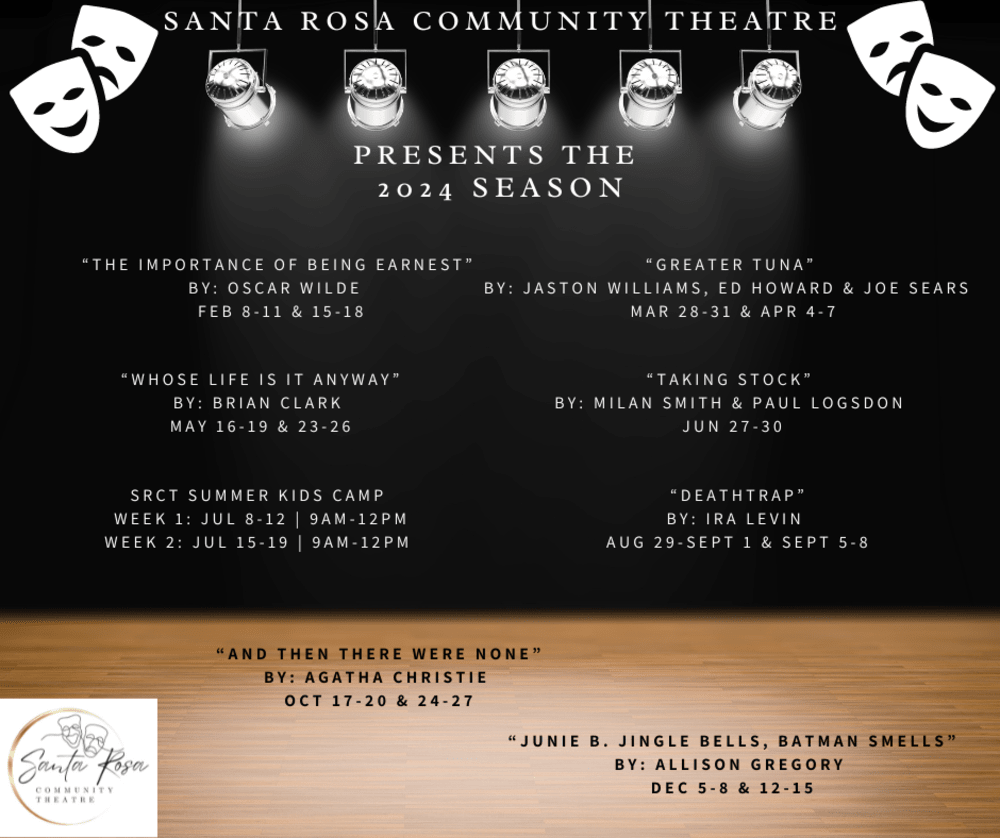 🎭 Welcome to an unforgettable year of enchantment and entertainment at the Santa Rosa Community Theatre! 🎟️
Get ready to embark on a thrilling journey through the world of live performance with our much-anticipated 2024 Season Tickets. As the curtains rise, so does the excitement, promising a diverse lineup that caters to every taste and preference.
🌟 Season Highlights:
1. Captivating Productions: Immerse yourself in a rich tapestry of theatrical experiences, from timeless classics to cutting-edge contemporary works. Our talented ensemble of actors, directors, and designers will transport you to new worlds and evoke a spectrum of emotions.
2. Comedy Extravaganza: Laughter is the best medicine, and our season promises a healthy dose of it! Brace yourself for evenings filled with uproarious laughter as we present side-splitting comedies that will leave you in stitches.
3. Dramatic Masterpieces: Unearth the power of storytelling with thought-provoking dramas that tackle profound themes and showcase the depth of human emotion. Prepare to be moved by performances that linger in your heart long after the final bow.
4. Family-Friendly Fun: Create lasting memories with the whole family as we feature productions suitable for all ages. Share the joy of live performance with the next generation and witness the magic of theatre through the eyes of children.
🎫 Season Ticket Benefits:
1. Savings: Season ticket holders unlock significant savings compared to individual ticket prices. Invest in a cultural journey without breaking the bank.
2. Flexibility: Life is unpredictable, but your entertainment shouldn't be. Season ticket holders have the flexibility to exchange tickets for a different performance, offering convenience and peace of mind.
🌈 Don't miss the opportunity to make the Santa Rosa Community Theatre your artistic haven in 2024. Secure your season tickets today and join us for a year of theatrical brilliance, community connection, and the shared joy of live performance. Your seat is waiting—let the show begin! 🌟 Click the link above to reserve yours now!
🎭✨ A Standing Ovation for Impact 100! 🌟
Santa Rosa Community Theatre extends heartfelt gratitude to Impact 100 for their generous grant, transforming our stage into a beacon of creativity! 🙌 Thanks to their support, our theatre is set to shine brighter than ever, providing an enhanced experience for both performers and audiences alike.
🛠️ Here's the Impactful Transformation:
New Stage: Step onto a stage that's not just new but a canvas for countless stories waiting to be told. Impact 100 has paved the way for a performance space that resonates with the magic of live theatre.
State-of-the-Art Lighting System: Illuminate the brilliance of our actors and productions with a cutting-edge lighting system. Impact 100's contribution ensures every scene is perfectly lit, setting the mood for unforgettable performances.
Immersive Sound System: Feel the power of every note, every word, as Impact 100 empowers us with a brand-new sound system. The audience will be transported into the heart of the action, immersed in the symphony of live performance.
Light-Up Marquee: Watch our theatre come alive even before the curtain rises! Thanks to Impact 100, a dazzling new light-up marquee welcomes patrons, creating an inviting ambiance that sparks excitement for the magic within.
Brand-New Main Drape Curtain: As the curtains part to unveil our productions, Impact 100's grant ensures a grand reveal with a pristine, brand-new main drape curtain. Elevating the anticipation, setting the stage for awe-inspiring moments.
🌟 Impact Beyond Measure: The impact of Impact 100's grant extends far beyond the physical upgrades. It's a commitment to fostering a thriving arts community, a belief in the transformative power of theatre, and a recognition of the importance of cultural spaces in our community.
👏 Thank You for Making Dreams Come True: To Impact 100, you're not just contributors; you're the architects of dreams and the patrons of creativity. Your support fuels the arts, and we can't wait to share the magic that your generosity has made possible.
🌈 Join Us on This Enchanted Journey: As the curtains rise on a new era for Santa Rosa Community Theatre, we invite everyone to be a part of the magic. Together, let's celebrate the transformative power of the arts and the incredible community that makes it all possible.
#Impact100 #ArtsSupport #TheatreTransformation #CommunityMagic 🎭🌟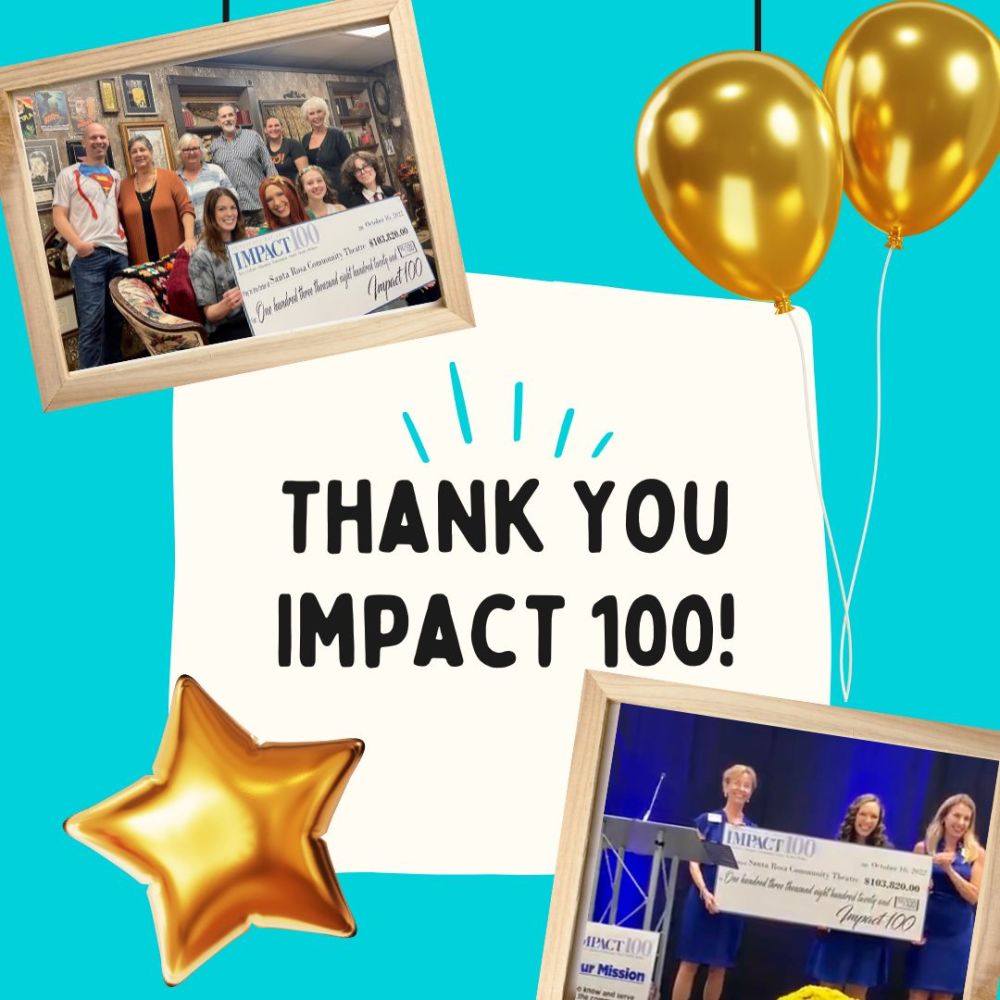 Active Fundraisers
We're currently raising money! Visit the fundraising pages below to learn more.
Capital Campaign
The purpose of our campaign is to work toward expanding Santa Rosa Community Theatre. Specifically, raising our current seating capacity from 46 seats to 100 seats per production. This will help to make our theatre more of a home and create a better atmosphere for you, our audience. Additionally, we also want to find and secure our forever home! As many of you know, Santa Rosa Community Theatre is renting our performance space which means we are limited in what we can do. We want to find our own space to call home so we are not restricted on what we can provide for our amazing audience members!
Learn More