welcome to the Pipeline!
We're a collective of women playwrights who support, promote, and present the work of women playwrights – and help move this work into the local and national theatre pipeline!
Pipeline Playwrights is the only theater collaborative in the Washington, DC area dedicated to producing new plays by women and woman-identifying playwrights. A 501(c)(3) nonprofit corporation founded by women playwrights, Pipeline seeks to close the theatre gender gap one play, one reading, one production at a time. The members of Pipeline Playwrights are Crystal Adaway, Nicole Burton, Patricia Connelly, Jean Koppen, and Ann Timmons. Find out more at https://www.pipelineplaywrights.org
Active Fundraisers
We're currently raising money! Visit the fundraising pages below to learn more.
Wednesdays in Mississippi Wishlist.
Your support helps us get more theatre by women into the national and local theatre pipeline. Pipeline Playwrights gets 100% of funds collected!
Learn More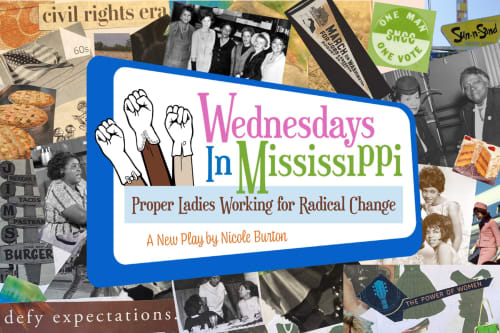 Wednesdays in Mississippi
Jan 05 - Jan 19