Want to support a specific team member?
Help Us Create a State-of-the-Art Community Hub!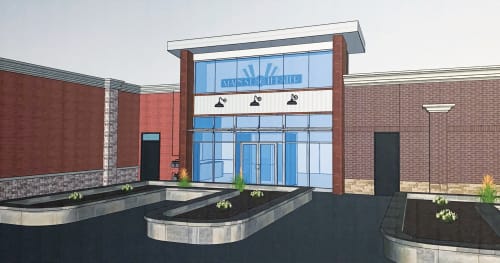 Introducing the Main St. 56 Theater: Help Us Create a State-of-the-Art Community Hub! As we near the final stages of completing our Main St. 56 Theater, we find ourselves in need of additional funding to bring this visionary project to life. The challenges we face are twofold: rising costs of raw materials and labor, combined with an extended period of being without a permanent home due to the lingering impact of the pandemic. The Batavia Players have tirelessly maintained a full season of performances over the past two years, utilizing temporary spaces and external facilities. However, it's time for our community to have a permanent, cutting-edge theater that will elevate our artistic experiences. We refuse to compromise on our commitment to building a state-of-the-art facility that provides both comfort and an inviting atmosphere for our audience. With your support, we can ensure our Main St. 56 Theater boasts unparalleled lighting, crystal-clear sound, and a versatile stage that will immerse you in the finest theater experience right here in our beloved hometown. By contributing to our fundraising campaign, you will not only be making a lasting impact on the arts in our community but also leaving a lasting legacy. As a token of our gratitude, your name will be prominently featured on an engraved plaque displayed in our lobby, forever commemorating your invaluable support. Additionally, you will be recognized as a distinguished donor at our highly-anticipated Opening Gala, where we celebrate the culmination of our collective efforts. Join us in shaping the future of community theater by donating to the Main St. 56 Theater. Your contribution will not only help us overcome the financial hurdles we face but also ensure that our community has a vibrant cultural hub that inspires and entertains for generations to come. Together, let's build a theater that our community can be proud of. Donate today and be a part of this extraordinary journey!
Becky Reed


Aug, 20, 2023

$100.00
Debra Chamberlain


Aug, 13, 2023

$100.00
Kathy Gardner


Aug, 13, 2023

$100.00
Colleen Michalczak


Jun, 30, 2023

$20.00
Anonymous


Jun, 22, 2023

$500.00