Active Fundraisers
We're currently raising money! Visit the fundraising pages below to learn more.
Support the Scene at Main St. 56
Be a Part of Batavia Theater's Exciting New Chapter! Dear Beloved Community, As we raise the curtain on our thrilling 2024 season, we invite you to become a pivotal part of our story in the most vibrant venue yet - our brand-new downtown theater! This monumental season is not just a celebration of art and performance but a testament to the spirit of community and collaboration that brought us here. We are thrilled to introduce our 2024 Season Pledge Drive, an exhilarating opportunity for you to hold a stake in the blooming success and accessibility of community theater in Batavia. Your monthly contribution, as modest as $5, $10, or $20, will play a starring role in staging a season brimming with innovation, emotion, and unparalleled talent. Support the Scene at Main St. 56 - Monthly Pledge Levels: Curtain Raiser ($5/month): Be the force that sets the stage for breathtaking performances every month. Spotlight Supporter ($10/month): Shine a light on the stellar talent and productions our community adores. Encore Enthusiast ($20/month): Fuel the fire of passion and excellence, ensuring many standing ovations to come. But the excitement doesn't stop here! Your pledges will be powerfully matched during special periods, thanks to the generosity of local businesses, doubling the impact and the magic we can create together. Furthermore, we are eagerly seeking partnerships with businesses who wish to sponsor this vibrant journey, weaving them into the rich tapestry of our inaugural season. Join us, as we embark on a historic journey, fostering a theater that not only entertains but forms a hub of creativity, camaraderie, and cultural enrichment, easily reachable by all. Together, let's ensure a sensational inaugural season that reverberates the power of community and the arts, making history, one performance at a time! Become a Patron of the Arts Today. Be the Pulse of Batavia Theater's 2024 Season!
Learn More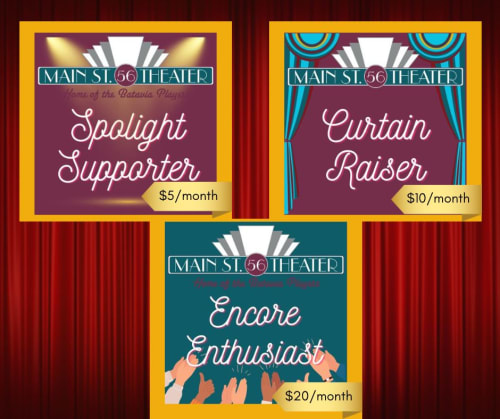 A Christmas Carol by Charles Dickens
Dec 08 - Dec 10, 2023