About
The Wedding Singer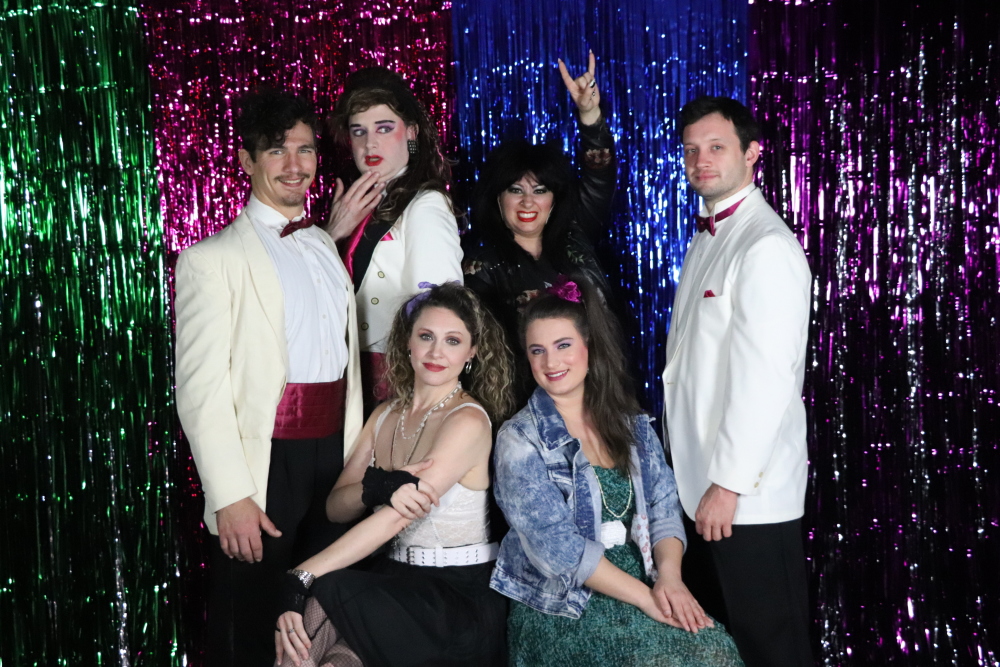 A broken-hearted wedding singer tries to find love in this hilarious musical comedy based on the hit movie
Break out the Aussie hair spray, tease those bangs, and pop your collars because Workshop Theatre is taking you back to the 80s! Wannabe rock star and professional wedding singer Robbie Hart and his broken heart take center stage in the hilarious musical comedy The Wedding Singer May 6-15.
Based on the hit Adam Sandler movie, The Wedding Singer transports us back to a time when hair was big, greed was good, collars were up and a wedding singer might just be the coolest guy in the room.
It's 1985, and Robbie Hart is New Jersey's favorite wedding singer. He's the life of the party until his own fiancée leaves him at the altar. Shot through the heart, Robbie makes every wedding as disastrous as his own. Enter Julia, a winsome waitress who wins his affection. As luck would have it, Julia is about to be married to a Wall Street shark, and, unless Robbie can pull off the performance of a decade, the girl of his dreams will be gone forever.
Jocelyn Sanders directs this talented cast who finally get to bring this show to Workshop Theatre's stage two years after it was originally scheduled. The Wedding Singer was the first show at Workshop Theatre that was shelved because of the COVID shutdown, and these actors have been eagerly awaiting their chance to tell this story. Music director Michael Simmons has assembled a band any wedding would be happy to have and choreographer Mandy Applegate has brought a little bit of every great 80s dance to the show.
General admission ticket sales begin for members on April 27, and for the general public beginning April 28. Purchase tickets at our.show/workshoptheatre/theweddingsinger or by calling the Box Office at 803-799-6551 from noon to 5:30 pm during the week. On the weekends, the Box Office opens two hours before the show begins. Tickets are also available at the door the night of the show.
All performances of The Wedding Singer will be at Columbia College's Cottingham Theatre, located at 1301 Columbia College Drive, Columbia, SC, 29203. Parking is available on campus.
Due to strong language, The Wedding Singer is not recommended for audience members under 16 years old.
Workshop Theatre of SC
For 54 years, Workshop Theatre has been the creative domain of many of the area's most talented actors, directors, and technicians. It is a place where those who love the theatre join in a community that values the pulsing experience of live theatre.

Workshop Theatre's mission is to provide theatre of the highest quality for audiences of all ages. Workshop Theatre shall serve as a creative outlet for all its participants, including its audiences both present and future, its various directors, actors, designers, playwrights and technicians. Workshop Theatre is committed to training in theatre arts, both formally in an education program and informally through production experience. Workshop expects to challenge as well as satisfy its varied audiences.

Workshop Theatre is supported in part by the South Carolina Arts Commission which receives support from the National Endowment for the Arts. Workshop is also receives funding from Richland County H-tax Grant funding program.
We need volunteers in every part of our productions. If you are interested in being a member of the Workshop crew, please contact us at [email protected]