Romeo and Juliet Cast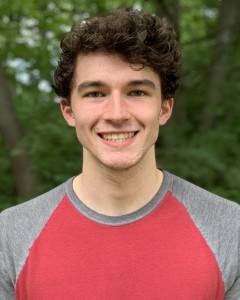 Martin Guarnieri
(Romeo)
Martin will start his 3rd year at the University of Maine this Fall where he studies computer engineering. This is his first production with Ten Bucks Theater, but his second time performing outdoor Shakespeare under the direction of Julie Lisnet, previously appearing on campus as Sebastian in Twelfth Night. He is exited to play Romeo this summer and would like to thank his supportive friends and family.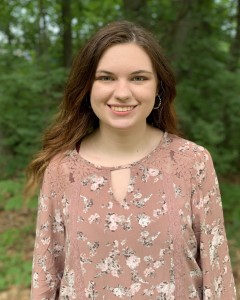 Katie Brayson
(Juliet/Co-Fight Captain)
Katie Brayson is very excited to be a part of bringing this classic to life. This is Katie's second production with Ten Bucks Theatre Company, her first being As You Like It, where she assistant stage managed, and understudied for Phebe. Katie is going into her fourth year at UMaine, studying Theater and English. Some of her previous roles include UMaine shows: #14 in The Wolves, Viola in Twelfth Night, Serza in Anon(ymous), and most recently, Katherine Howard in Six Dead Queens and an Inflatable Henry. In her spare time, Katie enjoys writing plays, spending time with her rabbit, and doing improv with UMaine's Improv-In-Sanity. She would like to thank the cast and crew for putting so much hard work into this production, and her family for the unwavering support.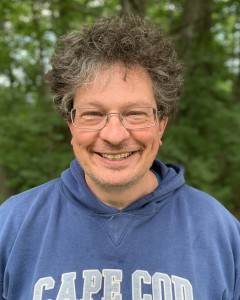 Dave Barrett
(Montague)
Dave Barrett is a Lecturer at the University of Maine, where he teaches Financial Accounting and Financial Statement Analysis. He was last seen on stage in TBT's As You Like it in 2021. He is also the author of three Middle Grade/Young Adult fantasy novels: It's All Fun and Games, More Fun and Games, and No More Games, available online at The Briar Patch in Bangor, and reminds everyone to leave online reviews for books they enjoy. He thanks his family, particularly his son Andrew, for humoring him.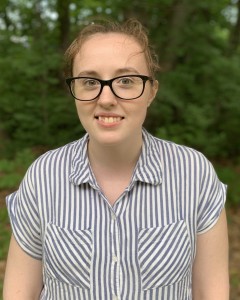 Caitlin Hession
(Lady Montague/Abraham)
Caitlin Hession is a big Shakespeare fan. Her first Shakespeare play was Romeo and Juliet with the Penobscot Dramatic Academy directed by Ben Layman. Caitlin is greatful for the chance to perform in this star crossed lovers tale once again. Previously, she has been in Much Ado About Nothing as Borachio, Little Women as ensemble, Rocky Horror Picture Show as Columbia, and multiple roles in The Vagina Monologues. When not acting, Caitlin works as a high school English teacher, spreading her love of Shakespeare to many an unenthusiastic teen.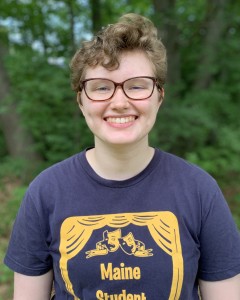 Natalie Lisnet
(Mercutio/Fight Co-Captain/Music Director)
Natalie Lisnet is excited to be in another Ten Bucks show! Previous roles with the company include Oliver/1st Lord of Arden (As You Like It), Bianca (Taming of the Shrew), Sir William Catesby (Richard III), Lennox (Macbeth) and Anne Page (The Merry Wives of Windsor). She's also acted in theatre productions at the University of Maine including Titania (A Midsummer Night's Dream) and Myrna/Ensemble (The Mineola Twins). She's currently a middle school music teacher, as well as a recent graduate from UMaine with a Music Education degree and a concentration on bassoon. She'd like to thank all her family and friends for the support, and she hopes you enjoy the show!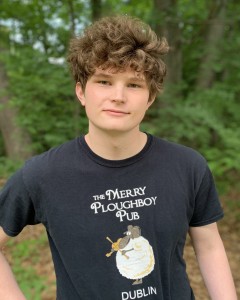 Andrew Barrett
(Benvolio)
Micah Valliere
(Balthasar)
Gibran Vogue Graham
(Capulet)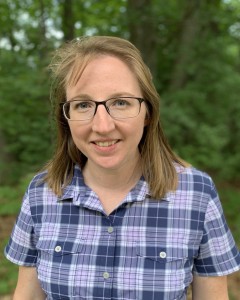 Jenn Guare
(Lady Capulet)
Jenn Guare teaches English and directs the drama program at Hampden Academy. She played Hortensio in the 2020 production of The Taming of the Shrew and Rosalind in the 2021 production of As You Like It. She is delighted to re-join the company in Verona. Enjoy the show!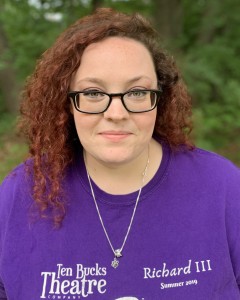 Deanna Rice
(Nurse)
Deanna Rice has been performing in plays and musicals since her early days as nursery rhyme characters in her Kindergarten play. Yes, there are videos. No, you may not see them. In following years she played Duffy in Annie, and was part of the ensemble in Guys and Dolls, Godspell, Annie Get Your Gun and Oliver!, all while performing with the Presque Isle Community Players. After moving to the Bangor area in 2012, she started doing shows with Ten Bucks as soon as she was able. She has most recently been seen as a reader in Scary Stories, Audrey in As You Like It, various characters in Spoon River Anthology, and the Burlesque Nurse in The Sunshine Boys, all with TBT. She has also been working behind the scenes, stage managing for TBT's Spoon River Anthology, A Christmas Carol and Richard III, as well as working stage crew for TBT and True North Theatre's collaborative production of Greetings! She currently serves as the Secretary and Member's Director for TBT. She's delighted to be playing such a fun and interesting character in Shakespeare this year, and hopes you enjoy the show!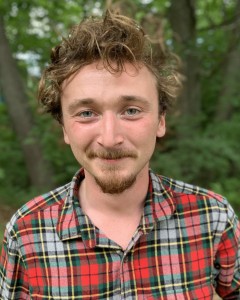 Peter Natali
(Peter/Sampson)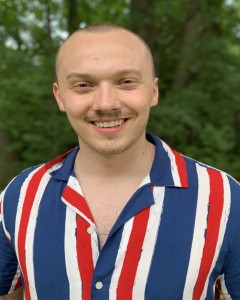 Devin Daignault
(Tybalt)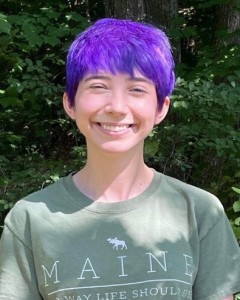 Robyn Henry
(Gregory)
Robyn Henry, having recently graduated from Pratt Institute of Art in 2021, is now a contract illustrator and comic artist. They are the creator behind this production's poster art, and spend their days fulfilling commissions and building their portfolio. Robyn got their start in theatre at a young age, and has participated in plays, musicals, a drag show and reading theatre. This is Robyn's first time working with Ten Bucks Theatre, and they are grateful for everyone's kindness and welcoming personalities!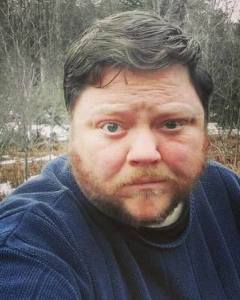 Ben Layman
(Prince Escalus)
Ben Layman is a Maine native and a resident of Bangor. Ben has been involved with theatre in the area for over 30 years. He is currently employed by Penobscot Theatre Company where he is an actor and the stage director for the Dramatic Academy program. As a director for Ten Bucks, Ben has led productions of Who's Afraid of Virginia Woolf?, The Turn of the Screw, The Crucible, Julius Caesar, Macbeth, Dracula, The Nerd and A Midsummer Night's Dream (co-direct), The Diary of Anne Frank, Macbeth and The Complete Works of William Shakespeare (Abridged) and The Sunshine Boys. As an actor for Ten Bucks, Ben has been seen in The Tempest, The Merry Wives of Windsor, The Comedy of Errors, Rabbit Hole, Blithe Spirit, The Nerd, A Midsummer Nights' Dream and Hamlet. Ben is thrilled to return to TBT's Shakepeare Under The Stars after a four year hiatus.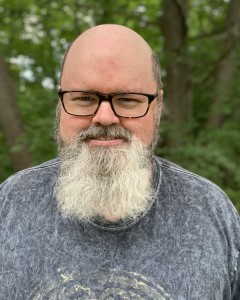 Joe Fisher
(Friar John)
Joe Fisher was last seen in Ten Bucks Theatre's Spooky Stories. A farmer, WERU dj, and lifelong Shakespeare fan, this is his seventh production with Ten Bucks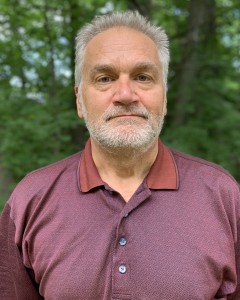 Ron Lisnet
(Friar Laurence)
Ron Lisnet is thrilled to appear a second time as the Friar in R & J for TBT. He looks much older in this role than the last time around. He has also recently appeared in Ten Bucks Production of As You Like It (Charles the Wrestler and Second Lord of Arden) as well as Taming of the Shrew (Christopher Sly). Other recent performances include multiple roles in Spoon River Anthology and The Sunshine Boys (Al Lewis). Previously he played multiple roles in TBT's production of Shakespeare's Richard III. He also had multiple roles in Ten Buck's production of The Elephant Man (Carr Gomm, Belgian Conductor, English Conductor). Previous to that he appeared on stage as Sam in Penobscot Theatre Company's production of Wait Until Dark. Other recent roles include Master Ford in Ten Bucks Theatre's production of The Merry Wives of Windsor, Joseph in Tigers Be Still, Richard in TBT's production Time Stands Still, Reverend Chausable in The Importance of Being Earnest, Dale Harding in One Flew Over the Cuckoo's Nest, Claudius in Hamlet, George in Who's Afraid of Virginia Woolf? and Basil Fawlty in Fawlty Towers Meets Monty Python. Ron has also been seen at Penobscot Theatre as John in Calendar Girls, Joe in Becky's New Car and Bob Ewell in To Kill a Mockingbird. He has appeared in several other PTC productions including Amadeus, The Foreigner, A Flea in Her Ear, The Illusion as well as numerous roles in the Maine Shakespeare Festival. Ron works as manager of visual media at UMaine. He also serves as the play-by-play voice of UMaine Men's Basketball. He'd like to thank his wife Julie and daughter Natalie for all their support.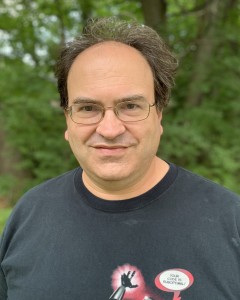 Garrett Fitzgerald
(Apothecary)
Garrett has been performing on stage since 1976, but usually with his clarinet in hand. His first turn out of the pit since middle school was as Max Detweiler in Bucksport Community Theater's The Sound of Music in 2008. Since then he has played Paravicini in The Mousetrap at UMaine, Mr. Dussel in Ten Bucks Theatre's production of The Diary of Anne Frank, Justice Shallow in TBT's The Merry Wives of Windsor, and Elwood P. Dowd in Bangor Community Theatre's production of Harvey. He is also the first chair clarinet in the Bangor Band and the Brewer Hometown Band. He wishes to thank his wife Donna for all the support she has given him over the decades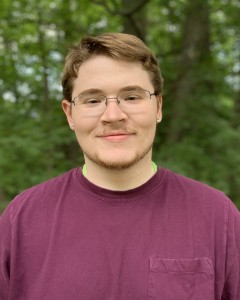 David Olski
(Paris)
Aimee Gerow
(Dance Choreography)
In the past few years Aimee's been stretching her wings by directing and choreographing for various productions, including directing Ten Bucks' most recent A Christmas Carol and As You Like It. As an actor she's been seen most recently in True North Theatre's The Moors (Emilie). Some of her favorite roles include Eurydice (Eurydice), Beatrice (Much Ado About Nothing), and Beth Foster (Red Valley.) Aimee is a graduate of Ithaca College and the American Academy of Dramatic Arts.
Angela Bonacasa
(Fight Choreography)
Angela Bonacasa is an actor, director, fight director, and teacher based in Castine, ME. She is a Certified Teacher with the Society of American Fight Directors, and has worked across the country as both a stage combat instructor and fight director. Her teaching credits include the University of Maine, Roosevelt University and the University of North Carolina School of the Arts, as well as numerous independent classes and workshops. Choreography credits include productions of Romeo and Juliet, Othello, Richard III, Cyrano de Bergerac, Peter Pan, August: Osage County, Mauritius, Moonlight and Magnolias, Macbeth, The Servant of Two Masters, The Miracle Worker, Misery, She Kills Monsters, Wait Until Dark, Anon(ymous), and numerous others. Her choreography has been seen on the stages of Penobscot Theatre Company, Camden Shakespeare Festival, True North Theatre, Ten Bucks Theatre Company, Midcoast Theatre company, and other stages across the state. She is the Artistic Director of the Orono based True North Theatre, where she has directed productions of Becky's New Car, The Lion in Winter, Cat on a Hot Tin Roof, and The Odd Couple. Other productions she has directed include Six Dead Queens and an Inflatable Henry, Calendar Girls, Henry IV, Part I, The Mousetrap, Harvey, Over The Tavern, The Bat, Some Enchanted Evening, A Christmas Carol, Tuesdays With Morrie, and Steel Magnolias.
Asher Mason
(Set Design)
Rebecca Wright
(Costume Design)
Rebecca Wright taught Visual/Performing Arts at Ellsworth HIgh School for the past 32 years. For the last five years she has served as Assistant Principal and loves her job. Florida. Rebecca received her Master of Arts in Theatre with a concentration in Costume Design and a Bachelor of Arts in Theatre with a minor in Music, both from the University of Maine. Her design work includes "The Moors" and "Cat On a Hot Tin Roof" for True North Theatre Company, "Our Town", "Around the World In 80 Days,", "Annie", "The Sugar Bean Sisters", "Always, Patsy Cline", "Ink", and "A Christmas Story" at Penobscot Theatre Company, "Hamlet", "Romeo and Juliet" and " A Midsummer Nigh'ts Dream" for Ten Bucks Theatre Company, "Our Town" for Orono Community Theatre, and "The Velveteen Rabbit" for The New York City Children's Festival.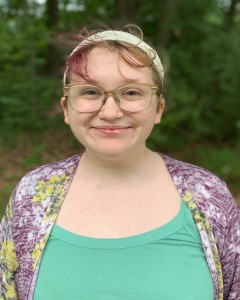 Delaney McFaden
(Stage Manager)
Delaney McFaden is an upcoming fourth year at the University of Maine, studying studio art. Since their freshman year, they've been heavily involved with the theatre department, having stage managed and assistant stage-managed numerous shows (Twelfth Night, Man of No Importance, Terra Nova) and acting this past spring in Six Dead Queens & an Inflatable Henry. They worked with Ten Bucks for the first time last summer stage managing As You Like It, and are very excited to be back! They'd like to thank their partner Addi for always keeping the porch light on for them after late night rehearsals. Enjoy the show!
Julie Arnold Lisnet
(Director)
Julie Arnold Lisnet is an actor, director and educator. She teaches Fundamentals of Acting and Survey of Dramatic Literature at UMaine. She received her BA in Theatre and her MA in Acting from UMaine and has worked for Penobscot Theatre, Maine Theatre, Theatre of the Enchanted Forest, The Assembled Players, Marsh Island Stage, Maine Shakespeare Festival, Northern Lights Theatre and True North Theatre. She is a founding member/actor/director for Ten Bucks Theatre Co. and has directed TBT's productions of The Bald Soprano, Terra Nova, The Effects of Gamma Rays on Man-in-the-Moon Marigolds, Macbeth, Twelfth Night, Romeo and Juliet, Hamlet, One Flew Over the Cuckoo's Nest, A Midsummer Night's Dream (co-directed), The Tempest, Death of a Salesman, The Comedy of Errors, The Merry Wives of Windsor, The Elephant Man, a co-directed production of Spoon River Anthology and most recently As You Like It. For UMaine she has directed The Legend of Sleepy Hollow, The Curious Savage, Rumors, The Mineola Twins, Twelfth Night and Terra Nova. Directing credits also include The Odd Couple and Arsenic and Old Lace for The Grand in Ellsworth. Favorite roles include Lady Macbeth in Macbeth, Sister Mary in Sister Mary Ignatius Explains It All for You, Martha in Who's Afraid of Virginia Woolf?, Nat in Rabbit Hole, Lady Bracknell in The Importance of Being Earnest, Sybil in Fawlty Towers, Louise in Always…Patsy Cline, Mark Antony in Julius Caesar, Van Helsing in Dracula, Mrs. Webb in Our Town, Mattie Fae in August Osage County, Annie in Calendar Girls and Eleanor of Aquitaine in The Lion in Winter. She was most recently seen in Penobscot Theatre's productions of Safety Net and Flyin' Solo and directed PTC's Becoming Dr. Ruth. Julie lives in Bangor with her husband Ron and their daughter, Natalie Acadia.
Director's Notes
(Julie Arnold Lisnet)
'Ancient grudge.' What is it? It is talked about several times over the course of the play, yet we never learn why the Capulets and Montagues are forever sworn enemies. How long has it gone on? Does the present generation even know or remember? Do we need a definitive answer? Shakespeare didn't think so. He only shows us the extreme toll that long held enmity exacts. As part of the production work we've discussed how this play starts out as a comedy and then goes terribly wrong. Shakespeare causes us to fall in love with these incredibly complex and witty characters. We laugh with them, dance with them, love with them, and live with them never taking sides and almost forgetting Romeo & Juliet falls into the Bard's 'tragedy' column. We are swiftly reminded that 'ancient grudge' can indeed 'break to new mutiny' by the quick-lit spark of arrogance and the inability to forgive and move forward. This play will make you examine yourself. Humanity hasn't changed much since Shakespeare's time. We are all fragile and fallible, capable of great goodness and terrible destruction; the ability to rise above and forgive falls into the first category, while sadness and damage are bred from the latter. In discussing this with a friend she said, 'It is curious why violence, often in even very rational people, supersedes logic and effective communication.' Sadly true. ~ Julie Arnold Lisnet