La Prairie des Talons Contributors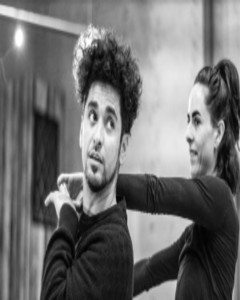 Director
(Paul Gomex)
Paúl Gomex is a Venezuelan- American pluridisciplinary performer and director. He is the founder of Clowns Without Borders Switzerland and 406Cirque, the Circus School of Bozeman, Montana. Gomex has toured more than 18 countries, performing, directing and teaching circus and movement theater. He has directed and produced several shows for CWB, and lately choreographed dance pieces for Raison D'Etre Dance Project. He also directs and produces all the creations of the circus school of Bozeman since its creation, and is an occasional advisor and performer for Clowns Without Borders.
Batons
(Bailey Scherer)
Bailey Scherer is a Los Angeles-born circus artist, dancer, and general practitioner of tomfoolery. After a childhood of competitive baton twirling, she found a love for dance trapeze, and she now studies both at NECCA. Her passion for storytelling as well as her energetically physical performances combine for a compelling artistic vision. Furthermore, her friends find her ability to clap with one hand pretty inspiring. To see more of Bailey, visit baileyscircus.com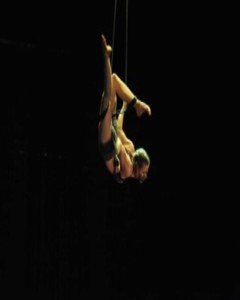 Straps / Partner Acro
(Carina Kivela Gillet)
Carina Kivela Gillet is a multifaceted artist that enjoys using different artistic mediums to express and inspire. She has worked alongside many inspirational artist including Cathy Werner (Mountain Air Dance), and Carrie Krause (Baroque Music Montana) as a violinist in the Bozeman Symphony. From professionally teaching and performing as a mover and aerialist to playing the violin in a professional symphony; the desire to find freedom through the performing arts has always been at the core of Carina's journey. https://carinagillet.wixsite.com/website-1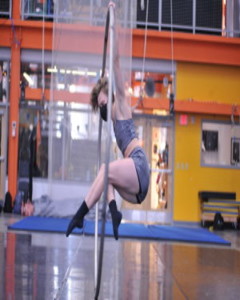 Cyr Wheel / Partner Acro
(Elly Louise Craig)
Elly Louise Craig has always found their happy place within the circus community. Whether it's performing, devising, coaching, or collaborating, for Elly, circus is the common theme that makes the world a brighter place. At NECCA they specialize in Cyr Wheel and Partner Acrobatics (spinning fast and lifting their friends) which has been such a joyous ride. Elly looks forward to touring the world connecting and collaborating with people and merging activism with circus. (ellycraig.com)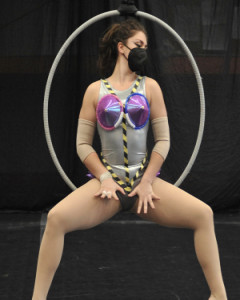 Lyra
(Erika Valles)
Erika Valles is a captivating and versatile circus artist. She specializes in aerial hoop and vertical rope with additional training in fabric, and partner acrobatics. She grew up moving around the world to places where circus was not popular. Erika wants to bring her love of aerials to circus-scarce communities so everyone can experience the magic and let them escape their everyday life. www.ErikaValles.com Instagram: aerial.erika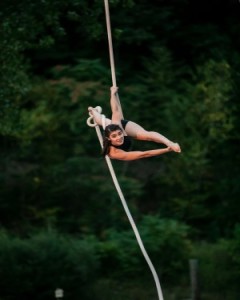 Dance Trapeze
(Lauren Uvino)
Lauren Uvino is a vertical rope artist who also specializes in dance trapeze, hand balancing and dancing. Always looking to push herself, Lauren seeks to create works of art that show both strength and beauty while intertwining her musicality and making her movement look effortless. When creating, Lauren always asks the question, "What if…" and loves to find unique pathways to her movement that draws the audience in. www.laurenuvino.com.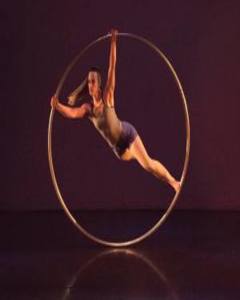 Cyr Wheel
(Michelle Mazzarella)
Michelle Mazzarella is an 'artistic chameleon' who thrives in roles both on stage and offstage. She is a multi-disciplinary aerialist, dancer, cyr wheel artist, choreographer, and teacher. As a physical storyteller, Michelle sweeps her audience away through musicality, texture, presence, and genuine human connection. Her original cyr wheel act unpacks the intricacies of grief and loss, where she hopes her audience can process their own experiences and find comfort in her performance. www.michellemazzarella.com / Instagram michellejmazz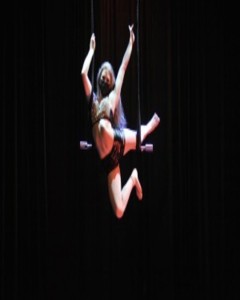 Static Trapeze
(Rita Marie Huie)
Rita Marie Huie is a static trapeze and chains artist who wants to take the audience into a world of fantasy and out of reality. She grew up in rural Georgia, where the chance of seeing performances was limited. After noticing this, she decided she wants everyone, no matter what education or age, to enjoy a performance.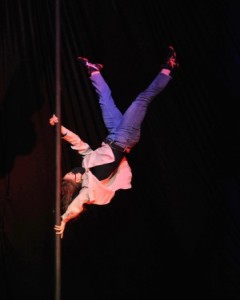 Pole
(Sam Malloy)
Sam Malloy is a contemporary circus artist driven by their absolute love for circus. Originally from Oakland, CA, they now specialize in Aerial Fabric and Chinese Pole at the New England Center for Circus Arts. As a trans non-binary performer, Sam is passionate about using circus as a means of representation and celebration of the LGBT+ community and dreams of making their big ideas into reality.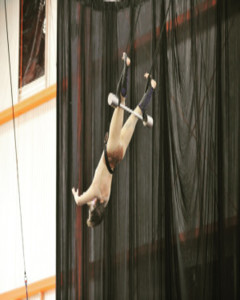 Swinging Trapeze
(Violet Defiant Livingston)
Violet Defiant Livingston is a swinging trapeze artist and hand balancer. She specializes in acrobatic and lyric storytelling, using her training as a circus artist and gymnast to bring power, grace, and technique to her artistic practice, and her training as a writer to tell stories with grit and heart. Violet has performed as a circus artist in theatrical shows, art openings, galas, festivals, children's events, and international sporting competitions.