Circus Spectacular 2022 (on demand) Cast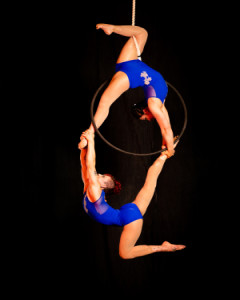 Duo Lyra
(Rachel Barringer)
Rachel Barringer is an aerialist and contortionist based in New England. She performs on aerial hoop, silks, rope, multi-cordes, aerial straps and duo hoop with Caroline Wright. Recently Rachel completed a contract performing aerial hoop and contortion with Shanghai Circus in Branson, Missouri. She has also gone on tour in the Midwest with the Boston Circus Guild in collaboration with the band Cordis. Rachel coaches aerials and contortion/flexibility at Esh Circus Arts in Somerville, MA, Commonwealth Circus Center in Jamaica Plain, MA, and L'Eglise du Cirque in Natick, MA.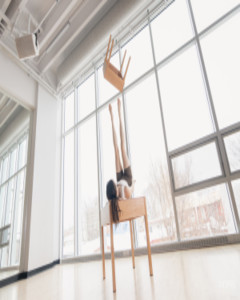 Antipodism
(Ripley Burns)
Ripley Burns became enchanted with circus while on tour with Circus Smirkus as a teenager. She went on to study foot juggling and hand balancing at the Quebec Circus School, where she graduated in 2020. Aside from circus Ripley enjoys walking, hiking, and living in Vermont. She is so excited to be performing at NECCA's Circus Spectacular.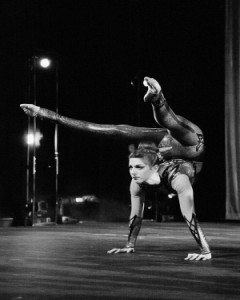 Contortion
(Ariana Ferber-Carter)
Ariana Ferber-Carter debuted with Circus Smirkus, going on to specialize in contortion at New England Center for Circus Arts and San Francisco Circus Center. She performed with Circus Bella, Celebrity Cruises, Nimble Arts, Six Flags, Worlds of Fun, Quixotic, and Aerheart. She teaches classes and private lessons online through Kansas City Aerial Arts. instagram: @ariana.contortion.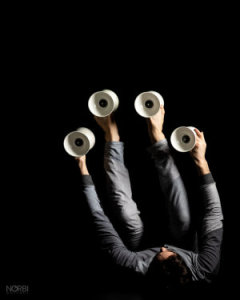 Diabolos
(Liam Gundlach)
Liam Gundlach is a Vermont based artist with a special interest in diabolo. He has been performing where and when the opportunities arise, and is currently working on a solo stage show. Liam's perfect day begins with him folding origami by the fireside and ends with him getting cozy in his room and watching a movie in bed.
Aerial Sling
(Mandy Hackman)
Mandy is an aerial artist, dancer, and choreographer. She has performed as a multi-apparatus aerialist and contemporary dance artist on stages across the US, and has built commissioned choreography for dance, theater and circus companies throughout the US, and beyond. She is currently based in Boston, where she coaches circus and is building new work as part of Circus 617. Mandy is also a founding member of Hypha. When not performing, you can find her training movers of all bodies in functional movement capacity as the founder of All Our Bodies.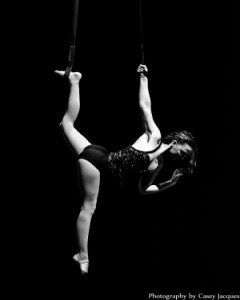 Aerial Straps
(Elsa Hall)
Elsa Hall found her passion for circus arts during her freshman year at Ithaca College, where she was introduced to circus in the form of partner acrobatics. After graduating from college, Elsa attended the New England Center for Circus Arts Intensive and Professional Track programs, where she specialized in aerial straps and hand balancing. Since then, Elsa has performed her acts nationwide and internationally for companies, including the 41st Festival Mondial du Cirque de Demain, Beaches Resorts, Sandals International, and Nimble Arts and is exited to be performing in the Circus Spectacular!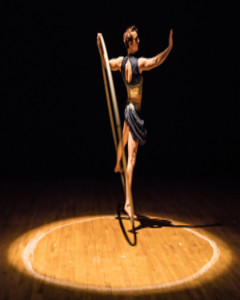 Cyr Wheel
(Alexis Hedrick)
Alexis Hedrick is a Boston-based circus artist known for her powerful, captivating performances. Inspired by circus shows she saw as a kid in California, she left competitive gymnastics at age 11 to perform with Splash Circus and then the San Francisco Youth Circus. Alexis attended the National Institute of Circus Arts in Melbourne, Australia, specializing in cyr wheel and aerial rope. Alexis has performed all around the world with P&O Australia Cruises, Shanghai Circus, AIDA Cruises, and All Wheels Sports. She has appeared with GOP Variete and Acrobatic Conundrum, and frequently performs for shows and private events with the Boston Circus Guild.
Musician(accompanying Alexis)
(Greg Jukes)
Greg Jukes (he/him) is a percussionist and narrator who creates work that combines multiple artistic disciplines in innovative ways. Greg primarily performs and teaches across North America with The Fourth Wall, a hybrid arts ensemble in which musicians are also actors, dancers, and acrobats that he co-founded in 2010.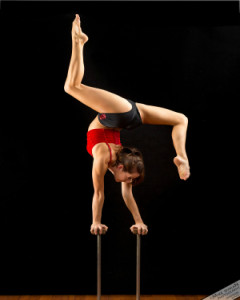 Chair Balancing
(Morgan Oldham)
Morgan Oldham started her performance journey as a dancer but ended up trading standing on her toes for standing on her hands. She considers it one of the best decisions she has ever made and has since performed nationally and internationally as a circus artist. Morgan hopes to continue to bring her art to audiences around the world until she's a circus granny with grey hair and rickety splits.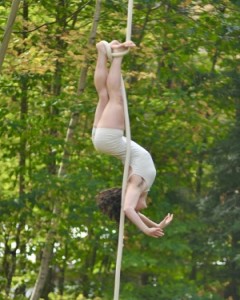 Rope
(Rachel Rees)
Rachel Rees creates dynamic circus through the combination of intuitive movement, imagination, virtuosity, and theatricality. Since graduating from the New England Center for Circus Arts in 2019 and having the pandemic put a temporary wrench in her plans to run away to Europe, Rachel has performed virtually with Almanac Dance Circus Theatre, and locally with Nimble Arts. She earned her BFA in Theatre Arts from Boston University in 2015, and has trained internationally in physical theatre, acting, and circus.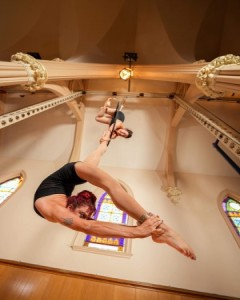 Duo Lyra
(Caroline Wright)
Caroline Wright spent her early teens performing with Flying Gravity Circus, and continued her training at NECCA where she graduated from their Professional Track Program. She also trained at Circus Center with Elena Panova and E'cole Leotard in Montreal with Rachel Walker and Sarah Poole. Caroline's specialties include both solo and duo hoop and dance trapeze. Her performance with Duo Unravel won an Isadora Duncan Award. She has performed with many companies across the country and internationally, including AcroArts Productions, Aerial Experience, Nimble Arts and Cirque du Soleil.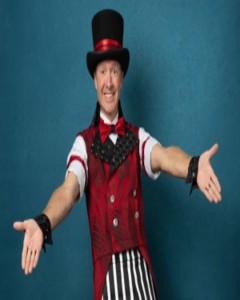 Celebrity Guest Ringmaster
(Troy Wunderle)
Troy Wunderle is a graduate of the Maryland Institute College of art, and the Ringling Brothers and Barnum & Bailey Clown College. He is a former international performer with the Ringling Brothers and Barnum & Bailey Circus. For the past twenty-five years, he has toured throughout the United States as a freelance performer and employee of Vermont's own Circus Smirkus. His antics have been featured on the Disney channel, The Today Show, Martha Stewart, Chronicle, Fetch, Fox and Friends and Americas Funniest Home Videos. He spent 6 years as Director of Clowning for the Ringling Brothers and Barnum & Bailey Circus and is a juried artist through the Vermont State Arts Council. Troy is the Artistic Director of Circus Smirkus and the founder of Wunderle's Big Top Adventures / www.bigtopadventures.com