About
Illusionist Craig Karges
Experience the Extraordinary!
Friday, September 22 at 7 pm
Box Office: 6 pm | House Opens: 6:30 pm
No late admission to main floor. Late arrivals will be accommodated in the balcony as seats permit.
Advance tickets: $30 for adults and $15 for youth.
Day of Show: $35 for adults and $20 for youth.
Tickets may be purchased online, by phone at (605) 642-7973, or by visiting the Matthews Gallery at 612 N. Main Street, Spearfish.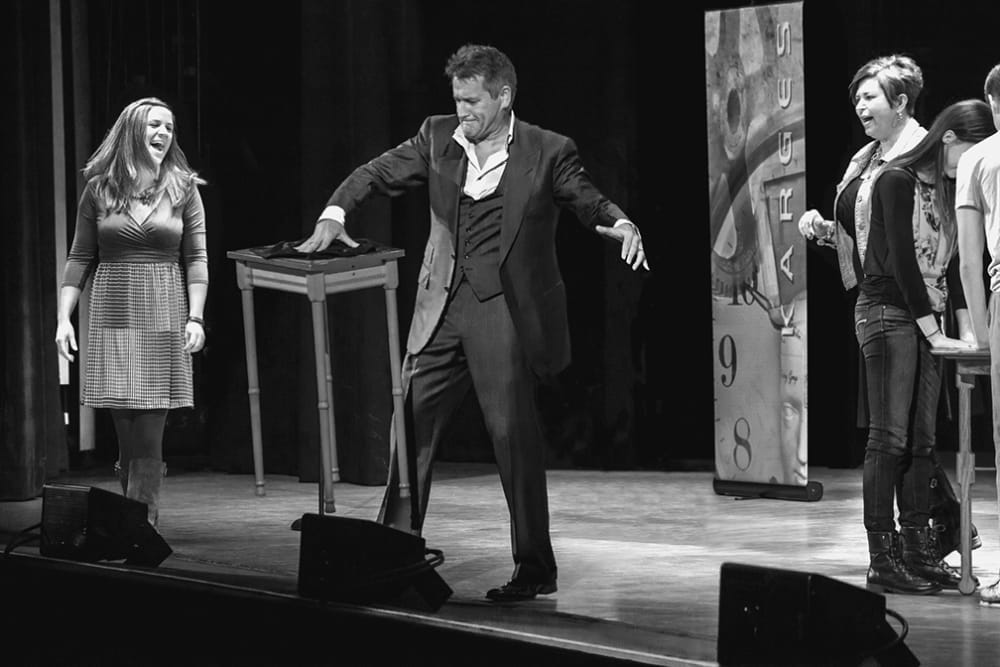 Craig Karges is truly extraordinary! The "extraordinist" is an award-winning entertainer, a nationally recognized speaker, and an author. Karges has made over five thousand appearances in 27 countries on four continents and in all fifty states.
Craig Karges combines the art of magic with the science of psychology and the power of intuition to create the impression that nothing is impossible. Tables float, minds are read, metal bends and your imagination is challenged because you won't believe your eyes! Dennis Miller, comedian, and media personality, put it this way after seeing Karges perform, "This weirds me out!"
Although he does not claim to have supernatural powers or perform as a psychic or magician, the effects Craig Karges creates on stage are uncanny. Blindfolded, he calls off serial numbers on borrowed currency. Unspoken thoughts are revealed. Predictions are made and verified. Borrowed finger rings are linked into a chain. Objects move seemingly by the power of the mind. A table dances and flies into the air.
Craig Karges is unique' what he does on stage is totally different, and there is no other show like "Experience the Extraordinary!"
Audiences may be mystified when it comes to understanding how Craig Karges accomplishes what he does on stage but his popularity is no mystery at all.
Craig Karges has made over 40 national television appearances. You've seen him on The Tonight Show as well as CNN, Fox News Channel, CNBC, E! Entertainment Television, Lifetime Television, Wisdom Television, and even SOAPnet! The extraordinist has starred in two, one-hour television specials. The sheer number and diversity of Karges' television appearances are indicative of his widespread popularity.
Performance, the international touring talent weekly, named Craig Karges' touring show, Experience the Extraordinary, one of the top five, variety/family shows in North America. Karges was in good company as the list also included the likes of illusionist David Copperfield and Disney on Ice. Performance magazine called the extraordinist's performance "The next era in mystery entertainment." American Entertainment Magazine named him one of the top five variety entertainers on the corporate circuit.
From Sardinia to Singapore and from Cancun to Cairo, Craig Karges' performing schedule has taken him around the world, appearing at corporate events, theatres, universities and casino showrooms. "No matter where I perform, I try to make my audiences feel they are a part of something they have never experienced before and hopefully will never forget. My goal is to entertain my audiences through the creation of mystery and to open their minds to unlimited possibilities," says Karges.
Matthews Opera House and Arts Center
The Matthews Opera House & Arts Center is a 501c3 non-profit organization located at 612 N. Main Street in Spearfish, South Dakota. Built in 1906, the opera house has gone through many lives.
The Matthews consists of a fine arts gallery with 48 regional artists on the street level. Upstairs, the theater continues to provide community plays, national performance acts and music concerts.