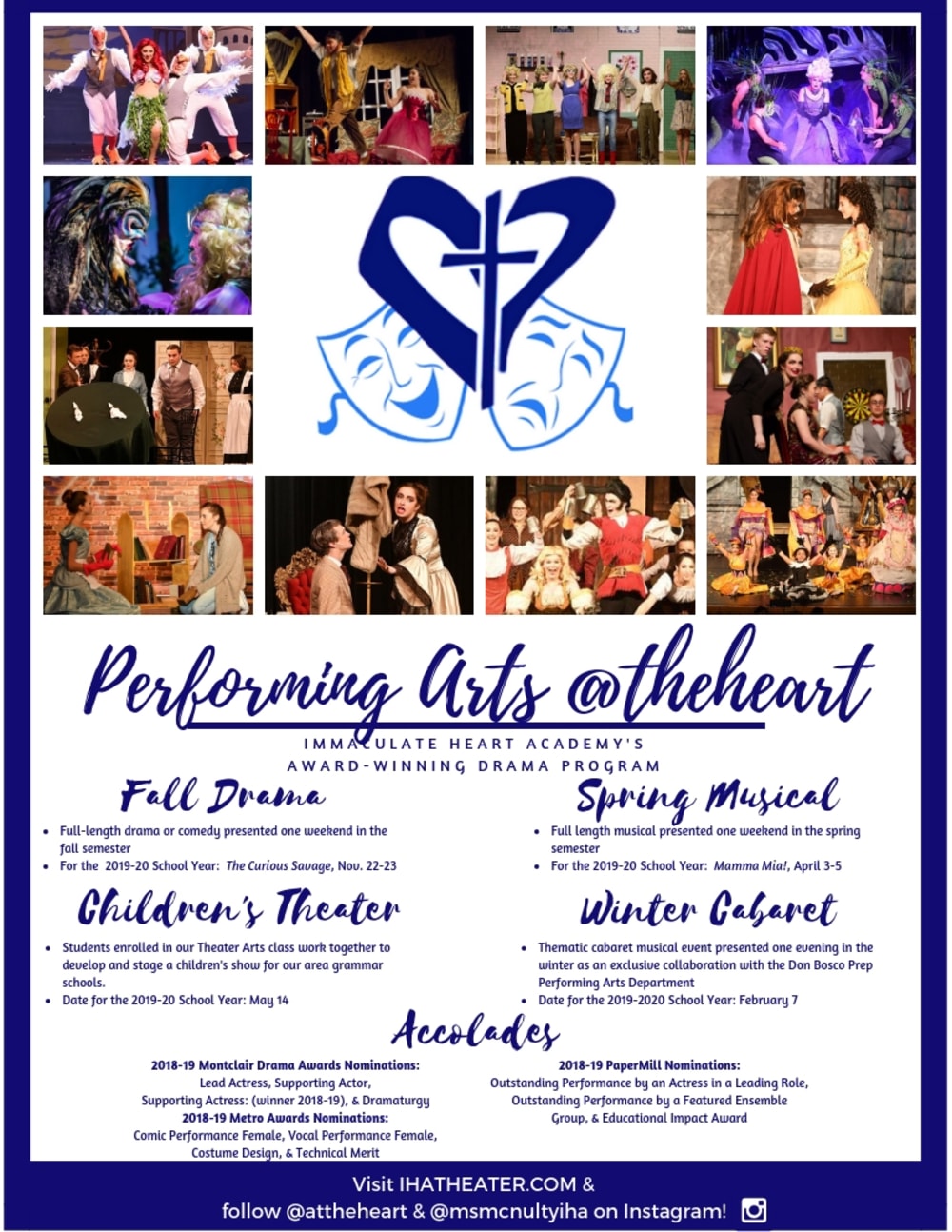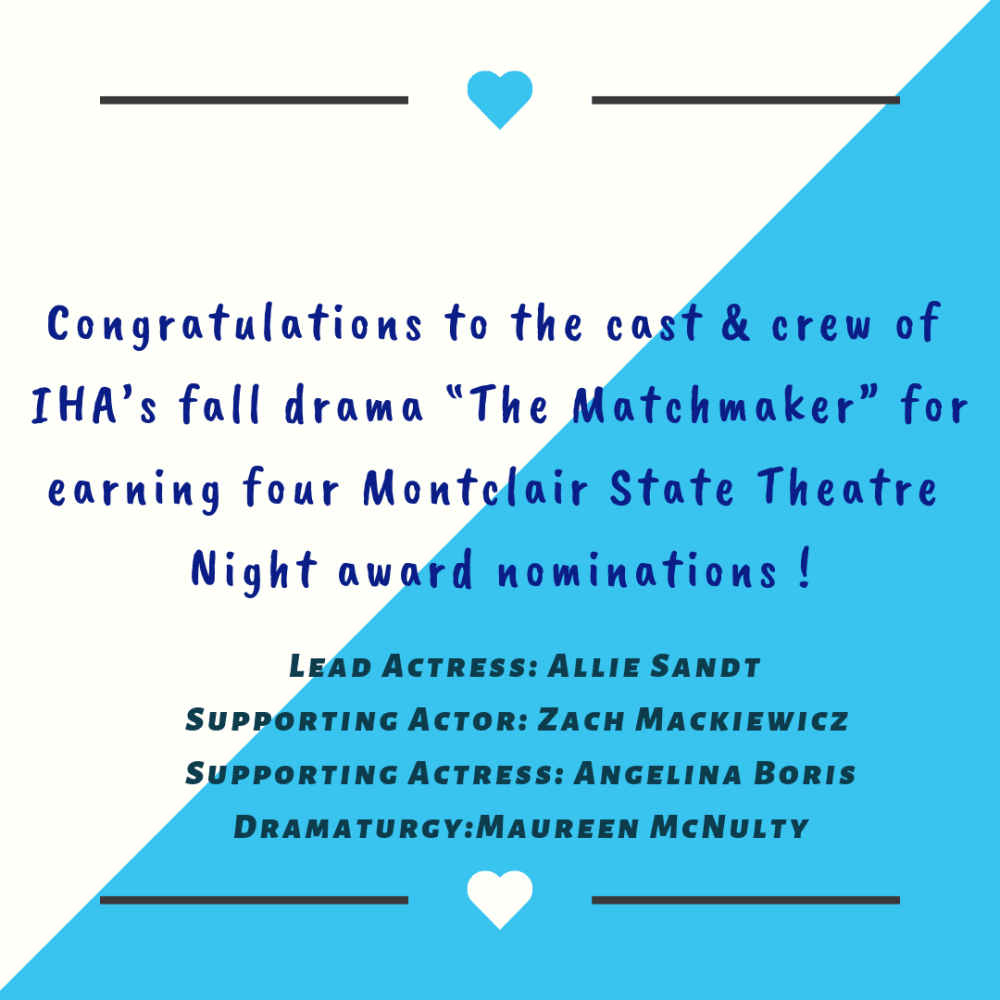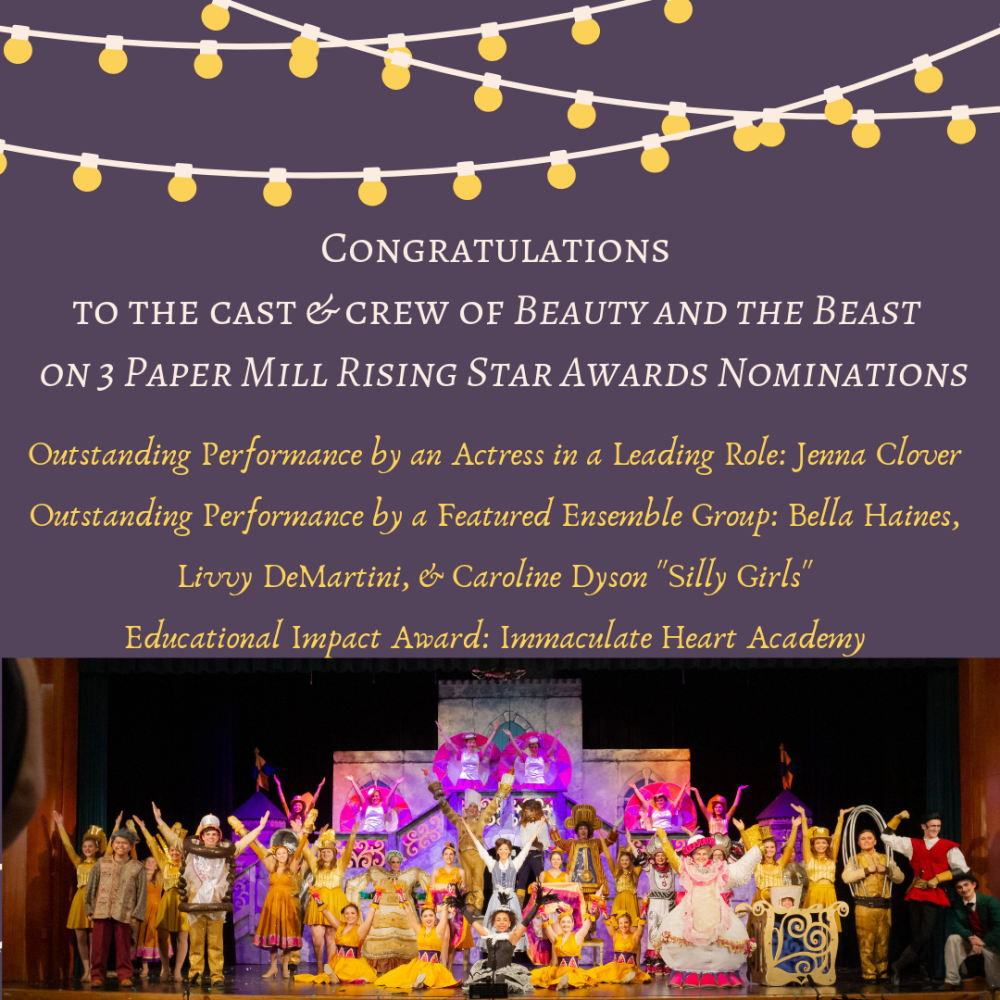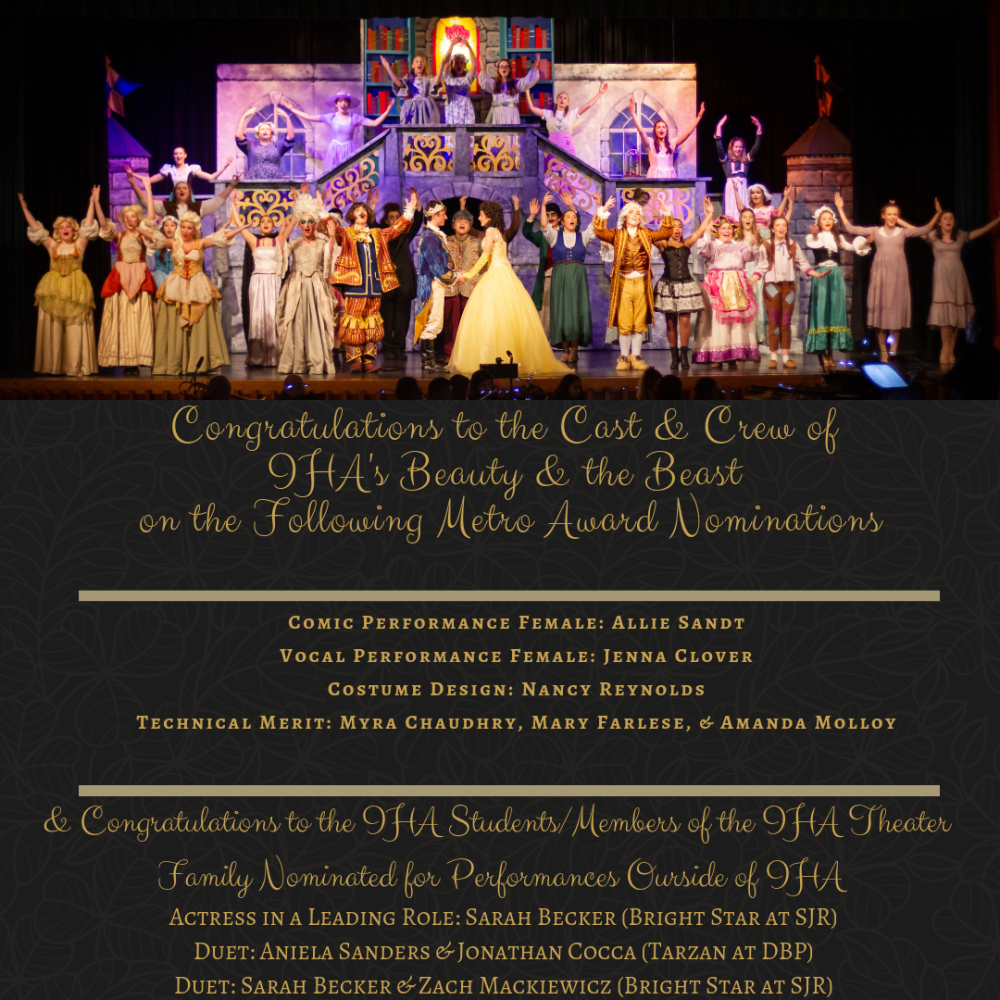 Fall Drama: The Fall Drama Production is an on-stage production of a dramatic play or comedy performed three times one weekend in the fall semester. Under the artistic direction of Ms. Maureen McNulty, students have the opportunity to shine!

Past Dramas at IHA:
The Curious Savage (2019-20)
The Matchmaker (2018-19)
You Can't Take It with You (2017-18)
Steel Magnolias (2016-17)
Arsenic and Old Lace (2015-16)
Spring Musical: Every spring, talented Immaculate Heart Academy students put on a fabulous musical. Male students from neighboring schools are also invited to participate on the cast and crew. The 2019 musical will be announced soon! This year's show is produced by Ms. Maureen McNulty and directed by Jodi Capeless. The choreographer is Kimberly Galberaith and the musical director is Ed Ginter.
Past Musicals at IHA:
Disney's Beauty and the Beast (2018-19)
Into the Woods (2017-18)
The Little Mermaid (2016-17)
42nd Street (2015-16)
The Boy Friend (2014-15)
Seussical the Musical (2013-14)
Legally Blonde (2012-13)
Winter Cabaret: For the first time, we will be putting on a thematic winter cabaret event in conjunction with Don Bosco Prep!
Children's Theater: In May, our Spring Theatre Arts class performs a children's theater show for visiting K-3 grade students from local grammar schools. In 2018, the show was Once Upon a Crime: The Trial of Goldilocks, starring sixteen sophomore students. Tech was provided by junior and senior members of the IHA International Thespian Society and sets were designed and created by Director of the Arts, Mrs. Lisa Encke; various IHA art classes; and members of the IHA National Art Honor Society. The show was produced and directed by Ms. Maureen McNulty, and Eagle Ambassadors served as ushers for the event.
Past Children's Theater Productions:
What Happened After Once Upon a Time?
Once Upon a Crime: The Trial of Goldlilocks (2017-18)
Princess Who? (2016-17)
Red vs. The Wolf (2015-16)
Accolades:
2018-19 PaperMill Nominations:
Outstanding Performance by an Actress in a Leading Role,
Outstanding Performance by a Featured Ensemble
Group, & Educational Impact Award
2018-19 Metro Awards
Comic Performance Female, Vocal Performance Female,
Costume Design, & Technical Merit
2018-19 Montclair Drama Awards
Lead Actress, Supporting Actor,
Supporting Actress: (winner 2018-19), & Dramaturgy